A Balancing Act in the South Caucasus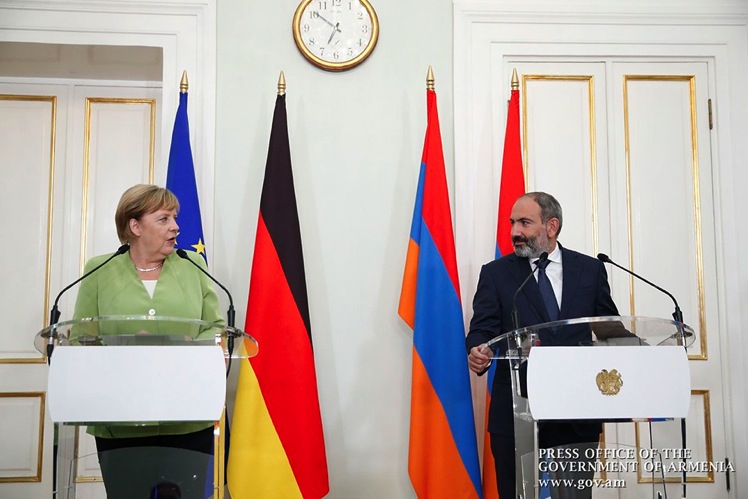 By Muriel Mirak-Weissbac
h –
Special to Mirror Spectator
While on tour in the South Caucasus last week, German Chancellor Angela Merkel was walking a tightrope, in an attempt to carefully balance geopolitical, economic and human rights concerns. Though some critical commentaries greeted her on return to Berlin, the overall evaluation of her trip was positive, and for good reason.
Accompanied by a delegation including parliamentarians as well as industrial representatives, Merkel visited Georgia, Armenia and Azerbaijan from August 23-25. Her agenda featured relations with Germany and the European Union, migration, asylum, economic ties and energy deliveries. Underlying all these topics was the primary concern to find peaceful solutions to the geopolitical conflicts involving all three post-Soviet republics.
Russia or the EU?
On her first stop, in the Georgian capital Tiflis, she held talks with Prime Minister Mamuka Bachtadze and assured him of German help in trade, development projects and training programs for youth. Plans include German financial support of 193 million euros for construction of a gas storage facilities as well as water and waste water plants. Georgia has made considerable economic and political progress since its association and free trade agreement with the EU, for which the Chancellor praised her host. One issue raised relates to the considerable number of Georgians who have come to the EU and especially Germany, in search of better economic prospects. They include Georgians asking for political asylum. This trend, as Bachtadze noted, has been declining due to efforts on both sides. Merkel said in this respect that she supported the proposal to designate Georgia as a "safe country of origin," thereby facilitating repatriation for persons whose asylum application is not accepted.
But the burning issues are geopolitical, as became evident during a session Merkel had with Georgian students. They wanted to know from "one of the leaders of the free world," as one student addressed her, when they would be able to join the European Union (EU) and also the North Atlantic Treaty Organization (NATO). Students also pressed her on the issue of South Ossetia and Abkhazia; though she had characterized the situation of the Russian troop presence there as a "gross injustice," they were not satisfied until she agreed to designate the regions as occupied. In her talks with Bachtadze she made clear that there was still a long way to go, from EU association and free trade to actual membership, not to mention becoming part of NATO.
The German chancellor, who had held in-depth talks with Vladimir Putin a week before her visit, said the Russian president was well aware of her position. She assured her hosts that the conflict around South Ossetia and Abkhazia, which had broken out almost exactly 10 years earlier, "would not be forgotten and would be on the agenda and again." She laid a wreath in commemoration of the Georgians who died during that conflict.
Armenia, an Example In Yerevan Merkel faced many of the same issues, and was careful in her formulations on sensitive subjects. She was received with full honors at the airport.
According to reports in the Armenian wires, Prime Minister Nikol Pashinyan stressed the respect and sympathy for his guest and her country. In welcoming her officially, he said, "This is the first-ever visit paid by a German Chancellor to Armenia, and in that respect, a historical event is taking place. Its value is enhanced by the fact that your visit follows major political changes in Armenia, and I look forward to holding effective talks with you in this new situation, under new political conditions." He said he hoped the visit would "usher in a new chapter in the two countries' bilateral relations," adding that "Germany is Armenia's third largest trade and economic partner on the global scale and the first one in Europe."
Thanking him for the warm reception, Merkel stated in part, "My visit comes in the wake of a major change in Armenia. While unexpected for us, it may be propitious for your country." She said she was eager to hear his views on the recent democratic developments, the "peaceful protests and the 'velvet revolution,'" and said she could "feel a sense of those changes in the air." Later, during a stroll through the city center, she would witness firsthand the overwhelming support the new prime minister enjoys from the population. "Today," she said, "we are in a city that is 2,800 years old and in a country whose people have left many traces in mankind's history."
After leaving the airport, she went with Pashinyan to the monument at Tsitsernakaberd, to pay her respects to the victims of the genocide. Though she chose not to use the term, she said her visit to the memorial was "in the spirit of the Bundestag 2016 resolution" recognizing the genocide, which was "an important step in the culture of remembrance." "We understand what atrocities were committed against countless Armenians," she was quoted saying. "This suffering should not and will not be forgotten."
She also visited the TUMO Center for Creative Technologies with the Minister of Education and Science Arayik Harutyunyan, where she said she "saw teenagers develop innovations while holding fast to the roots of Armenian culture. I just realized what a knowledgeable society exists in Armenia."
In their extensive official talks, Merkel and Pashinyan addressed bilateral and regional concerns. As in Georgia, the migration issue arose. The mass emigration that has characterized recent years, has seen Armenians going to Russia (where many have become citizens), the U.S. and Europe. Of the three South Caucausus countries on her itinerary, Armenia has the highest rate of emigration, which represents a brain drain for
the country. Merkel called for closer coordination to deal with matters pertaining to migration and asylum, saying there was "still a lot to be done." During their joint press conference, Pashinyan stressed the positive impact of the democratic changes in Armenia, which would lead to a halt in emigration and the return of many who had left in recent years. This was the way he said the problem could be dealt with. In this regard he expressed his hope that the West would recognize the progress made under his leadership, especially in the economic field. Merkel said Germany was "ready to boost and develop bilateral economic ties," expressing hopes that "we will be able to record new achievements in that direction."
Armenia has shown a trade deficit with the EU since the 1990s. For March 2018 it was $197 millions, according to Economy Watch. Trade with the EU accounts for 23.6% of all Armenia's commerce. It is Armenia's biggest export market, representing 26.7% of all exports. In this context, Pashinyan underlined the importance of the ratification of the Comprehensive and Extended Partnership Agreement, while reaffirming his country's commitment to implementing comprehensive reforms. He said that Armenia looked forward to getting larger targeted assistance from the European Union, based on the "more for more" principle.
Pashinyan was clear in his commitment to continue good relations with Russia, both strategic and economic. Armenia's membership in the Eurasian Economic Union is therefore not be questioned; at the same time, he stressed the desire to enhance the free trade agreement with Europe. As noted by
Deutsche Welle
, Merkel explicitly endorsed this approach, as she considers the interplay between Armenia's democratic development and its de facto dependency on Russia in a positive light. For the German Chancellor, Armenia could set an example, demonstrating the possibility of maintaining good relations with the EU and with Russia at the same time.
Finally, according to Armenian wires, Merkel and Pashinyan also discussed issues related to visa liberalization, enhanced contacts between people, cooperation in healthcare, the environment, road construction, and information technologies. They expressed satisfaction with the bilateral cooperation in science, education and culture.
Angela Merkel was received on August 25 at Echmiadzin by Catholicos of All Armenians Kareken II, who said her visit would provide impetus for further developing bilateral relations. Merkel shared her impressions of her visit and expressed Germany's readiness to boost the partnership. The two also exchanged thoughts on the Nagorno Karabakh conflict.
This complex problem played a central role in the political discussions. As a permanent member of the Minsk Group within the OSCE, Germany can and wants to be instrumental in finding a negotiated solution. Recently, in early July, the co-chairs of the Minsk Group, from the Russian Federation, France and the United States, met in Brussels with the Foreign Ministers Zohrab Mnatsakanyan and Elmar Mammadyarov, in pursuit of confidence building measures. The two Armenian and Azerbaijan diplomats are scheduled to meet in September.
Merkel and Pashinyan again stated their commitment to a negotiated peaceful settlement within the OSCE Minsk Group. Then the Chancellor issued a public statement on August 25, proposing to both sides that Germany mediate in the conflict.
Significantly, it was in Baku, just as she was to start talks with Azerbaijan President Ilham Aliyev, that Merkel made the offer. (Perhaps by coincidence, Pashinyan reportedly paid a working visit to Artsakh Republic that day, and was received by President Bako Sahakyan.)
The third stop on the German chancellor's tour may have been the most challenging. First,
as reported, Azerbaijan had refused to allow Albert Weiler, a parliamentarian from Merkel's CDU party, to enter the country. Weiler had visited Nagorno Karabakh twice, which, it is well known, would disqualify him for legal entry into Azerbaijan. There was no special exception made, although that might have been possible according to the rules of diplomacy. Secondly, a scandal had erupted in recent months, when it became known that Azerbaijan had been funding several members of the European Council, to influence their policy orientations. Among them is one Karin Strenz, who is a member of the CDU. The scandal involving Strenz had been documented by the German-Armenian Society in its publications. Finally, there was considerable concern especially among human rights groups and press that the issue of abuses in Azerbaijan should be addressed by Merkel. In their joint press conference, in response to a question on political prisoners, President Aliyev
reportedly shot back with a categorical statement, that there is total freedom in Azerbaijan. Merkel commented then that there was room for improvement in the democratic standards observed, for example in election monitoring.
It is assumed that all these thorny questions came up during the private talks that the two leaders held. What was made public dealt with economic projects, especially the so-called southern corridor pipeline which should deliver gas from Azerbaijan via Turkey to Europe, as a counterweight to the North Stream II pipeline from Russia. Aliyev confirmed his support for the project. And the two agreed on expanding economic ties, including cooperation in construction, infrastructure and the agricultural sector.
(Sources: Aysor, Deutsche Welle, Spigel online, Frankfurter Allgemeine Zeitung, Deutsche Wirtschafts Nachrichten, Zeit online, Tagesspiegel, ntv.)