Unless otherwise indicated, the articles here and in the
Archive
appeared on
www.globalresearch.ca
---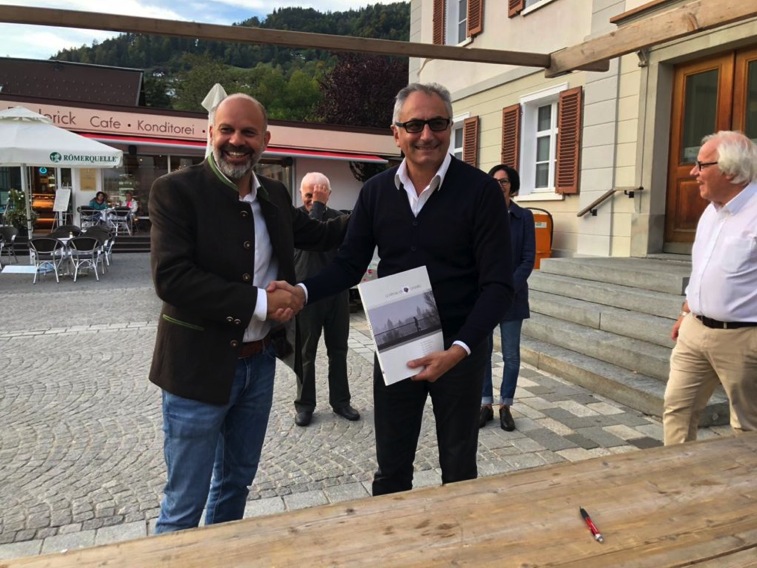 Alexan Ter-Minasyan (r.) with Mayor Jürgen Kuster
by Muriel Mirak-Weissbach
NOVEMBER 15, 2018 – SCHRUNS, Austria — Thirty years ago, Gyumri was almost totally obliterated by an earthquake that devastated nearby Spitak and other cities of the Shirak region. Slowly the city, known as the cultural capital of Armenia, has been rebuilt and its artistic community again flourishes. Not only are the new music schools filled with eager students, but painters and sculptors are continuing to generate works of beauty.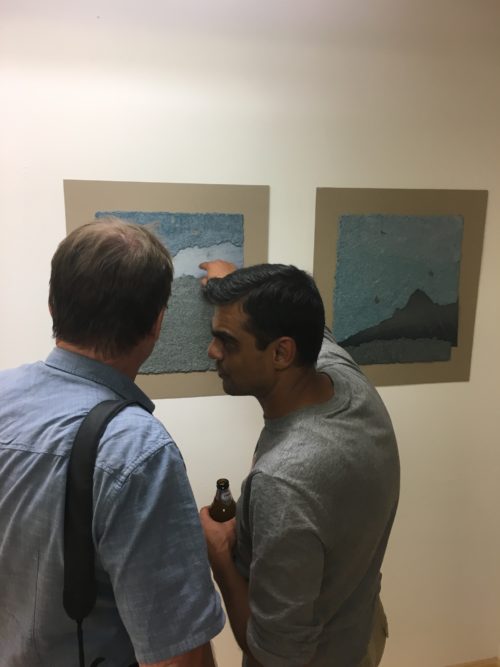 Works by Karen Barseghyan, Artist in Residence. Other artists featured in the exhibition are Hayk Adamyan, Sona Andrasyan, Hakob Hovhannisyan, Ararat Sarkissian, Vahan Topchyan and Albert Vardanyan.
Thanks to the efforts of Alexan Ter-Minasyan, eight artists from Gyumri have been able to present their work in a highly-successful exhibition in Schruns, a city in Montafon Valley, on the westernmost part of Austria. The exhibition, which ran from October 5 to 28, was organized as a joint effort by the MAP Kellergallerie, Caritas and the Schruns Savings Bank, together with Gallery 25 of Gyumri, an artists' group which organizes activities in Armenia as well as exchange programs abroad. In 2017, Gallery 25 cooperated on a show in Bursa, Turkey.
Ter-Minasyan, the founder of Gallery 25, has been a protagonist of the process of rebuilding Gyumri, both physically and culturally. He worked with the Red Cross to set up the "Berlin" polyclinic there, and established the Berlin Art Hotel, which financially supported it. He has supported local efforts to provide art instruction for pupils, for example in the small village of Gusanagyugh. (
http://www.m-w-stiftung.org/English/News/Suns-of-Gusana/Suns-of-Gusana.html)
In January of this year, Ter-Minasyan was named Honorary Consul of Germany, largely in recognition of his years-long efforts to promote personal and cultural exchange between the two countries and peoples. (
https://mirrorspectator.com/wp-content/uploads/2018/02/February-3-2018.pdf
)
The project in Austria, titled "Armenia as a Guest in Montafon," opened the exhibition, "Gyumri and Its Artists," with a vernissage attended by five of the artists and Ter-Minasyan. Schruns Mayor Jürgen Kuster welcomed them with an official reception. The earthquake is a theme of the artworks, and is also documented in images by photographer Yuri Pavlov on display. The program included lectures, eye-witness accounts of the catastrophe, and conversations with the visiting artists. Sculptor Karen Barseghyan, who had been in Schruns for several weeks as artist-in-residence, invited guests to visit his studio, where he has been holding workshops for youngsters and adults.
---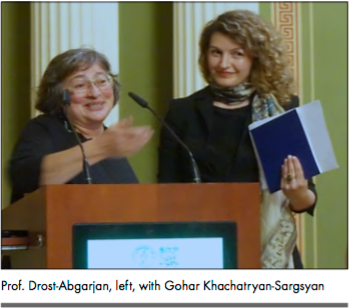 Two Decades of Armenian Studies in Germany
By Muriel Mirak-Weissbach
and Dr. André Höhn Special to the Mirror-Spectator
HALLE-WITTENBERG, Germany — It is a unique institution in the country, the only center specializing in Armenian studies, Armenology. When the Mesrop Arbeitsstelle für Armenische Studien (Mesrop Center for Armenian Studies) at the Martin Luther University in Halle-Wittenberg observed its 20th anniversary on October 18-19, it celebrated the special role it has played in bringing knowledge of the Armenian language, literature, culture and history to not only academic circles but also the broader public. Much has been achieved, and the potential for development is even greater. Since the Bundestag (Parliament) passed a resolution in June 2016 recognizing the Armenian genocide, interest in Armenia has expanded immensely. For many Germans that political act opened the door to discovery of a hitherto unknown people and their culture. Several new studies, especially of the history of the genocide, have appeared and been well received. But there is more to Armenia and Armenians than the genocide. Halle is the right place to host the Mesrop center; the city boasts a long tradition of oriental studies, reaching back to 1694, especially studies of the Christian Orient. Another reason is the connection of the university to German reformer Martin Luther. Its director, Prof. Armenuhi Drost-Abarjan, has noted that the center's namesake "was a counterpart to Martin Luther, ... Luther plays the same role for our national literature as Mesrop Mashtots played for Armenian literature." Mesrop's groundbreaking translation of the Bible into Armenian was an inspiration to Luther, who explicitly acknowledged him as his forerunner when he undertook the translation of the Bible into the German vernacular.

Three Causes for Celebration
On October 18, in Halle an der Saale it was not one but three anniversaries that merited a festive toast: the cultural agreement between the Federal Republic of Germany (represented by the federal state of Saxony-Anhalt) and the Republic of Armenia was signed in 1998; the Mesrop Center for Armenian Studies at the Martin Luther University in Halle-Wittenberg also reached its 20th birthday; and, the Yerevan State University and the Halle University looked back on a decade of partnership.
The auditorium in the historic Löwengebäude — the lions' building, so-called for the sculpted reclining kings of the jungle who guard the entrance — in the university square was brightly lit on the evening of October 18 and everything had been prepared for a dignified ceremony. Drost-Abgarjan welcomed the numerous guests warmly, musical strains sounded from members of the Halle University Academic Orchestra and the round of congratulations opened. Prof. Tietje, the university's rector, stressed the historical significance of Armenia and the need for objective scientific study of the region. He pointed to the socalled small subjects, the university's responsibility to them and the importance of the Mesrop Center for the Caucasus region in the context of European politics.
Dr. Ude, State Secretary of the Federal State Ministry for Economics, Science and Digitalization, summarized the activities of the Mesrop Center to date as well as its engagement for cultural mediation, and, speaking in the name of the ministry, expressed deep gratitude to Prof. Drost-Abgarjan. He also voiced appreciation for the activity of Prof. Dr. Goltz, the first Director of the institute, whose achievements were to be acknowledged with utmost respect repeatedly throughout the course of the evening. His Excellency Ashot Smbatyan, Ambassador of the Republic of Armenia in Germany, called for injecting more vitality into the abstract relations between Armenia and Germany, and emphasized the central role Armenian studies play for Mesrop as well as the elevated status the Center enjoys in research on Armenia as a Christian nation. Dr. Arayik Harutyunyan, Minister of Science and Education, R.A., coined a fitting honorary title for Mesrop – he dubbed it the "second Armenian embassy"— and reported on the institution's efforts to strengthen Armenian studies in Germany and, with the help of special scholarships, to promote a vigorous student exchange program.
The loudest applause of the evening then came, when Prof. Drost-Abgarjan, visibly moved, received the "Gold Medal" from the Armenian Ministry of Science, an award which stands as a tangible symbol honoring her indefatigable intellectual work, for which she deserves most heartfelt thanks. Dr. Gunnar Schellenberger, State Secretary of the Minister President's Office and of the Ministry for Culture of Saxony-Anhalt, followed, and spiced his greetings with amusing accounts of his personal experience during his visit to Armenia ten years ago. Dr. Vahan Ter-Ghevondyan, Director of the Mesrop Mashtots Research Institute Matenadaran, Yerevan, spoke in conclusion about the close relations between the Mesrop Center and various Armenian scientific institutions. He noted the project for a Dictionary of Middle Armenian, and recalled the German scholars who made contributions to Armenian culture.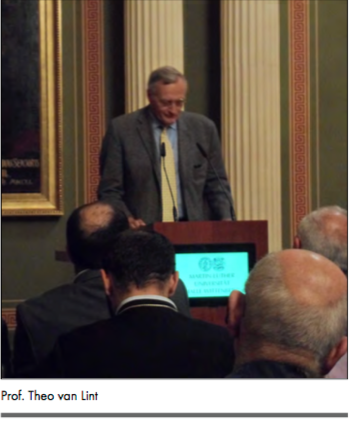 Aims and Challenges
Prof. Theo van Lint, Calouste Gulbenkian Professor of Armenian Studies from Oxford University, delivered the Laudatio. He elaborated on the landmark cultural agreement signed in 1998 between Germany and Armenia and quoted the aims of the center then defined as follows: "strengthening Armenian studies in Germany in research and teaching, establishing an official professorial chair at the Halle University, scientific counseling and coordination of German-Armenian scientific and cultural projects as well as institutional partnerships, providing competent expertise to museums, libraries, archives, as well as to financial support institutions in both countries."
Over the last two decades, the center has accomplished a great deal, including several international agreements that van Lint praised: in addition to the partnership with the Yerevan State University, he mentioned the cooperation agreement established in 2010 with the Valery Brusov University for Languages and Social Sciences, which has been elevated to a full partnership this year. Also this year the Martin Luther University and the Matenadaran signed an agreement, while de facto cooperation is ongoing between the Evangelical College for Church Music in Halle and the Komitas Conservatory in Yerevan.
Further achievements include the rich contributions made by the center through its scientific publications, its educational trips to Armenia and six outstanding exhibitions it organized, all with accompanying catalogues. Two remarkable publications van Lint singled out were the Middle Armenian Dictionary and a project for translation of Sharakans or hymns.
The list is indeed impressive. Yet, van Lint singled out one of the official aims of the center which has not yet been realized: the establishment of an official professorial chair for Armenian studies. Speaking from his vantage point as current holder of the only chair for Armenian studies in Great Britain, "and as holder of these all-too-few chairs overall," van Lint said he could sense "the holes in our research, holes which can be filled only by area specialists whose broad knowledge is combined with a rich orientation in the interdisciplinary sphere." For this, a proper professorial chair is "indispensable." He said he "would like to go to bat here for a chair dedicated to the Armenian language, philology, history and culture, so that specialists can be educated who will be able to assume the enormous task of making Armenian culture in the broadest sense accessible to those interested," whether they be diplomats, politicians or the general public. In this connection, van Lint also made the highly relevant point that in an era of "globalization," where "area studies," like "Asian studies," "Caucasus studies," etc. abound, it is imperative to make sure that "competence in the individual language and cultures not be lost or watered down."
The revolutionary developments in Armenia have created a new situation in which these and many other challenges can be met. Voskanyan from the American University of Armenia developed this theme in his keynote address, "Armenia in 2018: Realities and Perspectives," which provided the transition from the evening's relaxed and festive mood to the spirit of scientific research that would dominate the following day's agenda. As the speaker related his eye-witness account of the "Velvet Revolution," images of the historic events took shape in the mind of every listener.
Voskanyan described and analyzed single scenes, presented the social mechanisms at work, as well as the political and social structures shaping the revolution, and located them in their historical context, and in this way identified the grounds for such radical change in the country. Voskanyan offered a glimpse of Armenia's future political course in light of various expectations and hopes, while never losing sight of the possible dangers.
A Scholarship Can Change a Life
How better to portray the hopes for the future than to share the experience of a young student of that generation preparing to contribute to the new Armenia? Gohar Khachatryan-Sargsyan is the first alumna of a special scholarship program for students from Armenia, which is offered in the context of the agreement between Saxony-Anhalt and Armenia. In her moving "thank-you" speech, she recalled the difficulties the country endured after independence and the Karabakh war, particularly the toll taken on education. When she found out she was the recipient of the first scholarship to study in Germany (1999-2000), she considered it nothing short of a miracle. "From the first day in Halle," she said, "I felt as though I were in wonderland." Everything she encountered seemed magical, the lectures were lively and her professors were eager to help. "I was finally satisfied with my studies, and I learned how to study, something I consider very important." In addition to classroom work, she was able to take part in excursions and museum visits. One of them turned out to be decisive. In the Dresden Picture Gallery when she saw Raphael's "Sistine Madonna," she "was struck as if by lightening." Although she had seen reproductions of Raphael's works as a child, she had never imagined what the impact of the original would be. "Then I understood," she said, "that I wanted to be an artist, not an art historian, because only an artist can produce something that moving even today."
The young scholar (who is the daughter of a famous artist) emphasized the value of friendships she made during that year as well. She has begun artistic collaboration with one such new friend, the writer Daniela Danz, and the two are going to work on a literary film project, sponsored by the Goethe Institute in Gyumri, which will deal with the Armenian poet Sajat Nova. As a gesture of gratitude, she concluded by presenting the Martin Luther University with a painting of hers, titled "The Grandmother," a portrait of "an elderly and wise Armenian woman."
After the audience had returned to silence, a concert of German-Armenian music filled the air. Participants listened with rapt attention to the performance by singer Anahit Abgarjans (a sister of Drost-Abgarjan), Duduk player Araik Bartikians and organist Helene von Rechenbergs, who, in addition to a work by Johann Sebastian Bach, offered Armenian spiritual songs, hymns and folk songs. The wonderful music captivated the souls of those present, transporting them to distant fields, and filling them with optimism in the future. The evening ended with a reception, with fine cuisine and engaged discussions, all in anticipation of the working sessions planned for the second day.

Scholars in Dialogue
On October 19, educators and researchers from both countries engaged in a full day of scientific discussion and exchange. The conference panels illustrated the nature, vast range and high quality of the intellectual collaboration that has grown over the past two decades in Halle. Under the direction of DrostAbarjan, the first session heard presentations by Cornelia Horn (Halle) on "Armenian Studies in Germany," Vahan TerGhevondian (Yerevan) on "Non-Armenian Documents of Matenadaran" and Annegret Plantke-Lüning (Jena) on "The Role of German Scholars in Research on Armenia's Material Cultural Heritage."
In the afternoon session, chaired by Professor van Lint, Hacik Gazer (Erlangen-Nürnberg) spoke on "Germany as an Educational Center for Armenian Students in the 19th/20th Century," Axel Meissner (Halle) on "Dr. Johannes Lepsius and the First Magazine of the German-Armenian Society Mesrop (1914)" and Ashot Galstyan (Yerevan) on "Armenian-German Relations in the First World War and 100 Years of the First Armenian Republic (1918-2018)." Professor Gazer led the final session, which heard papers by Franziska Knoll (Halle) on "The Highlands of Syunik – Petroglyphs and Summer Pastures over Millennia, by Meliné Pehlivanian (Berlin) on "Armenian Press History as Reflected in the State Library in Berlin" and by Thomas Buchholz (Halle) on "Komitas's Compositional Work from the Perspective of His Music Studies in Germany."
In her concluding remarks, Drost-Abjarjan cast her gaze to the future and the perspectives for Armenian studies in Germany.
The festivities and scholarly exchange in the historical setting had provided ample food for thought regarding precisely the future perspectives for this unique center of learning. Dr. André Höhn, a lecturer at the university, paused to reflect on a Greek script that decorates the ceiling of the university hall, a saying about life, which is all too brief, and art, which is eternal. Rendering the notion in a brighter light, he expressed his hope that the Mesrop Center would be granted both a long life and lasting impact.
(Muriel Mirak-Weissbach thanks Dr. André Höhn for having made his report on the two-day proceedings available for publication in this article. Höhn is a Lecturer at the seminar on the Christian Orient and Byzantium, of the Department of Oriental Studies, Mesrop Center.)

---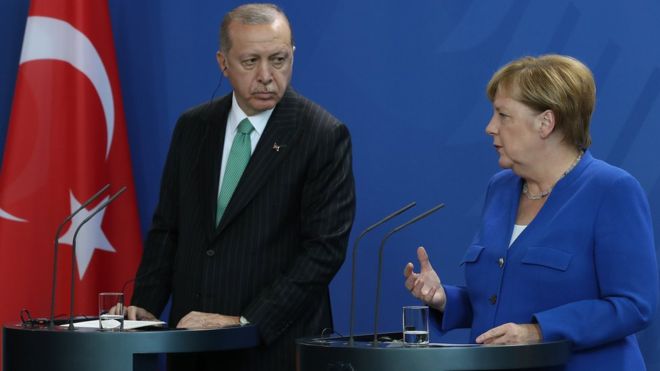 The Visit of Erdogan
by Muriel Mirak-Weissbach
BERLIN, OCTOBER 4, 2018 — One might have thought the Queen were coming, what with all the media coverage, the background reports and the talk shows, the editorials and interviews. For well over a week before Turkish President Recep Tayyip Erdogan landed in Berlin for a three-day state visit, the event dominated the political debate.
Would he or wouldn't he? Should we or shouldn't we? Erdogan had made himself a black sheep in Germany, after having accused Chancellor Angela Merkel of reviving Nazi methods, when his bid to bring his political campaign to Turks in Germany was blocked; or, when he damned Berlin for harboring terrorists, because opposition figures from his country sought and found political asylum here. Would he continue the tirades while on an official visit? Or would he behave, and try to rebuild bridges, perhaps in hopes of organizing support for his ailing national economy?
And how should we respond? The Germans asked themselves and their political leaders. Should we shake hands with this autocratic tyrant who has jailed thousands of political opponents (including German citizens), who in Orwellian news-speak he has qualified as coup plotters, terrorists and traitors? Better perhaps to sacrifice diplomatic niceties and take a principled stand against this would-be dictator than grant him the status of legitimacy?
Such was (in brief and with a touch of exaggeration) the tenor of the debate that unfolded on the German political stage in September. Erdogan was coming for a three-day visit and nobody knew quite what would happen, or what to do.
Dialogue or Diatribe?
High on the agenda were two meetings with Chancellor Angela Merkel, which were supposed to contribute to overcoming the crisis in bilateral relations.
During the joint press conference following their first meeting, Merkel said that between her and Erdogan there remained "far-reaching differences" with respect to the rule of law and to freedom of the press. Specifically she addressed the issue of German citizens who have been jailed for political reasons; although some have been freed, she said she had demanded that "the other cases could be solved as quickly as possible." Among those who have been released are Peter Steudner, Deniz Yücel and Mesale Tolu, and according to foreign ministry reports, there are five German citizens still in prison.
In addition to those in custody, there is a long list of individuals that Erdogan presented to the Germans, with the demand that they be extradited to Turkey. Prior to his arrival in Berlin, the press spoke of a list of 69 names, and after his visit there were reports of 163 names he had presented. High on the list is Can Dündar, former editor of Cumhuriyet, currently in exile in Germany. Merkel said that as far as this case is concerned, "there are differing opinions between the President and myself." Erdogan, pointing to an extradition treaty between the two countries, according to which lawfully convicted persons should be handed over. Dündar has been declared guilty of espionage relative to weapons deliveries, and has been sentenced to a lengthy prison term. Erdogan argued that, if Berlin were to request the extradition of such a person who had been lawfully convicted, then Ankara would hand that person over. Dündar was, in his view, an "agent who published state secrets."
Dündar, as a journalist, had been accredited to the press conference, but he declined to attend, since he had learned that, if he did, Erdogan would cancel the press conference.
From President to President
On Friday, September 28, Erdogan was the guest of honor at a state banquet at the residence of President Frank-Walter Steinmeier, Schloss Bellevue in Berlin. It was red-carpet treatment, as prescribed by protocol for visits by heads of state. Some commentators suggested the tactic was to flatter Erdogan, perhaps stroking his ego, as a way of preparing the terrain to address the uncomfortable issues openly.
Steinmeier did just that in his speech. "We hope that two years after the trauma of the coup attempt, Turkey finds its way back to equilibrium," he stated. "We have the wish that reconciliation between the sharp social conflicts will succeed on the basis of human rights and the principles of the rule of law." In rather blunt terms, Steinmeier said, "I am concerned, as President of this country, about German citizens who are imprisoned in Turkey on political grounds, and I am concerned also about Turkish journalists, trade unionists, jurists, intellectuals and politicians who are still in custody." Steinmeier spoke of a "disturbing number of people from Turkey who are seeking refuge from growing pressure on civil society." There are in fact large numbers of Turkish citizens, including diplomats and military personnel, who have sought asylum in Germany. In closing, he said, "I hope, Mr. President, that you understand that we cannot just carry on as usual."
Erdogan opened his remarks with positive words, praising the partnership and alliance with Germany. The guests at the gala banquet reportedly tried to follow his speech word for word, with the aid of a written translation provided to each. Erdogan recalled Germany's "valuable contributions" to his country's development, for example, the first telephone lines laid in 1881, and he was full of praise for Germany's treatment of Syrian refugees as well as economic cooperation. "There is no problem," he stated, "that could stand in the way of the German-Turkish friendship or our common interests." He called for German investments in the Turkish economy, which he characterized as a "stable market economy."
He also called for overcoming "differences of opinion in reciprocal respect." He was not going to let Steinmeier's criticism pass without comment. According to an account in FOCUS online, towards the end of his speech, he suddenly accelerated his tempo, which presented a challenge for the interpreter at Steinmeier's table. Departing from his prepared remarks, Erdogan said he hadn't thought that this would come up at such a friendly dinner party; he "actually would have preferred not to talk about this on this occasion," but he was "forced to talk about it" after Steinmeier had brought up the issue.
He demanded respect for the Turkish juridical system, which he declared was independent, and for their extradition demands. For him, those journalists and intellectuals in prison were terrorists. In the case of Can Dündar, Erdogan said he was "being introduced everywhere here on a silver platter." Germany, he charged, was protecting terrorists; "and they simply run around here, in the thousands, undisturbed." So, "shouldn't we talk about it?" In conclusion, he returned to his prepared text, with warm words for the German-Turkish friendship, etc.
According to FOCUS, "some guests were irritated, while others concentrated on the tomato salad which was served them on gold rimmed white porcelain plates." Steinmeier was not flustered; in his words of greeting to his guest of honor he had in fact said, "It is good to talk to each other. And, yes, it is even good to argue."
On the last day of his visit, Erdogan had a working breakfast with Merkel, during which they discussed bilateral relations, the internal Turkish situation and the common fight against terrorism. At the center of attention was the situation in Syria and cooperation on refugee policy.
Religious Dialogue in Silence
Erdogan then travelled to Cologne, where he presided over the official opening of a new mosque, the largest in Germany. It is a mosque of DITIB (Turkish-Islamic Institution for Religion), the largest Muslim organization in Europe and one that is tightly controlled by Ankara. It presides over 900 mosques in Germany and is under the direction of the state religion authority, Diyanet. This event was politically sensitive for many reasons. There had been a plan for a large demonstration in front of the mosque, with thousands of Erdogan supporters, but it had to be cancelled due to security concerns.
For the inauguration of the mosque, Erdogan spoke in front of 1000 invited guests, congratulating those who built the mosque for having "made such a beautiful gift to Germany." "Here there is no discrimination, no division," he said. Then, shifting tone, he again raised accusations against Germany, that terrorists were being tolerated; he named the Kurdish PKK, which is classified and treated as a terrorist organization, but also the Gülen movement, which is not.
There were others reasons for controversy in Cologne. DITIB is known to be the long arm of the Turkish establishment. Law enforcement officials in Germany conducted investigations into systematic spying conducted by mosque members on persons associated with the Gülen movement. The idea was that information on the identity of such persons would be communicated to Turkey, where juridical steps could be taken. Recently there have been proposals that DITIB be subjected to official observation on the part of the Verfassungsschutz, the Office for the Protection of the Constitution.
Prior to the visit, there was debate in talk shows and the press regarding the most appropriate manner to inaugurate such a new mosque. One question that was repeatedly raised: which president should inaugurate a mosque in Germany? Steinmeier or Erdogan? It was certainly expected that some high level German political representatives would be invited to attend and also to speak at the event, but that was not the case. Curiously, DITIB had issued a press release officially announcing that the State Prime Minister Armin Laschet would accompany Erdogan for the ceremony. This was however patently false and was duly denied by Laschet's office. The mayor of the city Henriette Reker was kept in the dark as to her role, and when it became clear that she was not invited to speak, she announced she would stay away. Thus it ended up as a Turkish event, with Turkish participants and all in the Turkish language.
In the original plans, and in the architect Paul Böhm's design, the new mosque was to be a meeting place for Christians and Muslims, and inter-religious dialogue.
Erdogan's Mission
No one should have been surprised by the turn of events in Berlin or in Cologne. Erdogan had in fact made clear what his mission was and how he planned to carry it out. In an OpEd that appeared on September 27, in the Frankfurter Allgemeine Zeitung, a paper of record, the Turkish President outlined his "Expectations from Germany." Stressing the need to turn a page and set aside misunderstandings, frictions etc., in bilateral relations, he underlined "common interests" in fighting terrorism, dealing with the refugee issue, maintaining free markets, etc. The leading challenge he identified is how to deal with the refugee flows; Turkey has taken in 3.9 million persons fleeing from various war zones, and has recently worked out a deal with Russia to prevent a new crisis around Idlib in Syria. His expectation is that Europeans take more responsibility. In the fight against terrorism, for Erdogan this boils down to identifying not only IS, the PKK and others as such, but also the Gülen organization, the so-called Fetö, which he has identified as behind the failed coup attempt. Erdogan spelled out quite explicitly in this OpEd what he later would bring up in his meetings with Merkel and Steinmeier.
No one should have been caught off guard by the demands he made publicly during the visit. Probably no one among the top politicians he met was surprised. The problem was how to deal with it. Criticism has been loud, not only of his performance but also of the fact that he was granted such a high-profile appearance. Responsible commentators have asserted that no matter how problematic relations with Erdogan may be, Realpolitik is probably the only viable approach. As Rainer Hermann, a regional expert with years of experience in Turkey, wrote about the visit from this standpoint: Turkey needs Germany now more than ever as an economic partner and Germany needs a stable Turkey in a war-torn region as well as a partner in dealing with the demands of refuge flows. "Whoever wants to stabilize Turkey has to talk to Erdogan," he concludes. "Boycotting him leads nowhere." Thus the visit and the friendly reception served as the prelude to open talks, in which highly controversial, conflictual matters are not avoided, but frankly debated. Hermann's view is that no matter how difficult it may be to alter Turkish policy, it may not be impossible.
All well and good, one might say, at least as long as one remains within the conceptual confines of Realpolitik. From an utterly different standpoint, the drama of Turkish-German relations might be cast in another light. Should they be evaluated solely in terms of bilateral realities? Is the case of the "difficult guest" Erdogan an exception? Or is he a type, a leading example of a more general phenomenon? One does not have to look far on the map of Europe to find other capitals with similar personalities at the helm, whether Warsaw or Budapest, or Rome. (Not to mention Washington, D.C.) Is it not the case that what is presented as the "Erdogan problem" is merely the local, Turkish expression of a broader problem, where political leadership has degenerated to an abysmal level, in tandem with the degradation of the overall political culture? Perhaps that is the issue that we need to address.
(Sources: combined German press and online, Frankfurter Allgemeine Zeitung, FOCUS online, Spiegel online)


---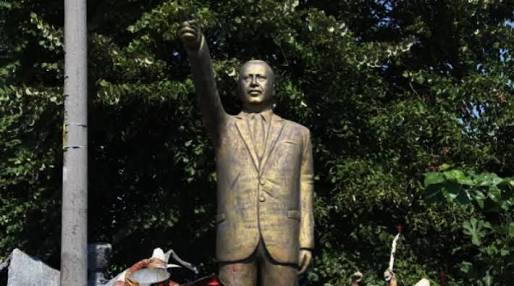 The Bigger They Are, The Harder They Fall
by Muriel Mirak-Weissbach
WIESBADEN, Germany —
"It's a bird!" "It's a plane!" "It's Superman — yes, it's Superman!"
When on August 27 of this year, a four-meter-high statue, bundled up like a mummy in white wrapping, was transported to the German Unity Plaza in Wiesbaden, Germany, as one of the exhibits making up the city-wide Wiesbaden Biennale for Contemporary Art, no one knew the identity of the being concealed inside the packaging. The organizers had requested and received permission to present the thing, identifying it as a "manlike statue" — or a "statue resembling a human being" might be a better translation. From its exterior shape, it was clearly neither a bird nor a plane. And since it could not fly, it was not Superman. Who could it be? One passer-by suggested, given its size and the gesture of its outstretched right hand, it might depict the late former Chancellor Helmut Kohl, a man who had done so much for German unification.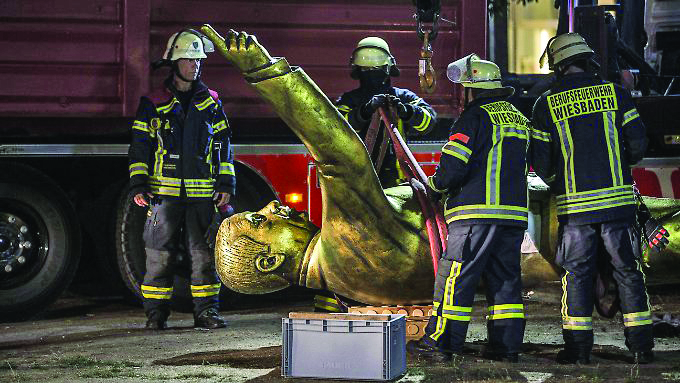 Firefighters take down the statue.
But no. When the wrapping was ceremoniously peeled off, there appeared a manlike creature, in a business suit, with his right hand extended and his index finger pointing. (At first glance one might have thought, aha, a Hitler salute! But that is banned.) It appeared to be gold-plated but, given the market price of precious metals these days, that assumption might be swiftly questioned. From the look on its face you could immediately tell, it was none other than Erdogan, Recep Tayyip himself, president of Turkey and would-be Sultan of a resurrected Ottoman Empire.
Nationalist supporters rushed to immortalize themselves by posing for selfies before the statue. Others were not amused. Passers-by who sympathized with the Turkish opposition, including ethnic Kurds, expressed their opinion that such an individual had no right to be there, perched on a little pedestal in a public plaza commemorating the unity of Germany. Verbal clashes soon broke out, someone armed with a can of spray paint wrote "F – – – Y O U" (minus the dashes) across the belly, and soon the demand was raised to have the thing removed. Rumors began to circulate that an organization of Kurds was planning a demonstration, with protesters streaming in from all over the country. Calls and emails besieged the city authorities. In his defense, the Wiesbaden State Theater Artistic Director Uwe Eric Laufenberg explained that the aim of the statue was to provoke discussion. "We set up the statue in order to discuss Erdogan," he said. "Art is there to show what is," he added. This might be provocative and difficult to understand, he acknowledged, "But in a democracy one has to tolerate all opinions." The aim was to test the limits of artistic freedom, apparently.
The city authorities, it turned out, had not been informed beforehand of the identity of the man that the manlike statue was to depict. They allowed it to stand after unveiling during the first morning but that same evening announced it would take action against the thing. Lord Mayor Sven Gerich told reporters that if the aim had been to stage a deliberate provocation, that aim had been reached. The city had provided the space for that, but now it was becoming an issue of public order. Given the heated arguments and near physical clashes erupting on the square, against a backdrop of massive pro and con arguments flashing across social media, the city decided that this was disturbing the peace, and that public order must not be endangered. Besides, to guarantee public order would have required deployment of extraordinary security forces, and that can be costly.
That night, a huge crane appeared on the site and brought Erdogan down from his platform, loading him onto a truck, which the fire brigade drove away. At the end of the week after the festival had closed, organizers were allowed to pick up Erdogan from the fire station. Its imminent fate is not clear.
If you are old enough to remember seeing Superman in a comic book, or on TV in black and white, you probably can remember scenes of crowds craning their necks to see their favorite dictator, say Josef Stalin, for example. And you will have witnessed not only the end of the reign of such strongmen but also the inglorious fate of the monumental statues erected to project their fearsome images in public squares. After the fall of the Berlin Wall in November 1989, many effigies of would-be immortals also came thudding down, toppled by political pressures of the democratic opposition.
The event in Wiesbaden triggered memories of other statues pulled down in recent years, not only Stalin and Lenin, but also Saddam Hussein, deposed by US Marines in 2003, and even a Confederate soldier in Durham, NC in 2017.
There was another such event, strikingly similar, a few years ago in Israel. On December 6, 2016, a gilded statue of Benjamin Netanyahu appeared in a Tel Aviv plaza, — not just any plaza, but Rabin Square, dedicated to the memory of the Labour Party leader who sought a political solution to the Israeli-Palestinian conflict and paid for it with his life. The artist who created that statue (about the same size as Erdogan's), one Itay Zalait, defended his controversial art work by saying he wanted to "test the boundaries of free speech." He had announced he would "undertake a subversive artistic political act which would garner much media attention." He chose the location apparently because it was formerly called Kings of Israel Square, and the name of his statue was "King Bibi." Authorities slapped an official warning sticker on his monument, giving him four hours to remove it. The word went out over social media, "topple Netanyahu," and throngs of Israelis heeded the battle cry, rushing to the square to pull it down.
Whether or not there is any conceptual, ideal — or perhaps actual — connection between on-again, off-again allies and enemies Bibi and Erdogan in this particular case is pure speculation. Or perhaps, pure provocation. It's art, after all. One thing is certain: the festival certainly lived up to the motto it had chosen for this year: "BAD NEWS."
---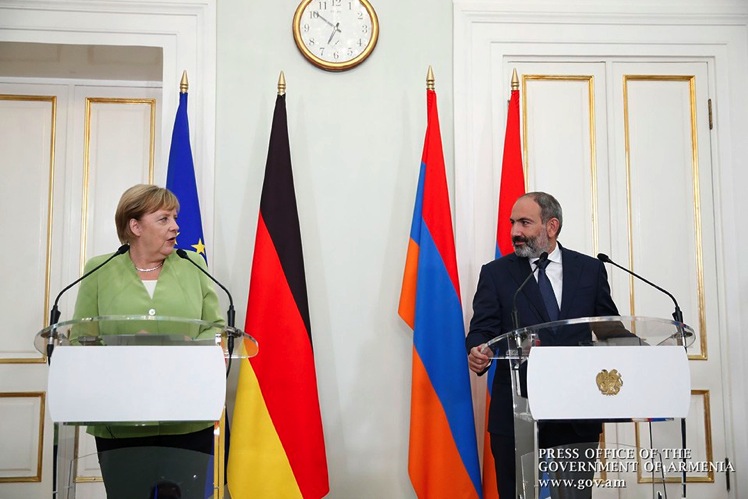 A Balancing Act in the South Caucasus

By Muriel Mirak-Weissbac
h –
Special to Mirror Spectator
While on tour in the South Caucasus last week, German Chancellor Angela Merkel was walking a tightrope, in an attempt to carefully balance geopolitical, economic and human rights concerns. Though some critical commentaries greeted her on return to Berlin, the overall evaluation of her trip was positive, and for good reason.
Accompanied by a delegation including parliamentarians as well as industrial representatives, Merkel visited Georgia, Armenia and Azerbaijan from August 23-25. Her agenda featured relations with Germany and the European Union, migration, asylum, economic ties and energy deliveries. Underlying all these topics was the primary concern to find peaceful solutions to the geopolitical conflicts involving all three post-Soviet republics.
Russia or the EU?
On her first stop, in the Georgian capital Tiflis, she held talks with Prime Minister Mamuka Bachtadze and assured him of German help in trade, development projects and training programs for youth. Plans include German financial support of 193 million euros for construction of a gas storage facilities as well as water and waste water plants. Georgia has made considerable economic and political progress since its association and free trade agreement with the EU, for which the Chancellor praised her host. One issue raised relates to the considerable number of Georgians who have come to the EU and especially Germany, in search of better economic prospects. They include Georgians asking for political asylum. This trend, as Bachtadze noted, has been declining due to efforts on both sides. Merkel said in this respect that she supported the proposal to designate Georgia as a "safe country of origin," thereby facilitating repatriation for persons whose asylum application is not accepted.
But the burning issues are geopolitical, as became evident during a session Merkel had with Georgian students. They wanted to know from "one of the leaders of the free world," as one student addressed her, when they would be able to join the European Union (EU) and also the North Atlantic Treaty Organization (NATO). Students also pressed her on the issue of South Ossetia and Abkhazia; though she had characterized the situation of the Russian troop presence there as a "gross injustice," they were not satisfied until she agreed to designate the regions as occupied. In her talks with Bachtadze she made clear that there was still a long way to go, from EU association and free trade to actual membership, not to mention becoming part of NATO.
The German chancellor, who had held in-depth talks with Vladimir Putin a week before her visit, said the Russian president was well aware of her position. She assured her hosts that the conflict around South Ossetia and Abkhazia, which had broken out almost exactly 10 years earlier, "would not be forgotten and would be on the agenda and again." She laid a wreath in commemoration of the Georgians who died during that conflict.
Armenia, an Example In Yerevan Merkel faced many of the same issues, and was careful in her formulations on sensitive subjects. She was received with full honors at the airport.
According to reports in the Armenian wires, Prime Minister Nikol Pashinyan stressed the respect and sympathy for his guest and her country. In welcoming her officially, he said, "This is the first-ever visit paid by a German Chancellor to Armenia, and in that respect, a historical event is taking place. Its value is enhanced by the fact that your visit follows major political changes in Armenia, and I look forward to holding effective talks with you in this new situation, under new political conditions." He said he hoped the visit would "usher in a new chapter in the two countries' bilateral relations," adding that "Germany is Armenia's third largest trade and economic partner on the global scale and the first one in Europe."
Thanking him for the warm reception, Merkel stated in part, "My visit comes in the wake of a major change in Armenia. While unexpected for us, it may be propitious for your country." She said she was eager to hear his views on the recent democratic developments, the "peaceful protests and the 'velvet revolution,'" and said she could "feel a sense of those changes in the air." Later, during a stroll through the city center, she would witness firsthand the overwhelming support the new prime minister enjoys from the population. "Today," she said, "we are in a city that is 2,800 years old and in a country whose people have left many traces in mankind's history."
After leaving the airport, she went with Pashinyan to the monument at Tsitsernakaberd, to pay her respects to the victims of the genocide. Though she chose not to use the term, she said her visit to the memorial was "in the spirit of the Bundestag 2016 resolution" recognizing the genocide, which was "an important step in the culture of remembrance." "We understand what atrocities were committed against countless Armenians," she was quoted saying. "This suffering should not and will not be forgotten."
She also visited the TUMO Center for Creative Technologies with the Minister of Education and Science Arayik Harutyunyan, where she said she "saw teenagers develop innovations while holding fast to the roots of Armenian culture. I just realized what a knowledgeable society exists in Armenia."
In their extensive official talks, Merkel and Pashinyan addressed bilateral and regional concerns. As in Georgia, the migration issue arose. The mass emigration that has characterized recent years, has seen Armenians going to Russia (where many have become citizens), the U.S. and Europe. Of the three South Caucausus countries on her itinerary, Armenia has the highest rate of emigration, which represents a brain drain for
the country. Merkel called for closer coordination to deal with matters pertaining to migration and asylum, saying there was "still a lot to be done." During their joint press conference, Pashinyan stressed the positive impact of the democratic changes in Armenia, which would lead to a halt in emigration and the return of many who had left in recent years. This was the way he said the problem could be dealt with. In this regard he expressed his hope that the West would recognize the progress made under his leadership, especially in the economic field. Merkel said Germany was "ready to boost and develop bilateral economic ties," expressing hopes that "we will be able to record new achievements in that direction."
Armenia has shown a trade deficit with the EU since the 1990s. For March 2018 it was $197 millions, according to Economy Watch. Trade with the EU accounts for 23.6% of all Armenia's commerce. It is Armenia's biggest export market, representing 26.7% of all exports. In this context, Pashinyan underlined the importance of the ratification of the Comprehensive and Extended Partnership Agreement, while reaffirming his country's commitment to implementing comprehensive reforms. He said that Armenia looked forward to getting larger targeted assistance from the European Union, based on the "more for more" principle.
Pashinyan was clear in his commitment to continue good relations with Russia, both strategic and economic. Armenia's membership in the Eurasian Economic Union is therefore not be questioned; at the same time, he stressed the desire to enhance the free trade agreement with Europe. As noted by
Deutsche Welle
, Merkel explicitly endorsed this approach, as she considers the interplay between Armenia's democratic development and its de facto dependency on Russia in a positive light. For the German Chancellor, Armenia could set an example, demonstrating the possibility of maintaining good relations with the EU and with Russia at the same time.
Finally, according to Armenian wires, Merkel and Pashinyan also discussed issues related to visa liberalization, enhanced contacts between people, cooperation in healthcare, the environment, road construction, and information technologies. They expressed satisfaction with the bilateral cooperation in science, education and culture.
Angela Merkel was received on August 25 at Echmiadzin by Catholicos of All Armenians Kareken II, who said her visit would provide impetus for further developing bilateral relations. Merkel shared her impressions of her visit and expressed Germany's readiness to boost the partnership. The two also exchanged thoughts on the Nagorno Karabakh conflict.
This complex problem played a central role in the political discussions. As a permanent member of the Minsk Group within the OSCE, Germany can and wants to be instrumental in finding a negotiated solution. Recently, in early July, the co-chairs of the Minsk Group, from the Russian Federation, France and the United States, met in Brussels with the Foreign Ministers Zohrab Mnatsakanyan and Elmar Mammadyarov, in pursuit of confidence building measures. The two Armenian and Azerbaijan diplomats are scheduled to meet in September.
Merkel and Pashinyan again stated their commitment to a negotiated peaceful settlement within the OSCE Minsk Group. Then the Chancellor issued a public statement on August 25, proposing to both sides that Germany mediate in the conflict.
Significantly, it was in Baku, just as she was to start talks with Azerbaijan President Ilham Aliyev, that Merkel made the offer. (Perhaps by coincidence, Pashinyan reportedly paid a working visit to Artsakh Republic that day, and was received by President Bako Sahakyan.)
The third stop on the German chancellor's tour may have been the most challenging. First,
as reported, Azerbaijan had refused to allow Albert Weiler, a parliamentarian from Merkel's CDU party, to enter the country. Weiler had visited Nagorno Karabakh twice, which, it is well known, would disqualify him for legal entry into Azerbaijan. There was no special exception made, although that might have been possible according to the rules of diplomacy. Secondly, a scandal had erupted in recent months, when it became known that Azerbaijan had been funding several members of the European Council, to influence their policy orientations. Among them is one Karin Strenz, who is a member of the CDU. The scandal involving Strenz had been documented by the German-Armenian Society in its publications. Finally, there was considerable concern especially among human rights groups and press that the issue of abuses in Azerbaijan should be addressed by Merkel. In their joint press conference, in response to a question on political prisoners, President Aliyev
reportedly shot back with a categorical statement, that there is total freedom in Azerbaijan. Merkel commented then that there was room for improvement in the democratic standards observed, for example in election monitoring.
It is assumed that all these thorny questions came up during the private talks that the two leaders held. What was made public dealt with economic projects, especially the so-called southern corridor pipeline which should deliver gas from Azerbaijan via Turkey to Europe, as a counterweight to the North Stream II pipeline from Russia. Aliyev confirmed his support for the project. And the two agreed on expanding economic ties, including cooperation in construction, infrastructure and the agricultural sector.
(Sources: Aysor, Deutsche Welle, Spigel online, Frankfurter Allgemeine Zeitung, Deutsche Wirtschafts Nachrichten, Zeit online, Tagesspiegel, ntv.)

---
Merkel in the South Caucasus: A Thorny Diplomatic Agenda
By Muriel Mirak-Weissbac
h
– Special to the Mirror-Spectator
BERLIN — German Chancellor Angela Merkel will visit Armenia at the end of August as part of a regional tour that will include Georgia and Azerbaijan. She is expected to arrive in Yerevan on August 24 (after press time) for a two-day working visit, during which she will meet with both Prime Minister Nikol Pashinyan and President Armen Sarkissian. Following her talks with the former, which should deal with bilateral relations, economic issues and the European Union, the two are scheduled to hold a joint press conference.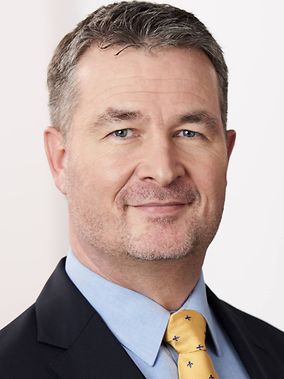 Albert Weiler, a member of the German Bundestag (Parliament) barred from entering Azerbaijan

Foreign policy themes are also on the agenda, and high among them will certainly be the tensions with Azerbaijan around Nagorno Karabakh (Artsakh). Germany is a permanent member of the Minsk Group within the Organization for Security and Cooperation in Europe (OSCE), which has been tasked with finding a negotiated solution to the conflict. German President Frank-Walter Steinmeier made his fourth visit to Yerevan in 2016, at the time in his capacity as foreign minister. In talks with then-Foreign Minister Edward Nalbandian, he spoke of the need to melt "frozen conflicts," like the one between Azerbaijan and Armenia, and called for direct negotiations between the two sides. Recently, in early July, the co-chairs of the Minsk Group, from the Russian Federation, France and the United States, met in Brussels with the two foreign ministers, Zohrab Mnatsakanyan and Elmar Mammadyarov, in pursuit of confidence building measures.
Mediation Undesired
Merkel's diplomatic tour was supposed to bring new momentum into the process. But an extraordinary move by the Azerbaijan government just days prior to her departure has raised concerns that Berlin's peace-seeking mission is not welcome in Baku. On August 20, Albert Weiler, a CDU Bundestag member from Thuringia who is scheduled to accompany Merkel on the trip, announced that the authorities were not allowing him to enter the country. As first reported by the online edition of the mass daily tabloid
BILD
and covered by other major press, Weiler was informed that he was considered an "undesirable person" and mediation attempts undertaken by the German Foreign Ministry with the Azerbaijan embassy led nowhere. The embassy, citing decisions taken at the highest government level, made clear to the parliamentarian that he would be arrested at the airport. (The similarities to practices one usually associates with Turkey and President Erdogan are striking.) Weiler decided to go ahead with the travel, but to return to Berlin after visiting Georgia and Armenia.
Why the fuss? Weiler is deputy chairman of the German-South Caucasus Group in the parliament and has been active in seeking a solution to the Nagorno Karabakh conflict. He visited the region in 2014 and 2016. As he commented following the ban on his visit, "I am greatly concerned about peace in the region and would have been glad to mediate." What is not mentioned in the press coverage of the outrageous diplomatic affront is that Weiler has become prominent in promoting relations with Armenia. In May 2015, he founded the German-Armenian Forum, dedicated to helping Armenians and Germans learn more about each other, by facilitating contact and exchanges at all levels – from the politicians to the students and civil society. (See "German-Armenian Forum Launched in Berlin," Armenian Mirror-Spectator, May 29, 2015.)
While in Yerevan, Merkel plans to visit the Genocide monument and museum at Tsitsernakerbad, as Steinmeier did before her. In July 2016, the German Bundestag (Parliament) passed a resolution recognizing the Armenian genocide of 1915.
In talks with government officials on her first day in the region, August 23 in Georgia, it is expected that relations with NATO and the European Union will be discussed. On the last day of her tour, August 25, she will be in Baku, where gas deliveries to Germany and the EU will be on the agenda.
The Role of Putin
It is important to note that on Saturday, August 18, just a day after her Caucasus trip was officially announced, Merkel held substantial talks with Russian President Vladimir Putin at the government guest house at Schloss Meseberg in Brandenburg. It was their second meeting in three months. What became public from their three-hour session was that their talks included the situation in Syria, Ukraine, Iran and the North Stream 2 gas pipeline from Russia to Germany. Merkel faced considerable criticism for meeting Putin, but responded by stressing the need for cooperation between Germany and Russia to find solutions to pressing international crises. These certainly include the South Caucasus; not only Georgia's delicate position but also the Nagorno Karabakh conflict.
---
Behind the New Threats to Iran
By Muriel Mirak-Weissbach –
Special to Global Research
There can be no doubt that there is a new, immediate threat of destabilization, if not war, against Iran. As reported in major media and detailed in several articles on this website, the Trump administration, in tandem with Benjamin Netanyahu's government, has been signaling its bellicose intentions loudly. The cancellation of US participation in the Iranian nuclear deal and the US recognition of Jerusalem as Israel's capital were the stepping-stones towards subsequent threats of "CONSEQUENCES…" twittered by the rowdy US President. Whether Trump intends to start a war or to attempt regime-change (see Trita Parsi), the intention is to shift the kaleidoscope of geopolitical relations once again, with the aim of establishing Israel as the regional hegemon.

"Clean Break"
Israeli strategists do not think in terms of years, but centuries, as Netanyahu never tires of reminding us. And it is useful to look back twenty years or so to review a major strategy document then coordinated by the Bush neocons and Netanyahu, that outlined long-term aims. I presented the matter in my book in the following terms:

In 1996, the Cheney teams issued "A Clean Break: A New Strategy for Securing the Realm," prepared by The Institute for Advanced Strategic and Political Studies' "Study Group on a New Israeli Strategy Toward 2000." The title referred to the opportunity and need, in the event of a new Israeli government under Benjamin Netanyahu, to make a total break with the Oslo Accords of 1993, which had promised progress towards peace between Israel and the Palestinians. Instead, Israel should work closely with its neighbors Turkey and Jordan to contain, destabilize, and roll back some of its most dangerous threats. Instead of pursuing a comprehensive peace, Israel should resort to a traditional concept of strategy based on balance of power. To deal with its perceived regional threats, Israel should "engage" Syria, Iran, and Hezbollah (considered as "agents" in Lebanon), and not exclude military forays into Lebanon. Israel should "contain" Syria and reject any land for peace deals on the Golan Heights. Israel should "focus on removing Saddam Hussein from power in Iraq," and should curry favor with the Hashemite regime in Jordan to ensure its support. The paper endorsed a "Change in the nature of its relations with the Palestinians, including upholding the right of hot pursuit for self defense into all Palestinian areas and nurturing alternatives to Arafat's exclusive grip on Palestinian society." The thrust of the document was that the entire Middle East should be reshaped through regime change in Iraq, Iran, Syria, and Lebanon (either by war or other means), and the parallel consolidation of nuclear-armed Israel as the regional hegemonic power. The "Clean Break" paper was delivered to Benjamin Netanyahu who, days later, presented the overall political thrust to a joint session of the U.S. Congress as his government policy.
President Clinton conducted air raids against Iraq in an undeclared war over the 1996-1998 period, but stopped short of the full-scale aggression that the Cheney grouping sought. That became possible only when the dubious 2000 elections brought Bush-Cheney to power. The events of September 11, 2001 provided them the pretext to move into high gear…. After Afghanistan came the second Anglo-American war against Iraq. The governments in both Kabul and Baghdad were overthrown through military means, and the long, tragic process of occupation began. Syria was destabilized after the February 2005 assassination of Lebanese former Prime Minister Rafiq Hariri was blamed on Damascus and Syrian troops were forced to leave the country. Lebanon underwent its own version of regime change. Then, Iran became the new bull's eye. All in sync with "Clean Break."
In 2006 Israel waged war against Lebanon, targeting Hezbollah, and attacked Hamas in Gaza. At the end of 2008 came another Gaza war, which implemented the new approach to the Palestinians detailed in the "Clean Break" paper: "First and foremost, Israel's efforts to secure its streets may require hot pursuit into Palestinian controlled areas, a justifiable practice with which Americans can sympathize. …" The Bush regime did indeed sympathize. By 2008, the aims of the doctrine had been pursued in Lebanon and Iraq. The Israelis, who had been clamoring for years for a green light from the Bush-Cheney regime for a "preemptive" strike against Iran's nuclear installations, had been prevented in late 2007 by the National Intelligence Estimate report which said that Iran did not possess a nuclear weapons program.
There was never any doubt that Iran was the enemy. Neocon John Bolton was explicit. The former US ambassador to the UN said on December 31, 2008 that the Gaza campaign was a stepping-stone toward war against the Islamic Republic. FOX news quoted him saying:
"I don't think there's anything at this point standing between Iran and nuclear weapons other than the possibility of the use of military force possibly by the United States, possibly by Israel." He added: "So while our focus obviously is on Gaza now, this could turn out to be a much larger conflict. We're looking at potentially a multi-front war."
It did not happen then, but Israeli military planners did not give up on a future strike against Iran. And in preparation, they had to neutralize those factors which could be activated in sympathy with the Islamic Republic. Hamas was attacked again in Gaza in 2014.
Looking at the region today from the standpoint of the strategic aims of "Clean Break," Israeli planners must be checking off items on the list: Syria has not only been contained, but through prolonged war the country has been largely destroyed; Saddam Hussein is gone from Iraq; Hezbollah and Lebanon represent no existential threat to Israel; as for the Palestinians, there has been a "change in the nature of relations" indeed, with Hamas being militarily attacked and economically choked in Gaza, while the Palestinian Authority faces a fait accompli in Jerusalem and the new law on the Jewish state. And though the Bush crowd is gone, Bolton and company are back and Trump has endorsed the entire agenda.
From this viewpoint, Iran is being isolated and there should be no doubt, considering the recent moves in Washington and Tel Aviv, that the Islamic Republic is next on the hit list.
The author can be reached at mirak.weissbach@googlemail.com.
Notes

1. Through the Wall of Fire: Armenia-Iraq-Palestine; From Wrath to Reconciliation, Ithaca Press, Reading, 2012.
2. "A Clean Break: A New Strategy for Securing the Realm," www.iaps.org/strat1.htm. This document was the application to the Middle East of the so-called "Wolfowitz Doctrine," or plan to establish the U.S. as the sole dominant world power. It was authored by Cheney aide David Wurmser, his wife Meyrav, Richard Perle, James Colbert, Charles Fairbanks Jr., Douglas Feith, Robert Loewenberg, Jonathan Torop, among others.
3. https://www.globalresearch.ca/after-the-national-intelligence-estimate-nie-on-iran-let-the-great-debate-begin/7722
4. See https://www.globalresearch.ca/the-target-is-iran-israel-s-latest-gamble-may-backfire/11747 and https://www.globalresearch.ca/today-gaza-tomorrow-iran/5395359 and https://www.globalresearch.ca/preparations-for-a-hit-against-iran-stopping-israel-s-next-war/18235
Featured image is from New Eastern Outlook.
---
Armenian Musician Emmanuel Tjeknavorian Celebrated in Germany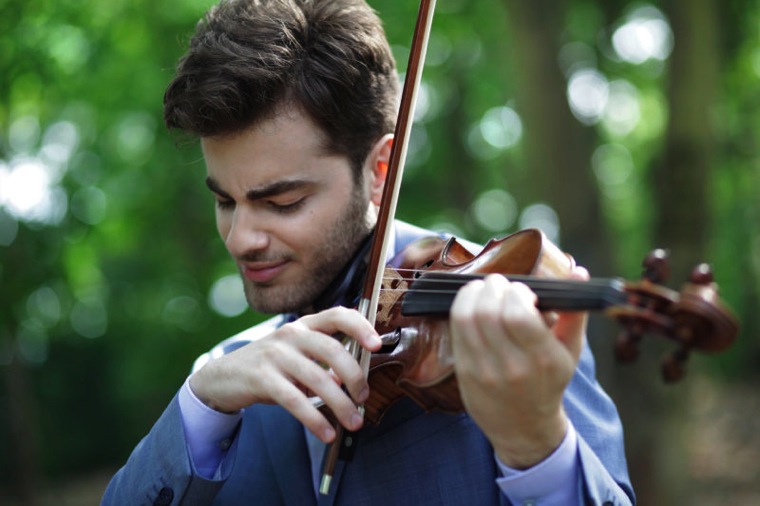 by Muriel Mirak-Weissbach
RHEINGAU, Germany – Among the many special cultural events held in Germany during the summer, the Rheingau Music Festival is perhaps the most famous, not only for its location in the magnificent castles and basilicas of the Rhine valley, but also for the world class performers it invites. Among them this year is the 22-year-old exceptional violinist Emmanuel Tjeknavorian.
For HR2Kultur, the regional Hesse cultural radio, "He makes the violin glow," and is "one of the highlights of the Rheingau Music festival so far." That was on July 19, the day after his concert in the Johannisberg Castle, where he was joined on the piano by Maximilian Kromer. At the conclusion of the performance, he was formally presented the LOTTO prize by the festival's artistic director Michael Hermann. The LOTTO prize, which includes €15,000, is awarded annually to an extraordinary young talent who has performed at the festival. Tjeknavorian won it for a concert in 2016. The jury selected him for his "brilliant technique and his incredible sense of interpretative subtleties" and noted that "so much naturalness, sympathetic charisma and pleasant modesty coupled with a great virtuosity are rarely experienced with a great musician."

From left, Dr. Heinz-Georg Sundermann, Maximilian Kromer, Emmanuel Tjeknavorian, Franziska Reichenbacher, Michael Herrmann (Photo: © Ansgar Klostermann)
The works selected for this year's concert, as Tjeknavorian described in the brochure, all express the spirit of friendship, the motto of the festival. The three romances by Clara Schumann were composed and dedicated in friendship to Joseph Joachim, and the FAE Sonata "was a present from his closest friends Johannes Brahms, Albert Dietrich and Robert Schumann." It was Joachim who arranged the Hungarian dances by Brahms for violin and piano. The second part of the program featured Eugene Ysaye, with a sonata he composed for violin solo, and a sonata he received as a wedding present from Cesar Franck. "Last but not least," he concluded, "my close friendship to my longstanding duo partner Maximilian Kromer is of special significance on this extraordinary concert evening."
A Rising Star in Europe
The young violinist has already performed in the most renowned concert halls in Europe, including the Berlin Philharmonic, where he appeared with the Berlin Symphony Orchestra, in a series called Debüt im Deutschlandfunk Kultur, the same series where Daniel Barenboim, Jessaye Norman and Simon Rattle had made their debuts before him. He performed the Sibelius violin concerto. He also appeared in the spectacular new Hamburg Elbphilharmonie in January of this year, as well as in Cologne and Dortmund. In Vienna's Konzerthaus in April, he stepped in for David Garrett, who was ill.
The Beare's International Violin Society, a private foundation, made a Stradivari available to him two years ago and he has been performing on this historic instrument since then. In a television interview at the beginning of August, he said, "The thought fascinated me: this violin was built in 1698, when Mozart had not composed anything, Beethoven had not yet thought about his violin concerto and the architects had not conceived the Elbphilharmonie, and yet I pick up my violin and enter such a huge concert hall and it sounds."
A Family of Musicians
Tjeknavorian's parents are both professional musicians, and the story goes that his mother did not want him to follow in their footsteps. But at the tender age of two, he was already on stage, pretending to conduct, together with his father, the famous composer and conductor Loris Haykasi Tjeknavorian. When he was five, he asked for a violin as a present and two years later made his debut, accompanied on the piano by his mother. Since 2011 he has been studying with Gerhard Schulz, formerly of the Alban Berg Quartett at the University for Music and Performing Arts in Vienna, where he was born. He studied in Armenia, under Petros Haykazyan, and has experience also with the Russian school.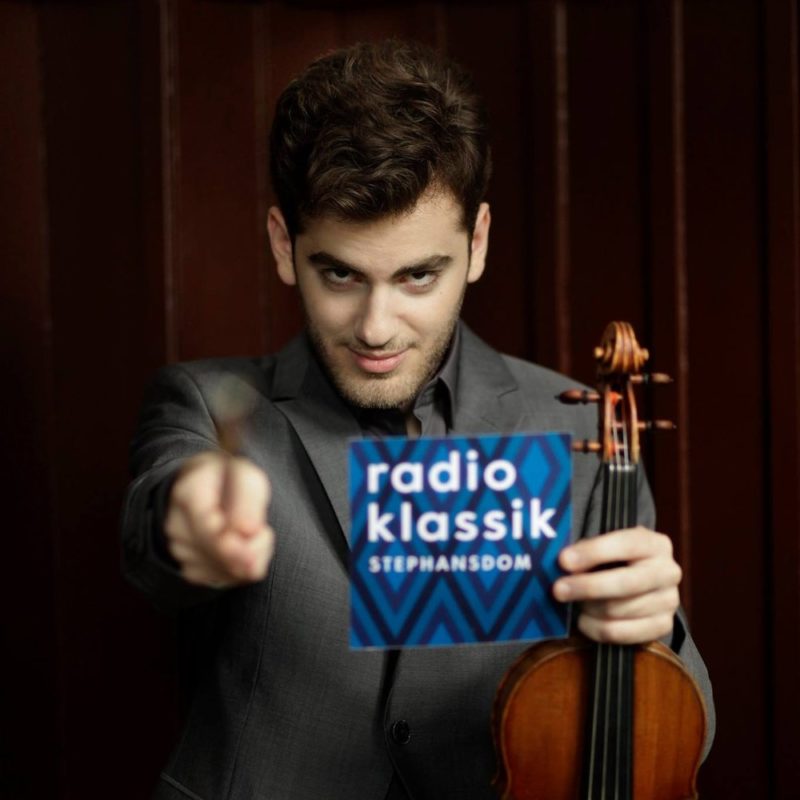 Emmanuel Tjeknavorian
His paternal grandfather was from Eastern Armenia and his grandmother, from Western Armenia, whence she fled in 1915. His father Loris started on the violin at the age of eight and began to compose as a child. He studied at the Vienna Academy of Music and spent many years in Iran. In 1989 after the earthquake, he went to Armenia to help rebuild cultural life, in Gyumri and other cities. He served for 11 years as musical director of the Armenian Philharmonic Orchestra in Yerevan, and has composed many operas, symphonies, choral works as well as pieces for piano and voice. A number of his major works develop themes from Persian litertaure.
The young Emmanuel takes after his parents, not only as a musician but as a person conversant with several different cultures. As he put it in the television interview, "One or two years ago I thought it was not all that important, whether I came from Armenia, or was educated in Vienna, but at the moment – I don't know about later – now I think these components are so important: that I know Armenian, that I can read Russian literature in the original; and my feelings are especially strong when I play Armenian music, for example."
Though still very young, he displays a rare technical mastery. He has compared the importance of technique in music and soccer, a favorite sport, where utmost precision in making a pass on the playing field is crucial, too. "Music is 99 percent hard work and technique, and one percent inspiration, and that comes from the Creator," he is quoted as saying. "If one has the technique, one can work with more intensity."
In addition to his concert activity, Tjeknavorian has released his first CD, entitled "SOLO," and hosts a monthly show on "radio klassik Stephansdom" in Vienna. Germans will have a chance to hear more of his music in person, as he has been engaged for three years to participate in a concert series in Dortmund, dubbed Young and Wild, beginning in the 2018/2019 season.
(Sources: "Tjek it out!" by Helge Birkelbach, Nov. 25, 2017, Concerti; ARD, German national television, July 1, 2018, Lutz Pehnert; Rheingau Musik Festival, Program, from July 23 to September 1, 2018; Wikipedia Loris Teknavorian; www.emmanueltjeknavorian.com)

---
Two-Week Immersive Armenian Course Big Success with German Students
By Muriel Mirak-Weissbach
– Special to the Mirror-Spectator
BERLIN — Young people engaged in Armenian studies who want to learn about the country first-hand can take advantage of one of the many programs offered by the German Academic Exchange Service (DAAD) (
https://www.daad.de/en/)
.
The DAAD, founded in 1925, is the largest German organization providing support in the field of academic cooperation. This year they are again offering an Armenian Summer School for two weeks, with language study, lectures on the country and field trips to significant sites. The program came into being some years ago as a col- laborative effort among scholars in the fields of German and Armenian language studies, in both Germany and Armenia, with the participation of the Yerevan State W. Brusov University for Languages and Social Sciences.
By staying with guest families in Yerevan, the students will enjoy full immersion in the language. In addition, they will have Armenian classes every morning, followed by lectures presented by experts. As detailed in the program, these talks deal with Armenia, its history, culture and politics, as well as the language. For example, subjects range from Armenian History, the Armenian Apostolic Church and the Armenian Media Landscape, to A Comparison of Armenian and German Grammar, the Comparative Use of Personal Names, Courtesy in Armenian and German, etc.
Prof. Stefan Rabanus treats comparative grammar as a fascinating theme that allows one to gain insights not only into the second language, with its unique solutions for conceptual tasks, but also, by reflection, into one's own language. Eliza Ghazaryan's subject is Courtesy, which has become a favorite theme in scientific discus- sion recently, especially in the context of intercultural communication. Anahit Avagyan will present an overview of the Armenian Apostolic Church, not only historically, but also its role in the 21st century.
Lectures will also deal with current events: Armenia between Russia and Europe, Armenia and the European Union, the economic situation in the country, its biodiversity, and the most explosive recent developments, Armenia's Experience in Democracy in Spring 2018. Richard Giragosian, who is founder and director of the Regional Studies Center, will discuss Armenia's relations with Russia and the Eurasian Economic Union, and the EU, as well as Armenia's role in the Southern Caucasus. The Regional Studies Center is a leading Armenian thinktank involved in political and economic reforms as well as conflict resolution.
Lectures on the church and Armenian literature will be enhanced by visits to Echmiadzin and the Matenadaran. Field trips are also planned to the Genocide museum, Khor Virap, Noravank, Areni and Dilijan national park.
The program runs for two weeks but promises to provide young academics a unique learning experience in Armenia.
---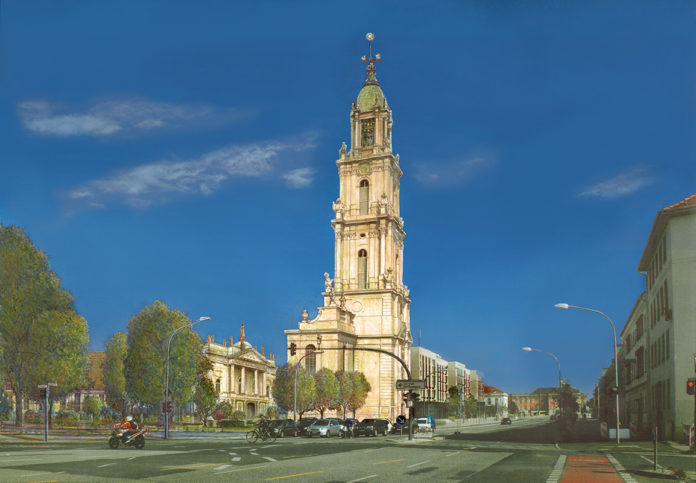 Gratitude from the Diaspora
POTSDAM, Germany — Last month a leading Armenian association made headlines in Germany, after it was formally announced that Armenian philanthropist Noubar Afeyan was donating 200,000 euros from the Aurora Humanitarian Initiative to a project to reconstruct a historical church now lying in ruins. The Court and Garrison Church in Potsdam, as its name betrays, is a church constructed originally for members of the royal court and military to worship. It was built by architect Philipp Gerlach from 1730 to 1735, on orders of Friedrich Wilhelm I, who was known as the soldier-king. He and his son, Friedrich the Great, were buried there.
In its long and checkered history, it has been destroyed and rebuilt more than once, the architectural victim of shifting political fortunes. At the end of World War II, on April 14, 1945 it was bombed by the British and the nave and bell tower went up in flames, leaving only the external walls intact. With repairs, it was renamed as Holy Cross Chapel in 1949, and was used for services and other parish activities for almost 20 years.
In 1966, the East German Communist regime targeted the building for destruction. Walter Ulbricht, leader of the SED Socialist Unity Party, is quoted as having asked, "What business the ruins had to be there," and called for it to be removed. He considered it a blemish on the socialist image of the city. Despite protests by citizens, architects, churchmen and cultural historians, the city authorities decreed the elimination of the church by explosion. This took place in summer 1968 and right next to the site they built a Computing Center 1971, which stood as an example of socialist architecture.
The Berlin Wall came down in November 1989 and the regime followed. Soon thereafter Germany was reunified and a long process of rebuilding — political as well as cultural — began. What was to become of the historical buildings still standing? And how should one deal with the monuments to the socialist domination in former East Germany? The church of the Hohenzollern dynasty represented a special challenge.
In 2008, the Potsdam Garrison Church Foundation was inaugurated and joined forces with the Society for the Promotion of the Reconstruction of the Potsdam Garrison Church (FWG), founded in 2004 by citizens of Berlin and Potsdam with the support of church and political authorities. Last June 24, fifty years after the church had been blown up, FWG chairman Matthias Dombert presided over a commemorative service and among those attending was Harout Chitilian, representing Aurora.
The Aurora Humanitarian Initiative was established by three prominent Armenians whose forefathers were among the fortunate few to survive the genocide (https://auroraprize.com/en/prize/detail/about). Over the past few years it has become well known in Armenia for its annual Prize for Awakening Humanity, which honors an individual whose single actions have contributing to preserving lives, along with institutions that have helped make that individual effort possible. To express "gratitude in action," Aurora has launched several projects, including scholarships to help refugees, children and victims of conflict and poverty.
Founded in 2015 by Vartan Gregorian, Ruben Vardanyan and Noubar Afeyan, the initiative draws inspiration from the past to encourage efforts towards building a future in which "empathy will replace sympathy." It is a global movement with activities on every continent.
A Personal Story
In keeping with the profile of the Aurora Initiative, the decision to make this donation springs from a personal story, that of Noubar Afeyan. As he has related the events in several locations, his grandfather and great-uncle were saved from certain death thanks to the efforts of German officers in Turkey during the war. The two Armenians had been pulled out of a hopelessly packed cattle car at a small station called Belemedik, by German military personnel. The officers were deployed on the Baghdad railway project which the Germans were constructing for their Ottoman allies.
Speaking during an Aurora award ceremony in Yerevan last year, Afeyan described his ancestors. "My grandfather had blue eyes and spoke perfect German. Both [he and my great-uncle] worked at the German Industry Bank in Constantinople. The Germans had the best logistics," he went on, "and hence supported the genocide, but there were also officers who, as Christians, could not agree to this." It was such officers who supplied his ancestors, Bedros and Nerses, with German uniforms, as well as documents, and employed them for two years in the Baghdad railway project as book-keeper and supply manager. Afeyan's great-aunt Armanouhi (who lived to the age of 101) never tired of telling him the story to him as a child in Beirut where he was born. Her husband, the doctor Antranig, was protected by "the Ottoman soldiers because he protected them," she explained. Bedros and Nerses were her brothers. As Afeyan related it to 100 Lives, the two "would go into the trains as they passed through Belemedik to search for people who they could help escape in order to resurrect the Armenian nation — clerics, educators, writers, doctors. Armenouhi said they felt terrible, knowing the other people left on the train were surely going to die." There would be no diaspora if such individuals like the German officers had not provided protection. "We would not be here without our friends," Afeyan has said.
The Garrison Church reconstruction initiative caught Afeyan's attention because the promoters had clearly stated their intention to resurrect it as a site of peace and reconciliation. He intends thus to honor those who saved his ancestors, but also the many more unnamed soldiers who acted according to conscience. Afeyan has referred to many families he knows whose ancestors were saved by German and Austrian soldiers. Krikor Balakian, who later served as bishop of the Armenian Apostolic Church in London and Marseille, is another descendant of Armenians thus spared.
One Symbol, Many Meanings
The plan to restore the Garrison Church has been shrouded in controversy from the start, a controversy that springs from the symbolic value attributed to the edifice and the several changes of fortune the church has witnessed.
The opponents of the reconstruction project denounce the church as a symbol of Prussian militarism and hero worship, associated not only with Friedrich the Great but also with the Nazis. On March 21, 1933, in fact, Hitler shook hands with German President Paul von Hindenburg in front of the church, as documented in photographs. The gesture is seen as emblematic of the fateful alliance between the old Prussian establishment and the new fascist dictatorship, a dictatorship which perverted and exploited Christian values and church authority. Opponents of the reconstruction plan call it the "Cathedral of German militarism." One further consideration raised against the project is that funds could be better deployed elsewhere; there are other churches in sore need of funds for repairs and renovation, as Detlaf Karg, Director of the Brandenburg Office for Preservation of Monuments, has pointed out.
The opposition has organized to block the initiative, by mobilizing 14,000 citizens to sign a petition calling for a referendum on the project. In addition, in 2015 a group of artists set up a Creativity Center in the Computing Center, in hopes of preventing it — a representative of socialist architecture — from being razed to make way for the reconstructed church.
On the other side are the promoters of the effort in the Garrison Church Foundation, who include prominent Brandenburg politicians and church representatives, like former Prime Ministers Manfred Stolpe and Matthias Platzeck, former Interior Minister Jörg Schönbohm, current Science Minister Martina Münch and Potsdam Mayor Jann Jakobs. Representatives of the German Evangelical Church (EKD) are Irmgard Schwaetzer, President of the EKD Synod, and Wolfgang Huber, former EKD council chairman. Television personality and philanthropist Günther Jauch is also involved.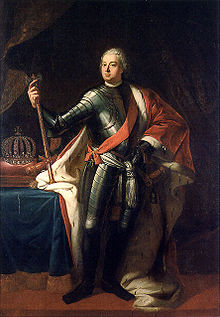 Friedrich Wilhelm I
These promoters and their supporters argue that the church should symbolize peace and reconciliation. Some stress the fact that King Friedrich-Wilhelm I, the first patron of the church, was a city-builder, a reformer and was not — like his son, Friedrich the Great — engaged in wars of aggression. They point to the bright spots in the history of the church: it was the venue for the assembly of the first freely elected Potsdam Council (Magistrat) in 1809, and in 1817, on the 300th anniversary of the protestant reformation, it hosted the meeting of Calvinists and Lutherans who established the Church of the Old Prussian Union. As for the relationship to Nazi Germany, it is recalled that many of the officers who conspired to assassinate Hitler on July 20, 1944, like Henning von Tresckow, were members of this parish. Finally, there is also the argument that the reconstruction is but one part of a broader effort to restore the historical Prussian city of Potsdam to its Baroque splendor, making it worthy of its designation as a UNESCO world heritage site.
People, Not Stones, Make History
But the decisive factor for the promoters is the human factor; as Huber, former bishop of Berlin-Brandenburg, put it, "The question is not, must the tower be rebuilt? The question is, should it be rebuilt? The opponents say no. I consider this magical thinking, which I as a Christian do not accept. The evil spirit of the past does not hang on walls. It was human beings who were responsible for this spirit. Those responsible for continuing this spirit will also be human beings, not walls. So I would be quite devout and would say: this viewpoint is incompatible with my Christian faith." The church will be what one determines to make of it and how one deals with its historical burdens. For Huber, "Nowhere in a church-related site can one come so close to the disaster of our history as here." On October 29, 2017, during a service, he said, "The tower should again become what it was for centuries: an architectural symbol in the city landscape," and "it should become what it never was: a center for peace and reconciliation." Precisely because of this history, he considers it an important part of the culture of remembrance. The idea is that reconstruction will contribute to remembering the lessons of history, learning responsibility and living in a spirit of reconciliation. The project calls for other activities in addition to church services to be held in the tower, specifically pedagogical and scientific events dealing with history.
The enterprise is underway, as the relevant church and political institutions have agreed, and, as mentioned, the funds are coming in. In 2013 the Garrison Church was recognized officially by the federal government's Representative for Cultural and Media Affairs as a nationally significant monument, and 12 million euros in federal government funds are to be allocated towards the estimated total cost of 27.5 million euros. The EKD has organized 5 million in loans, and private donors have come up with 10 million. Individuals and groups can make small or large donations: they can sponsor tiles for the tower, at 100 euros each, or contribute 10,000 euros to build a threshold; 200,000 euros can finance a vase containing a flame, and 100,000 euros will pay for the capital of a column. Among the private donors is the Aurora Humanitarian Initiative, in the person of Noubar Afeyan. It is not clear what specifically the donation should finance, but Afeyan's declared intention is to contribute to express gratitude for those German officers who saved Armenians, in the spirit of reconciliation.
The Other German Officer
Afeyan may or may not be aware of the controversy around the project. Given the noble intentions motivating their donation, it should be of interest to the Aurora Humanitarian Initiative to learn of another comparable controversy, which involves a famous German officer who saved Armenians from death, as those unnamed officers saved Afeyan's grandfather and great-uncle. This is the case of General Otto Liman von Sanders, who was the leader of the German military mission on the Bosporus during World War I. Although German officers were not to interfere in internal Turkish policy, Liman von Sanders used his military position to intervene repeatedly to prevent deportations of Armenians and Greeks slated for extermination. In 1916 he threatened the Vali (governor) that he would deploy his own armed soldiers to block a planned deportation of Armenians from Smyrna, thereby saving an estimated 6-7,000 persons. He acted again to stop the deportation of Greeks from Urla and the coastal regions. This is recorded in official diplomatic correspondence and in personal eye-witness reports. (See:
https://mirrorspectator.com/2017/01/12/liman-von-sanders-a-matter-of-honor/
)
Despite his extraordinary efforts, instead of being recognized after the war, he was framed up and persecuted. In 1919, while en route to Germany with other officers, he was illegally detained in Malta, arrested as a prisoner of war, and released after eight months only after a massive diplomatic effort had been launched to free him. After his death in 1929 he was buried in the Old Cemetery in Darmstadt, his home, and was given an honor grave, in recognition of his military achievements. Recently however, in 2015, he was stripped of this honor, on grounds that it had been conferred "exclusively for his military successes," and he was even accused of having been involved in the genocide of the Armenians.
The case of Liman von Sanders remains the subject of heated controversy, as competent historians and journalists have joined to demand that the historical record be rectified and his reputation be restored, along with the honor status of his burial site. Given the mission of the Aurora Humanitarian Initiative to honor the memory of those who acted individually and at great personal risk to save our Armenian forefathers, one would hope that the case of Liman von Sanders would come to their attention. There are no monuments to be reconstructed, merely the recognition of the honorable deeds he performed in a spirit of humanity.
(Sources: "Preußens Gloria," by Christina Rietz, Die Zeit, May 25, 2018, "Aufbau der Garnisonkirche: Ein Armenier dankt deutschen Soldaten," Potsdamer neueste Nachrichten, June 2, 2017, June 21 and 24, 2018, Wikipedia,
http://garnisonkirche-potsdam.de/nc/
, 100 Lives,
https://auroraprize.com/en/stories/detail/regular/114/noubar-afeyan
)
---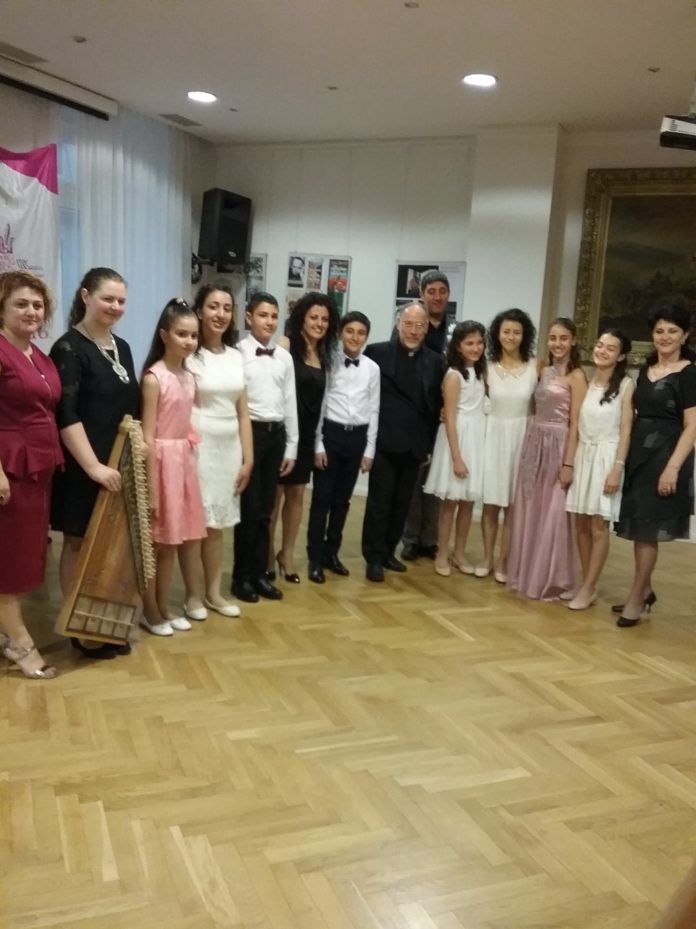 Lusine Arakelyan with students
Young Armenian Musicians Delight Audiences in Vienna and Berlin
by Muriel Mirak-Weissbach
VIENNA and BERLIN, JULY 19, 2018 — Music lovers in Europe are not surprised when they discover an Armenian or two among the performers in the orchestra or chorus on stage at a classical concert. Now and again there are special guest performances of soloists, or dancers that tour Europe, like the famous Geghard dance ensemble. But it is highly unusual to attend a concert of young Armenian children. In late June-early July, just such a rare treat was offered in Vienna and Berlin, as a group of music students from Yerevan displayed their talents.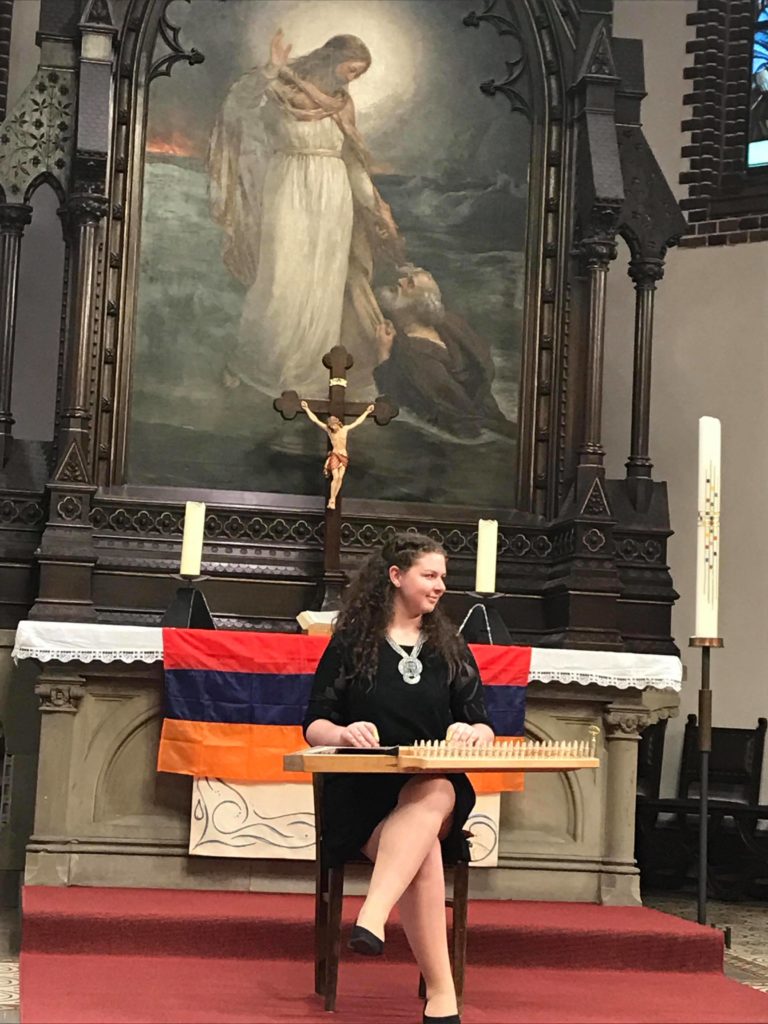 Meri Mikayelyan

Both concerts took place in churches, in Vienna it was the St. Hripsime church on June 27 and in Berlin, the Paul Gerhadt Evangelical Parish on July 1. The youngsters are all students at the Alexey Hekimian Music school in Yerevan, and are 14 years old or younger. The classical concert, with Armenian works and the European repertoire, was organized on the occasion of the 2800th anniversary of Erebuni-Yerevan, and received the support of Sergey Avetisyan (Vienna), Abraam Kostanyan, Restaurant Yerevan and Artak Kirakosyan (Berlin). The concert in the German capital was organized under the auspices of the Association of the European and Armenian Experts e.V. – AEAE. The aim of the visit was to build cultural bridges between German and Armenian musicians from the younger generation and to provide them experience in artistic performance.
The ambitious program offered vocal and instrumental music, performed by soloists as well as ensembles, and in several languages. Among the vocal soloists were Izabella Brutyan who presented Pietro Labriol's Welle, Welle, Vivian Gharibyan with Enrico Cannio's Farewell, Carme, Kristina Zakaryan with Franz Weckerlen's Serenade, Karine Avetisyan who sang Drigo's Serenade, and Narek Sahakyan who performed Groong by Komitas.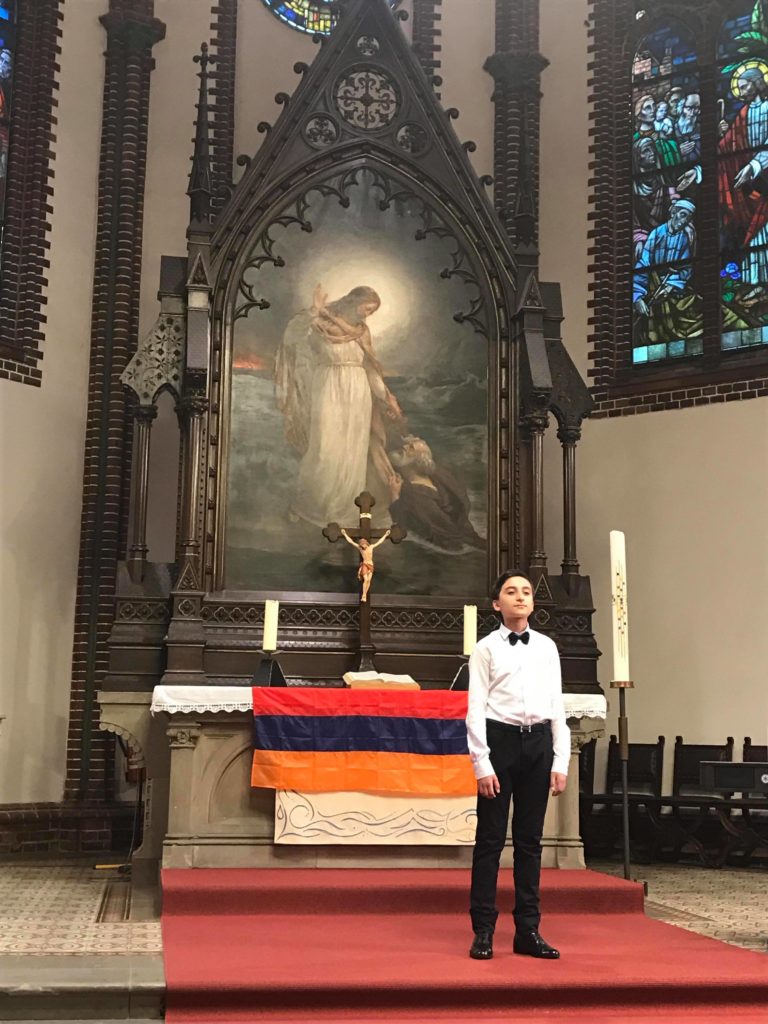 Narek Sahakyan

From the Italian repertoire, Augustin Lara sang an aria from Verdi's opera "Rigoletto" and Narek Sahakyan sang Augustin Lara's Granada.
Among the ensemble pieces were Komitas's Dance Songs of the Armenian Peasant, performed by a vocal quintet, who also presented the Armenian folk song Nubar Nubar. Kristina Zakaryan, Izabella Brutyan, and Vivian Gharibyan performed Swallow by Komitas. Alexej Hekimian's Good-natured Stork was presented by Vivian Gharibyan and Kristina Avetisyan. Narek Sahakyan joined in a duet with Kristina Zakaryan to sing Franz Lehar's Lippen schweigen and with Vivian Gharibyan in Vincenzo di Chiara's La Spagnola.
Instrumental soloists included pianists Anna Nazaryan with Georg Friedrich Händel's Passacaglia, Hasmik Manukyan with E. Abrahamyan's Prelude in E-flat major and Garnik Hayrapetyan with Arno Babajanyan's Humoresque. Traditional Armenian instruments were also featured, with Meri Mikayelyan on the kanoun, playing a Hungarian Dance by Johannes Brahms and the folk dance melody, Erzrum's Lullaby, and on the santur, Tsovak Hambardzumyan's Dance of Trabizon and Ashot Satyan's If you know it?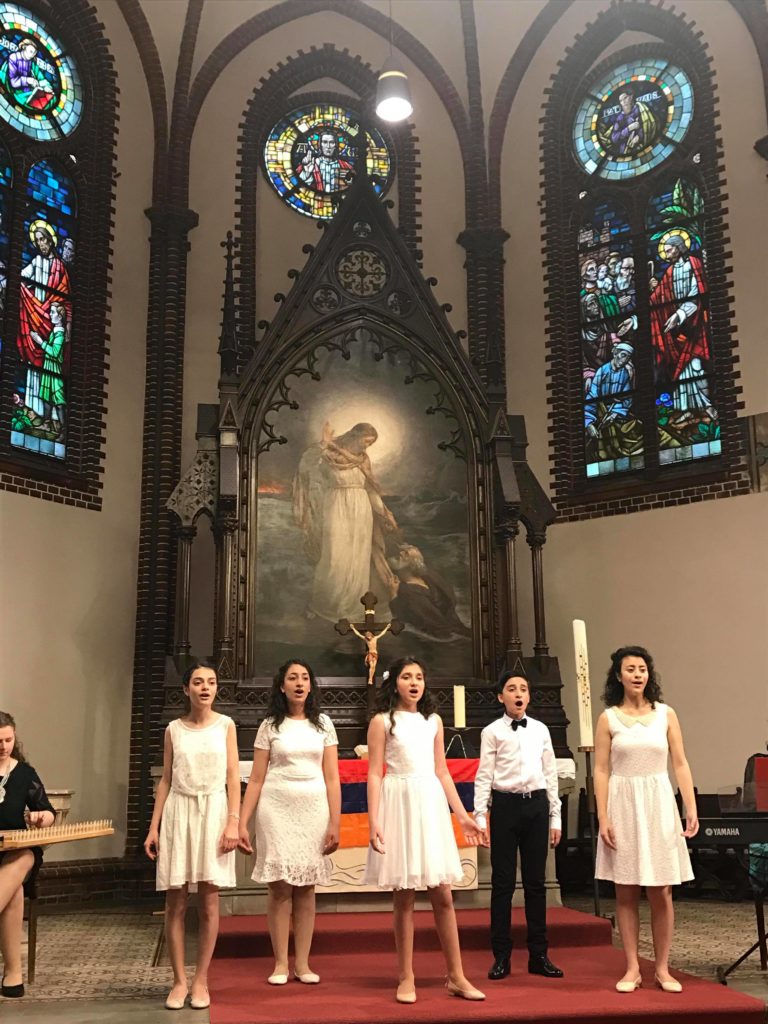 The Vocal Quintet
At the end of the concert in Berlin, the audience, standing, joined in to sing Erebuni-Yerevan, some with tears in their eyes. The youngsters received enthusiastic applause in both concerts. Members of the audience expressed their delight and amazement at the combination of natural talent and accomplished musical skills that the youngsters displayed. Young Narek Sahakyan, a "little Caruso," was the star of the show. Singer Lusine Arakelyan, who accompanied the group, had good reason to be proud of her students, who were among the performers.
---
From Berlin to Yerevan — Direct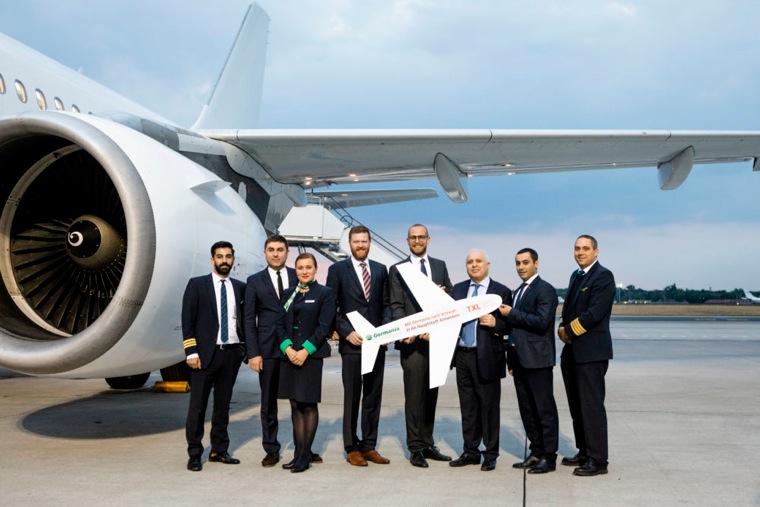 Photo credit, Thomas Kierok, Flughafen Berlin Brandenburg GmbH Pictured: Davit Davtyan (Counselor of the Republic of Armenia in Germany; 2nd from left), Florian Stahl (Senior Manager Route Development & Destination Management, Germania, 4th from left), John Mohrmann (Aviation Management, Flughafen Berlin Brandenburg GmbH, 5th from left ), Ashot Smbatyan (Ambassador of the Republic of Armenia in Germany, 6th from left), Vrezh Kardumyan (secretary of the Ambassador of the Republic of Armenia in Germany, 7th from left) with the crew.
by Muriel Mirak-Weissbach
BERLIN, JUNE 21, 2018 — The revolutionary developments in the Republic of Armenia have sparked enormous interest in Germany and a new air link between the two capitals promises to fuel that interest even more. Germania, an independent German airline, has proudly announced that its first direct flight from Berlin to Yerevan took place last weekend. Plans are for a weekly flight and at affordable prices. Until now, visitors from Germany have had to fly with stopovers, for example, in Vienna, Moscow, Prague or Kiev.
"With the Berlin-Yerevan connection, we have found an interesting new destination, and we expect the demand to be great," said Florian Stahl, Senior Manager of Route Development of the airline. "Here we are focusing on the potential in tourism as well as the interest of travelers to visit friends and relatives."
As a Germania press release explains, there are numerous special attractions in Armenia, which is the oldest Christian nation in the world. "Armenia offers UNESCO world heritage sites," the release continues, "like the ruins of the Zvartnots Cathedral and the cloisters in Haghpat and Sanahin…" It also mentions that from Yerevan one can enjoy the view of "Mount Ararat, which according to the Bible, is where Noah's Ark landed in the Flood."
---
Turks Go to the Polls in Germany
by Muriel Mirak-Weissbach, for the Armenian Mirror Spectator
BERLIN — By all forecasts, the outcome of the parliamentary and presidential elections in Turkey will be close, so close, some say, that there could be a runoff for the presidency. If Recep Tayip Erdogan does not receive a clear majority in the first round on June 24, he could face a candidate backed by a coalition of opposition parties. Two weeks later, a runoff would be called on July 8 (from June 30 to July 4 for voters abroad). And in that case, the votes cast by Turkish citizens living outside the country, who make up an estimated 5 percent of the total electorate, could prove decisive.
This helps explain the special focus that Erdogan and his AKP party colleagues have been placing on wooing voters in Germany. Of the more than 3 million eligible Turkish voters living abroad, there are 1.4 million in Germany alone. The European countries that follow in rank are home to substantial numbers of voters, but considerably fewer than Germany; France with 341,000, Holland with 260,000 and Belgium with 142,000 according to German press reports. The US and Canada account for about 100,000 each.
Voting began on June 7 at 13 polls set up in the Turkish consulates throughout Germany, as well as Austria and France, and will continue until June 19. Erdogan is hoping that he and his AKP will profit from what he hopes will be a massive turnout. During a speech in Mugla on June 6, he appealed to voters in Europe to flock to the polls until they burst; "the signal that you send from abroad," he said, "will, God willing, blend together with the votes of your brethren in Turkey." And his foreign minister, Mevlüt Cavusoglu, called for an even higher vote than what Turkish voters in Germany had delivered for the referendum last year. At that time, the turnout was 50 percent and 63 percent of those who voted cast a "yes" for Erdogan's changes.
Campaign Rallies Banned
The problem Erdogan has is that he cannot rally the masses directly. Last year in March Germany issued a ban on any campaign speeches by Turkish politicians, a move followed by Holland and Austria. In response Erdogan accused the Germans of adopting "Nazi methods." When Chancellor Angela Merkel and SPD politician Martin Schulz indicated that the talks on Turkey's bid for EU membership were at a dead end, he said they were all "Nazis of fascists." This did not endear him to the political class in Berlin, nor did it lead to any rethinking of the ban.
And yet, early polls indicate that there is considerable support for Erdogan and the AKP. The reasons suggested by political analysts are complex: as one German TV feature presented it, Turks living in Germany, even those who were born here, tend to consider Turkey still as their homeland. They view Erdogan as the man who succeeded in providing economic growth, fighting poverty, building public infrastructure, roads, bridges, airports, schools and hospitals. Although in reality, the economy has entered a serious crisis and the national currency has taken a nose dive, the picture presented in the state controlled media, which many Turkish-Germans follow, is still the rosy one of years past.
Then there is the psychological, ideological factor, which is overwhelming. Many Turks in Germany feel they are discriminated against, and this contributes to identity insecurities; as one Ahmet cited by ZdF TV put it, "In Germany, you are always the Turk, and in Turkey I am always the German, Alman." Despite the fact that the Turkish community has been here for three generations, analysts complain that not enough is being done to fully integrate them. Osman Okkan, a filmmaker and leading representative of the Turkey-Germany Cultural Forum, noted that Germans are not so active in the integration and social processes, and the mosques and Turkish organizations like DITIB have moved into the vacuum.
Since the failed coup attempt in Turkey, attributed to the Gülen movement, Turks in Germany have been put under tremendous political and psychological pressure from the Erdogan regime to stay in line. Okkan told "DeutschlandFunk" radio news on June 7 that people are scared. "I have never experienced such a mood of fear," he said, "and several reports we have read confirm that many people do not want to expose themselves to the danger of being labeled terrorists or terrorist sympathizers on flimsy pretexts." He said they even had to conceal their views from their closest neighbors. It has been reported that Turkish-language media in Germany have solicited reports on individuals suspected of links to the Kurdish PKK or to the Gülen movement. Serap Güler, a political figure responsible for integration policy in the federal state of North Rhine Westfalia, said he had never witnessed such fear, both here and in Turkey, fear of speaking openly about politics.
Such political pressure, actually a form of blackmail, exerted on persons who feel they are being discriminated against, can have devastating effects. When the charismatic leader appears on the scene, with appeals to the glories of "Turkishness" or other names for exasperated nationalism, that offers an alternative identity based on a sense of power. As political analyst Gülistan Gürbey commented, Turks see themselves as second-class citizens, and "see Erdogan as a man who gives them a voice they can identify with. He intuitively reinforces the self-consciousness of these people."
A study conducted at the Duisburg-Essen University showed that since 2010 more Turks have said they identify with Turkey than with Germany. In 2010, Turkey established a Ministry for the Diaspora, whose message has been summed up as, "We are taking care of you; you are not really wanted here, but back home, you are."
One Picture Is Worth…
It is in this context that a calculated move by Erdogan should be considered. On May 13 he posed for a photo with two Germans of Turkish background and when the picture hit the press, it caused an uproar. The two Turkish-Germans were Mesut Özil and Ilkay Gündgan, leading members of the German national soccer team, now in Russia to compete for the world championship. As in other countries, fans consider such sports stars as heroes, and when they appeared in print together with Erdogan, the backlash was brutal. Although the players attempted to calm the waters, and Merkel noted that they had probably utterly underestimated the explosive potential of such a photo, the incident has become an issue.Whatever was going through the minds of the soccer players, it cannot be doubted that Erdogan knew exactly what he was doing.
That said, there is no reason to consider the outcome of the vote a fait accompli for Erdogan. There is a numerically strong and politically sophisticated opposition in the Turkish community in Germany, including prominent intellectuals, writers, filmmakers, not to mention a substantial component of Kurds and an increasing number of Turks from military and political circles who have sought and obtained asylum in Germany. Inside Turkey itself, the establishment has good reason to fear the potential alliance of opposition groups in a possible runoff, and that reality finds its counterpart in Germany as well.
---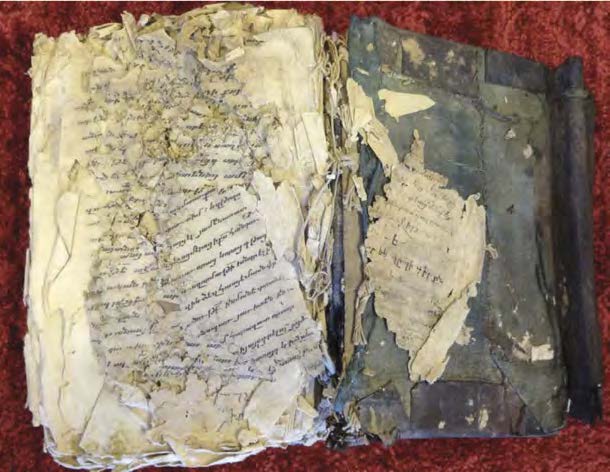 Badly damaged pages of St. Gregory of Narek's Book from 13th-14th century.
Piecing Together the Words of a Saint
By Muriel Mirak-Weissbach
–
Special to the Mirror-Spectator
POTSDAM, Germany — A revolutionary technology developed in Germany has made it possible to reconstruct an early version of Saint Gregory of Narek's Book of Prayers (or Lamentations), conserved in the Matenadaran in Yerevan. The work is a manuscript dating back to the 13th-14th century, and is one of the earliest copies of the 10th century original, which has been lost. The task presented to restorers seemed hopeless due to the desperate condition of the manuscript. The book had fallen into decay, its pages reduced to fragments, and those were in utter disarray so that it was impossible to place the individual pieces of pages in their original order.
There was no way to salvage the precious manuscript using traditional methods of restoration. In 2016 the Fraunhofer Institute initiated a feasibility study to determine whether its methods could be successfully applied to recovering damaged documents at the Matenadaran. Fraunhofer is recognized as the leading organization for applied research in Europe, with 72 institutes and research centers (www.fraunhofer.de/en.html). The method adopted is known as automated virtual reconstruction; as explained in an article in the institute's publication FUTUR, the socalled ePuzzler, which the Institute has developed, is "a reconstruction software that uses sophisticated image-processing and pattern detection algorithms to automatically recompose scanned paper fragments into complete pages."
There are three stages in the reconstruction process. The fragments are digitized, to make it possible to process them virtually. "Then the ePuzzler processes the digital copies and reconstitutes them into full pages. The third stage goes beyond the reconstruction of single pages to embrace mechanisms both for the automated match-up of single pages to form complete files and for development of their content."
Funded by the German Foreign Ministry, the Fraunhofer scientists organized two workshops in Yerevan, in which they presented the virtual reconstruction technology and preparation and procedure of digitalization work to the members of the staffs involved in restoration, digitalization, research and archive at the Matenadaran. Together they drew up potential applications scenarios, and selected and digitized exemplary material for sample processing. The results were very promising and work continued. At the end of last year, the Narek project was completed, with the financial support of the Foreign Ministry. The word was conducted by Fraunhofer collaborators Siranoush Varderesyan and Henry Zoberbier under the direction of Dr. Bertram Nickolay, head of the Department for Security Technology. It is expected that in September the results of the project will be presented to the public in Germany.
The advantages of the virtual reconstruction method pioneered by Fraunhofer should be obvious: in the case of ancient and damaged documents, it is important to reduce manual handling to an absolute minimum. Once the virtual reconstruction has been completed, work can proceed on actual physical restoration. For the Matenadaran this technology may prove to be a godsend. The world famous institute in Yerevan houses a collection of inestimable value, parts of it have been welcomed into the "Memory of the World Register" of UNESCO. Its experts enjoy recognition internationally for their advanced skills in restoring books and documents and the institute, as FUTUR writes, "is the key reference point and port of call for all enquiries regarding restoration and reconstruction in the region." Despite this high level of expertise, work on restoring the immense amount of manuscripts has been hampered by the lack of adequate technical support.
Sharing the Fruits of Revolutions There is a wonderful irony in the fact that this particular technology from Germany should come to the aid of cultural protection in Armenia, at this particular moment in history, when Armenia is going through a profound revolutionary transformation. Many Germans, following the events of the past weeks in the media, have been reminded of the peaceful revolution carried out by East Germans in 1989, which brought down the Berlin Wall and led to national reunification — an unthinkable development, during which not a shot was fired. The events unfolding in Armenia in April and May recalled that experience, for its steadfast commitment to non-violent, peaceful change.
Now, it turns out that the revolutionary technology developed by Fraunhofer became famous for its application to the reconstruction of documents belonging to the files of the Stasi, the Communist East German State Security Service, which had been torn, shredded or otherwise physically destroyed at the time of the 1989 peaceful revolution. Through the Stasi Fragments Project, the Fraunhofer group reconstructed the files of that entity, beginning a four-year pilot phase in 2007. This was no mean task. There were 15,000 sacks of documents that had been ripped by officials seeking to destroy the evidence, and 400 sacks were slated for processing in the pilot phase.
On the cultural level, this method has been successfully applied to reconstruct books that were destroyed in the collapse of the Historical Archive of Cologne, as well as works of the great German scientist Wilhelm Gottfried Leibniz. There are 200,000 pieces of paper, on which this seminal thinker noted down his ideas on a vast array of themes, handwritten fragments now being deciphered, ordered and published thanks to the Fraunhofer method. The technology can also be applied to threedimensional objects, making it possible to recover statues and frescoes that have been damaged by natural decay or even terrorism. And now the precious work of Gregory of Narek has been recovered. The Armenian saint who lived from 950 to 1003, has been honored in recent years by the Pope, in the spirit of Christian unity. On the centennial of the genocide, Pope Francis officially declared him a Doctor the Church and on April 5 of this year he unveiled a bronze statue of Gregory of Narek at the Vatican.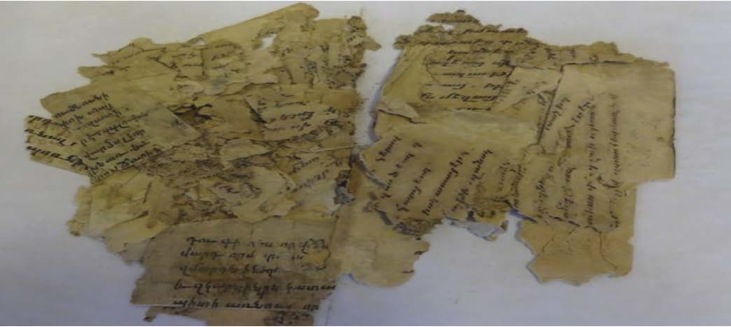 ---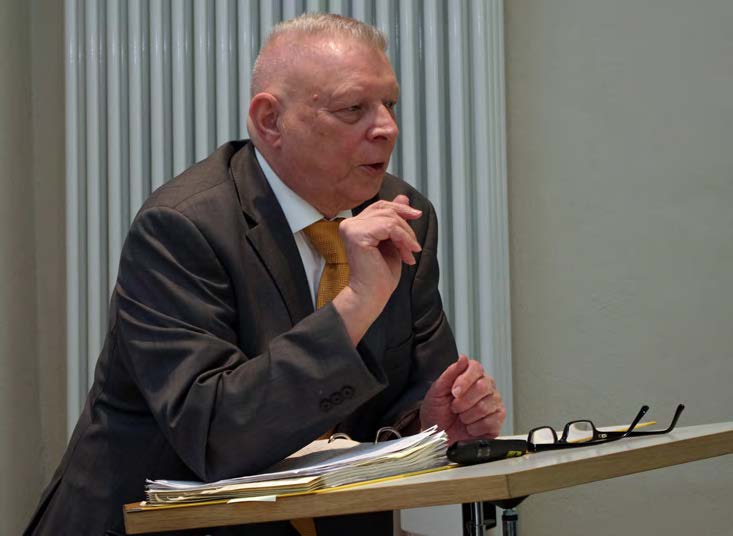 German Officers' Role in Armenian Genocide Explored

By Muriek Mirak-Weissbach
–
Special to the Mirror-Spectator
POTSDAM, Germany —
Retired Brigadier General Eckhard Lisec
(photo) delivered a lecture at the Lepsius House in Potsdam on May 17, on "The Armenian Genocide in World War I — German Officers Involved?" At the outset, Lisec made clear that there was no doubt that this was genocide. then he moved to the issue of the role of Germany, allied to the Ottomans.
# Drawing on material from his recent book on this theme, he presented a differentiated picture of the attitudes and behavior of the German Military personnel engaged in the war effort. He concentrated on single individuals: Liman von Sanders, Colmar von der Goltz and others. With his privileged insight as a military man with 50 years of experience, Lisec developed his insights into the issue of military ethics facing soldiers and officers. Where are the limits to their obedience to their own officers? And how did they relate to their superiors in a foreign army or coalition partner?
Lisec used charts from his book to show the chain of command, whereby the Germans, like Bronsart von Schellendorf (Chief of General Staff), Admiral Wilhelm Souchon (Fleet Commander) and Admiral Guido von Usedom (Inspector General of the Coastal Fortifications) were under War Minister Enver Pasha. Although Liman von Sanders had a special role, he had no direct influence on Schellendorf, Souchon or Usedom. Regarding the deportations, Lisec said they could not have come on the initiative of Schellendorf, because he was not in a position to order them, but at most implemented the orders.
The audience, which included students from the Potsdam University, listened with rapt attention to stories he told from his personal experience in Turkey. From 2002 to 2005, he was Assistant Chief of Staff Support of the NATO Rapid deployable Corps in Turkey, stationed in Istanbul.
---
Towards Transnational Remembrance and Reconciliation

by Muriel Mirak-Weissbach

FRANKFURT, Germany, MAY 11, 2018— Armenians who gathered in Frankfurt's historic Paulskirche this year for the traditional commemoration of the 1915 genocide were among the first to join in prayer with the new Primate of the Armenian Church in Germany, Archimandrite Serovpe Isakhanyan. He was elected as the successor to Archbishop Karekin Bekjian on April 15, and confirmed by Catholicos Karekin II on April 19. Another novelty was the presence of two representatives of the Armenian youth community. And a very special guest was Hrachuhi Bassenz, world famous opera singer.
Following a piece by Komitas, Shushiki, performed on the piano by Diana Sahakyan, opened the solemn ceremony on a stern note; he spoke of criminals who today continue to deny the genocide occurred, and characterized the ongoing expulsion of Kurds as a continuation of the tragedy the Armenians suffered a century ago. As the cases of Hrant Dink and persecuted German-Turkish author Dogan Akhanlı show, he said, the perpetrators are still active. To be sure, Germany has recognized the genocide officially, in 2016, but the clauses of that act of Parliament await implementation. Concretely he called for a genocide monument to be erected in Berlin and for study of the Armenian genocide to become part of the school curriculum.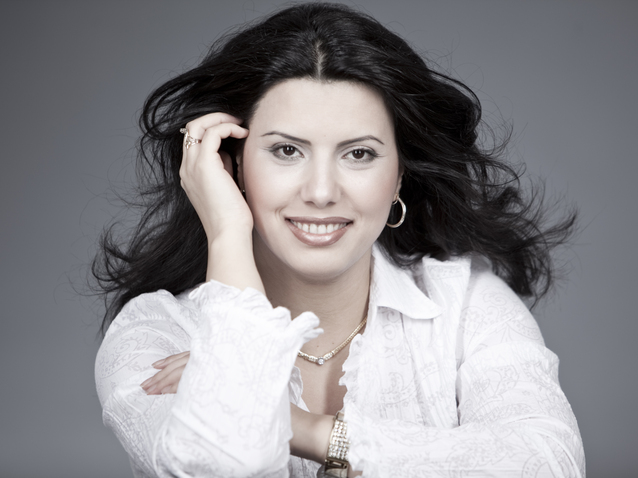 Hrachuhi Bassenz


Mayor Uwe Becker said, with reference to the 2016 landmark resolution, that it proved one cannot rewrite history. One must learn from history, he said, with a view to the ongoing plight of the people of Afrin, and urged Europe not to remain idle.
Bassenz presented Garuna and Hov Areq by Komitas, after which Ambassador Ashot Smbatyan spoke. Denial of the genocide, he said, is something that is damaging also to the Turkish people, in the sense that it hinders them from dealing truthfully with their own history. Raising the question of whether or not we have witnessed cultural progress over the past decades, he pointed to the continuing violence, expulsions and killing taking place in Syria; the crimes of the past are being repeated.
The commemorative speech was delivered by Prof. Volkhard Knigge, Director of the Büchenwald Memorial Foundation. Prof. Knigge developed the transnational dimension of remembrance culture, drawing comparisons between the Armenian genocide and the Holocaust. In Büchenwald, he said, they have succeeded in identifying 35,000 names of victims and among them have found 30 Armenians – who had previously been misidentified as Turks. Citing the oft-quoted remark by Hitler, in his plans to exterminate the Jewish population, to the effect that no one remembered the Armenians, he traced a line of continuity from the genocide to the Holocaust. There were some survivors of Büchenwald, he said, who, upon liberation from that concentration camp, swore a solemn oath to the effect: "We want to build a new world of peace and humanity."
As for the German role in the genocide, Knigge distinguished between those diplomats like Ambassador von Wangenheim who opposed the massacres and those like Chancellor Bethmann-Hollweg, who accepted them as part of the price for the wartime alliance with the Young Turk regime. If military officers like Fritz Bronsart von Schellendorf and Hans Humann actively supported the genocide policy, there were Germans like Johannes Lepsius and Armin Wegner who mounted a resistance.
To present his concept of transnational remembrance, Prof. Knigge took the example of Stephen Hill, a British Jew who survived Büchenwald. Hill worked with others on the Declaration of Human Rights and called for a "transnational suffering remembrance," whereby one derives self-consciousness from one's own past of suffering, transposing it to a transnational level. In this connection he recalled the mass demonstrations of Turkish citizens in honor of Hrant Dink.
At the conclusion of the main address, Hrachuhi Bassenz sang Antuni by Komitas, and she was followed by two young Armenians. Vardan Lulukjan focused on the task of the younger generation to keep the memory of the past alive, and to address contemporary crimes, like those perpetrated against Christians in Syria as well as Rohingya Muslims in Myanmar or Yezidis in Iraq. Berta Arapoglu focused on the implementation of the genocide resolution, listing 5 concrete demands: genocide instruction in schools, banning speeches by denialists, genocide monuments in major cities, fighting injustice and supporting democracy in Turkey.
Diana Sahakyan performed Tsirini tsar by Komitas, after which Archimandrite Isakhanyan gave a moving speech, before concluding with solemn prayers. As a Christian, he said, he believes in a God of reconciliation, forgiveness and righteousness. Turks are not to be our enemies eternally, we will be able to forgive not only as Christians but as human beings. Forgiveness, he said, is a step towards healing sickness, the sickness of hatred which was expressed in the assassination of Hrant Dink. This must be overcome.
---
Between Remembrance and Expectation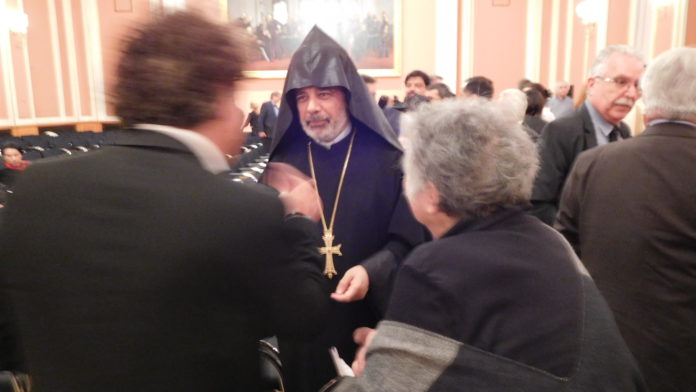 Very Rev. Serovbe Isakhanyan, Primate of the Armenian Church in Germany
by Muriel Mirak-Weissbach
BERLIN , MAY 3, 2018— This year's commemoration of the genocide was different in Germany. To be sure, there were speeches recalling the dark and tragic events of 1915, and there were demands for progress in implementing the measures contained in the genocide recognition resolution passed by the Bundestag (Parliament) in June 2016. There was magnificent music performed by talented young Armenians, and the ceremonies concluded with solemn prayers for the souls of the victims.
But the spirit pervading the gathering at the banquet hall of the historic Berlin Rathaus (Town Hall) on April 24 was different. Though solemn, the mood was also animated by hope, reflecting the optimism generated by the civil society movement in Armenia, which was breaking new ground in the process towards political and economic reforms. At the same time, one could almost feel a certain tension in the air, expressing uncertainty regarding the ultimate outcome of events.
Following a moving performance on the duduk of Vache Hovsepyan's Aravot luso, played by Harutyun Chkolyan, Prof. Elke Hartmann of Bamberg University greeted the many diplomats, political figures, church representatives and Armenian community members in the name of the organizers. The organizers this year were many. Significantly, the hosts included the Armenian Embassy, the Diocese of the Armenian Church in Germany and the Central Council of the Armenians in Germany, in collaboration with the Armenian Community of Berlin as well as the Armenian Church and Cultural Community in Berlin. Such a show of unity among the various Armenian organizations was most welcome.
Expanding Genocide Research in Universities …
Prof. Elke Hartmann, who is also co-founder of the research project Houshamadyan, which reconstructs daily life and culture of Ottoman Armenians, referred to the 2016 resolution, which expresses support for Turkish-Armenian steps towards understanding and reconciliation, as well as a broad educational effort in Germany on the genocide. In this context, she formulated a proposal for genocide studies institutes to be established here.
"Working through the history of the genocide in a scientific manner is the foundation for all other initiatives, understanding and hopefully reconciliation." Such scholarly work is required not only to provide for school text books, but also for experts whom intellectuals, artists and the broader public can look to for assistance and guidance. Germany should not only support researchers in Armenia and Turkey: "more important would be the creation of academic structures in Germany itself, for research into the genocide against the Ottoman Armenians." Germany's academic institutions could provide the "protected and neutral space required for such sensitive as well as emotionally charged research to unfold." A further advantage Germany offers is a "state and a society that, conscious of its own historical co-responsibility, feels closely bound both to Armenians and Turks." And, German scholarship and society have developed an expertise in dealing with the country's own past.
Hartmann underscored the urgency of her proposal considering the latest developments in Turkey, where "an entire generation of critical voices is being eliminated," some even persecuted because of their striving for reconciliation. And as for Armenia, she underlined the importance of a "critical historical consideration of the Ottoman past" for achieving stable democracy and peace. Hartmann characterized international recognition and condemnation of the genocide as providing necessary protection for the Armenian Republic. "This would be an important building block to break the spiral of existential threat, war and militarization, and to promote lasting democratic development, hopeful indications of which we have seen again just in the last few days."
… and in Schools
Ambassador Ashot Smbatyan opened his greetings by noting that worldwide Armenians were coming together to commemorate the genocide 103 years ago, which robbed so many of their very lives. Shifting to a more positive note, he said that the developments of recent days had filled him with confidence that Armenia and the Armenian people would succeed in their desire to establish a democratic society, a statement that elicited energetic, sustained applause from the hundreds of guests.
There are no Armenians alive today, he went on, who have not been affected by the genocide, but now they are living in peace and dignity. Considering that genocides occurred not only in the past century, the ambassador stressed the importance of spreading knowledge of the past, especially among the younger generation, as a means of preventing renewed outbreaks of such crimes. Here he also took up the 2016 resolution, quoting those passages relating to the task of working through the history of the genocide, and lamented the fact that only four of Germany's federal states — which have jurisdiction over school curricula — have thus far introduced the Armenian genocide in courses of study. In Turkey, the need for spreading knowledge is dramatic, as journalists who try to address the issue are subjected to persecution and children in schools have no chance at all to learn about the past. Achieving recognition of the genocide without such knowledge is impossible, and without recognition there can be no reconciliation.
Diana Adamyan, a young prize-winning violinist, performed Bach's Sonata No. 1 in G Minor, III, Siciliana, with such intensity that the hundreds of attendants listened in rapt concentration.
The vice president of the Bundestag, Petra Pau, a parliamentarian from the Left Party (Die Linke), delivered a brief address. Titled, "Where Hatred Wins, Humanity Loses," it underlined the importance of remembrance as a means to prevent recurrence of the catastrophe. She pointed to January 27, the day that the Bundestag commemorates the Holocaust, and lamented the fact that since a right-wing party now has parliamentary representatives, this act of remembrance has been cast into doubt. The right-wing Alternative for Germany has in fact called for a 180-degree shift in the culture of remembrance, has dubbed a holocaust memorial a "disgrace" and has urged appreciation of the achievements of the Wehrmacht. Pau said she considers such demands tantamount to derision of the victims, not only of the Holocaust but also of the Armenian Genocide. The Bundestag resolution of 2016 acknowledged the genocide as well as the German role, but Turkey has yet to do so. Voicing confidence that Turkey would have to recognize it, "sooner or later," for the sake of the future, she recalled that Germany also required decades before it could come to terms with the Holocaust. Only 40 years later, she said, did a German president designate May 8, when the Nazi regime was defeated, as a "day of liberation."
Quoting President Richard von Weizsäcker, in his plea for shunning hatred and learning "to live with one another, not against each other," she stressed its relevance to the present. "Where hatred and violence are victorious," she said, "democracy and humanity lose — then as now."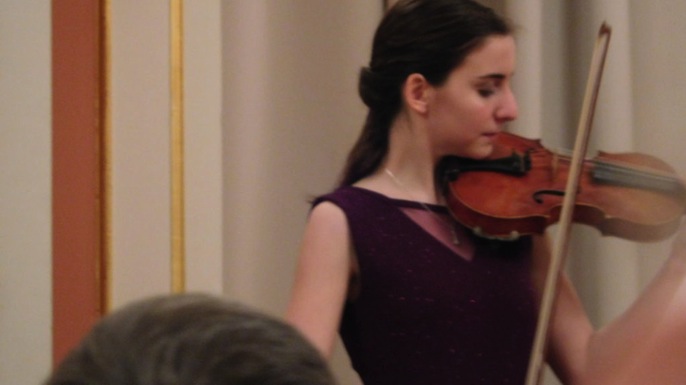 Diana Adamyan
A Lesson in the History of the Genocide
Harutyun Chkolyan performed Vardani mor voghb, a medieval dirge on the duduk, which served as a musical transition to the commemorative speech delivered by Prof. Jörn Leonhard, director of the Chair for Modern and Contemporary European History at the Freiburg University. Leonhard offered an in-depth presentation of the genocide, based on contemporary eyewitness reports and official documents — as if in response to the calls by previous speakers for more thorough education on the subject. He showed how the genocide, a carefully pre-planned operation, put an end to "the late 19th-century idea of Ottomanism, to integrate the different religions of the multiethnic Ottoman Empire."
Although following the Balkan wars, the German and Russian empires sought to impose reforms, granting autonomy rights in two Armenian provinces, "for Young Turk elite, which had taken power in 1908, this would have placed the territorial integrity of the Ottoman Empire further in question," Leonhard said.
Ottoman policy shifted towards the vision of a Turkified social order. With the war came the systematic dispossession and murder of Greeks and Armenians, as the Young Turks pursued their drive for ethnic homogeneity. Exploiting rumors of Armenian collaboration with the Russians, the regime ordered Armenian soldiers to be "disarmed, forced initially into labor battalions and then between April 1915 and September 1916 systematically killed." Although "local contexts and subjective perceptions encouraged a cumulative radicalization of violence, what was decisive was that in this concrete situation a preexisting strategy of the Young Turks was being implemented."
Leonhard detailed, month by month, how the massacres spread, from Mush to Van, and beyond. In June 1915 the German ambassador Hans Freiherr von Wangenheim reported that the deportations underway were being carried out "not only motivated by military setbacks," but, as Interior Minister Talaat had openly admitted, to eliminate all "domestic enemies." By June in fact, the plan was no longer secret, as Talaat called for ethnic cleansing and the large-scale death marches to the Syrian desert proceeded. Leonhard made clear that both the Americans and the Germans knew what was occurring, but did not intervene; he cited the work done by Armin Wegner in documenting the genocide through photographs as well as the Foreign Ministry documents published by Johannes Lepsius. The significance of the genocide, Leonhard said, lay not only in the "quantity of the war victims … the millions of dead soldiers and civilians … [but] the fundamentally new quality of violence … a new dimension of violence against the civilian population." And this called for new juridical approaches. He related how Raphael Lemkin, having learned about the trial of Talaat's assassin Soghomon Tehlirian, oriented his studies in law to address the question of genocide, and succeeded in drafting the UN resolution passed in 1948.
If legal means to punish genocide are necessary, Leonhard continued, so is a culture of remembrance. The wounds of the genocide are still open. In Germany, attention has been focused on the Holocaust in World War II with the result that the genocide during the previous war, and Germany's role in it, have not been adequately dealt with. Again, what comes to the fore is the need for study, research and dissemination of knowledge about the Armenian genocide.
Violinist Diana Adamyan provided musical reflection with a moving rendition of Krunk by Komitas, after which the clergymen mounted the stage. Very Rev. Serovbe Isakhanyan, Primate of the Armenian Church in Germany, who was joined at the event by Coptic and Aramaen religious leaders, offered the intercessory prayers.
Late night news broadcasts indicated that the political process in Armenia was moving forward, fraught with tension and uncertainty, but without violence. Those gathered in the Rathaus had commemorated the victims of the past with respect and dignity, uplifted by a sense of cautious faith in the future.
---