Unless otherwise indicated, the articles here and in the
Archive
appeared on
www.globalresearch.ca
---
Memoirs of an Armenian in Germany
By Muriel Mirak-Weissbach – Special to the Mirror-Spectator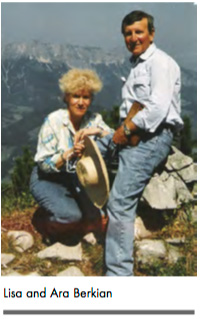 WIESBADEN, Germany. FEBRUARY 21, 2019 — Lisa Berkian-Abrahamian has always lived with books; she has worked as a librarian, a newspaper editor, translator and author. Born in Armenia, she came to Germany in 1992 to live with her husband, Ara J. Berkian, and after his untimely death in 1994, remained here, carrying on his work and her own. In September 2014 she published a book in Armenian on her husband, which is not only a complete appreciation of Berkian as doctor, engineer, architect and writer, but also contains important material and letters from his archives, pertaining to German-Armenian relations.
In October 2016, she published her Armenian translation of the book in German by her husband, Between the Rhine and the Arax: 900 Years of German-Armenian Relations (Coauthor Enno Meyer)
https://mirrorspectator.com/2016/10/20/friendship-between-the-rhine-and-the-arax/
.
That year, the presentation of the book was a sensation, and well-known Armenian personalities, scientists, writers, journalists, as well as the Armenian Minister of Culture and the German Ambassador were in attendance.
Now a new book of hers has appeared, in Armenian, titled Verhuschi masunqner (What Remains from Recollections), which is a reflection on her activities over the past quarter century in Germany. It is a personal story, an autobiography, but also the story of an extended family whose history goes back centuries.
"Memories, recollections," she told me, "are like a quiet shadow, that accompanies each of us, we engage in a dialogue with them, often out of the silence comes a cry, we see 'voices' from them and experience how they 'smell and taste.' The vision of these voices, childhood flavors and images are enduring and well preserved. Now I would like to experience them again and tell the tale from this book of life."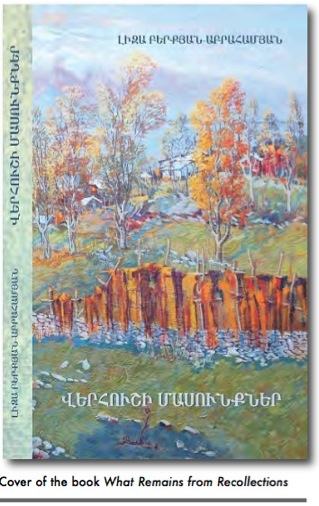 An Ancient Past
Accordingly, the first part of her book presents her birthplace and the people who lived there. She evokes the tastes, smells and voices from her childhood, and then reaches back in time to present her ancestors, parents, her siblings and her husband, before coming to herself.
She was born in 1949 in Gegharot, a small village northwest of Yerevan, just 18 kilometers from Spitak. The ancestral home was in a vast area which archeologists have been digging over the past years, unearthing remains of a civilization that dates back to the 3rd-2nd millennia B.C. In that era, these were holy sites, and the gravestones and ceramics brought to life date from the Bronze age. In 1998 a group of archaeologists in an Armenian-American team, under the direction of archaeologist Dr. Ruben Badalyan and the US scientist Adam Smith, supervised the diggings there for three months. In 1828 after the Russian-Persian war, her ancestors moved to there, to Keshishkend and together with other families founded a new village there, known as Gegharot since 1936. Others later joined these families and the village grew.
The place where she was born was small and the local school, which went up only to the 8th grade, was limited in what it could offer. She remembers with fondness her literature teacher Mr. Vardanyan, who encouraged her to pursue study in this area. To attend 9th grade she had to go to Vanadzor, and 10th grade was in Alagyaz. There were no teachers or courses in foreign languages, so instead of literature she nourished her fascination with books by training to become a librarian. She studied at the Pedagogical Institute in Yerevan and the Baku party college, in Azerbaijan. Upon completing her education, she worked as the director of the Gegharot library, and entered journalism. She became the department head of the Aragadz newspaper, then editor in chief, as well as department head of the propaganda department of the Armenian Communist Party District Committee in Aragadz.
Encounters with Personalities
The second part of her book contains accounts of meetings she had along the way, encounters with famous personalities, among them writers and artists, like William Saroyan and Maryam Aslamazyan. Among the many other personalities she met and who appear in her book are the poet Hovaness Shiraz, Sarkissian Karekin I, who was then the Catholicos of all Armenians, actor Sos Sargsyan, writer Hrachya Matewosyan, academician Varazdat Haroutunyan and world class violinist Sergey Khachatryan.
"There were famous personalities in my recollections," she recalls. "The encounters with them were not only like holidays, but they gave me spiritual inspiration. It seems as if they occurred only yesterday, not a year or decade ago. They are not only pages in a diary but deeply rooted images, fond memories that I wanted to look through."
In her book she relates the stories of how she met these figures. William Saroyan for example. It was in 1978, during celebrations to commemorate the 150th anniversary of the end of the Russian-Persian war, which freed Armenia. There was a festive atmosphere at the central event organized in Yerevan, which the famous Armenian writer from America was attending. By pure chance, Lisa Berkian found herself seated next to him and without thinking twice, she asked him for an autograph. "Are you Armenian?" he asked in amazement, incredulous because she had such light blond hair. When she said she was, he wanted to know her name, where she came from, where Gegharot was, and what kind of work she did there. When he learned that she was the editor in chief of Aragadz, he was quite surprised.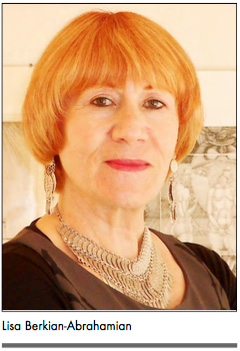 One day she received a phone call from a local party representative who told her that the artist Maryam Aslamazyan was planning a visit to Aragadz to do some portraits, and needed someone to show her around. She readily agreed to accompany the painter on various meetings and invited her to visit her family, who were known for their hospitality. In turn, she later visited Aslamazyan in Moscow and in both places had the opportunity to see some of the portraits she had done depicting individuals from different ethnic communities, among them, Armenians and Yezidis. Lisa herself became the subject of one portrait.
The most decisive encounter was with the man who would become her husband. This came about thanks to the family tradition of an open house, offering warm hospitality to visitors. One day in 1989, a year after the devastating earthquake, she received a call from a friend of hers, Valentin, who was a committee chairman in the party and worked as a guide. He was accompanying a group of people who had come from abroad to provide humanitarian aid to the earthquake victims, in Gyumri, Vanadzor and Spitak. They were looking for a cafe or restaurant, somewhere to stop for a coffee break, but in those days, in that area there was nothing to be found. Valentin asked if they might stop by Lisa's home. She at the time was chairing a support committee for Karabakh. Of course her friend Valentin could bring the foreign visitors to her home. One of the members of the group that arrived was Ara J. Berkian, and it was love at first sight. Berkian returned the following year for a visit, they corresponded for years, and in 1991 she accepted an invitation to visit him in Germany, traveling there together with Valentin's wife. Berkian had studied at the American University of Beirut and gone to Germany to complete his graduate work at Darmstadt. In 1992 they married and she has lived in Wiesbaden ever since.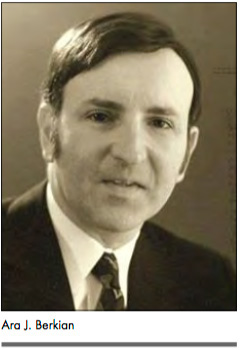 How could she know that her destiny would take her to Germany? To Wiesbaden? Her father and some colleagues have said that her punctuality and discipline were typically German, so it must have been God or destiny that led her to this country. In her book she recounts the main episodes of her years here, how she managed, after the death of her husband, her "only anchor" in Germany, to remain standing on her own in this foreign land, and to keep on going, learning German, working at a job again, and making it possible to help her siblings and needy people in Gegharot. From 1997 to 2015 she was employed at the Wiesbaden city library, also as a specialist for media and information technology, until her retirement.
The book includes some of her own articles as well as an interview and articles about her. In recent years she has turned to writing, and has published these three volumes. Throughout these twenty-seven years of her life, "with springtime and summer," she said, "fall and winter, sadness, loneliness, there have been shining days" as well as longing for return to the homeland. She always thought about returning, and her husband had promised her that they would return after three years. But he passed away before that and her return has been delayed ever since.
And yet, with her newest book, Lisa Berkian-Abrahamian has in a certain sense returned; she has brought back the memories of her own life, and reconstructed the history of her ancestors, thus providing the background for her own literary achievements.
A brief comment appears on the book cover flap, written by the person who first inspired her love for literature. It reads: "Lisa Abrahamian is a good storyteller. A talent that not everyone possesses. A great merit. Her tale rejoices in the tender appreciation of nature. The book is furnished with an epic poem, and the reader will read it with interest.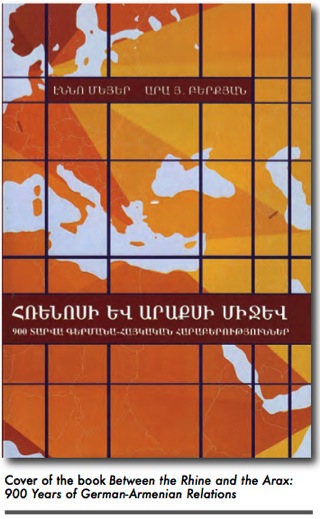 The people and things in the book are as interesting as they are in real life. Some pages I read (actually very many) were alluring, like those love stories I used to read in my youth. The language of such pages, especially those dealing with Lisa's ideas, is sparkling and rich. I am happy that I had such a pupil in my teaching days," writes Prof. Xatchatur Vardanyan.
---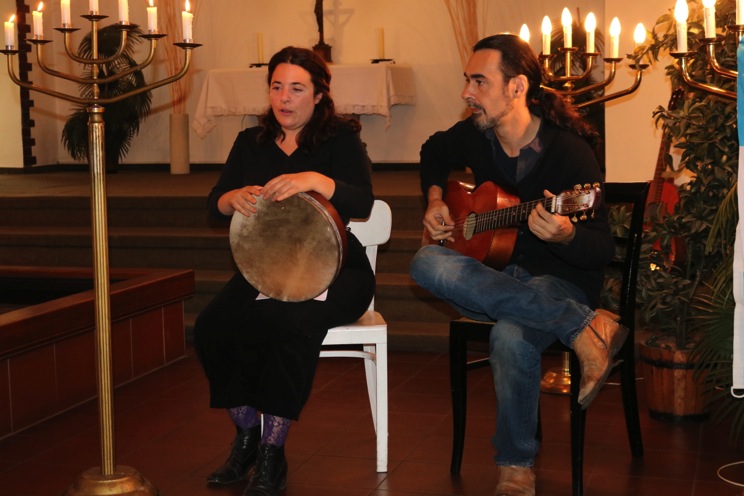 Pashinyan Visits Germany
by Muriel Mirak-Weissbach

COLOGNE, Germany – Februar 9, 2019 — When Armenian Prime Minister Nikol Pashinyan and his wife Annas Hakobyan paid an official visit to Germany last week, their first stop was not the capital city but Cologne. This may have come as a surprise to some, but there were good reasons for it. As Pashinyan explained to a gathering of members of the Armenian community on January 31, "Cologne is the capital of the Armenians of Germany, and it was not accidental that we started the official visit here." The meeting took place at the Diocese of the Armenian Apostolic Church, which is the seat of the church in Germany.
In his address that evening, in Armenian, Pashinyan touched on themes he was to see develop in greater depth in other meetings. First was the new role Armenia has come to play since the revolution; it has become "more visible and more audible for the civilized world," he said. Sometimes the new situation creates embarrassment, he said, "when representatives of different powerful civilized countries ... tell us straight away ... that they have much to learn from us." One should take due note of such statements, when they are repeated again and again, he said. "Yes, we have problems in many areas, but there is a sphere in which we are truly considered a leader in the world today. I mean the building of a society free of violence without resorting to violence. For this very reason," he added, "we can say yes, we are a country of great importance in the world." Citing poet Paruyr Sevak, he said Armenians do not put themselves above anyone else. However, "we should understand what we have, what we say and do in the modern world. These tasks are positive, they are endowed with universal logic, and they are interesting to the world and civilization."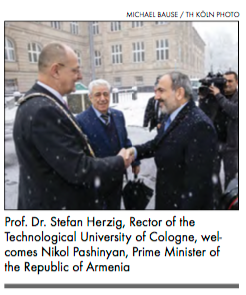 The revolution that took place, he said, was the result of a collective effort, an example of nationwide cooperation. Now that free and fair elections have been held, and acknowledged at home and abroad, these "political transformations need to be translated into economic changes." This, the central message of his visit, means moving from a political to an economic revolution, to improve living standards for all, and eliminate poverty. To achieve this requires the contribution of all, citizens and compatriots abroad. He stressed the role of the single individual: "Who can change the world? Who can change reality? Individuals are the ones to do that. The 21st century belongs to those who believe in their strength. The time has come for us and our people to believe in our own strength."
In dialogue with the community, Pashinyan addressed a question related to the elimination of the Diaspora Ministry, explaining that his staff would have an ambassador tasked with special responsibilities for the diaspora. The ministry itself should be reorganized, he said, with redistribution of functions, and "only one agency should be involved in each function." He cited the example in education, where one ministry would provide textbooks to Armenian schools abroad, while another would provide teacher training. Now, he said, "the Ministry of Education and Science should take care of education," and the aim should be to bring educational policies and culture within Armenia and among the Diaspora into harmony.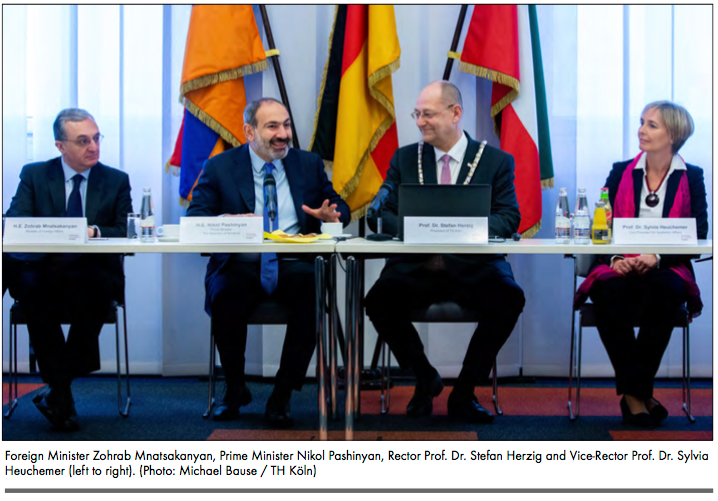 Khachkars and Computers in Cologne
Earlier in the day, Cologne's Mayor Henriette Reker had received the prime minister at City Hall, with words of admiration and praise for the accomplishments of the peaceful Armenian revolution. "You are raising hopes in all those who stand for the promotion of democracy in the world," she said. Thanking her, Pashinyan voiced his commitment to following up the political evolution with economic improvements, and hoped that Germany investments would contribute to the process. Pashinyan also expressed his appreciation for the German Bundestag's recognition of the genocide in 2016. As Reker emphasized, the city of Cologne had contributed to the commemoration of the victims with a khachkar, an important step in the "process of recognition and condemnation of the Armenian Genocide," which must be continued, "in a bid to develop a global memory policy." In response, Pashinyan said recognition was "crucial in terms of preventing future genocides," and that this constituted a key aspect of Armenian foreign policy.
In addition to economic cooperation, especially in the IT sector, Pashinyan proposed establishing collaboration between Cologne and Gyumri, the earthquake-stricken city which shares with Cologne a rich cultural heritage. Reker responded positively to the suggestion and was ready to discuss details.
Prior to his talks with the mayor, Pashinyan had witnessed the signing of a memorandum of cooperation between the Technical University of Cologne and Armenia's National Polytechnic University. The Rector of the university Stefan Herzig and Armenian Ambassador to Germany Ashot Smbatyan signed the document, which provides for cooperation in the field of information and high technologies.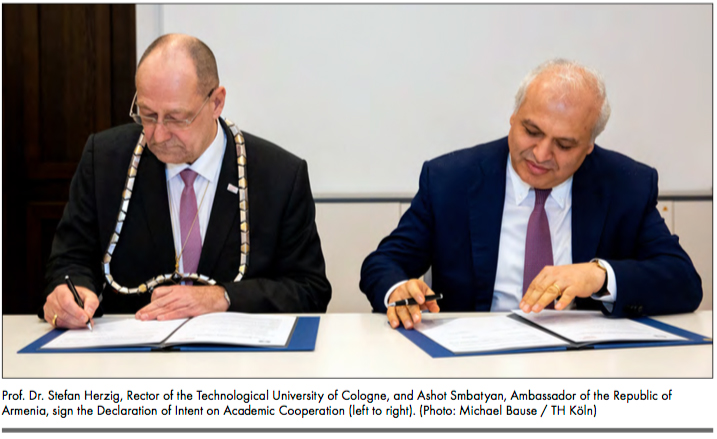 "Internationalism is one of the fundamental values for us at the Cologne Technological University," said Herzig, in welcoming the Armenian prime minister. "We want to encourage our students to acquire intercultural competencies, which are increasingly important in the global world of work." Scientific networks have always extended beyond national borders, he added, and his institution is eager to contribute to this further with international partners. In this regard, he considered it "an extraordinary honor" that the Prime Minister of the Republic of Armenia should be a guest of the university during his state visit. Pashinyan then delivered a lecture, entitled "Armenia after the Velvet Revolution: Fulfilling the Promise of the Digital and Technological Age." Speaking in English, he focused on the role of the ongoing technological revolution, which is transforming "everything we do, say and produce." Not only has the digital revolution introduced new forms of communication, it has "empowered citizens to amplify their voices and hold governments responsible," as was manifest in Armenia's revolution. Among the positive transformation made possible by the information technology (IT) age, are "transparency, accountability and better protection of human rights," as achieved in Armenia. If, after snap parliamentary elections, this political process has been completed, new challenges face the country. "Now we have a task," he said, "not less important. We desperately need an economic revolution. To this end, we are going to widely utilize all the opportunities that digital age promises." Armenia has prioritized the IT sector, also because it provides opportunities for all players, large and small. Armenia's special expertise in the sector is of particular value; Pashinyan explained that in the Soviet Union, Armenia was considered its equivalent of Silicon Valley, because that is "where Nairi-2, the Soviet-era first semiconductor computer and one of the first in the world, was manufactured." Armenia is also the place where most "computing systems and electronics for submarines and spacecraft of the USSR" were invented and produced. Armenia hosted the most advanced facilities for research, design, production and testing of antennas and semiconductors.
Pashinyan gave an impressive overview of the five-fold growth of the IT sector in Armenia over the past seven years, and the increasing number of multinational companies that have set up facilities there for research and development. Furthermore, he mentioned "exciting startup projects to create ecosystems, incubators, including sustainable development laboratories. Artificial intelligence, cyber security, block-chain and semiconductor technologies are among our priorities," he told the students of technology. He described the TUMO Center for Creative Technologies and its educational program, as well as the ARMAT laboratories, where schoolchildren are given access to robotics. Finally, he noted the National Academy of Sciences and the National Polytechnic University of Armenia, which latter had just signed the cooperation memorandum with Cologne.
"And, last, but not least," he concluded, "Armenia's main asset is its bright-minded and talented people with cutting-edge education." Pashinyan said that the fact that the World Congress on Information Technologies will hold its congress in Armenia this year signals recognition of the country's potential. He ended by extending an open invitation to all the students to attend the congress, which is expected to draw over 2000 delegates from 60 countries, and to see for themselves, not only what Armenia offers in IT, but also to "enjoy our ancient culture, hospitality, art and food."Rounding out his visit to Cologne, Pashinyan had also met with Olaf Zimelka, who is the Eastern Europe Regional Director of the German Development Bank (KfW). This development institution is already a partner of Armenia, having signed a grant agreement for more than 23 million euros in November 2018 under the Armenia Biodiversity and Sustainable Local Development Program. During their talks, the two discussed perspectives for new initiatives.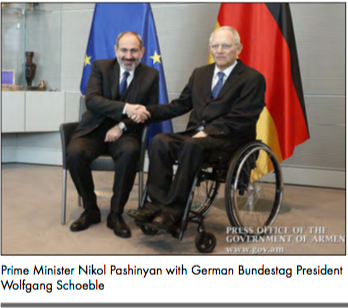 Lunch with the Chancellor in Berlin
In the state capital, the Prime Minister and his wife were received by Chancellor Angela Merkel, Federal President FrankWalter Steinmeier and Bundestag President Wolfgang Schäuble.
He delivered a speech at the Konrad Adenauer Foundation and met with representatives of the Germany-South Caucasus Parliamentary Friendship Group.
After an official welcoming ceremony, Pashinyan joined Chancellor Merkel for a working lunch at the Chancellery. Later, in an exchange with the press the two reported on the substance of their discussions. Merkel referred to her official visit to Armenia last summer, saying she was "glad to visit" and to "see the dominant mood in the country." She expressed her confidence in the new leadership that has been confirmed by elections. She had discussed with her guest the ways that Germany may contribute especially to economic development in Armenia, and mentioned in this context the contacts with leading research institutions. Trade between the two increased last year by 40 percent, she reported, adding that this could increase. She thought rapid economic progress would be crucial for Pashinyan's government, to halt the economic downturn. The two had also discussed geostrategic issues, including the Karabakh conflict; expressing support for Pashinyan's repeated contacts with Azerbaijan, she stressed that to find a solution, both sides must demonstrate willingness to compromise.
In expressing his gratitude for the official invitation, enjoy productive relations with the EU at the same time. Indeed, it has a Comprehensive and Enhanced Partnership Agreement (CEPA) with the EU. They had discussed bilateral and multilateral cooperation, especially economic projects, and Pashinyan encouraged German companies to invest. Joint programs in IT, environmental protection and other areas were on the agenda. In response to questions about the Karabakh conflict, Merkel remarked that Pashinyan had "taken courageous steps, but it still remains to be seen if the other side will take such brave steps as well." She urged Pashinyan to continue; at the same time, she repeated that actions have to follow, and on both sides. Pashinyan said he was waiting for a response from Azerbaijan, which is a precondition for any progress. Referencing a statement he had made in Parliament, he said any settlement would have to be acceptable to the peoples of Armenia, Karabakh and Azerbaijan. To date he has not heard a comparable viewpoint from Azerbaijan. Committed to a peaceful settlement, he pointed out that he can negotiate only in the name of the Republic of Armenia, and not on behalf of the people of Karabakh. "They have their own president, their parliament and government, who are supposed to negotiate on their behalf as the authorized representatives of the people of Karabakh." As for a possible mediating role of the EU in this process, Pashinyan drew attention to the Minsk Group in the OSCE Co-Chairs, who have provided the necessary platform for negotiations. But "it is up to the three sides involved in the conflict to solve it," he said. "The international community cannot solve the conflict for the three sides to
the conflict; it can just provide a platform." Touching on the issue of visa liberalization with the EU,
Pashinyan ended on an optimistic note. He announced that in 2018, for the first time in decades, the number of Armenians returning to the country had increased. "We need to carry out institutional reforms in our country," he said, "so that Armenia is not considered a country producing refugees."
(Sources for this article include the official website, www.primeminister.am, the Cologne university press office, German wires)
---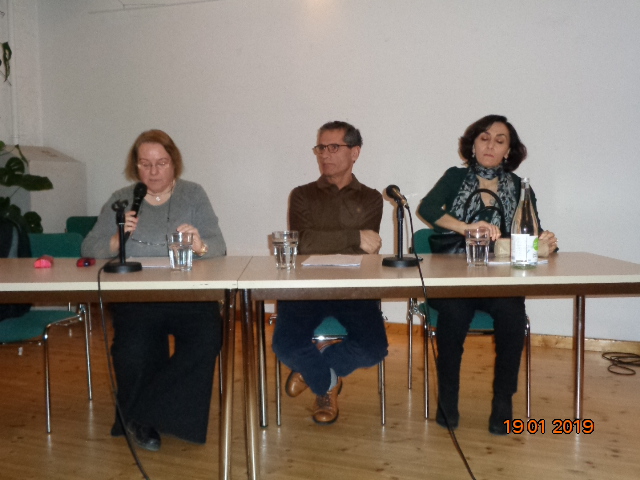 From left, Tessa Hofmann, Miran P. Gültekin and Asa Tetik (translator),

Rediscovering Armenian Heritage in Turkey after Hrant Dink
by Muriel Mirak-Weissbach

BERLIN, JANUARY 24, 2019 — "The question of whether after such a complete elimination, after the almost total expulsion and forced expatriation of survivors in the successor state, the Republic of Turkey, an existence as an Armenian, subjectively and objectively, is at all possible, has been my concern as a human rights activist for decades." This is how Tessa Hofmann, genocide researcher and chairwoman of the Arbeitsgruppe Anerkennung e.V (AGA: Working Group for Recognition; Against Genocide, for Understanding among Peoples), opened a commemorative event in Berlin on January 19, the 12th anniversary of the murder of Hrant Dink. This question was the theme addressed by the keynote speaker, Miran Gültekin, originally from Dersim and now living in Istanbul.
The event took place in the Democracy and Human Rights House in Berlin, and was attended by Armenians and Germans, members of the Dersim Cultural Community, the Berlin Armenian community, and representatives from the Armenian Embassy, among others.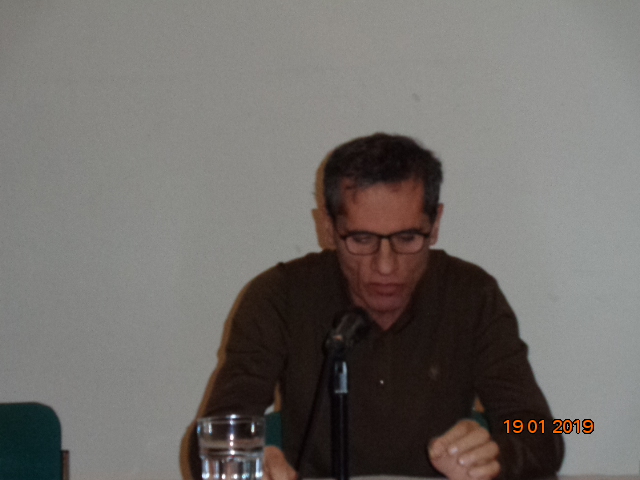 Miran P. Gültekin
What Is an Armenian?
But before Gültekin developed the theme, drawing on his personal experience as a Turkish citizen of Armenian descent, Hofmann suggested it would be important first to ask what an Armenian identity really is. It is not an easy question to answer, since longstanding discrimination and persecution often lead to cultural, linguistic and religious assimilation, "what we sociologists call multiple or fluid identities," she said.
To illustrate the concept, Hofmann drew on the book by Avedis Hadjian, Secret Nation: the Hidden Armenians in Turkey, which appeared last year. The lengthy study is based on interviews the author conducted with people who had at least one Armenian ancestor, who related their experiences in the period between 2011 and 2014.
First, the number of such people, "hidden" or "crypto-Armenians," is not really known. If Jakob Künzler spoke of 132,000 Cristian orphans in 1919 and Johannes Lepsius estimated the Islamized Armenians that year amounted to 200,000, American archive records refer to 95,000 in 1921 throughout Anatolia. Author Hadjian reckons there were hundreds of thousands of Armenians forced to convert from 1915 on, with the aim of "de-Armenianizing" them. For generations they bore the stigma of being "converts," "heathens" or "the uncircumcised." For generations, they preserved the memory of the wrongdoings perpetrated, confiscation, theft, plundering and worse. Attempts later to regain stolen land and property were unsuccessful, defeating hopes of reorganizing as a community.
The interviews document a process of accommodation to the local majority populations, whether Arab or Kurd, Turkish or Zaza-Sunnite. And the resulting multiple identity could appear in one extended family, with ethnic Armenians alongside Syrian orthodox, or Sunni Muslims, some speaking Turkish, others speaking an Iranian dialect, and so forth.
The question of religion is key, given the role it has played in Armenian history, blending with ethnicity to constitute identity. Most Islamized Armenians, Hofmann reported, in Diyabakir and elsewhere, do not seek a return to Christianity, and the obstacles placed in the path of those who do are immense. The population of "hidden" Armenians is also politically diverse. Hofmann's own view is that under such conditions "the descendants of Armenian genocide survivors in Turkey are far from constituting a nation or a reserve that can be retrieved to re-Armenianize Western Armenia, as some nationalists speculate." Instead, they provide the "sad proof" of Raphael Lemkin's definition of genocide, whereby the survivors are robbed of the possibility of belonging to the group that has been eliminated.
To Be an Armenian
Gültekin's presentation was aptly titled, "Can One Be an Armenian in Turkey Today?" He estimates that there are 60,000 Armenians living in Turkey, mainly in the capital. From its founding, Turkey has denied and persecuted ethnic and religious diversity, targeting in particular non-Muslims. And even if there are no concrete attacks, "one cannot say that we are free to develop."
In a historical review, he detailed what Armenian life looked like before 1915, with large communities, 20,000 in Dersim for example, who often constituted the majority population, as in his native Mazgirt; and they had their own schools and churches. In the genocide, Armenians could perhaps survive if they converted or went into hiding, especially concealing their identity. He gave his own family history as an example: "In Dersim everyone knew that we were Armenian, but none of us went to church. We had Turkish names and were Muslims…Alevites. This is a confession of Islam but not really accepted as such in Turkey and is mistrusted." His father had given the children Turkish names and after his parents migrated to Germany, the rest of the family moved to Istanbul and took up residence in an Armenian neighborhood; but they still did not go to church or attend an Armenian school.
"Armenian identity is very closely associated with religion," he confirmed, and "the idea that someone who is not a Christian cannot be an Armenian is very widespread." Thus, there was no real access to the community, "it was impossible for Islamized Armenians to speak up with a loud voice and say they were Armenians."
From Assassination to Rediscovery
All that changed dramatically with Hrant Dink's murder, which ushered in a new era. "The 19th of January is the day on which, for me and other Armenians who had been forced to live as Muslims for years, this new era began." He said they felt as though a family member had been killed; "the bullet hit precisely that place that we had been trying to hide and cover up in silence." The habit of not talking about events was broken. "I went to the funeral and took part in the demonstrations," he said. "Then I decided to change my name and went to the court. I changed my religion and became a Christian. I went to the Patriarchate of the Armenian Apostolic Church in Istanbul and was baptized." The fact that his family stood by him was crucial, and wife, son, brother and even a 70-year-old uncle also were baptized.
The process was anything but easy. Many told him he had made a mistake, he became the target of threats and insults. Most shocking was the fact that he didn't feel accepted in the Armenian — with the exception of the editorial board at Agos newspaper. Gültekin studied Armenian, travelled to Armenia and took language courses there, and over the years gradually has gradually become accepted as an Armenian, but still has never been able to assume leading positions in Armenian institutions.
Gültekin was convinced that it was not only a matter of identity but also a political question of his basic democratic rights. In fighting for one's identity, it is not merely a matter of deciding to be an Armenian rather than a Kurd. Rather, it is cultural values that are fundamental. "We did not feel we belonged to Muslim culture," he said; "there was a sense of emptiness." In his attempt to reawaken an identity that had lain dormant, he started to talk about it. "I began to talk about what no one wanted to discuss. I told everyone. Journalists came from all over the world. Directors came. I told them all my life story."
Out of this effort, he and his family and friends set up an association, which became a source of inspiration. Others followed their example, they had themselves baptized, went to church, celebrated Easter and so on. In Dersim they started Armenian language courses. In this process, many residents discovered their Armenian heritage, and it was often a traumatic experience.
"Imagine," he said, "a child who has grown up in an environment where 'Armenian' is an insult, and then learns that his parents are Armenian. That is hard to accept. There are still people who cannot accept this. Their parents have become Armenians again, and go to church and the son goes to the mosque. Imagine such a situation, not only with respect to the religion but to the culture."
The most important development was that their stories became known to a broader public, as books and documentaries appeared, the result of the work of hundreds of journalists who visited Dersim. This all happened, he said, at a time when Turkey "was still relatively democratic."
Associations were formed, people began to commemorate the genocide, in Diyarbakir a church was reopened, Armenians let their identities be known. But in Dersim the situation is different. "Everyone there knows by now that we are Armenians," he said, "But it is impossible to live there as an Armenian. There are neither churches nor can one speak Armenian in public." Although they can purchase land, and attend Armenian schools that already exist, they cannot build new ones. So Istanbul remains the center of active Armenian life.
Gültekin stressed the subjective problems experienced by the community; in the current political climate, Armenians are under extreme emotional stress and often fear that persecutions could begin again at any time. Younger people want to emigrate and many researchers have abandoned their work due to the hostile atmosphere. Nonetheless Gültekin expressed his confidence in a better future and the hope that the next generations will have a happier life.
One crucial problem he described concerns the church. He said that many Armenians who have started to search for their relatives and their lost identities, have experienced difficulties when they try to get baptized. They are not always welcomed by the church representatives. As he put it, "anyone who has at least officially lived as a Muslim for many years cannot in their view enter the church." For this reason often Armenians travel to Armenia or to Europe to be baptized.
In an exchange following the presentation, one Armenian asked what must have been on the minds of many others: "If even after a hundred years, repression and persecution continue, in an attempt to eliminate the Armenians, why don't they simply leave Turkey?" Fundamentally, Gültekin replied, it is a fact that the Armenians, whether "hidden" or not, have their homeland there; that is where their ancestors lived and where their dead are buried. And they don't want to give it up.
(Full texts of both speeches can be found at:
http://www.aga-online.org/event/detail.php?locale=de&eventId=170
.)
---
Justice for 1.5 Million plus 1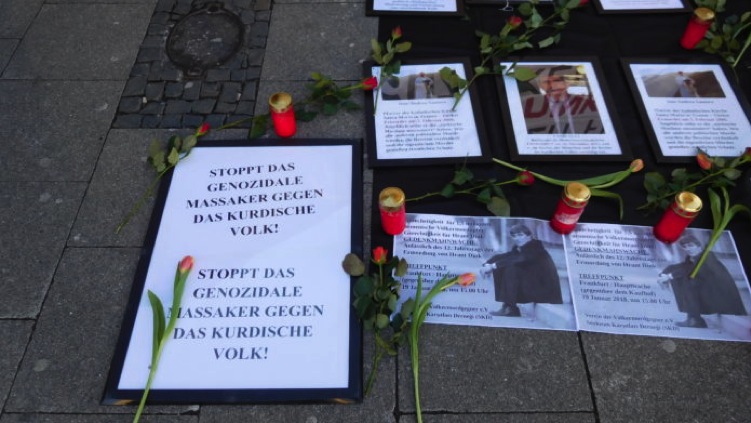 by Muriel Mirak-Weissbach
FRANKFURT, JANUARY 24, 2019 — On January 19, Germans, Turks, Armenians, Kurds, Greeks and others gathered in several German cities to render homage to the memory of Hrant Dink, on the 12th anniversary of his death. In Frankfurt, a demonstration took place at a central location near the historic St. Catherine's Church. Members of the Soykırım Karsıtları Dernegi (SKD), the Society against Genocide, organized the vigil which gathered a hundred people. Under the slogan, "Justice for 1.5 million victims of genocide, justice for Hrant Dink," the demonstrators carried photos of the murdered AGOS journalist as well as other activists currently jailed in Turkey. Candles and flowers lay on the ground among the photos and texts.
After greetings by SKD founder Ali Ertem, members of the group read out statements in German and in Turkish, explaining why they had gathered and what they were protesting. The group has held such demonstrations every year since his murder, alongside thousands of activists, in Istanbul, and worldwide. They were commemorating a very special person.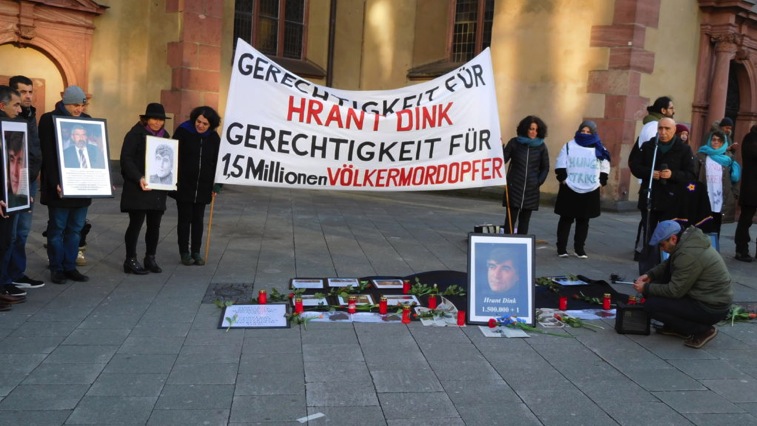 Demonstrators in Frankfurt
Why Hrant Dink Was Killed
The Armenian citizen of Turkey, father of three children, was an intellectual, the SKD representative said, who was "a voice for the voiceless" whose life was extinguished in accordance with the genocidal tradition of Turkey. His murder "is the continuation of the 1915 genocide," and thus the slogan, "1.5 million + 1." The reason he was assassinated, she continued, lies in the fact that he named the genocide by name, breaking a taboo in Turkey.
At the same time Hrant Dink fought for an honest dialogue and reconciliation, in the context of a democratic society he hoped would come into being, and guarantee equal rights for minorities, for people of different religions and nationalities. Although he received death threats repeatedly, he was denied protection by the Turkish state, which led the European Court of Human Rights to rule in 2010 that Turkey was thus co-responsible for his death.
The SKD has been following the legal proceedings these 12 years, in which proxies have been put on trial while those responsible for the order to kill have remained concealed. The conclusion drawn is that Turkish intelligence services, gendarmerie and police are among the complicit. The consequences of such actions, said the SKD representative, are that Kurds and other minorities today are being victimized, and anti-Semitism is also on the rise.
What Is to Be Done
In closing, the speaker read out the concrete demands the SKD has been making and will continue to make. First, a full investigation must be conducted to shed light on the background leading to Hrant Dink's murder and who was responsible. This is the demand for justice for Hrant Dink and the 1.5 million genocide victims. Secondly, the immediate recognition of the genocide against the Armenians, Assyrian-Aramaeans, Ponto-Greeks and Yezidis – as well as the Dersim genocide. Thirdly, Erdogan must halt all massacres and human rights violations against Kurds and other groups, and free their imprisoned representatives. Finally, while the SKD welcomes the June 2016 resolution of the German Bundestag (Parliament) which recognized the Armenian genocide, it demands that the German federal government implement the conclusions of that act, by including study of the genocide in school curricula and introducing a national holiday in commemoration.
The demonstration in Frankfurt may have been modest in size, but appearances are deceptive. It is ideas that matter, and the people committed to translating them into reality. The SKD was the group that initiated the political campaign that eventually led to the historic resolution passed in the German parliament. (See Armenian Mirror-Spectator, December 20, 2018, The Turks in Germany Who Defeated Denial,
www.mirrorspectator.com/2018/12/20/the-turks-in-germany-who-defeated-denial/)
---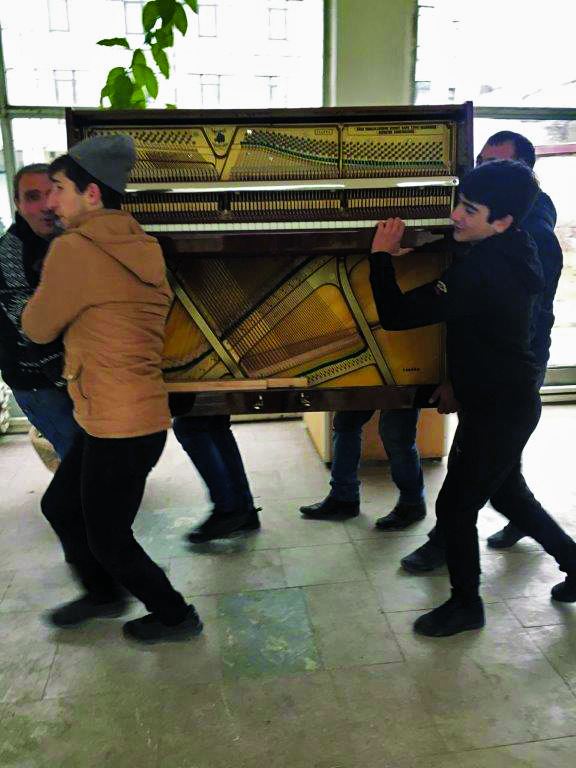 A Happy Musical New Year for Dilijan Students
DILIJAN, Armenia, JANUARY 4, 2019 — Students at the State Art College of Dilijan are ringing in the New Year with music, and with brand new instruments, thanks to the initiative of the Foundation for Armenian Relief (FAR). FAR, established in 1988 as a relief effort after the earthquake, has continued to raise funds for economic, social and educational programs in Armenia and cooperates with other foundations on specific projects. One of them focuses on music education.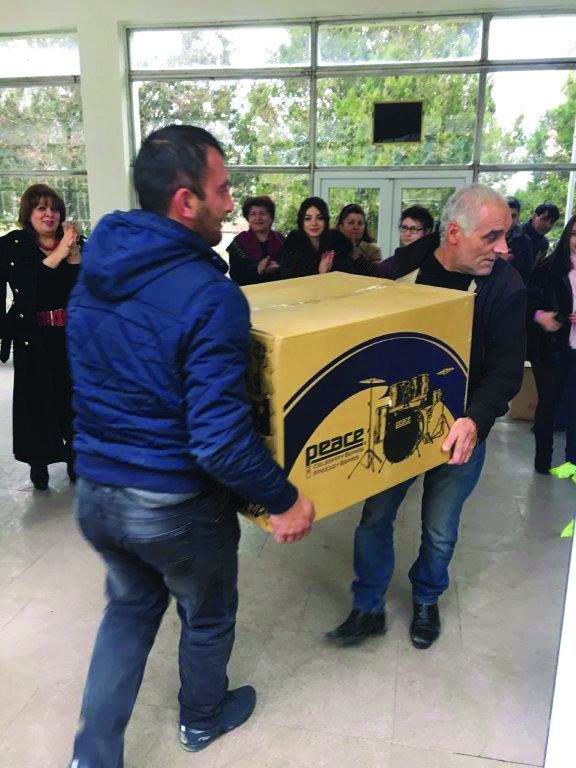 Staff applauds the arrival of new Instruments
The State Art College of Dilijan is a special institution that plays a unique role in the musical education of Armenia, as it is the only one that trains teachers of music. Established in 1997, it is an outgrowth of the Dilijan Musical School, which had been operating since 1945. Over the past two decades, the College has become the cradle of musical education in the entire marz (province) of Tavush (in the northeastern part of Armenia) and coordinates 15 music schools there.
The college provides two levels of musical education, the first comprising a seven-year curriculum for students attending classes after their regular school, and the second consisting of a four-year vocational curriculum, open to the graduates of the seven-year program and others. It is these students who go on to become teachers themselves and develop careers in music schools throughout the nation.
Both in the first and second levels, the curriculum offers instruction in vocal and instrumental music, winds, piano, string and national instruments. The college has a choir, and ensembles for wind and traditional national instruments. Currently there are 178 pupils in the first level and 63 students in the second level.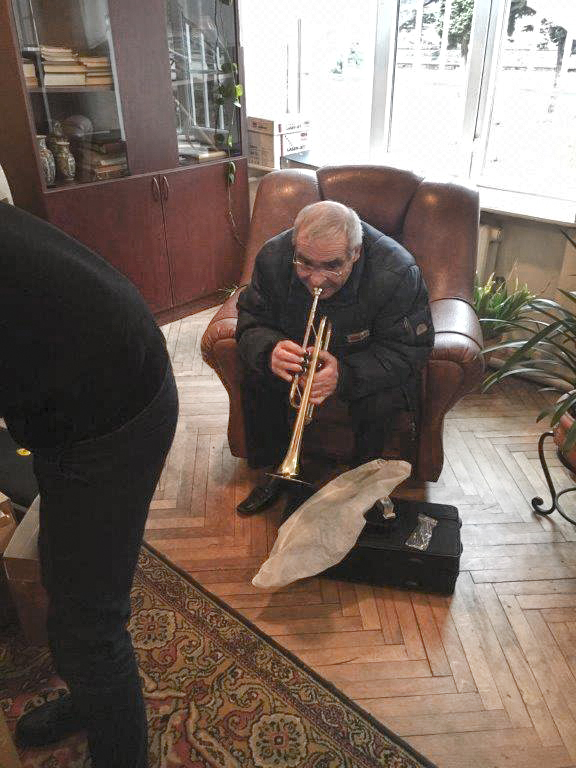 How does it sound?
The College students take part in contests, festivals and competitions. The ensembles and the choir are frequently invited to perform at diverse celebrations in Dilijan, the marz and beyond. Since the College functions as the coordinator of the marz music schools, it frequently hosts master classes by prominent musicians from Yerevan and thus ensures continuing education to teachers from all the music schools in the marz. It also hosts concerts at the College for all official, international delegations, guests of Dilijan and/or the marz. Its dedicated and professional staff have earned the respect and gratitude of the entire community.
A Wish List
The building that houses the facility is quite adequate, as it is big and sunny, with lots of light. But, it is old, has not been renovated for over twenty years, and, despite the care given it by its staff, has fallen into disrepair. In hopes of finding support for an overhaul, a team of teachers and their supervisor drafted a wish list, detailing what the school would need to be able to perform at the highest level. The entire building would have to be renovated, including the 300 square meter concert hall; once that were done, the concert hall would need new chairs and the classrooms would have to be equipped with new furniture. Most importantly, the school required new instruments, as well as training manuals.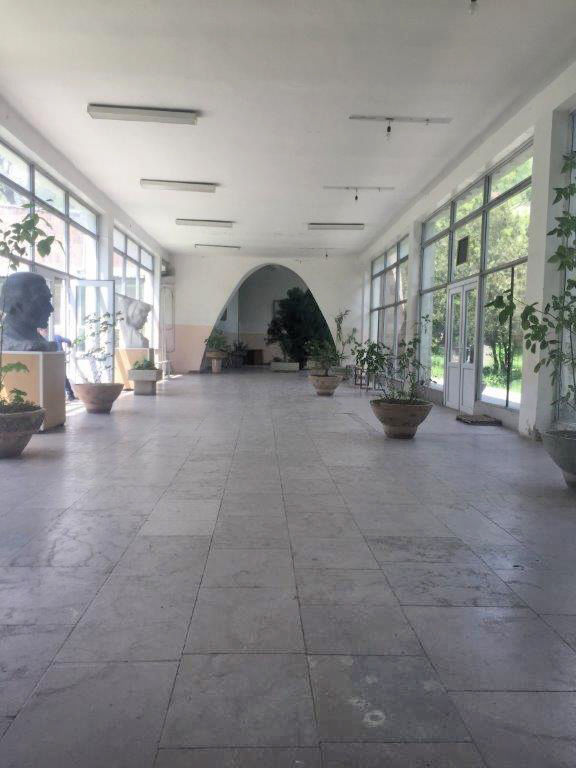 Lots of light inside the school
Thanks to a donation by a benefactor, FAR was able to purchase and provide the school with the 200 new chairs for the concert hall, but the facility itself still awaits renovation. This is an urgent task, considering the school's function not only to educate its students but also to provide adequate conditions for visiting musicians who come to give concerts and master classes.
FAR also purchased the quality instruments after matching an initial donation by the Mirak-Weissbach Foundation with a contribution by the Galust Galo fund. Shortly before Christmas, the shipment of instruments arrived, 37 in all, and the students were excited. Margarit Piliposyan, FAR's Deputy Country Director and Program Director, reported on December 19, "the teachers and students are happy! They called it a gift from heaven." The new instruments include pianos, string, wind and traditional national instruments, as well as some devices for the sound system in the concert hall. The school expressed appreciation "for the priceless assistance to the younger generation, who love and study music," and promised to prepare concerts to greet the benefactors in the New Year.
(See
www.farusa.org
and
www.m-w-stiftung.org
)
---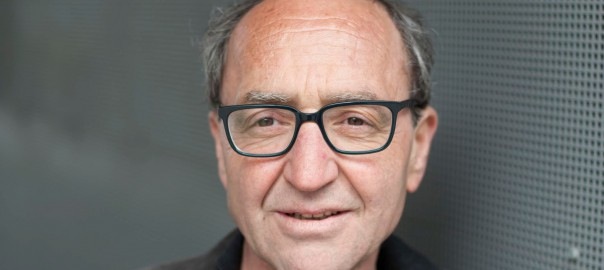 Dogan Akhanlı
The Turks in Germany Who Defeated Denial
by Muriel Mirak-Weissbach
BERLIN, DECEMBER 20, 2018 (special to the Armenian Mirror Spectator)— Since June 2, 2016, the German Bundestag (Parliament) has been counted among those political institutions worldwide that have officially recognized the Armenian Genocide. The names of the parliamentarians associated with launching the initiative and organizing the political muscle to force it through are known. But if those individuals served as midwives, they were not the ones to conceive the idea. In the beginning was a small group of Turkish citizens living in Germany who came together in an association called Soykırım Karsıtları Dernegi (SKD), the Society against Genocide. At the beginning of December, they observed their 20th anniversary in Frankfurt and they had good reason to celebrate.
The festivities took place in a community center where some members had held birthday parties or wedding receptions. There were Turks, Armenians, Greeks, Arameans, Kurds and Germans, young and old, there was music, sung in all the languages, and dancing, and a buffet with everything from mezze to baklava. Ali Ertem, the founder and chairman of the SKD, told the members and guests that he had decided to throw away his prepared remarks and to speak from the heart. To summarize the experience of his association, he began with the question of why the organization was founded. Many years ago at Bochum university he met the Armenian Mihran Dabag, then also a student, who first told him about the crimes committed by the Young Turk regime against the Armenians. Like many Turks who first learn about the genocide when they come to Germany, he decided to look into it, and his research quickly proved the case. Moved by the moral responsibility to act on this new knowledge, he set up the association with the commitment to get Turkey to recognize the genocide, and the first petitions began to circulate.
Ertem and his associates soon thereafter organized a visit to Armenia, which was to become an annual event every April 24. On his first visit, he was asked by his hosts why he set up the SKD, considering the policy of denial that reigned in Turkey. He answered with an anecdote about an old Shi'ite wise man. The man lived as a farmer with his family, at the foot of a mountain, and his sons had been urging him to move to a region with more sunlight, for the crops. The man refused, and instead he began to dig at the base of the mountain every day. In response to queries, he explained that by digging, he was preparing to move the mountain; if he did not complete the task in his lifetime, his sons would continue it, and after them, their sons. And so on, until the mountain had been relocated. "We have broken the monopoly on the genocide," Ertem said. "The situation inside Turkey is tough, to be sure," he said, "but we are moving mountains."
Dogan Akhanlı was the guest speaker. The German-Turkish author has been jailed and persecuted repeatedly by Turkish authorities, most recently a year ago when he was arrested in Spain on Turkish orders and released only after an international mobilization. As a result of this harassment, his fame as an author has been enhanced and his books are selling well.
His address filled out the story of the SKD and its significance, He recalled that in a speech he was invited to deliver on April 24, 2011 at the Paulskirche in Frankfurt, at the annual genocide commemoration event, he had characterized the SKD as the pioneer in the process of coming to terms with the genocide against the Armenians and Aramaeans. Akhanlı said that "denial of the genocide and expulsion of the Armenians and Aramaeans and Pontus Greeks was not only a social phenomenon inside Turkey." Outside the country, intellectuals with a Turkish background, even those committed to working through past history, shied away from using the term genocide — until Hrant Dink's murder in 2007. He cited the usual argument, that one couldn't use the term genocide for events occurring prior to its having been coined as a juridical term, and reviewed the work done by Raphael Lemkin, which led to the UN Genocide Convention. Since then, he said, there is no question among researchers that this was genocide. So, it is wrong to talk about some "Armenian question."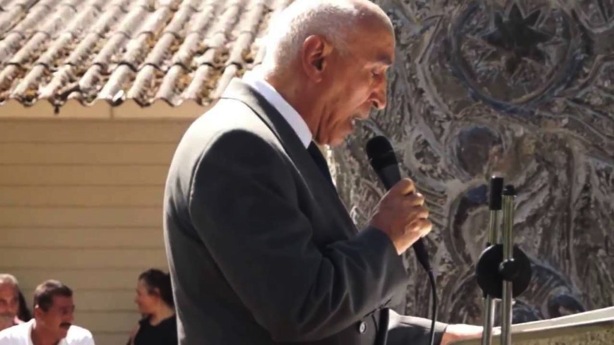 Ali Ertem speaking at a Seyfo (Assyrian Genocide) event

Akhanlı noted, "The response to the so-called 'Armenian question' of the last century was annihilation. At present there remains only the Turkish question: Turkish denial of the genocide, Turkish defamation of the diaspora, Turkish arrogance and lack of respect for the victims and their descendants."
It was thanks to the diaspora, he continued, that the fight for recognition continued and sustained the memory of the victims. "And yet," he said, "when I came to Germany in the beginning of the 1990s as a refugee, I had only a vague idea of the dimensions of the Young Turks' violence." At the time no books on the subject were available in Turkey, and only in that decade did some works appear, those published by Belge in Istanbul, and German books like those by Taner Akçam. It was in that period that he met Ali Ertem and the other founding members of the SKD, who "were the first people in Germany, perhaps worldwide, who named by name the crime against the Armenians and openly pronounced it." He recalled the series of meetings, exhibitions, round table discussions and readings that the SKD organized, thus bringing together for the first time the successor generations of the perpetrators and the survivors.
Yet it took a good 20 years before the Bundestag would pass its resolution. Akhanlı said it was above all "thanks to the struggle of the SKD" that the resolution passed. In November 1999 the SKD had gathered signatures from more than 10,000 Turkish citizens and sent the petition to the Turkish parliament demanding that it recognize the genocide in accordance with the 1948 UN Convention, but the petition was returned by mail, unopened. So, in April 2000, the SKD together with the Berlin-based Working Group Recognition (AGA), delivered the petition to the German Bundestag, demanding that it recognize the genocide and urge Turkey to follow suit. Of the 16,000 signatures of German residents, 10,000 were Turkish citizens, and support came from prominent individuals worldwide.
In closing, Akhanlı recalled the proposal he had launched in the Paulskirche address in 2011, that Germany expand working through its history, to include other atrocities committed during the colonial period. He had also proposed the creation of an Action Reconciliation Service for Peace (Aktions Sühnezeichen Friedensdienste-ASF) for Turkey. The ASF, founded by the Evangelical Church in 1958, has been active as a peace organization, promoting reconciliation in dealing with the legacy of Nazism, and had a major impact on Akhanlı's own development. Although there are individuals in Turkey eager to collaborate, the difficulty, the speaker explained, lies in the fact that, without genocide recognition on the part of Turkey, there are no institutional forces ready to act. One organization that has pursued peace work, he said, is Anadolu Kültür, and it has come under assault since the failed coup attempt in 2016. Its founder Osman Kavala sits in jail.
"But nevertheless," he concluded, "we have a core group, the SKD, which is fighting indefatigably and uncompromisingly against racism and anti-Semitism, against current and historical violence, which has made an admirable contribution to reconciliation and which is celebrating its 20th birthday today."
On a personal note, Akhanlı said this "association of solidarity work" had had the "magical effect of saving me from the jaws of arbitrary and arrogant power and made it possible for me to be here with you and to celebrate. Heartfelt thanks!"
---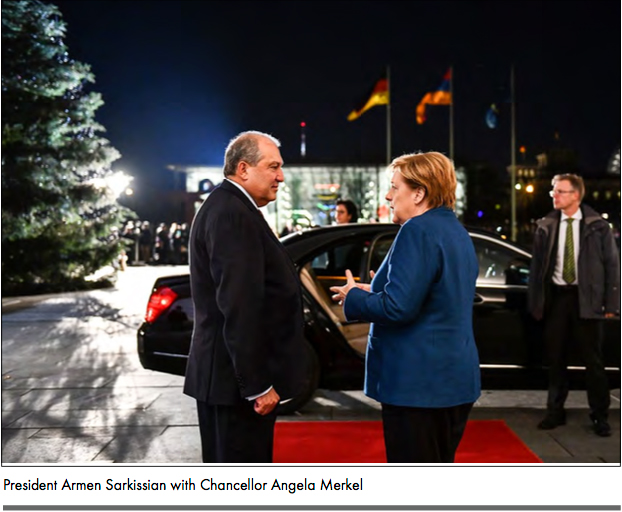 A Good Time to Come to Berlin
By Muriel Mirak-Weissbach –
Special to the Mirror-Spectator
BERLIN — The visit of Armenian President Armen Sarkissian to Germany at the end of November may not have received the same international media attention as the G20 summit meeting and escalating political crises in various parts of the world, but it deserves serious consideration, as it signaled a positive step forward in relations with Germany at a time of momentous developments inside Armenia as well as growing challenges in Europe. Issues of mutual concern were discussed, important past achievements were commemorated, steps were taken to deepen relations and concrete joint projects were officially signed.
"Allow me to explain why Armenia is important today. I will concentrate on three points: precise timing, the right place and the right model." This is how Sarkissian presented the case in a lecture on November 28 at a leading think-tank. Speaking on "Armenia in 2018 and the Region" at the Bertelsmann Foundation, he said in the current period, when "everything is changing with the speed of light," technology is going through a rapid process of evolution. And the process does not always unfold in a classical manner; this is true not only in the economy but also in politics, he said, as exemplified by the revolution in Armenia. The country has entered the 21st century, not only technologically but also politically, so "the time is right."
Moving to the geographical factor, the "right place," Sarkissian stressed the unique position Armenia occupies; it is a member of the Eurasian Economic Union (EEU), and it also has an agreement with the European Union. As a result, Armenia can function as a "bridge between West and East." By the same token, it can serve as an important link between North and South, as it enjoys good relations with Georgia and Russia as well as Iran and other countries of the Persian Gulf.
The third factor he developed involves the role of the diaspora. Although Armenia is a small country with a population of three million, there are Armenian communities throughout the world, "well-organized, advanced and successful," amounting to 12-15 million Armenians in total. As these communities are also involved with developments in the Republic of Armenia, that makes it "a small country but a global nation, which is significant in the 21st century." Sarkissian made the important point that Armenians wherever they live "should first be good citizens of the country they reside in" because "one cannot help one's own country if you live in a ghetto." Only in this way can one develop relations with one's historical homeland.
Technologies for the Future
At Bertelsmann and throughout his tour, the Armenian president placed special emphasis on the value of the human resources in his country. A young country, with a young population and a young spirit, Armenia is looking to the future. "Keen on new technologies, education, science, especially mathematics and physics, today the country has the most advanced information technology sector in the region," he said in his lecture at the think-tank. This is where fruitful collaboration can occur.
At the start of his visit, when he and his wife Nouneh Sarkissian were officially welcomed by German President Frank-Walter Steinmeier and his wife Elke Büdenbender, the Armenian president praised the economic and technical assistance given by Germany and expressed the desire that cooperation in education, science and culture would be expanded, including exchange programs for students and scientists.
In his meeting with Chancellor Angela Merkel, who visited Armenia last summer, frontier technologies played a central role. Merkel, who is a physicist by training, said she had been particularly impressed with the TUMO Center for Creative Technologies, adding that Germany was exploring the potential for cooperation here. Sarkissian welcomed the suggestion, again stressing Armenia's expertise in information technologies. "Our country may become a platform for different startups," he said.
This became concrete during a visit to the Fraunhofer Institute for Productive Systems and Design Technology, a vanguard institution with over 70 scientific and research centers in several countries. One landmark project involves cooperation between Fraunhofer and the Mesrop Mashtots Institute of Advanced Manuscripts – Matenadaran, in a program on digitalization and restoration of ancient and medieval manuscripts. The joint project, which began in 2016, led to the digitalization and restoration of the Narek prayer book from the 13-14th century. (See
https://mirrorspectator.com/2018/05/31piecing-together-thewords-of-a-saint/
)
Director Eckart Uhlmann guided his guests through the institute, and they discussed future collaboration in the information and high tech sectors, automated systems and robotics. Sarkissian welcomed the expansion of Fraunhofer's activities in Armenia, announcing that preliminary agreement had been reached on a new form of cooperation, concerning not only Matenadaran but also industrial cooperation.
In Berlin Sarkissian was also received by President of the Bundestag Dr. Wolfgang Schäuble. Honored to represent his country "in this historic building," Sarkissian expressed interest in Germany's experience of parliamentary democracy. Referring to recent developments at home, where great changes had come about peacefully, he said the task Armenia faces now is "to translate the existing positive energy into positive results" and expressed optimism in the future. Although this meeting focused on political concerns, including ratification of the Comprehensive and Enhanced Partnership Agreement (CEPA) signed by Armenia and the EU, they discussed expanding cooperation in science, culture and education.
Cultural Dialogue
On November 29, Sarkissian signed two important agreements for cooperation in the fields of culture and medicine. In Magdeburg, the capital of the federal state of Saxony-Anhalt, the Armenian president and his wife were welcomed by Minister-President Reiner Haseloff, who commended the warm ties with Armenia. This refers in particular to the activities of the Mesrop center at the Martin Luther University in Halle, which recently celebrated its twentieth a n n i v e r s a r y . ( S e e https://mirrorspectator.com/2018/11/08twodecades-of-armenian-studies-in-germany/)
Haseloff announced that a further agreement was being signed by the two that very day, which would further enhance cooperation in culture and science. Sarkissian, who has visited Germany many times, and had been in Magdeburg in the 1980s as a Soviet scientist, said, "Germany has made a major contribution to world culture, and every time you visit here, you take a small piece of this great heritage with you." Applauding the friendship between Saxony-Anhalt and Armenia, he said, "The source of our friendship and dialogue are history and culture, I hope science as well in the future." He expressed his deep appreciation for the Mesrop center, as "our small, but very important presence in Germany." The two political figures were joined by several state ministers to discuss the existing partnership, which includes student exchange programs. Sarkissian proposed expanding these further to include scientific fields, like information technologies, math and physics. A new agreement was signed at the Otto von Guericke University, where Rector Jens Strackeljan welcomed the guests. This agreement involves cooperation between the Yerevan State Medical University (YSMU) and the School of Medicine at the Otto von Guericke University.
Gratitude for Emergency Aid
There were several anniversaries commemorated during Sarkissian's visit, in addition to the Mesrop center's twentieth, and one of them was a somber, tragic event — the earthquake that devastated Spitak and outlying areas on December 7, 30 years ago. Some 50,000 persons were stricken, and half that number perished. Among the first to respond was the German Red Cross (DRK), which began the first flight with 14 aid workers, search dogs and blood for transfusions in the night on December 9-10. By the end of January they had sent 29 planes with assistance for survivors. It was the first time the Red Cross had carried out a rescue operation behind the Iron Curtain. For immediate assistance and later reconstruction, the organization spent the equivalent of 61 million Euro.
To express gratitude for the crucial humanitarian intervention, Sarkissian made a visit to the organization's headquarters in Berlin on November 27, where he honored 10 DRK workers, presenting them awards. Deputy Secretary General of the DRK Johannes Richter received the Mkhitar Heratsi medal and DRK representative Zigrid Hetmannschperger and Carl-Heinz Scheiden were awarded Medals of Gratitude. Gerda Hasselfeldt, President of the German Red Cross, remarked, "Considering the dimensions of the damage, the Soviet government, for the first time since the end of World War II and regardless of the Cold War, called worldwide for humanitarian assistance. For all those involved," she said, "especially for those who supported this immense Red Cross operation, highly motivated, for weeks in bitter cold and living in tents, this deployment will never be forgotten."
Speaking to staff members, Sarkissian said the earthquake had been "very sad and tragic. But in these 30 years there have also been very humane, touching stories, stories about human love, care, attention and lack of indifference." He said his country and its people would never forget what Germany had done to help, specifying that every Armenian literally is grateful. Recently, during a visit to Gyumri, he said he experienced gratitude "not only in elderly people but in young people who didn't see the earthquake" but had heard about it from their parents. "So I am here to convey the words of gratitude on my personal behalf and on behalf of the entire Armenian nation." He asked Hasselfeldt to communicate his message to the thousands of Red Cross workers engaged in helping those in need.
At the end of the event, Hasselfeldt presented Mrs. Sarkissian a check for a contribution of 10,000 Euro, for the "Berlin" clinic for mothers and children in Gyumri. The clinic was set up and opened in 1993, thanks to donations by the Berlin population and business community. To date, 17,000 people have benefited from the medical treatment offered there. The funds are earmarked for renovating the clinic. Thanking herforthegift,Sarkissianannouncedhewould match the donation with another 10,000 Euro, for the same purpose.
Celebrating with Music
The Sarkissians concluded the official visit to the German capital with a magnificent concert in celebration of the 115th birthday of Aram Khachaturian. The Armenian National Philharmonic Orchestra, under the direction of Eduard Topchyan performed Khachaturian's Suite from the ballet "Spartacus" and the Concerto for Violin and Orchestra with soloist violinist Sergei Khachatryan, followed by the Symphony No. 5 in D minor, Opus 47 by Shostakovich. After enthusiastic applause, they performed a waltz by Khachaturian as an encore.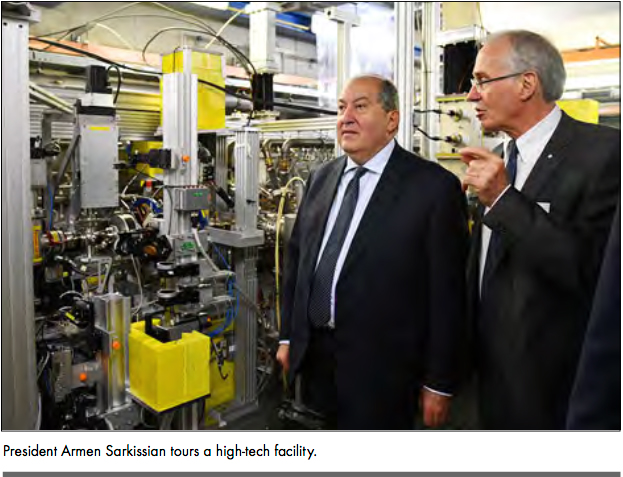 ---
'Ex Occidente Lux!' Armenia and the West
By Muriel Mirak-Weissbach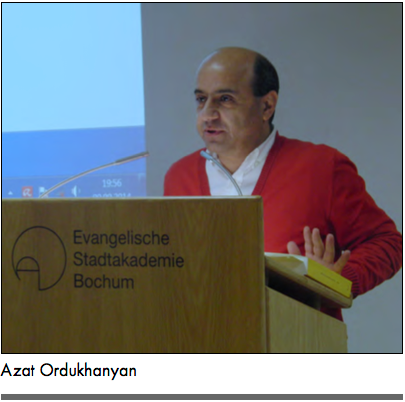 DECEMBER 1, 2018 – Special to the Mirror-Spectator
BOCHUM, Germany — "Since the early Middle Ages, since the invasion of the Seljuk Turks in the 11th century, the Armenians have been fighting for the restoration of their independence in their own land — with unshakeable hope. In this they have traditionally expected aid from the Christian West. Germany has had an important role in this context."
Thus reads the text of an invitation issued for an event held recently in Bochum, a city in the Ruhr region. The timing could not have been more opportune; since last May, friends of Armenia abroad have been following the developments associated with the Velvet Revolution with keen interest. Where is the country going? What are the models — if any — that the new leadership looks to for inspiration? And for support? What will the response of friendly nations and trade partners be to the new course charted by Armenia?
Hosting the evening were Heide Rieck, author and spokeswoman of the Bochum Literati, and historian Azat Ordukhanyan, director of the Armenian Academic Society 1860, the oldest Armenian organization in Germany. Engaging in a wide-ranging dialogue, they reached back into history to review the relations between Armenia and the West, asking what expectations Armenians had from European powers, and how the latter responded. Thus the title, "Ex Occidente Lux! Armenia's Visions of Liberty with Regard to Germany."
The Prophecy of Nerses
Rieck, who has been active in promoting Armenian-German cultural exchange, is also co-author of a new translation of Paruyr Sevak's poetry. She posed questions to Ordukhanyan, who illustrated his remarks with examples from various epochs of Armenian history. Tracing the notion back to the fourth century, that the "light" – lux – would arrive from the Occident, he cited an ancient document reporting on a prophecy articulated by Catholicos Nerses the Great, which foretold the future of his people for the subsequent centuries. What was the prophecy, Rieck asked. "The fall of the Arshakouni dynasty is imminent and the end of the house of the Patriarch Partev, also the separation of the Armenian Church from the universal Christian Church as well as the total decay of the country as a consequence of the internal strife among the princes. The successive entry of foreign rule over Armenia was also prophesied and finally salvation through Rome (i.e. through the West) and with it the inauguration of a Golden Age, an age of enduring peace."
If the idea was that salvation would come from Rome, it is no wonder that there were sympathies among Armenians for the Crusades launched by the Western Christian leaders, military campaigns against Islam and for the liberation of Jerusalem. Friedrich I, Barbarossa, was one example, Ordukhanyan noted; and there are testimonies from the 13th century documenting the expectations Armenians placed in the campaigns of the Frankish kings as well as the "Alamank," short for "Alamanen," as the Germans were called.
Though the hoped for liberators from Europe failed to satisfy these there cases nobility who launched initiatives inspired by that perspective. Ordukhanyan reported on examples related to Germany that paved the way, in a certain sense, to what would become known as "the Armenian Question."
A Savior from Europe?
At the turn of the 18th century, one Israel Ori, a nobleman from southern Armenia, had a plan for mobilizing help from the West. The basic idea, Ordukhanyan explained, was that he would depict the suffering and need of his people, who, because they remained true to their Christian faith, were being persecuted by the Persians and Turks. Ori was confident that once liberated, the Armenians would return to the Roman Catholic Church. Any Western prince who would raise an army and appear on Armenian soil, he argued, would be hailed by the people, and immediately offered the crown. Ori acted as if he had been commissioned by Armenian nobility to seek out such a European savior, and his backers based their expectations on the authority of ancient documents and legends. Ori predicted that this enterprise would bring fame to the House of the Palatinate, above all other royalty in Europe.
The Elector Palatine Johann Wilhelm did in fact receive a request from Armenia, in 1699, to lead an army to the land, free the Armenian Christians and in return receive the crown. At the time, the historical conditions were not ripe for the plan to be set in motion, Ordukhanyan said, but sources from all
concerned parties document the existence of the initiative, and reveal the fascination that such dreams of power exerted on German princes at the time.
Ori did not implement his project, but Hovsep (Joseph) Emin (1726 -1809), a prominent personality in the Armenian national liberation movement, travelled through several European countries from 1751, seeking support for a campaign to free Armenia from the Persians and Ottomans — all reminiscent of the Ori adventure. Odukhanyan related other tales of
fantastic projects entertained by Armenian figures who would become prominent in Germany. Among them is the Aretin family, the name being a common abbreviation for Harutyun. The founder was the son of the Armenian Prince Baghdasar of Sünik in southeastern Armenia. In what reads like a wild adventure story, in 1706 (or 1710) when he was 4 years old, he was sent on a ship from Constantinople to Venice, by the French ambassador, and handed over, along with letters and riches, to Prince Max Emmanuel II of Bavaria from the Wittelsbach family, and his wife, the Polish princess Therese Kunigunde. The Wittelsbachs, living in exile, raised him there until 1714 when they all returned to Munich. Whether or not there were any repercussions on events in Armenia, here were the Armenian roots of the Aretin family, whose members were to occupy prominent positions in political, social and scientific life of the region.
To round out the evening's presentation of such colorful escapades, Ordukhanyan and Rieck delivered a reading, in Armenian and German, of a poem by Sevak, "I am going crazy." A lively discussion followed, with questions about the political climate in Armenia at present, and the perspectives for Armenians to shape their own future, according to the needs and desires of a sovereign people, and in harmony with friendly nations, both East and West.
---
Armenian Artist Hosts Student Exhibition
By Muriel Mirak-Weissbach
Special to the Mirror-Spectator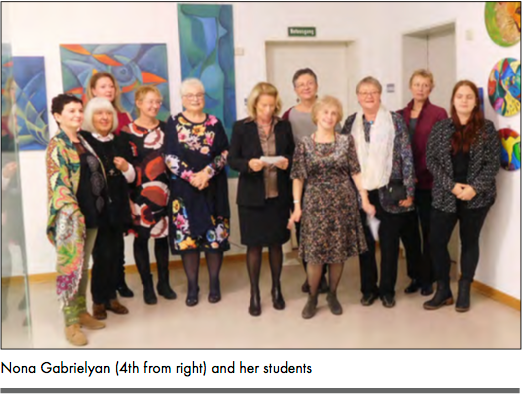 WIESBADEN, Germany december 1, 2018
— Nona Gabrielyan is the proud representative of an Armenian family that has produced four generations of artists (so far). This is not only in Armenia; in Germany, where she has lived with her artist husband Van Soghomonyan for the last quarter of a century, she has also been midwife to a generation of German artists. On November 24, she presided over the vernissage of an exhibition of works by a group of her students. Held at the Haus der Heimat (Homeland House) in Wiesbaden, the show entitled "Exhibition 1 + 9" features the creations of 9 of her students together with some of her own. It is the third such show of works done by several of the 55 aspiring artists who have taken lessons from her over the past twenty years in her Wiesbaden atelier.
As she explained in her welcoming remarks to a large group of guests at the festive inauguration, "Some of the students have become independent, others still come to classes because they think they still have something to learn. The art world is big and multifaceted, larger than our actual world. Everyone can find a place there. One needs only talent, courage and of course basic training. And I have tried to provide this for them."
For Gabrielyan, there are no language or cultural borders separating one national art form from another. "Art is a universal language, especially painting and music! Everyone can understand it, without translation," she said.
In her work in Wiesbaden, she has not only functioned as an art teacher, but also as a mediator of cultural dialogue, learning more about Germany through her students, and introducing them to her homeland. "All the young women whose works are exhibited here are not only my students but also my friends, for me and my whole family. Formerly I knew Germany through its literature and art history. Now I love Germany through my students and friends. And they, through me, have been able to know and love my country Armenia. Some of them visited, with their husbands."
In fact, as she explained, in 2016 they organized a photo and graphics exhibition, which flanked a solo exhibit of hers at the Museum of Modern Art in Yerevan. "And it was very successful, I must say," she noted. On the second floor of the showroom in Wiesbaden, there were photo montages hanging on the walls, with pictures of the trips made with her students, to Tuscany, France and Armenia.
At the opening ceremony, Vera Maier of the Haus der Heimat welcomed guests, noting that her association is a place where artists from all over the world come to paint. In attendance were local officials, including from the Hesse Ministry for Social Affairs and Integration, and the Hesse Association of German Refugees (after World War II). As Gabrielyan had said, not only art but also music is a universal language. To illustrate this were several offerings by soprano Irina Sokolovsky, former soloist at Odessa opera, now at the Mainz opera. The exhibition will continue until December 19, and at the closing, Gabrielyan, who is also an author, will read from two of her works in German and Russian.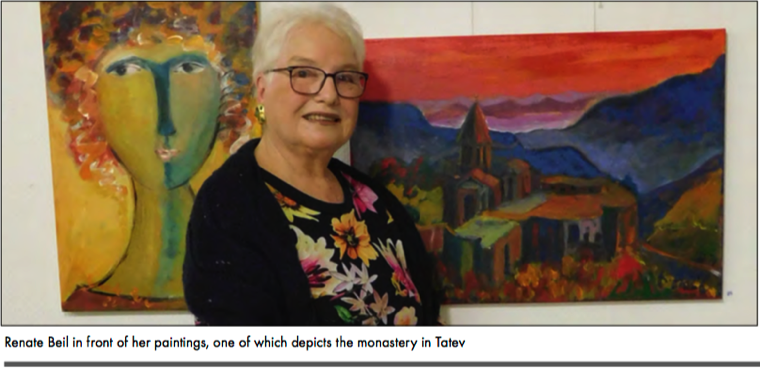 ---
Casa Armena Welcomes Guests from Yerevan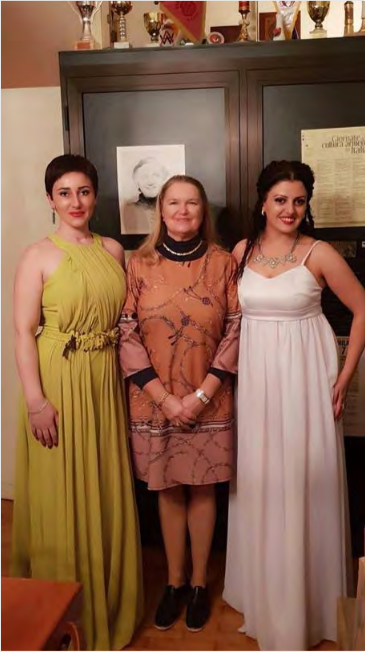 MILAN, Italy — On November 17, members of the Armenian community in Milan delighted in the music offered them by two young sopranos visiting from Yerevan. Lusine Arakelyan and Amalia Baloyan sang arias from Italian composers Verdi and Bellini, as well as works, by Komitas, B. Kachean, Dolukhanyan, A. Babajanyan. and others. They were accompanied by pianist Marina Vardanyan. In the photo, from left to right: Amalia Baloyan, Marina Mavian, president of the Casa Armena, and Lusine Arakelyan.
–Muriel Mirak-Weissbach
---
Armenian Artists Come to Austria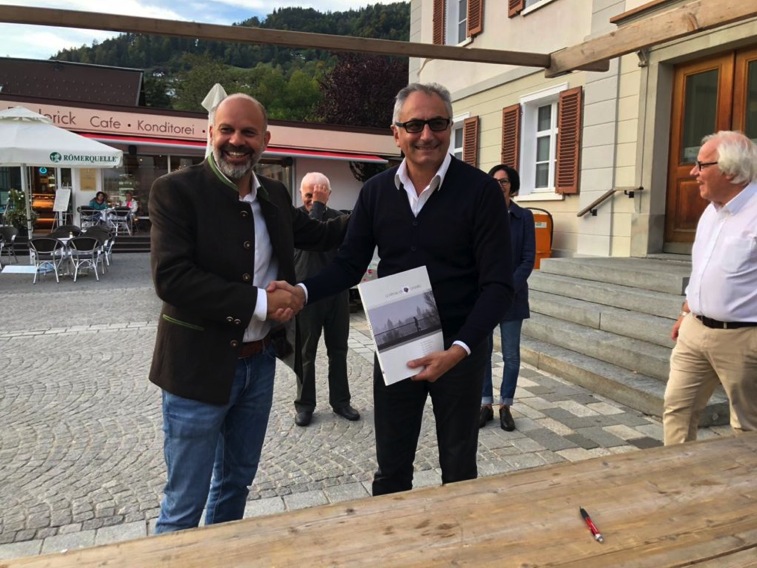 Alexan Ter-Minasyan (r.) with Mayor Jürgen Kuster
by Muriel Mirak-Weissbach
NOVEMBER 15, 2018 – SCHRUNS, Austria — Thirty years ago, Gyumri was almost totally obliterated by an earthquake that devastated nearby Spitak and other cities of the Shirak region. Slowly the city, known as the cultural capital of Armenia, has been rebuilt and its artistic community again flourishes. Not only are the new music schools filled with eager students, but painters and sculptors are continuing to generate works of beauty.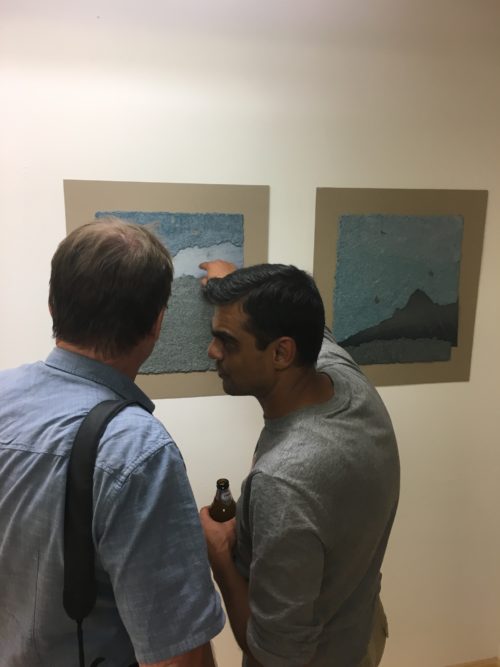 Works by Karen Barseghyan, Artist in Residence. Other artists featured in the exhibition are Hayk Adamyan, Sona Andrasyan, Hakob Hovhannisyan, Ararat Sarkissian, Vahan Topchyan and Albert Vardanyan.
Thanks to the efforts of Alexan Ter-Minasyan, eight artists from Gyumri have been able to present their work in a highly-successful exhibition in Schruns, a city in Montafon Valley, on the westernmost part of Austria. The exhibition, which ran from October 5 to 28, was organized as a joint effort by the MAP Kellergallerie, Caritas and the Schruns Savings Bank, together with Gallery 25 of Gyumri, an artists' group which organizes activities in Armenia as well as exchange programs abroad. In 2017, Gallery 25 cooperated on a show in Bursa, Turkey.
Ter-Minasyan, the founder of Gallery 25, has been a protagonist of the process of rebuilding Gyumri, both physically and culturally. He worked with the Red Cross to set up the "Berlin" polyclinic there, and established the Berlin Art Hotel, which financially supported it. He has supported local efforts to provide art instruction for pupils, for example in the small village of Gusanagyugh. (
http://www.m-w-stiftung.org/English/News/Suns-of-Gusana/Suns-of-Gusana.html)
In January of this year, Ter-Minasyan was named Honorary Consul of Germany, largely in recognition of his years-long efforts to promote personal and cultural exchange between the two countries and peoples. (
https://mirrorspectator.com/wp-content/uploads/2018/02/February-3-2018.pdf
)
The project in Austria, titled "Armenia as a Guest in Montafon," opened the exhibition, "Gyumri and Its Artists," with a vernissage attended by five of the artists and Ter-Minasyan. Schruns Mayor Jürgen Kuster welcomed them with an official reception. The earthquake is a theme of the artworks, and is also documented in images by photographer Yuri Pavlov on display. The program included lectures, eye-witness accounts of the catastrophe, and conversations with the visiting artists. Sculptor Karen Barseghyan, who had been in Schruns for several weeks as artist-in-residence, invited guests to visit his studio, where he has been holding workshops for youngsters and adults.
---