Unless otherwise indicated, the articles here and in the
Archive
appeared on
www.globalresearch.ca
---
From Berlin to Yerevan — Direct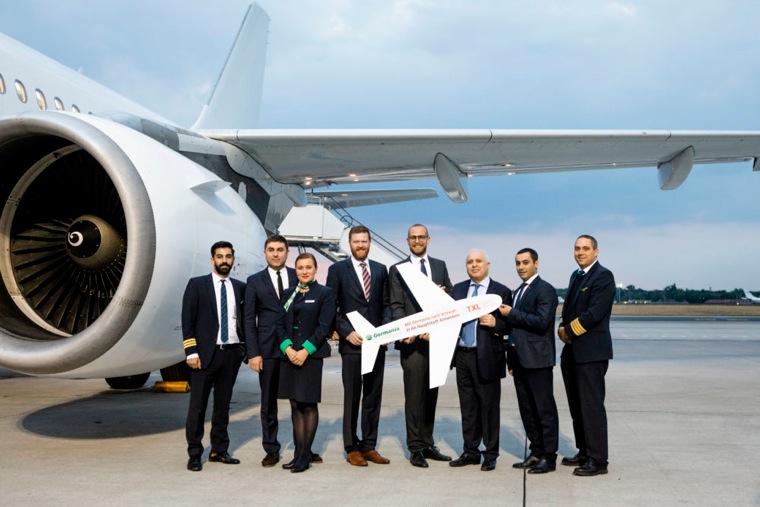 Photo credit, Thomas Kierok, Flughafen Berlin Brandenburg GmbH Pictured: Davit Davtyan (Counselor of the Republic of Armenia in Germany; 2nd from left), Florian Stahl (Senior Manager Route Development & Destination Management, Germania, 4th from left), John Mohrmann (Aviation Management, Flughafen Berlin Brandenburg GmbH, 5th from left ), Ashot Smbatyan (Ambassador of the Republic of Armenia in Germany, 6th from left), Vrezh Kardumyan (secretary of the Ambassador of the Republic of Armenia in Germany, 7th from left) with the crew.
by Muriel Mirak-Weissbach
BERLIN, JUNE 21, 2018 — The revolutionary developments in the Republic of Armenia have sparked enormous interest in Germany and a new air link between the two capitals promises to fuel that interest even more. Germania, an independent German airline, has proudly announced that its first direct flight from Berlin to Yerevan took place last weekend. Plans are for a weekly flight and at affordable prices. Until now, visitors from Germany have had to fly with stopovers, for example, in Vienna, Moscow, Prague or Kiev.
"With the Berlin-Yerevan connection, we have found an interesting new destination, and we expect the demand to be great," said Florian Stahl, Senior Manager of Route Development of the airline. "Here we are focusing on the potential in tourism as well as the interest of travelers to visit friends and relatives."
As a Germania press release explains, there are numerous special attractions in Armenia, which is the oldest Christian nation in the world. "Armenia offers UNESCO world heritage sites," the release continues, "like the ruins of the Zvartnots Cathedral and the cloisters in Haghpat and Sanahin…" It also mentions that from Yerevan one can enjoy the view of "Mount Ararat, which according to the Bible, is where Noah's Ark landed in the Flood."
---
Turks Go to the Polls in Germany
by Muriel Mirak-Weissbach, for the Armenian Mirror Spectator
BERLIN — By all forecasts, the outcome of the parliamentary and presidential elections in Turkey will be close, so close, some say, that there could be a runoff for the presidency. If Recep Tayip Erdogan does not receive a clear majority in the first round on June 24, he could face a candidate backed by a coalition of opposition parties. Two weeks later, a runoff would be called on July 8 (from June 30 to July 4 for voters abroad). And in that case, the votes cast by Turkish citizens living outside the country, who make up an estimated 5 percent of the total electorate, could prove decisive.
This helps explain the special focus that Erdogan and his AKP party colleagues have been placing on wooing voters in Germany. Of the more than 3 million eligible Turkish voters living abroad, there are 1.4 million in Germany alone. The European countries that follow in rank are home to substantial numbers of voters, but considerably fewer than Germany; France with 341,000, Holland with 260,000 and Belgium with 142,000 according to German press reports. The US and Canada account for about 100,000 each.
Voting began on June 7 at 13 polls set up in the Turkish consulates throughout Germany, as well as Austria and France, and will continue until June 19. Erdogan is hoping that he and his AKP will profit from what he hopes will be a massive turnout. During a speech in Mugla on June 6, he appealed to voters in Europe to flock to the polls until they burst; "the signal that you send from abroad," he said, "will, God willing, blend together with the votes of your brethren in Turkey." And his foreign minister, Mevlüt Cavusoglu, called for an even higher vote than what Turkish voters in Germany had delivered for the referendum last year. At that time, the turnout was 50 percent and 63 percent of those who voted cast a "yes" for Erdogan's changes.
Campaign Rallies Banned
The problem Erdogan has is that he cannot rally the masses directly. Last year in March Germany issued a ban on any campaign speeches by Turkish politicians, a move followed by Holland and Austria. In response Erdogan accused the Germans of adopting "Nazi methods." When Chancellor Angela Merkel and SPD politician Martin Schulz indicated that the talks on Turkey's bid for EU membership were at a dead end, he said they were all "Nazis of fascists." This did not endear him to the political class in Berlin, nor did it lead to any rethinking of the ban.
And yet, early polls indicate that there is considerable support for Erdogan and the AKP. The reasons suggested by political analysts are complex: as one German TV feature presented it, Turks living in Germany, even those who were born here, tend to consider Turkey still as their homeland. They view Erdogan as the man who succeeded in providing economic growth, fighting poverty, building public infrastructure, roads, bridges, airports, schools and hospitals. Although in reality, the economy has entered a serious crisis and the national currency has taken a nose dive, the picture presented in the state controlled media, which many Turkish-Germans follow, is still the rosy one of years past.
Then there is the psychological, ideological factor, which is overwhelming. Many Turks in Germany feel they are discriminated against, and this contributes to identity insecurities; as one Ahmet cited by ZdF TV put it, "In Germany, you are always the Turk, and in Turkey I am always the German, Alman." Despite the fact that the Turkish community has been here for three generations, analysts complain that not enough is being done to fully integrate them. Osman Okkan, a filmmaker and leading representative of the Turkey-Germany Cultural Forum, noted that Germans are not so active in the integration and social processes, and the mosques and Turkish organizations like DITIB have moved into the vacuum.
Since the failed coup attempt in Turkey, attributed to the Gülen movement, Turks in Germany have been put under tremendous political and psychological pressure from the Erdogan regime to stay in line. Okkan told "DeutschlandFunk" radio news on June 7 that people are scared. "I have never experienced such a mood of fear," he said, "and several reports we have read confirm that many people do not want to expose themselves to the danger of being labeled terrorists or terrorist sympathizers on flimsy pretexts." He said they even had to conceal their views from their closest neighbors. It has been reported that Turkish-language media in Germany have solicited reports on individuals suspected of links to the Kurdish PKK or to the Gülen movement. Serap Güler, a political figure responsible for integration policy in the federal state of North Rhine Westfalia, said he had never witnessed such fear, both here and in Turkey, fear of speaking openly about politics.
Such political pressure, actually a form of blackmail, exerted on persons who feel they are being discriminated against, can have devastating effects. When the charismatic leader appears on the scene, with appeals to the glories of "Turkishness" or other names for exasperated nationalism, that offers an alternative identity based on a sense of power. As political analyst Gülistan Gürbey commented, Turks see themselves as second-class citizens, and "see Erdogan as a man who gives them a voice they can identify with. He intuitively reinforces the self-consciousness of these people."
A study conducted at the Duisburg-Essen University showed that since 2010 more Turks have said they identify with Turkey than with Germany. In 2010, Turkey established a Ministry for the Diaspora, whose message has been summed up as, "We are taking care of you; you are not really wanted here, but back home, you are."
One Picture Is Worth…
It is in this context that a calculated move by Erdogan should be considered. On May 13 he posed for a photo with two Germans of Turkish background and when the picture hit the press, it caused an uproar. The two Turkish-Germans were Mesut Özil and Ilkay Gündgan, leading members of the German national soccer team, now in Russia to compete for the world championship. As in other countries, fans consider such sports stars as heroes, and when they appeared in print together with Erdogan, the backlash was brutal. Although the players attempted to calm the waters, and Merkel noted that they had probably utterly underestimated the explosive potential of such a photo, the incident has become an issue.Whatever was going through the minds of the soccer players, it cannot be doubted that Erdogan knew exactly what he was doing.
That said, there is no reason to consider the outcome of the vote a fait accompli for Erdogan. There is a numerically strong and politically sophisticated opposition in the Turkish community in Germany, including prominent intellectuals, writers, filmmakers, not to mention a substantial component of Kurds and an increasing number of Turks from military and political circles who have sought and obtained asylum in Germany. Inside Turkey itself, the establishment has good reason to fear the potential alliance of opposition groups in a possible runoff, and that reality finds its counterpart in Germany as well.
---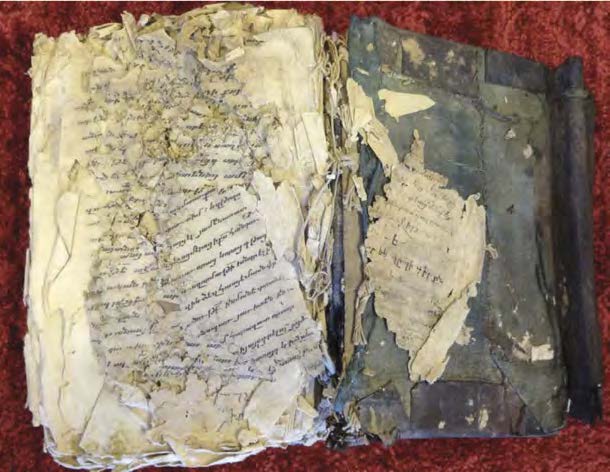 Badly damaged pages of St. Gregory of Narek's Book from 13th-14th century.
Piecing Together the Words of a Saint
By Muriel Mirak-Weissbach
–
Special to the Mirror-Spectator
POTSDAM, Germany — A revolutionary technology developed in Germany has made it possible to reconstruct an early version of Saint Gregory of Narek's Book of Prayers (or Lamentations), conserved in the Matenadaran in Yerevan. The work is a manuscript dating back to the 13th-14th century, and is one of the earliest copies of the 10th century original, which has been lost. The task presented to restorers seemed hopeless due to the desperate condition of the manuscript. The book had fallen into decay, its pages reduced to fragments, and those were in utter disarray so that it was impossible to place the individual pieces of pages in their original order.
There was no way to salvage the precious manuscript using traditional methods of restoration. In 2016 the Fraunhofer Institute initiated a feasibility study to determine whether its methods could be successfully applied to recovering damaged documents at the Matenadaran. Fraunhofer is recognized as the leading organization for applied research in Europe, with 72 institutes and research centers (www.fraunhofer.de/en.html). The method adopted is known as automated virtual reconstruction; as explained in an article in the institute's publication FUTUR, the socalled ePuzzler, which the Institute has developed, is "a reconstruction software that uses sophisticated image-processing and pattern detection algorithms to automatically recompose scanned paper fragments into complete pages."
There are three stages in the reconstruction process. The fragments are digitized, to make it possible to process them virtually. "Then the ePuzzler processes the digital copies and reconstitutes them into full pages. The third stage goes beyond the reconstruction of single pages to embrace mechanisms both for the automated match-up of single pages to form complete files and for development of their content."
Funded by the German Foreign Ministry, the Fraunhofer scientists organized two workshops in Yerevan, in which they presented the virtual reconstruction technology and preparation and procedure of digitalization work to the members of the staffs involved in restoration, digitalization, research and archive at the Matenadaran. Together they drew up potential applications scenarios, and selected and digitized exemplary material for sample processing. The results were very promising and work continued. At the end of last year, the Narek project was completed, with the financial support of the Foreign Ministry. The word was conducted by Fraunhofer collaborators Siranoush Varderesyan and Henry Zoberbier under the direction of Dr. Bertram Nickolay, head of the Department for Security Technology. It is expected that in September the results of the project will be presented to the public in Germany.
The advantages of the virtual reconstruction method pioneered by Fraunhofer should be obvious: in the case of ancient and damaged documents, it is important to reduce manual handling to an absolute minimum. Once the virtual reconstruction has been completed, work can proceed on actual physical restoration. For the Matenadaran this technology may prove to be a godsend. The world famous institute in Yerevan houses a collection of inestimable value, parts of it have been welcomed into the "Memory of the World Register" of UNESCO. Its experts enjoy recognition internationally for their advanced skills in restoring books and documents and the institute, as FUTUR writes, "is the key reference point and port of call for all enquiries regarding restoration and reconstruction in the region." Despite this high level of expertise, work on restoring the immense amount of manuscripts has been hampered by the lack of adequate technical support.
Sharing the Fruits of Revolutions There is a wonderful irony in the fact that this particular technology from Germany should come to the aid of cultural protection in Armenia, at this particular moment in history, when Armenia is going through a profound revolutionary transformation. Many Germans, following the events of the past weeks in the media, have been reminded of the peaceful revolution carried out by East Germans in 1989, which brought down the Berlin Wall and led to national reunification — an unthinkable development, during which not a shot was fired. The events unfolding in Armenia in April and May recalled that experience, for its steadfast commitment to non-violent, peaceful change.
Now, it turns out that the revolutionary technology developed by Fraunhofer became famous for its application to the reconstruction of documents belonging to the files of the Stasi, the Communist East German State Security Service, which had been torn, shredded or otherwise physically destroyed at the time of the 1989 peaceful revolution. Through the Stasi Fragments Project, the Fraunhofer group reconstructed the files of that entity, beginning a four-year pilot phase in 2007. This was no mean task. There were 15,000 sacks of documents that had been ripped by officials seeking to destroy the evidence, and 400 sacks were slated for processing in the pilot phase.
On the cultural level, this method has been successfully applied to reconstruct books that were destroyed in the collapse of the Historical Archive of Cologne, as well as works of the great German scientist Wilhelm Gottfried Leibniz. There are 200,000 pieces of paper, on which this seminal thinker noted down his ideas on a vast array of themes, handwritten fragments now being deciphered, ordered and published thanks to the Fraunhofer method. The technology can also be applied to threedimensional objects, making it possible to recover statues and frescoes that have been damaged by natural decay or even terrorism. And now the precious work of Gregory of Narek has been recovered. The Armenian saint who lived from 950 to 1003, has been honored in recent years by the Pope, in the spirit of Christian unity. On the centennial of the genocide, Pope Francis officially declared him a Doctor the Church and on April 5 of this year he unveiled a bronze statue of Gregory of Narek at the Vatican.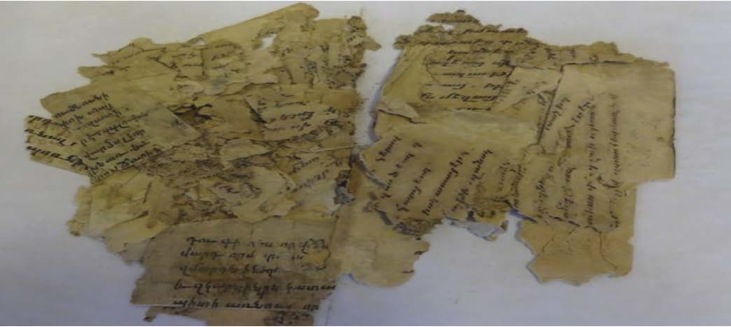 ---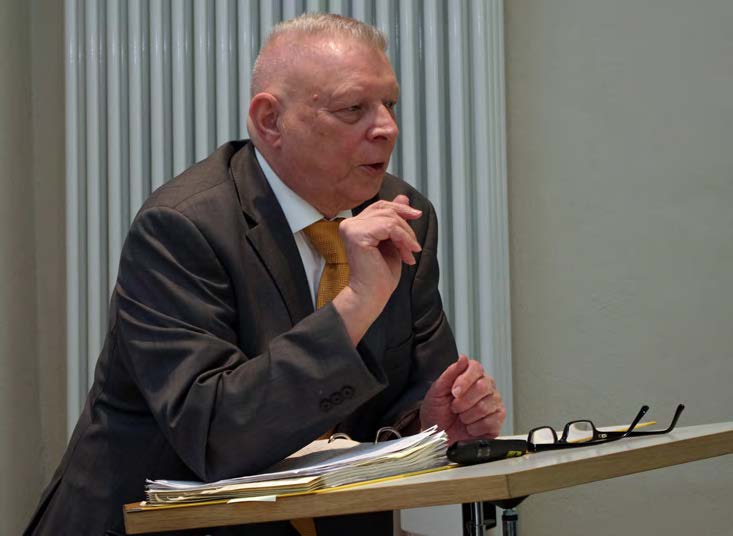 German Officers' Role in Armenian Genocide Explored

By Muriek Mirak-Weissbach
–
Special to the Mirror-Spectator
POTSDAM, Germany —
Retired Brigadier General Eckhard Lisec
(photo) delivered a lecture at the Lepsius House in Potsdam on May 17, on "The Armenian Genocide in World War I — German Officers Involved?" At the outset, Lisec made clear that there was no doubt that this was genocide. then he moved to the issue of the role of Germany, allied to the Ottomans.
# Drawing on material from his recent book on this theme, he presented a differentiated picture of the attitudes and behavior of the German Military personnel engaged in the war effort. He concentrated on single individuals: Liman von Sanders, Colmar von der Goltz and others. With his privileged insight as a military man with 50 years of experience, Lisec developed his insights into the issue of military ethics facing soldiers and officers. Where are the limits to their obedience to their own officers? And how did they relate to their superiors in a foreign army or coalition partner?
Lisec used charts from his book to show the chain of command, whereby the Germans, like Bronsart von Schellendorf (Chief of General Staff), Admiral Wilhelm Souchon (Fleet Commander) and Admiral Guido von Usedom (Inspector General of the Coastal Fortifications) were under War Minister Enver Pasha. Although Liman von Sanders had a special role, he had no direct influence on Schellendorf, Souchon or Usedom. Regarding the deportations, Lisec said they could not have come on the initiative of Schellendorf, because he was not in a position to order them, but at most implemented the orders.
The audience, which included students from the Potsdam University, listened with rapt attention to stories he told from his personal experience in Turkey. From 2002 to 2005, he was Assistant Chief of Staff Support of the NATO Rapid deployable Corps in Turkey, stationed in Istanbul.
---
Towards Transnational Remembrance and Reconciliation

by Muriel Mirak-Weissbach

FRANKFURT, Germany, MAY 11, 2018— Armenians who gathered in Frankfurt's historic Paulskirche this year for the traditional commemoration of the 1915 genocide were among the first to join in prayer with the new Primate of the Armenian Church in Germany, Archimandrite Serovpe Isakhanyan. He was elected as the successor to Archbishop Karekin Bekjian on April 15, and confirmed by Catholicos Karekin II on April 19. Another novelty was the presence of two representatives of the Armenian youth community. And a very special guest was Hrachuhi Bassenz, world famous opera singer.
Following a piece by Komitas, Shushiki, performed on the piano by Diana Sahakyan, opened the solemn ceremony on a stern note; he spoke of criminals who today continue to deny the genocide occurred, and characterized the ongoing expulsion of Kurds as a continuation of the tragedy the Armenians suffered a century ago. As the cases of Hrant Dink and persecuted German-Turkish author Dogan Akhanlı show, he said, the perpetrators are still active. To be sure, Germany has recognized the genocide officially, in 2016, but the clauses of that act of Parliament await implementation. Concretely he called for a genocide monument to be erected in Berlin and for study of the Armenian genocide to become part of the school curriculum.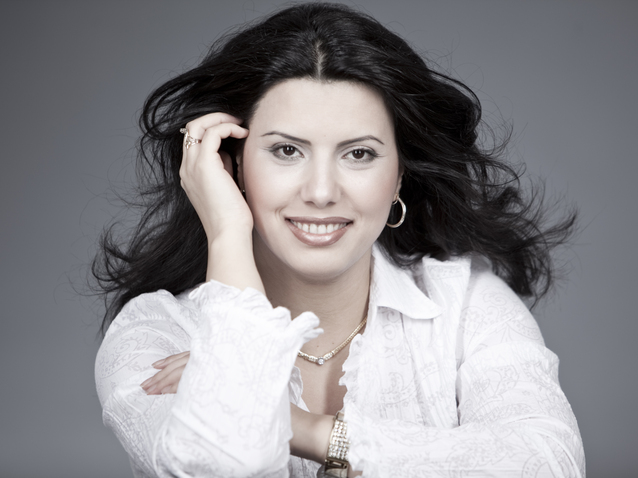 Hrachuhi Bassenz


Mayor Uwe Becker said, with reference to the 2016 landmark resolution, that it proved one cannot rewrite history. One must learn from history, he said, with a view to the ongoing plight of the people of Afrin, and urged Europe not to remain idle.
Bassenz presented Garuna and Hov Areq by Komitas, after which Ambassador Ashot Smbatyan spoke. Denial of the genocide, he said, is something that is damaging also to the Turkish people, in the sense that it hinders them from dealing truthfully with their own history. Raising the question of whether or not we have witnessed cultural progress over the past decades, he pointed to the continuing violence, expulsions and killing taking place in Syria; the crimes of the past are being repeated.
The commemorative speech was delivered by Prof. Volkhard Knigge, Director of the Büchenwald Memorial Foundation. Prof. Knigge developed the transnational dimension of remembrance culture, drawing comparisons between the Armenian genocide and the Holocaust. In Büchenwald, he said, they have succeeded in identifying 35,000 names of victims and among them have found 30 Armenians – who had previously been misidentified as Turks. Citing the oft-quoted remark by Hitler, in his plans to exterminate the Jewish population, to the effect that no one remembered the Armenians, he traced a line of continuity from the genocide to the Holocaust. There were some survivors of Büchenwald, he said, who, upon liberation from that concentration camp, swore a solemn oath to the effect: "We want to build a new world of peace and humanity."
As for the German role in the genocide, Knigge distinguished between those diplomats like Ambassador von Wangenheim who opposed the massacres and those like Chancellor Bethmann-Hollweg, who accepted them as part of the price for the wartime alliance with the Young Turk regime. If military officers like Fritz Bronsart von Schellendorf and Hans Humann actively supported the genocide policy, there were Germans like Johannes Lepsius and Armin Wegner who mounted a resistance.
To present his concept of transnational remembrance, Prof. Knigge took the example of Stephen Hill, a British Jew who survived Büchenwald. Hill worked with others on the Declaration of Human Rights and called for a "transnational suffering remembrance," whereby one derives self-consciousness from one's own past of suffering, transposing it to a transnational level. In this connection he recalled the mass demonstrations of Turkish citizens in honor of Hrant Dink.
At the conclusion of the main address, Hrachuhi Bassenz sang Antuni by Komitas, and she was followed by two young Armenians. Vardan Lulukjan focused on the task of the younger generation to keep the memory of the past alive, and to address contemporary crimes, like those perpetrated against Christians in Syria as well as Rohingya Muslims in Myanmar or Yezidis in Iraq. Berta Arapoglu focused on the implementation of the genocide resolution, listing 5 concrete demands: genocide instruction in schools, banning speeches by denialists, genocide monuments in major cities, fighting injustice and supporting democracy in Turkey.
Diana Sahakyan performed Tsirini tsar by Komitas, after which Archimandrite Isakhanyan gave a moving speech, before concluding with solemn prayers. As a Christian, he said, he believes in a God of reconciliation, forgiveness and righteousness. Turks are not to be our enemies eternally, we will be able to forgive not only as Christians but as human beings. Forgiveness, he said, is a step towards healing sickness, the sickness of hatred which was expressed in the assassination of Hrant Dink. This must be overcome.
---
Between Remembrance and Expectation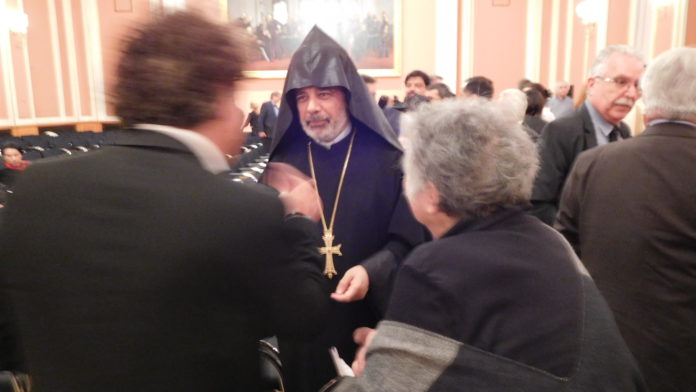 Very Rev. Serovbe Isakhanyan, Primate of the Armenian Church in Germany
by Muriel Mirak-Weissbach
BERLIN , MAY 3, 2018— This year's commemoration of the genocide was different in Germany. To be sure, there were speeches recalling the dark and tragic events of 1915, and there were demands for progress in implementing the measures contained in the genocide recognition resolution passed by the Bundestag (Parliament) in June 2016. There was magnificent music performed by talented young Armenians, and the ceremonies concluded with solemn prayers for the souls of the victims.
But the spirit pervading the gathering at the banquet hall of the historic Berlin Rathaus (Town Hall) on April 24 was different. Though solemn, the mood was also animated by hope, reflecting the optimism generated by the civil society movement in Armenia, which was breaking new ground in the process towards political and economic reforms. At the same time, one could almost feel a certain tension in the air, expressing uncertainty regarding the ultimate outcome of events.
Following a moving performance on the duduk of Vache Hovsepyan's Aravot luso, played by Harutyun Chkolyan, Prof. Elke Hartmann of Bamberg University greeted the many diplomats, political figures, church representatives and Armenian community members in the name of the organizers. The organizers this year were many. Significantly, the hosts included the Armenian Embassy, the Diocese of the Armenian Church in Germany and the Central Council of the Armenians in Germany, in collaboration with the Armenian Community of Berlin as well as the Armenian Church and Cultural Community in Berlin. Such a show of unity among the various Armenian organizations was most welcome.
Expanding Genocide Research in Universities …
Prof. Elke Hartmann, who is also co-founder of the research project Houshamadyan, which reconstructs daily life and culture of Ottoman Armenians, referred to the 2016 resolution, which expresses support for Turkish-Armenian steps towards understanding and reconciliation, as well as a broad educational effort in Germany on the genocide. In this context, she formulated a proposal for genocide studies institutes to be established here.
"Working through the history of the genocide in a scientific manner is the foundation for all other initiatives, understanding and hopefully reconciliation." Such scholarly work is required not only to provide for school text books, but also for experts whom intellectuals, artists and the broader public can look to for assistance and guidance. Germany should not only support researchers in Armenia and Turkey: "more important would be the creation of academic structures in Germany itself, for research into the genocide against the Ottoman Armenians." Germany's academic institutions could provide the "protected and neutral space required for such sensitive as well as emotionally charged research to unfold." A further advantage Germany offers is a "state and a society that, conscious of its own historical co-responsibility, feels closely bound both to Armenians and Turks." And, German scholarship and society have developed an expertise in dealing with the country's own past.
Hartmann underscored the urgency of her proposal considering the latest developments in Turkey, where "an entire generation of critical voices is being eliminated," some even persecuted because of their striving for reconciliation. And as for Armenia, she underlined the importance of a "critical historical consideration of the Ottoman past" for achieving stable democracy and peace. Hartmann characterized international recognition and condemnation of the genocide as providing necessary protection for the Armenian Republic. "This would be an important building block to break the spiral of existential threat, war and militarization, and to promote lasting democratic development, hopeful indications of which we have seen again just in the last few days."
… and in Schools
Ambassador Ashot Smbatyan opened his greetings by noting that worldwide Armenians were coming together to commemorate the genocide 103 years ago, which robbed so many of their very lives. Shifting to a more positive note, he said that the developments of recent days had filled him with confidence that Armenia and the Armenian people would succeed in their desire to establish a democratic society, a statement that elicited energetic, sustained applause from the hundreds of guests.
There are no Armenians alive today, he went on, who have not been affected by the genocide, but now they are living in peace and dignity. Considering that genocides occurred not only in the past century, the ambassador stressed the importance of spreading knowledge of the past, especially among the younger generation, as a means of preventing renewed outbreaks of such crimes. Here he also took up the 2016 resolution, quoting those passages relating to the task of working through the history of the genocide, and lamented the fact that only four of Germany's federal states — which have jurisdiction over school curricula — have thus far introduced the Armenian genocide in courses of study. In Turkey, the need for spreading knowledge is dramatic, as journalists who try to address the issue are subjected to persecution and children in schools have no chance at all to learn about the past. Achieving recognition of the genocide without such knowledge is impossible, and without recognition there can be no reconciliation.
Diana Adamyan, a young prize-winning violinist, performed Bach's Sonata No. 1 in G Minor, III, Siciliana, with such intensity that the hundreds of attendants listened in rapt concentration.
The vice president of the Bundestag, Petra Pau, a parliamentarian from the Left Party (Die Linke), delivered a brief address. Titled, "Where Hatred Wins, Humanity Loses," it underlined the importance of remembrance as a means to prevent recurrence of the catastrophe. She pointed to January 27, the day that the Bundestag commemorates the Holocaust, and lamented the fact that since a right-wing party now has parliamentary representatives, this act of remembrance has been cast into doubt. The right-wing Alternative for Germany has in fact called for a 180-degree shift in the culture of remembrance, has dubbed a holocaust memorial a "disgrace" and has urged appreciation of the achievements of the Wehrmacht. Pau said she considers such demands tantamount to derision of the victims, not only of the Holocaust but also of the Armenian Genocide. The Bundestag resolution of 2016 acknowledged the genocide as well as the German role, but Turkey has yet to do so. Voicing confidence that Turkey would have to recognize it, "sooner or later," for the sake of the future, she recalled that Germany also required decades before it could come to terms with the Holocaust. Only 40 years later, she said, did a German president designate May 8, when the Nazi regime was defeated, as a "day of liberation."
Quoting President Richard von Weizsäcker, in his plea for shunning hatred and learning "to live with one another, not against each other," she stressed its relevance to the present. "Where hatred and violence are victorious," she said, "democracy and humanity lose — then as now."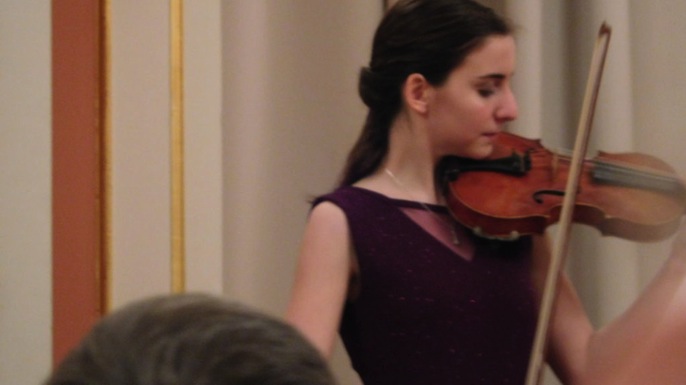 Diana Adamyan
A Lesson in the History of the Genocide
Harutyun Chkolyan performed Vardani mor voghb, a medieval dirge on the duduk, which served as a musical transition to the commemorative speech delivered by Prof. Jörn Leonhard, director of the Chair for Modern and Contemporary European History at the Freiburg University. Leonhard offered an in-depth presentation of the genocide, based on contemporary eyewitness reports and official documents — as if in response to the calls by previous speakers for more thorough education on the subject. He showed how the genocide, a carefully pre-planned operation, put an end to "the late 19th-century idea of Ottomanism, to integrate the different religions of the multiethnic Ottoman Empire."
Although following the Balkan wars, the German and Russian empires sought to impose reforms, granting autonomy rights in two Armenian provinces, "for Young Turk elite, which had taken power in 1908, this would have placed the territorial integrity of the Ottoman Empire further in question," Leonhard said.
Ottoman policy shifted towards the vision of a Turkified social order. With the war came the systematic dispossession and murder of Greeks and Armenians, as the Young Turks pursued their drive for ethnic homogeneity. Exploiting rumors of Armenian collaboration with the Russians, the regime ordered Armenian soldiers to be "disarmed, forced initially into labor battalions and then between April 1915 and September 1916 systematically killed." Although "local contexts and subjective perceptions encouraged a cumulative radicalization of violence, what was decisive was that in this concrete situation a preexisting strategy of the Young Turks was being implemented."
Leonhard detailed, month by month, how the massacres spread, from Mush to Van, and beyond. In June 1915 the German ambassador Hans Freiherr von Wangenheim reported that the deportations underway were being carried out "not only motivated by military setbacks," but, as Interior Minister Talaat had openly admitted, to eliminate all "domestic enemies." By June in fact, the plan was no longer secret, as Talaat called for ethnic cleansing and the large-scale death marches to the Syrian desert proceeded. Leonhard made clear that both the Americans and the Germans knew what was occurring, but did not intervene; he cited the work done by Armin Wegner in documenting the genocide through photographs as well as the Foreign Ministry documents published by Johannes Lepsius. The significance of the genocide, Leonhard said, lay not only in the "quantity of the war victims … the millions of dead soldiers and civilians … [but] the fundamentally new quality of violence … a new dimension of violence against the civilian population." And this called for new juridical approaches. He related how Raphael Lemkin, having learned about the trial of Talaat's assassin Soghomon Tehlirian, oriented his studies in law to address the question of genocide, and succeeded in drafting the UN resolution passed in 1948.
If legal means to punish genocide are necessary, Leonhard continued, so is a culture of remembrance. The wounds of the genocide are still open. In Germany, attention has been focused on the Holocaust in World War II with the result that the genocide during the previous war, and Germany's role in it, have not been adequately dealt with. Again, what comes to the fore is the need for study, research and dissemination of knowledge about the Armenian genocide.
Violinist Diana Adamyan provided musical reflection with a moving rendition of Krunk by Komitas, after which the clergymen mounted the stage. Very Rev. Serovbe Isakhanyan, Primate of the Armenian Church in Germany, who was joined at the event by Coptic and Aramaen religious leaders, offered the intercessory prayers.
Late night news broadcasts indicated that the political process in Armenia was moving forward, fraught with tension and uncertainty, but without violence. Those gathered in the Rathaus had commemorated the victims of the past with respect and dignity, uplifted by a sense of cautious faith in the future.
---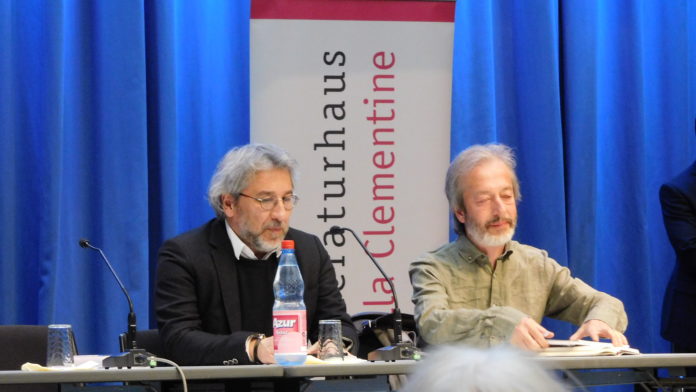 Can Dündar, left, and Recai Hallac
Journalist Can Dündar in German Exile
by Muriel Mirak-Weissbach
WIESBADEN, Germany - May 3, 2018 — It is well known that Germany has received the largest number of refugees in Europe over the last years. But few realize that in addition to those fleeing war and terrorism in Iraq and Syria, are increasing numbers of Turks, fleeing Erdogan's regime. They are diplomats, military personnel, opposition figures and journalists seeking asylum. Can Dündar, formerly editor of Cumhuriyet, is a member of this new Turkish guest-worker community, here in exile.
On April 26 he was the featured speaker at the Wiesbaden Kulturforum. The occasion was the presentation of his newest book in German,
Verräter: Aufzeichnungen im deutschen Exil
(Traitor: Sketches from German Exile), which appeared in 2017. His partner in dialogue for the evening was Stefan Schröder, editor in chief of the
Wiesbadener Kurier
newspaper and president of the Wiesbaden Press Club. To introduce the discussion, translator and actor Recai Hallaç delivered a lively reading from one chapter of the new book. It deals with concept of time, how it is seen comparatively in Germany and in Turkey. When Dündar was scheduled to appear for an official meeting with a German residence registration office, he was told to come at 1:18 – not 1:00 or 1:15, but 1:18. From there the author develops the implications of such precision with delightful humor — that, of course, you cannot be five minutes late, for example — and contrasts this with Turkey, where the day is measured in other intervals, it starts at daybreak and ends at sunset, and so on.
The discussion, which was organized in an informal interview format, quickly became serious. Schröder introduced his guest, who was born in 1961 in Ankara, studied political science there and in London, and is a writer and journalist, formerly editor in chief of
Cumhuriyet.
A critical observer of the government, he published a report in 2015 on weapons delivered by the Turkish secret services to terrorists in Syria, a report that Erdogan vehemently denied. Erdogan took it as a personal issue and had him jailed. Following a decision by the Constitutional Court, he was allowed to travel and left Turkey in 2016, but alone, since his wife is not allowed out. He has been threatened with death, Schröder said, and the threats are real; as he was leaving the courthouse in Turkey an assailant fired two shots at him. He fortunately missed.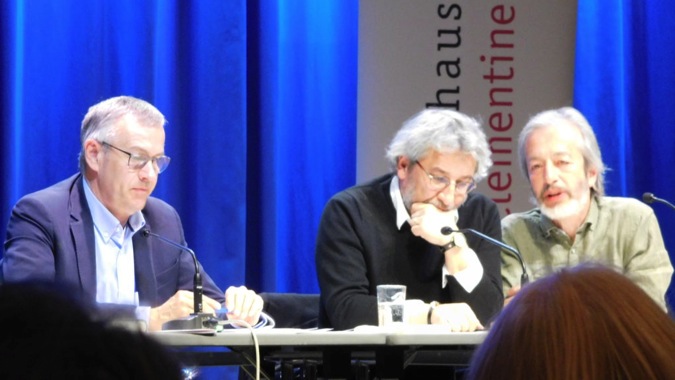 From left, Stefan Schröder, Can Dündar and Recai Hallac

Now in Berlin, Dündar explained, he writes for the weekly newspaper Die Zeit, has a website and does television work as well as appearing in public at conferences. Asked whether this meant he could work freely in Germany, he replied, "When my friends and colleagues are in jail, then I am not free." And the extraordinary security measures at the event, which included pre-registration with personal identification as well as on-site security checks, were, Dündar said, part of the price to be paid for writing freely. "But it is not only we critical journalists who are not free," he said, "you are not free either," introducing a concept he would develop further. Considered in this "international dimension," he said, it is a problem for the whole world. When German-Turkish journalist Deniz Yücel was in jail, "was the press free?" he asked, "or in France, when caricaturists can be killed?"
Despite the impossible conditions for journalists in Turkey, he has repeated since he first arrived in Germany that he wants to return home, "but to a democratic Turkey." From Germany, where he considers himself a guest, he is trying to influence events at home. "It is like the 1930s," he said, "when Jews fled Germany and fought from abroad for a democratic Germany."
Though a guest in Germany, he is still being harassed; Turkey has called on Interpol to issue an international arrest warrant, as it did in the case of Dogan Akhanlı, a German-Turkish writer apprehended last summer in Spain. Dündar replied with humor, saying "They love me and they want me back. Erdogan can't live without me. I want to go back too. The problem is, we can't live together." But he said he was not worried, since Germany has also learned more and Interpol has realized that Erdogan tried to turn it into his personal tool. "I am not concerned about my personal situation," he said, "but about my country."
Schröder raised the issue of Turkish leaders campaigning in Germany. This has become a sore point, since Germany is one of the European countries that has refused permission, a move that led Erdogan to accuse Berlin of using "Nazi methods." Dündar said his opinion would come as a surprise. "You all know that I am opposed to Erdogan, he robbed me of my freedom." He had been charged with being a terrorist, a crime that could carry a sentence of two life terms. "Because I published a report," he said; "this is a country where a journalist gets a death sentence for a report he wrote. In Turkey free speech is forbidden." And yet, despite this, he would not object to Erdogan's speaking in Germany. "I am different, I am a democrat and am in favor of letting him speak freely. You are only defeated," he explained, "when you become like your enemy." So let him speak, "but on condition he make no hate speech and on condition that other politicians can also speak," for example, that Kurds be given the same rights.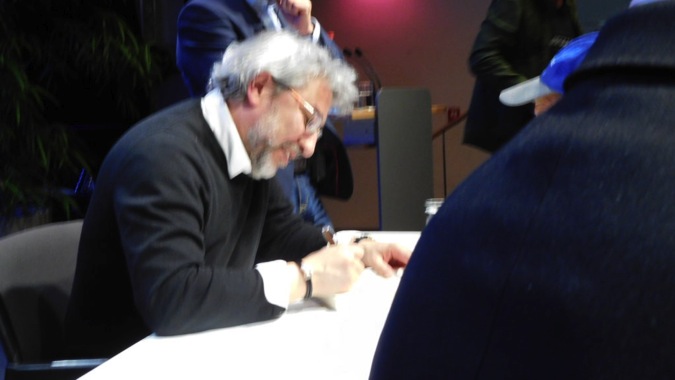 Can Dundar signing copies of his new book

Schröder wanted to know more about the casus belli, asking where the weapons he had reported on actually landed. "It is not clear where the weapons ended up, it was part of a long transportation route," he said. "But they were transported in trucks of the Turkish secret services and they have no right to do that, it is illegal. It is clear also that the weapons went into the hands of Islamists, we don't know which, but Islamists who were fighting the Kurds."
Asked if he could understand why the government considered him a traitor for his report, he answered, he could understand it in the sense that "journalists in Turkey are considered as state employees, like the police," expected to stay in line. "So if they write what they want they are traitors. For me," he concluded, with an implicit reference to the title of his new book, "if I had not reported on the case, I would have been a traitor." (It was chilling to hear that the man who had tried to kill him shouted "traitor" as he fired the shots, and when later interrogated, said he had felt encouraged by the words of some top politician. This was a reference to Erdogan.)

Paying the Price
Schröder wanted to know just how he and other journalists deal with press repression; can you write anything you want, as long as you pay the price? "What I went through was like a honeymoon compared to the others," he said. "Some died in jail, we lost five journalists in Cumhuriyet, who were killed. But in Turkey, if you are a journalist you know what risks you are running." In point of fact, as Schröder commented, there are 150 journalists in jail, seven have died over the last years. "How many would dare to do what you did?"
Again, Dündar's reply came as a shock to some. "I'll tell you something funny," he began. "The biggest problem we have is the pro-government journalists — whether they are journalists or government agents? That's the question." He went on to report on a recent television broadcast where two journalists appeared, discussing his case. "One of them said if I had been in the US, I would have died in an automobile accident, and the other said, 'no, it would be better if the secret service grabbed him and brought him back to Turkey.' This was on television. Well, if you hear about an auto accident," he quipped, "you know it was not true."
For people in Germany, including journalists, it is not easy to imagine what imprisonment involves. Schröder asked, simply, "What was the worst thing in jail?" Dündar always tried to see the positive. "You learn a lot about yourself in jail. I discovered the power of the word, reading and writing — it can save lives." Then, with his characteristic irony, he added, "The positive aspects of life in jail are that you have no cell phone, no TV, it is a kind of digital detox. You can concentrate. A lot of the other prisoners read and write, the jails are full of intellectuals."
The Merkel Question
Dündar has spoken out against the attitude displayed by the European Union in its dealing with Erdogan. Although the last of the periodic progress reports issued by the EU in the context of Turkey's bid for entry, was negative, Dündar had criticized it. The reason, in his view, was that a deal had been struck, whereby the report would be delayed three months, during which time elections were held. The deal also reportedly involved the amount of funds Turkey would receive to finance aid to refugees there. According to taped conversations, in which the negotiations were discussed, Erdogan threatened to flood Europe with refugees if he did not get the sum he wanted. "This is the Europe I criticize," he explained, a Europe that lets itself be blackmailed.
His comments on German Chancellor Angela Merkel were no kinder. Schröder asked what he would advise Merkel to do, if he ever were to have a meeting with her. "It is too late, Ms. Merkel," came the answer. "She visited Turkey 6 or 7 times, probably more than her own electoral district, and has never been so close to any politician as to Erdogan." Dündar regretted that she seemed concerned only with the refugee situation and found it "disconcerting that she never spoke of human rights or press freedom while there. If the Chancellor wants to represent the free world but never says anything about this, how can we trust Europe?" In his view, the Europeans unfortunately have understood the problem with Erdogan only now and "it is too late; they have made too many compromises."
Just the day before the Wiesbaden dialogue took place, three of Dündar's colleagues had been sentenced to lengthy jail terms, and Schröder wanted to know how this affected the press, if indeed it were at all possible to do research and to write under such conditions. Dündar recalled that he had always told students that journalists must be objective. "It wasn't my choice to write those things. It may not be positively viewed when a journalist comes to Germany and becomes a freedom fighter. But I think of it this way: our house is burning, our friends are inside. We can't take pictures and report on it, but either we get the water to put out the fire or we all perish. These are ethical issues. People realize it when they have lost their freedoms. The same is with press freedom, you have to fight for it."
---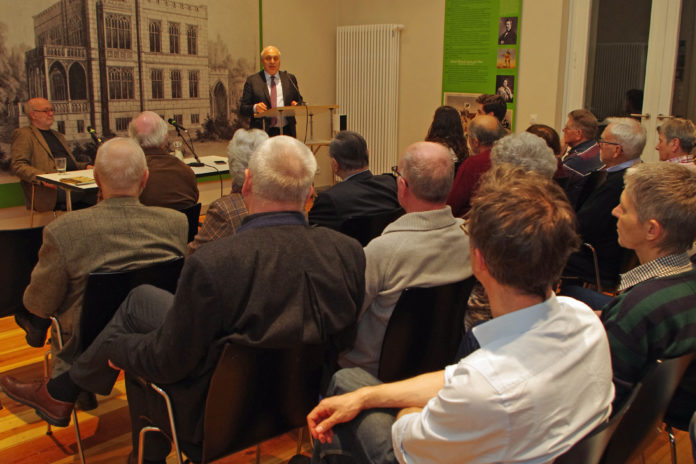 Ambassador Smbatyan speaks at Lepsiushaus.
by Muriel Mirak-Weissbach
– APRIL 12, 2018
BERLIN — In the current Cold War climate in East-West relations, exasperated by the British-Russian crisis around the Skripal affair, it has become increasingly difficult for smaller nations to maintain an independent stance in the interest of protecting friendly relations with both the West and Russia. No one knows this better than the Armenians. Thus, when Ambassador was invited to speak at the Lepsiushaus in Potsdam on March 22, he faced an audience of intellectuals, political figures, diplomats and members of the Armenian community, eager to hear his views on "Armenia and Europe: Taking Stock, with a View to the Future."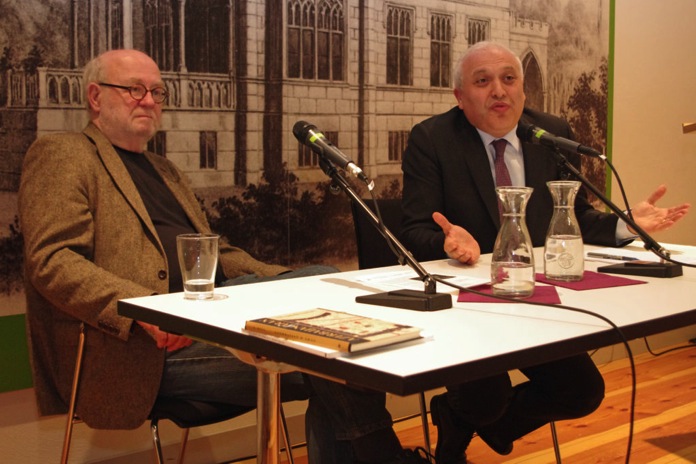 Dr. Rolf Hosfeld and Ambassador Smbatyan
To explain his country's relations with Europe, Smbatyan posed the question, "Where does Europe begin and where does it end?" An ostensibly simple question, it actually can be addressed from different perspectives: geographically, he said, Germany belongs to Europe whereas India does not. But then perhaps "Europe" designates more a "shared value system" than a land mass; or, yet again, one may be referring to the economic dimension. The aim of his remarks was to explain "what this concretely means for a country like Armenia."
Situating Armenia in the "geographical interface between Europe and Asia," as a country sharing borders with Turkey, Azerbaijan, Georgia and Iran, Smbatyan said it had managed, despite centuries of conflicts, to preserve its independence, "national identity and unique culture" — also thanks to its early development of a written language culture. A brief historical overview of the last century, from its short-lived independence from 1918 to 1920, to its membership in the Soviet Union until 1991, set the parameters for his remarks on Armenian foreign policy.
"Since our independence, the aim of Armenian foreign policy has not been to act against any country, but to work together with all our immediate and proximate neighbors towards enduring peaceful coexistence for the region. On the basis of this premise," he said, "one has to consider Armenian foreign policy as a whole, which means not only single bilateral agreements but also Armenia's inclusion in various structures and organizations of the international community." With this in mind, one should understand that Armenia "for historically developed reasons fosters a close strategic partnership with Russia, on the one hand, and very good relations with the West, that is the European Union and the USA, on the other."

Europe: Neighborly Cooperation
Since the start of the new millennium, bilateral relations with the EU have progressed steadily in line with Armenia's foreign policy guidelines. Smbatyan ticked off a number of cornerstones of this partnership, from 2004 when it was admitted into the European Neighborhood Policy to 2006 when the EU action plan entered into force; from 2009 when it joined the Eastern Partnership, together with five other former members of the USSR, to 2010 when it started association negotiations with the EU.
Last year in November a framework agreement with the EU was concluded which is to begin implementation this Spring. If the earlier steps in the process already laid the basis for strengthening national sovereignty and contributing to social and economic stability on the regional level, this new framework "opens up not only a new chapter in Armenian-European relations, but also the possibility of finding new paths towards Eurasian and especially European-Iranian cooperation." Smbatyan highlighted the fact that Armenia has built good relations with Iran and could play "an important mediating role" between the Islamic Republic and the EU. "You see," he stated, "that relations to Europe are in not at all one-sided!"
Economic Partnerships: Exclusive or Inclusive?
To contribute to overcoming the conflicts plaguing the region, economic stability is a key factor. Smbatyan stated that Armenia has decided to pursue a western economic model, a step which "is still not undisputed" inside the country. "Our economy," he added, "is linked to Russia's through many ties," as is the case for others from the Commonwealth of Independent States.
This led the ambassador to the crux of the issue. Anyone familiar with the debate in German political and press circles knows that there has been criticism leveled at Yerevan for its close ties to Russia. And, in the context of currently escalating East-West tensions, it was important to address this issue. Smbatyan said that, considering these ties, "the key to success of a Eurasian Economic Union (EEU) lies in dialogue including all sides and in the readiness of our European partners to tolerate the agreements that Armenia has made. The EEU," he explained, "is for us one part of the international integration processes that we have planned. From our standpoint, integration processes can unfold successfully, also in parallel." In other words, there need be no exclusiveness.
Smbatyan pointed to the example of China, to show that a liberal market economy system can coexist with a different social system — "which may not be the best" — and can still be very successful. "For this reason," he said, "I think that when we entered the European Neighborhood Policy and Armenia, as a member of the Eastern Partnership, began negotiations on association and a free trade agreement, it would have been right to start from the onset with 'as well as' instead of 'either/or.' For in retrospect, there are many who argue that one should not have raised an 'either/or' but should have spoken of an 'as well as'. Maybe we could have avoided a lot that way."
Those who remember the two-day visit paid by President Serge Sargsyan to Germany in early April 2016 may remember that Armenia's decision to join the EEU had sparked controversy. He was asked about this during an interview with
Deutsche Welle
: "Armenia has been part of the 'Eastern Partnership' program, which implied association prospects with the EU. But you decided in favor of the Eurasian Economic Union. What triggered this decision? Russia's pressure? Economic calculations? Ukrainian developments?" Sargsyan was precise: "I would like to make a correction: We still are a member of the 'Eastern Partnership.' The new phase of negotiations began in December of last year. We will sign an agreement with the EU. There was no pressure from the Russian side. We were guided by economic reasons. Russia is our biggest market and our largest trade partner. Russia has offered very favorable conditions for us within the Eurasian Economic Union, by providing a 30% discount on its products. My principle is taking decisions which can be realized."
At the time, and to her credit, Chancellor Angela Merkel declared that Germany was not raising any objections. "We do not want an either/or situation," she stated. (She also noted that Sargsyan had stressed the importance of the Iran nuclear accord and its positive repercussions.)
Armenia, Smbatyan said, has always been opposed to establishing any dividing line between cooperation with the one or the other partnership. He added that Armenia had "never concealed the fact that it has strategic relations with Russia" and noted that it is the only country in the Eastern Partnership that has made such progress with the EU notwithstanding.
Strategic Considerations
Returning to his rhetorical question, "what is Europe?" Smbatyan emphasized respect for the norms of shared European values, and he reiterated Armenia's readiness to pursue collaboration on the reform process, democratization, human rights, good governance and fighting corruption. But he strongly underlined the need as well to consider the geopolitical and geostrategic aspects when discussing Armenian foreign policy. In this context, obviously the Karabakh (Artsakh) conflict looms large, and with it, the fact that the borders with Turkey and Azerbaijan remain closed. The EU has an important role to play in pursuing a peaceful solution to the conflict, especially in the Minsk Group of the Organization for Security and Cooperation in Europe (OSCE). Smbatyan lamented the fact that despite the Minsk Group's mediation efforts since 1994, a solution "is still not in sight, because the Azerbaijan side is not constructive and does not want to face reality."
A durable peace, he said, would come "only with help from Europe, the US and Russia." He endorsed the deployment of Armenian troops in the context of NATO peacekeeping cooperation, in Kosovo, Afghanistan and Lebanon. "And still," he added in the same breath, "Armenia's ties to the Russian Federation, in view of the historical and political background, will remain close even in the future." In sum: ultimatums and false dilemmas are not on the agenda.
---