---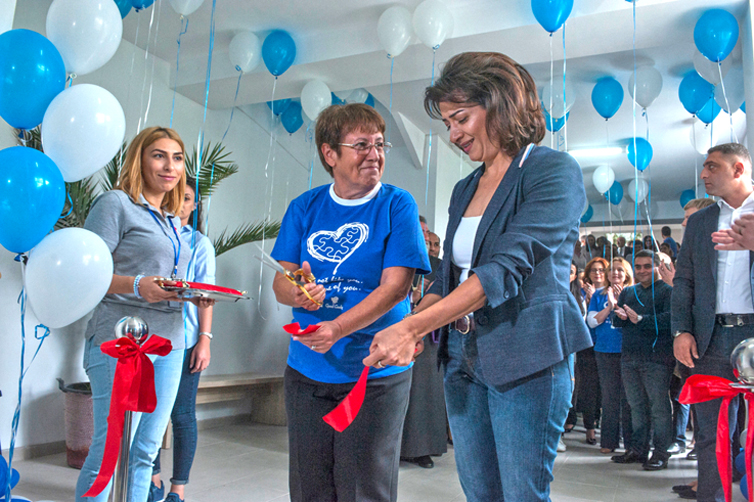 Ani Kurtyan and First Lady Anna Hakobyan cut the red ribbon

'My Way' Center for Autistic Children Celebrates Expansion
by Muriel Mirak-Weissbach
YEREVAN, OCTOBER 18, 2019— There had been plans and revisions, deadlines missed and newly defined. The second building of the My Way Socio-Rehabilitation Day Care Center for people with autism was to be reconstructed, its spacious classrooms and facilities would provide the framework for vocational education of young adults. Through training programs led by professionally qualified instructors and assistants, the students would acquire skills in a variety of fields, which would enable them to find meaningful employment and thus the means to carry out independent lives.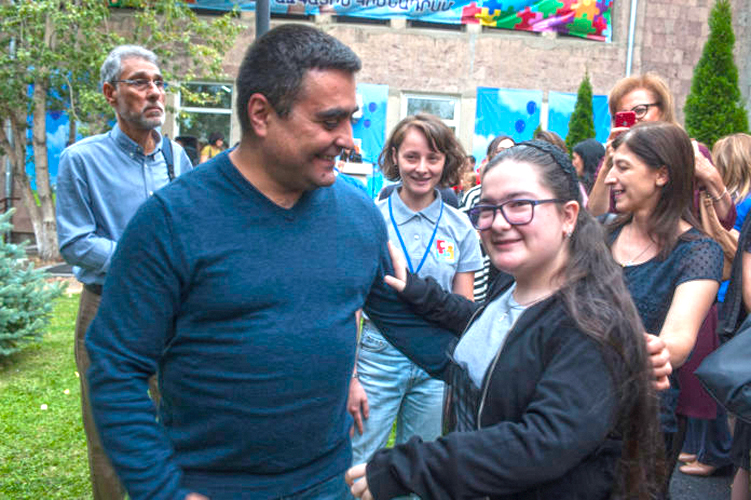 First Deputy Minister of Social Affairs and Labor Gemafin Gasparyan with student
The My Way initiative already has a functioning center in Yerevan for children with autism, and has operated with the help of financial support by public and private donors. Plans for reconstructing building number two began in 2017, and the organizers succeeded in lining up funds pledged from various quarters. As is so often the case in such endeavors, shortfalls occurred. Not only: the country went through a revolution in spring 2018, and the issue of government support was a big question mark. By the end of 2018, construction work came to a halt, as funds had run out. Private donors filled in the temporary gap, among them, the John Mirak Foundation. Creative fundraising efforts by the center's leadership generated further contributions. Fortunately, a final gift from First Lady Anna Hakobyan's My Step fund completed the task. On September 28, on the heels of Armenia's national day, the new building was officially inaugurated.
The My Way leadership, as co-founder and board member Sona Petrosyan put it, had invited the whole world: in accordance with the charter of the Autism National Foundation, with which My Way is associated, that included government officials, from the Ministries of Health, Education and Social Affairs, as well as the Yerevan Municipality, who are members of the board; individuals and organizations, both local and foreign, that have ever supported My Way; those who worked specifically on the second building project, in whatever capacity, such as architects, constructors, furniture manufacturers as well as other partners from other schools and centers in Armenia. Ara Babloyan, the pioneer in addressing the autism problem in Armenia, who has a separate organization, was invited to speak. And a number of parents as well as students, who were to present flowers or certificates of appreciation.
A representative of Nune Sarkissian, the wife of President Armen Sarkissian, came in a non-official capacity and Prime Minister Nikol Pashinyan's wife, Anna Hakobyan, attended the event . Hakobyan appeared with Hovhannes Ghazaryan, the executive director of her own charitable fund, My Step. Due to the high level political participation, the event was covered by major press outlets on television and Internet.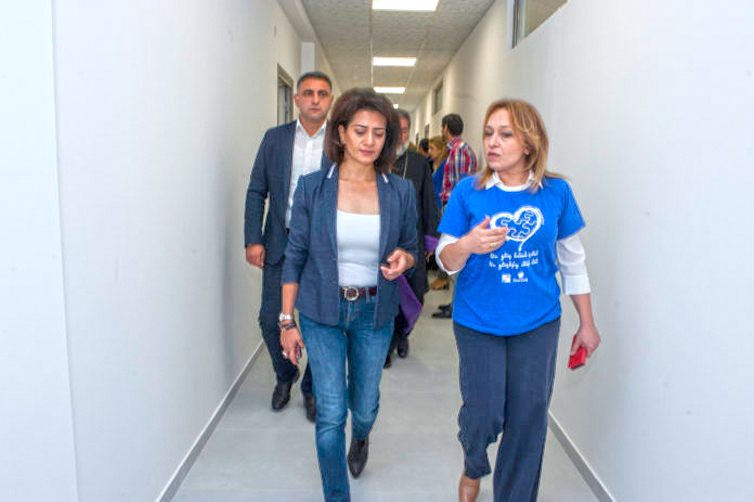 Sona Petrosyan leads the tour with First Lady Anna Hakobyan.
Representatives of Hakobyan's own fund had visited My Way and reported back on their positive impressions. Then Hakobyan herself visited the center and, supplied with the required documentation of its project plans and costs, decided to allocate resources from her fund to fill in the missing amount. That donation was crucial in ensuring that the entire renovation budget could be covered. With that, My Way was able to go ahead, complete the work and announce the inauguration.
This was a donation from her fund, not from the government. As Babloyan made the point in his speech, "The issues of people with autism are not the concern of a particular government, but a problem that pertains to the whole society, the whole country, the whole nation."
That said, the government was indeed represented. The First Deputy Minister of Social Affairs and Labor Gemafin Gasparyan attended and expressed his support, which augurs well for future relations.
Guests from Germany

One might add to Babloyan's remarks that the autism issue pertains to the whole world. In fact, the impetus for establishing My Way in Armenia came from Germany. It was through the efforts of Maria Kaminski, mediated by Renate Beil, that a group of mothers of children with autism gained the knowledge, guidance and confidence to initiate a center in Yerevan (See
https://mirrorspectator.com/2017/06/15/my-way-is-helping-children-with-autism-in-armenia/
).
Kaminski (
https://www.autismus.de/ueber-uns/struktur-des-bundesverbandes/vorstand-autistischer-beirat.html
) is director of the German organization, Autismus, and founder of centers for autism throughout the country. She travelled to Yerevan to attend the inauguration, together with Martina Steinhaus, who is director of the Autismus Therapiezentrum und Werkstatt für Menschen mit Autismus (Autism therapy center and workshop for people with autism).
Steinhaus held a workshop the day prior to the inauguration for staff members of My Way and other centers. Attendants were excited with the workshop and found encouragement in Kaminski's assurances that My Way was on the right track; she stressed that in the long run it is society that reaps the benefits when it creates conditions for people with disabilities to contribute, to engage in meaningful employment, to enjoy the quality of life. This, she said, is the only productive way to deal with autism and other disabilities. The presence of the pioneer from Germany was appreciated not only as a personal gesture but also for the strategic message it sends to Armenia's officialdom; Kaminski, who also had the opportunity to visit the Ministry of Labor and Social Affairs, is a foreign expert whose views and experience have won recognition and respect.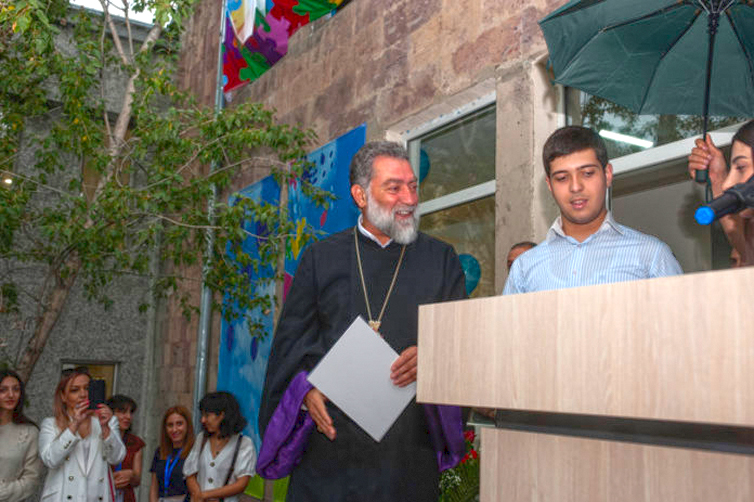 Ter Sepuh Chuljian and student Gagik
The Istanbul Diaspora
Another key protagonist in the effort to renovate My Way's second building is the Istanbul diaspora. In April, My Way presented an exhibition of art works by board members and students, which was hosted at the Karagezian Armenian School Hall (
https://mirrorspectator.com/2019/06/06/artists-launch-creative-fundraising-in-istanbul/
). Through the sale of art works, My Way succeeded in raising a very significant amount towards the renovation budget, leaving that last gap that Hakobyan's fund then would fill.
Representing the Istanbul diaspora was Ani Kurtyan, who had been the inspiration behind the exhibition idea. Also present was Tania Panosoghlu and her husband Misak Panusoghlu, daughter and son-in-law of Hayk Arslanyan; all three had worked to make the Istanbul event a success.
In addition to Istanbul, Geneva and Vienna were also represented, by their Women's Guilds, Suzy Sahakyan and Gamara Babayan, respectively.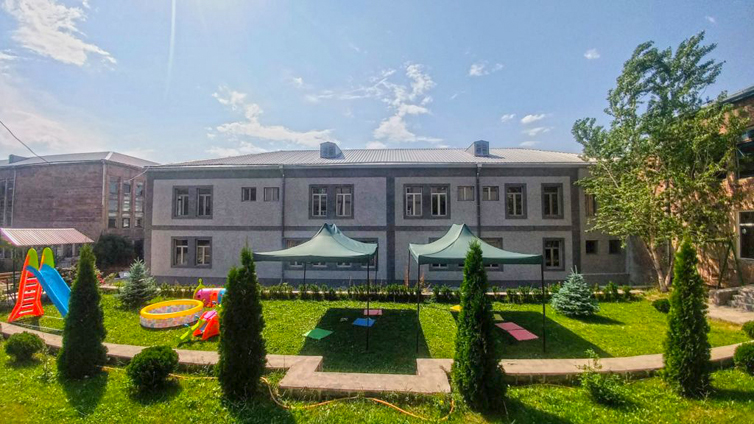 The My Way building
Prayers, Thanks and Music
Prior to the inaugural event, participants gathered in the morning in church. The Head of the Gougark Diocese Bishop Ter Sepuh Chuljian presided over the service, and offered prayers for the deceased relatives of all those who had contributed to the center.
The official act of cutting the ribbon opened the inaugural ceremony; Ani Kurtyan and First Lady Anna Hakobyan did the honors. Kurtyan was the first speaker, and acknowledged all supporters, former and current, foreign and local, official and private. There followed speeches, music and the distribution of certificates of appreciation. Archbishop Sepuh Chuljian addressed the gathering and officially blessed the new building. Sona Petrosyan conducted a tour of the edifice, which was festively decorated with blue balloons and flowers. In the garden between the two buildings further remarks were delivered by co-founder and board member Hasmik Margaryan, as well as the mother of a former student who has since moved back to the US.
---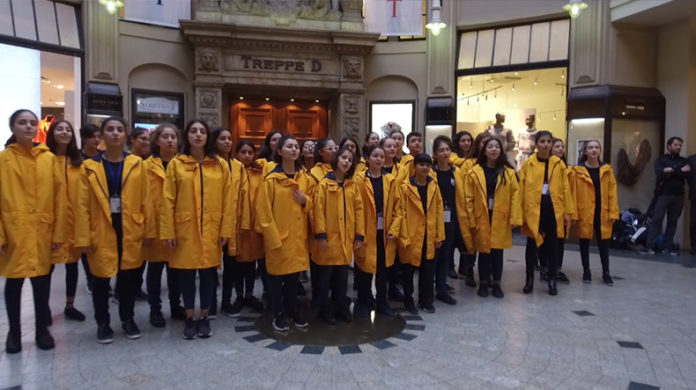 Armenia's Cultural Ambassadors Celebrate with Music
by Muriel Mirak-Weissbach
BERLIN, OCTOBER 10, 2019 — It was the 28th anniversary of independence for the Republic of Armenia and the 150th birthday of national composer and musician Komitas Vardapet. To celebrate, the Little Singers of Armenia, a world class children's choir, travelled to Lithuania and Germany, performing in some of Europe's most famous concert halls. In Lithuania they appeared at the 700-year-old castle on Trakai island, at the Church of St. Francis in Kaunas and in the Culture House in Vilnius. The church of St. Catherine in Vilnius hosted a gala concert, attended by representatives of the diplomatic corps, statesmen and cultural figures. At the conclusion, they joined with the Lithuanian choirs Azholukas and Ugniale to perform Erebuni-Yerevan composed by E. Hovhannisyan.
On September 25, they were at the center of national day celebrations in Berlin, hosted by Ambassador Ashot Smbatyan. Performing in the Berlin Concert House, they offered classical music by Armenian and foreign composers, with Komitas at the center. And on September 29, they sang in the Gewandhaus concert hall in historic Leipzig, followed by an appearance in Halle. (In Leipzig, they also staged a flash mob on September 28 in the Mädler Passage trade center, singing Armenian national songs.)
Founded in 1992, the Little Singers of Armenia are, in the words of Smbatyan, "the cultural ambassadors of Armenia who have their special role in our rich cultural heritage." The youngsters, between the ages of 11 and 16, represent a new generation, he said; born during these years of independence, they guarantee a bright future for the country.
Michael Roth, Minister of State at the German Federal Foreign Office, opened the gala concert with a speech highlighting the role of culture in German-Armenian relations. Speaking on behalf of the German government, he delivered his "sincere congratulations to all Armenians" on the anniversary. He quoted an Armenian proverb, to the effect that "mountains do not provide mutual support, but people do. And just as individuals lean and rely on each other, entire societies do the exact same thing." Citing this proverb as a "fitting reflection" of relations between Germany and Armenia, he expressed his gratitude for the cooperation that has grown over the past 27 years, "based not only on the commitment of our governments and politicians but, above all, on the effort of our civil societies, academia, cultural sectors and business communities." This includes German development cooperation as well.
Germans followed the Velvet Revolution, he said, "with great interest and admiration for the peaceful campaign conducted by a vibrant and diverse civil society." The political dialogue between Berlin and Yerevan then grew in intensity, as marked by Chancellor Angela Merkel's visit to Armenia in August 2018 and the visits to Berlin by the Armenian President and Prime Minister, in November 2018 and February 2019, respectively.
Although Germany is committed to developing this relationship, Roth said, "political dialogue alone is not enough. Culture, education and academia are key pillars of our bilateral relations." Here he pointed to the Goethe-Zentrum in Yerevan as a "popular showcase" for Germany, its language and culture. In its Cultural Preservation Program, the center has funded a project to document prehistoric petroglyphs as well as to restore and digitize manuscripts in the Matenadaran.
Study of German as a foreign language, which is third in Armenia after English and French, is an important factor in education there, and through the support of the German Academic Exchange Service, Roth said, "several hundred Armenians study at German institutions each semester." The Alexander von Humboldt Foundation, established in 1953, has awarded Armenian academics with scholarships or prizes on 36 occasions. And there are 42 agreements for cooperation between research institutes and universities in the two countries.
Turning to politics, Roth pointed to the Comprehensive and Enhanced Partnership Agreement, recently ratified by Germany, as a sign of Armenia's closer relations with the European Union. This year, he added, "we are celebrating the tenth anniversary of the Eastern Partnership, which brought Armenia and five other Eastern European neighbors closer to the EU as well as to each other." Within this framework, Armenia benefits from a program funded by the Bundestag (Parliament), the Expanding Cooperation with Civil Society in the Eastern Partnership Countries and Russia. Exchange programs for youth organizations will receive funding through this mechanism this year, he added.
Germany, Roth continued, "as a member of the Minsk Group is supporting mediation efforts of the co-chairs in the Nagorno-Karabakh conflict." And he voiced optimism that within this framework, "A peaceful solution to the conflict … is possible!" To this end, he urged all sides to be open to compromise, expressing his hope "that credible and committed diplomatic efforts will lead to a lasting rapprochement and that the way will finally be paved for serious negotiations."
In conclusion, Roth turned to his host and picked up his main theme: "Ambassador: Music — rather than speeches — is center stage this evening. How delightful! Culture is not the cherry on the cake, but the yeast in the dough. The concert by the Little Singers of Armenia is a wonderful advertisement for Armenia as a nation of culture, which is being shaped and further developed by young people." He concluded with rousing words: "Congratulations, Armenia! Long live the German-Armenian friendship! Long live a Europe of peace, democracy and freedom!"
(Sources: www.myyerevan.am, German Foreign Ministry: www.auswaertiges-amt.de September 25, Translation of advance text)
---
Ecumenical Commemoration of Genocide Victims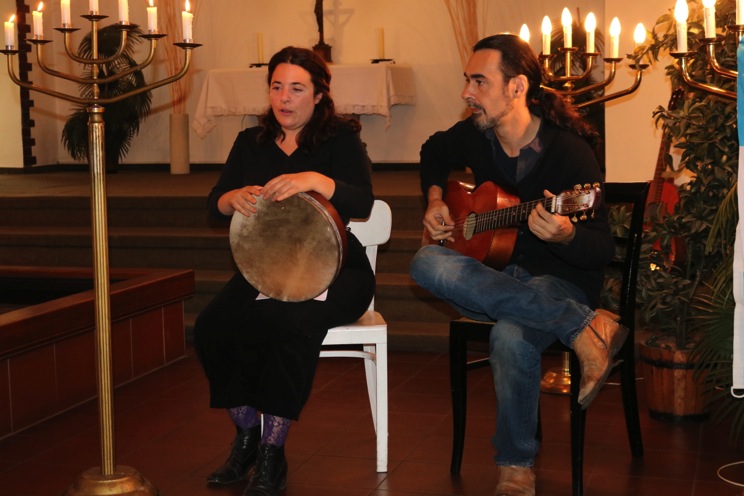 Greek Music from Asia Minor, Maritina Buntspecht and Fotis Geselis
by Muriel Mirak-Weissbach
BERLIN, October 3, 2019 — The Armenian Genocide was not only Armenian; what unfolded in the Ottoman Empire in 1915 and continued for years was a genocide perpetrated by the Young Turk regime against Christian communities. The Promotional Society for the Ecumenical Monuments for Genocide Victims of the Ottoman Empire (FÖGG) has always stressed this fact, which its Altars of Remembrance in the Evangelical Luisenkirchhof in Berlin bear witness to. (See
https://mirrorspectator.com/2018/09/27/ecumenical-days-of-remembrance-in-berlin/
) There on the site of the church cemetery in Berlin-Charlottenburg are three altars commemorating the victims of the genocide, Armenians, Pontic Greeks and Aramaeans. (See
https://mirrorspectator.com/2018/03/01ecumenical-altars-remembrance-berlin/)
The FÖGG organizes events every year to honor the memory of the victims, on dates that are associated with the single communities. In late April, it is the Armenians, in May, the Greeks. And it honors the memory of all in an ecumenical spirit. On September 7, in the context of the Day of the Open Monument 2019, the FÖGG organized a tour through the ecumenical altars and on September 8, a solemn ceremony. Among the honored guests were Greek Consul Andreas Spyropoulos; Archimandrite Emmanuel Sfiatkos, Priest of the Greek Orthodox Parish Ascension of Christ; Panagiotis Matlis, President of the Hellenic Community in Berlin; Konstadinos Kunduras, President of the Society of the Thracians; Amill Gorgis, Syrian Orthodox Chairman of FÖGG, and others.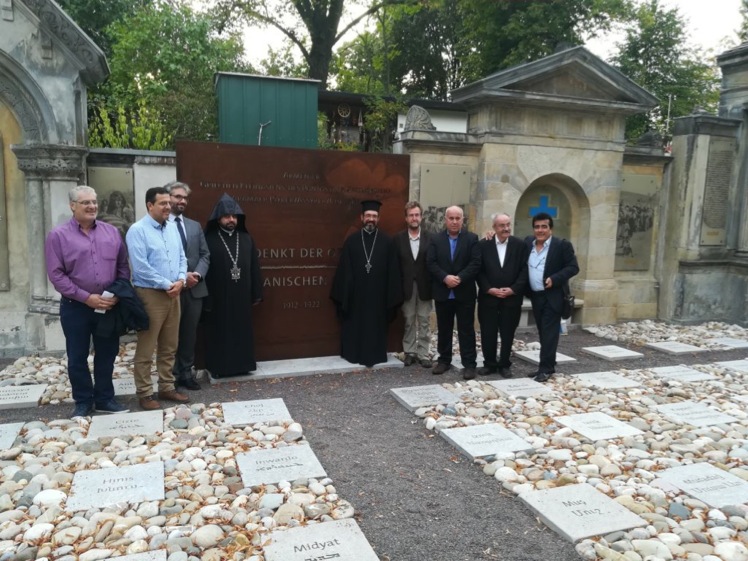 At the monument
Dr. Tessa Hofmann, president of the FÖGG, led participants and guests through the commemoration, with an account of the historical events, interspersed with readings of selections from memoirs written by survivors. "This year 2019," she said, "is the centenary of the commemoration of the extermination of Greek Orthodox Christians in the Pontus region." Just four months earlier, on May 19, they had gathered to honor them at the same Berlin site.
"But the extermination of the Pontic Greeks," she continued, "is only one aspect of a vast state crime. We call it the extermination of the indigenous Christians in the Ottoman territory. The Ottoman Greeks had been victims since the Balkan wars. Economic boycott measures, forced resettlements, repeated local and regional massacres of the elites, as well as massacres of unarmed civilians went on for a decade. The capture of the defenseless Ionian port city of Smyrna in September 1922 by Turkish nationalists, or Kemalists, marked the end of this process, which must be designated as the de-Christianization of Asia Minor. Commemorating Smyrna serves a retrospective view of all the victims of the state crimes of the Ottoman Empire."
After a moment of silence in memory of the victims, Hellenic Community President Matlis greeted the gathering. A folk song,
It is too Early to Rise
, was performed by Fotis Giselis on the bouzouki and Maritina Buntspecht on the guitar. The song comes from Vurla in Erithrea and relates the story of the lost homeland, especially of the city Alatsata, which had been inhabited only by Greeks until 1922.

Procession with Father Emmanuel, S Fiatkos and Very Rev. Fr. Yegishe Avetisyan
Hofmann picked up the threads of the story: "The Holocaust of Smyrna," she said, "as the burning of this city is known, has come to be a permanent memorial site in world literature, thanks above all to Jeffrey Eugenides and Aris Fioretos, authors of Greek extraction. Greek-speaking readers and Greeks who have grown up in Greece," she noted, "are more familiar with Elias Venezis and Dido Sotiriou. Both came from Asia Minor and introduced their autobiographical experiences with flight and expulsion to a broad public."
Hofmann referred to two other witnesses of the "so-called Asia Minor catastrophe, or the Holocaust of Smyrna," both Armenian survivors and not so well known. Smyrna bears these names, she explained, because the fate of the city "illustrates most clearly that the victims of the extermination of Asia Minor Christians, for which the state was responsible, were not selected according to ethnic criteria, but rather because of their faith."
Hofmann wanted to stress another important point; since the generation of perpetrators as well as victims has died out, "they are accessible to us only through the memoirs of the eye witnesses and contemporaries, who are also gone. And yet the memories of the events of Smyrna in 1922 remain especially relevant, as they are kept alive by the fate of today's persecuted and refugees." Here she pointed to "people who are drowning in the Mediterranean while seeking to escape, the persecuted, those who are denied protection and support" as symbols of the depressing reality, "then and now."
Farewell to Smyrna
There followed readings of selections from memoirs of survivors of the Holocaust of Smyrna. The first came from the diary of Dr. Garabed Hacherian (published by his daughter Dora Sakayan, of Montreal).
Bardisag (Turkish Bahçecik), where he was born in 1876, was a parish of eight small villages in
Mutessariflik
Izmit, and counted about 10,500 Armenians at the beginning of the 20th century. Four other villages of the group were Armenian, two Greek and one Turkish. Armenian refugees from Bardisag in Sivas province had settled there in the 17th century.
Hofmann explained that the new Bardisag on the Sea of Marmara, with its healthy climate and beautiful landscape, had become a favorite summer residence for Constantinople's wealthy intelligentsia. But, more than its natural beauty, she said, "the city was famed for its vibrant cultural life, with eight Armenian schools, including the American Robert College, several Armenian churches of different sects, at least three Armenian newspapers and magazines."
Chacherian was a doctor who had attended Armenian and American schools, studied medicine in the capital and practiced in Bursa and Bardisag. He served in the Ottoman armed forces during the war. She read from his diary, which has been published in nine languages.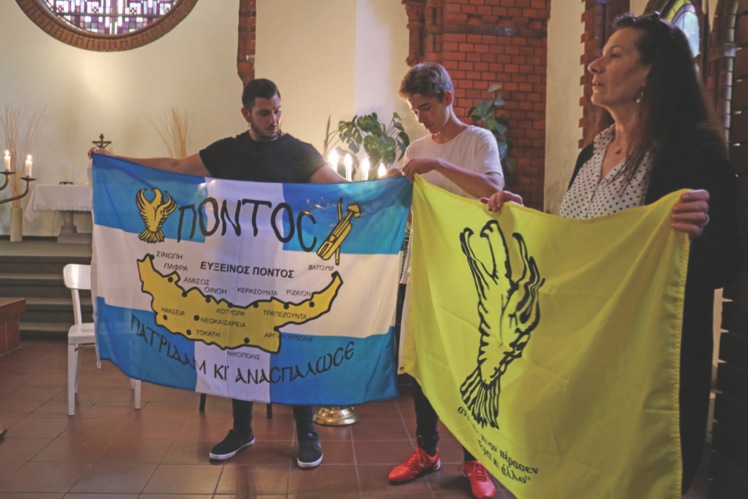 Remembering the Pontic Greeks
The second reading came from the memoirs of Deli Sarkis (published in 2011 by his daughter, Ellen Chestnut Sarkisian). Hofmann introduced the author as the son of a butcher born in 1905, who also came from a village in
Mutessariflik
Izmit. This was Keramet, an Armenian village on the northern shore of Lake Ascania or Iznik. He survived the deportation and with 44 others returned at war's end to his home; the village had once been inhabited by 1,500 Armenians, and the returning survivors were not numerous enough to make a new start. In autumn 1919, Sarkis (then only 14) lied about his age to join the Hellenic armed forces. After training, he took part in armed conflict but in November 1921 left the army and went to Smyrna, a city he described as one "with a huge Greek and a large Armenian population." The Kemalist "Liberation army" had driven out the Greek troops, and tens of thousands of panicked Ottoman Greeks and Armenians had taken flight. Sarkis joined in the defense of the Armenian prelature. With 200 Greeks and a smaller number of Armenians he was put up against the wall to be shot, but fell unconscious and survived.
The selection that Tessa Hofmann read relates this dramatic episode:
"We – (that is, Sarkis and his friends Dikran and Bedros) – hid inside the building for a few days. We had nothing to eat and no water. In despair, we decided to run outside in the direction of the quai. What a big mistake! Turkish soldiers controlled everything. One hit me on the back of my jacket so hard that I fell. Together with 200 Greek and a smaller number of Armenian men and boys, we were shoved into the Bashmachan railway station. Then we were hurriedly thrown against the wall, and machine-guns were quickly set up and aimed at us. As the guns began to fire, I thought: 'This is the end!' I heard the rat-ta-ta-ta of the guns and fell unconscious, as I saw the lad next to me collapse.
"A little later I came to. I looked around me. Dozens of bodies lay in every imaginable position. There was blood everywhere: on the faces, arms and legs, as proof of terrible wounds. A young man next to me shouted loudly begging for someone to kill him. His legs were a bloody mass. My forehead and right leg throbbed. I saw vague shadows of the khaki dressed soldiers. 'Stay down and keep quiet!' I told myself, 'the murderers are still there!'
"The Turkish soldiers climbed over the bodies, to bring their bayonets into positions, and violently drove their blades into those that were still alive. One heard the sound of blades breaking, swords that crushed bones, the tearing of flesh and plaintive cries, then silence. The shadows, no longer so vague, moved away. They had done their job. I jumped up but then sank back down in dizziness. Desperate, I managed to crawl over the corpses until I reached a hole and began to run in the direction that I thought led to the quai.
"Wherever I turned my gaze, right or left, the buildings were in flames. I saw walls of fire, and the heat felt as though it wanted to singe my skin. Later I learned that the Turkish soldiers had set fire to Smyrna, beginning with the Armenian quarter (…) Much later I heard that a half million people had been thrust together in an area a mile and a half long and no more than a hundred feet wide. In the face of the sea, these men, women and children were screaming for help. (…)
"No matter where I looked, Turkish soldiers were shooting into the crowds or slashing them with their swords and cutting off their limbs so they could not swim. But mostly they seized the jewelry from the necks of the beautiful women and girls of Smyrna or grabbed the prettiest girls and dragged them away. Ironically the Turkish soldiers even killed Turkish civilians who had come to the quai to get some loot for themselves. (…)
"Years later I was asked which experience was worse: the massacres and deportations to the Syrian desert or the extinction by fire of the people and city of Smyrna. Without hesitation I had to say: Smyrna. I don't think that anyone can imagine the heartrending scenes that I witnessed. May God bless all victims there who lost their limbs, their lives and, what was worse, their reason."
The readings concluded with a song by Fotis Giselis and Maritina Buntspecht, entitled, "I have already said it and will say it again!" from Lydia in Asia Minor, a song about the separation of loved ones.
(
Material for this article, including the photographs, has been provided through the courtesy of Tessa Hofmann
.)
---
Armenians in Berlin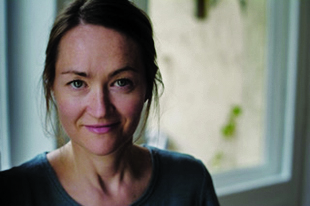 Katerina Poladjian by Henning Fritsch


By Muriel Mirak-Weissbach
BERLIN, SEPTEMBER 5, 2019 — "Berlin ist eine Reise wert" – that's a saying every German knows and few would disagree with; yes, it is always worth it to take a trip to Berlin. I realized this once again last week when I went for a few days, just to visit friends I hadn't seen for a long time. Among them, Bea Ehlers-Kerbekian, an Armenian actress and teacher who invited me to join her at the Academy of Arts, in the beautiful Pariser Platz, to attend a book reading on August 29.
It was the premiere of the novel, Hier sind Löwen (There are Lions Here) by Katerina Poladjan, who was born in Moscow and has lived in Germany since 1979. She has already published two novels and has earned an impressive array of scholarships and grants, as well as literary awards. Her new book, published by S. Fischer, is on the long list for the 2019 German Book Prize. This event was to kick off a series of 15 presentations going into the autumn and including some at the Frankfurt Book Fair in October.
The hall filled up rapidly, a good number of attendants were Armenians. The well-known literary critic Meike Fessman moderated the event, which unfolded in the form of a lively dialogue with the author. Poladjan read sections of her novel with dramatic force and humor, bringing her characters alive as if they were on stage. Saxophonist Angelika Niescier provided a powerful musical counterpart, accompanying the literary dialogue from beginning to end with contemporary Armenian music.
We learned that the novel deals with one Helen Mazavian, a young woman who leaves Germany for Yerevan, where she will work as a book restorer at the Matenadaran. She is eager to learn about new restoration techniques there and, through her work on an old Bible, she ends up discovering far more.
The Bible was what two children, Hrant and Anahid, had taken with them in 1915 when they fled the Genocide. There are handwritten phrases on the pages, including a cryptic note mentioning Hrant, something to the effect that he will not wake up. Poladjan read passages describing the flight of the children, as well as Helen's arrival in Yerevan, her work on the restoration, and episodes in a love relationship.
The author explained that Armenian bibles are often very small, some of them have a clasp, and have a very personal character. Families would inscribe their names, and place personal items, letters, tickets, photographs, inside. For Heike Fessman, this seemed to be an encounter of the sacred and the profane. Poladjan spoke of "memory writing," and how the Bible was considered almost a member of the family.
Through her work on the Bible, the character Helen delves into its history. She comes to learn about Armenia, its past and present, and in the process, she rediscovers her own personal identity. One passage in the novel reads: "Dikranian. Abovyan. Petrosian. Mazavian. My last name was suddenly in phonetical company. Until then I had carried it like an unsuitable piece of clothing, like a dented hat that I didn't take off even for dinner." Why should she marvel at this fact? Poladjan explained that in the Soviet Union, names, personal names were not considered important, since "they were all socialist brothers and sisters," but in Yerevan, it was different, the character Helen realizes what her identity is through her Armenian name.
The novel tells the story of the Genocide and emigration, the story of the Armenian people, within it, that of a woman and her family.
Following the presentation, visitors took their fresh copies of the novel and lined up to have them signed by the author, before moving upstairs to the vast rooftop terrace where they could enjoy the magnificent view of the Brandenburg Gate, and sip a glass of wine.
We were surely not the only ones to reflect on the images from our own childhood that Poladjan's reading had called up to consciousness: how your mother would insist you took that small, tattered little bible with you on your trip, or how she arranged for it to accompany your father on his final journey. Or, how you marveled as a youngster at those magical characters of the alphabet, with their mysterious curves and crosses, painted in autumnal shades of green or maroon, and delicately lined in gold.
From the Word to the Image
Two days later, Bea and I visited another Armenian artist and mutual friend, Archi Galenz, at his new gallery. The vernissage had already taken place, but the artifacts and installations were still on display. The exhibition entitled, "Dialogue on Revolution and Power," deals with the Armenian pavilion at this year's Venice Biennale. (See next week's Mirror-Spectator).
Not far from Wolf&Galentz gallery, we visited the Galerie Kuchling, which is hosting a solo show by Kevork Mourad, titled "Fears & Dreams." The artist, who lives in New York, was born in Qamishli, Syria in 1970, his Armenian family having relocated there. He graduated from the Yerevan Institute of Fine Arts and has worked as a teaching artist in residence at Brandeis, Harvard and Holy Cross.
Some of Mourad's themes are historical, others may be mythological or related to fables. In a video on display at the gallery, the artist explains the influence of his experience in Syria, a land that his ancestors had reached after having fled a hundred years ago. One of the exhibits on display, a work in acrylic on canvas entitled "Uprooted," depicts the drama of expulsion, deportation and flight. Now, as Syria suffers the ravages of war and destruction, again its people must seek refuge abroad.
The works on exhibit present several artistic media with which he has worked, from drawing to painting, multi-layered sculptural paintings and animation films. In his video, Mourad demonstrates how he experiments with new techniques, which include integrating music into his art. He transposes painting and drawing into live performances, by composing to live music.
Four years ago, he won the Robert Bosch Foundation film prize for International Cooperation with a short animation entitled "Four Acts for Syria." He has performed at the Nara Museum in Japan, the Art Institute of Chicago, the Metropolitan Museum of Art, the Elbphilharmonie in Hamburg and the Ismaili Centre in London, among others.
Both graphic artist Mourad and author Poladjan come from faraway lands, Syria and Russia, both deal artistically with the drama of earlier generations, who had been forced to leave their homeland and seek a new life abroad. For both, it is a question of identity, one which finds its solution in literary or artistic form.
(Sources: Background material for this article has been taken from websites of the artists, http://katerinapoladjan.de/ and https://www.kevorkmourad.com/, German press, and gallery literature. German quotations have been freely translated into English by Muriel Mirak-Weissbach.)
"Gespräche" as "Discourse" and he would prefer "Dialogues"–

---
Goethe, Poetry and Truth Honored at Weimar Ceremony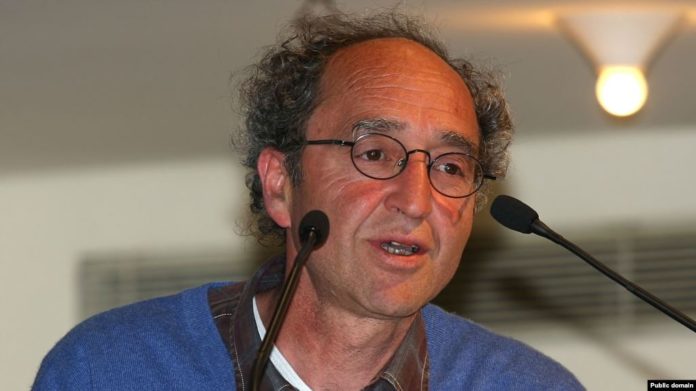 Dogan Akhanli (Photo courtesy of RFE/RL)

by Muriel Mirak-Weissbach
WEIMAR, Germany, SEPTEMBER 12, 2019 — If today's cultural context is besieged by "deliberate attempts to mislead" and to cut off meaningful discussion, if it is a context in which unfounded opinions enjoy the freedom of unfettered movement, then it is necessary to juxtapose with such "hideous developments" an understanding of Truth and Fiction.
Thus Klaus-Dieter Lehmann, President of the Goethe-Institut, presented the motto of this year's award ceremony of the German cultural institution. Dichtung und Wahrheit is the title of one of Johann Wolfgang von Goethe's major works, and it symbolizes the idea behind the selection of the three winners of the Goethe Medal, presented in Weimar on August 28, the 270th birthday of the national poet.
This year's recipients of the official decoration of the Federal Republic of Germany are the German-Turkish writer Dogan Akhanlı, the Iranian artist and filmmaker Shirin Neshat and the Mongolian publisher and political journalist Enkhbat Roozon. Lehmann said it was not political activism, but rather, their independence, that established the credibility of the three.
The festive ceremony in the Kleine Weimarhalle was attended by 200 guests, and in addition to the Goethe-Institut representatives were Lord Mayor of Weimar Peter Kleine, Cultural Minister Benjamin-Immanuel Hoff and Andreas Görgen, director of the Department of Culture and Communications in the Foreign Ministry. It was featured widely in the German media.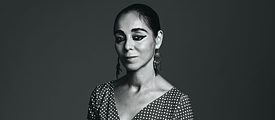 Shirin Neshat (Photo Courtesy of the Goethe-Institut)
Klaus-Dieter Lehmann was joined by Ina Hartwig, the head of cultural affairs of the City of Frankfurt to present the award. In his opening remarks, the institute's president said they were "honoring personalities who, through their work, address the conflicting poles of social reality between influence and autonomy, ignorance and culture of debate, unknowing and education, and do so regardless of possible personal risks or disadvantages." Christina von Braun, second vice president of the Goethe-Institut, added, "With their works, which wake people up and create new relationships, the laureates play a central role in culture and international exchange."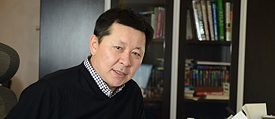 Enkhbat Roozon (Photo Courtesy of the Goethe-Institut)

The Power of Language
Enkhbat Roozon received the honor in recognition of his indefatigable efforts to develop an open, critical and responsible civil society in Mongolia. The central focus of his publications is education, which he views as the foundation for cultural exchange. He places special emphasis on the importance of language in his work. "Unfortunately," he said, "in today's society, we talk far too little with one another about the important issues, and we also don't maintain and develop language as such. And yet, what is to become of us and what we can achieve — whether we will be able to solve our problems or not — relies precisely on this."
The language used by Shirin Neshat is visual; in her films and photographs, she focuses on the role of women in the Muslim world. Due to a ban on entry into Iran, she lives abroad, and was not able to attend the ceremony in person. A close friend, Vahideh Mahmoodi, accepted the Goethe Medal for her and Neshat addressed the ceremony in a video message, in which she expressed her solidarity with all refugees living in exile in Germany.
In her laudatory speech, the art scholar Britta Schmitz stated, "With all of her delicately and carefully conceived works, Shirin Neshat manages to create a unique narrative entanglement by producing haunting stories and images that are hard to forget and that transcend cultural boundaries."
A Poetical Notion of Time
Akhanlı received the award for his literary works and his engagement in civil society to promote understanding, especially among Armenians, Kurds and Turks. According to press accounts, the jury referred to him, saying "There are some personalities who cannot keep quiet when it is a matter of justice."
His is a history of speaking out, against the military dictatorship in Turkey in the 1980s, against the policy of denial of the Armenian Genocide and against repression in Turkey today.
In her laudatory speech, literary critic Insa Wilke developed the concept of "time" in the author's works, his novels, dramas and also cultural activity. What does it mean to put time itself into question? This is a matter that engages Aklanlı in his writing. It may be that one leaves out individuals and entire groups completely, and lets them reappear in other temporal spheres, or sends them running around in bureaucratic circles; this "robs them of the idea of a future and drives them crazy with the question whether what they experienced, and experience, is taking place in their time reckoning, or belongs to another reality." States also manipulate time this way.
Akhanlı, she said, renders this visible. He "makes the consequences visible, not only for individuals but for entire societies." Yet, in so doing, "he is not writing political literature; he is writing politically." In a certain sense, he is old-fashioned, as he wants to "make a difference, to change something."
To illustrate how Akhanlı makes time visible, she referred to his novel, The Judges of the Final Judgment, in which he writes about the real historical events of 1915; but he is using an image that means "much more than the Armenian genocide, it means its narrative and its denial or removal, it means the presence of those killed and, if one so desires, the other side of state terror in Turkey in the 1980s."
She described how Akhanlı juggles and entangles time intervals, how he combines and mixes historical and fictional figures, and she admitted being confused when she first entered "his literary space." The confusion emerged "because I knew practically nothing about Turkish history and absolutely nothing about what it had to do with me. Confused by overlapping and simultaneous events…." By way of explanation, she quoted him as saying, "You cannot tell the story of catastrophes in chronological order."
Akhanlı deals with the similarities among very different tales of violence, and raises the question of what stories are passed from one generation to the next, "among Turks, Germans, Armenians, Syrians, Black Germans, Herero, Roma, Vietnamese?… How are their stories connected and related? … What does it all have to do with us sitting here?" Here one encounters what the author calls the "transnational space of memory."
Insa Wilke drew attention as well to the special qualities of the novelist's style, in particular, his talent for comedy, which she likened to that of the fantasy master Nasreddin Hodja. Akhanlı deploys the element of comedy when dealing with the horrible and frightening; and this provokes laughter, "the laughter of the theatre of the absurd in repressive systems," it leads to "an empowerment of self." In his works, she said, he "seeks out the theatrical, the poetical qualities in the events of the time."
Akhanlı writes in Turkish and the German reading public knows his works through translation. But he has a fine knowledge of German, and wrote the monodrama "Anne's Silence" in German. Wilke pointed to his "fine appreciation for the weight of words," citing an example he once gave of how German syntax manages to deal with "a problematical relationship to responsibility," by postponing the predicate to the very end of the phrase, in such a manner that the reader can hardly put it in relation to the subject.
In concluding her remarks, Wilke said, "Literature can also change a person," adding that her encounter with his works had changed her view of society.
In his acceptance speech, Akhanlı seemed to pick up the theme introduced by Wilke, about language. "What I especially like about the German language," he said, "is the past tense of the subjunctive mood." This is a form that "opens up for us a world of unreality, of dreams and improbabilities." In his favorite form of this, "fantasy is projected into the past. This form sometimes looks so complicated and at the same time so beautiful, that I have the feeling that it is not a sentence but a magical formula that lies before my eyes."
As an illustration, Akhanlı told the story of how he came to win the Goethe prize: "Had my partner not had the desire two years ago to celebrate her birthday together with me in Granada, I would not be standing here. If the Turkish government at that time had ceased criminalizing me further, I would not have been arrested in Granada again and the Goethe-Institut in Spain would not have learned of my arrest, and I would not have been the guest of the Goethe-Institut in Madrid for two months. If all that had not happened, I would not have written the book, Arrest in Granada, would not have been invited to Armenia by the Yerevan Goethe-Institut and Ms. Bachsoliani and Ms. Soghomonyan, and would not be standing here now."
He said that events could have unfolded quite differently. "If the German press had not shown interest in my case; if the German Chancellor and the Foreign Minister had not intervened; if my German lawyer Ilias Uyar and my partner Perihan Zeran had not managed to get tickets to fly to Madrid; if my Spanish lawyer Gonzalo Boye at the time had been in Vietnam or somewhere else in the world. But in the end, everything went well. I was saved in time and stand here now, as a prize winner of the Goethe Medal. And I do not really know whom I should thank for this prize that makes me so proud. But I do know, my persecutors and their attempts to criminalize me have failed. Through the solidarity of so many, which is just as magical as the second case of the subjunctive."
The author proceeded to thank those many, many people, associations, friends and officials who intervened on his behalf as well as those in the jury who honored him with the award. "I accept the Goethe Medal with pleasure," he said, "and I dedicate it in tribute to the imprisoned Cologne artist Hozan Cane, who like tens of thousands of other people has become a victim of state despotism and arrogance in Turkey."
Time and Place
Turning to the issue of state violence and terror, which "have accompanied me all my life," Akhanlı cited a consideration made by the Israeli writer David Grossman, who noted that people usually refer to Holocaust as having happened "then." Yet, in Yiddish or Hebrew, Grossman said, one doesn't speak of "then" but rather "over there." And by this he didn't mean a place, but an immaterial location, "a place in the human soul." For Grossman, this "will to destroy" still existed. And, Akhanlı said, "we are at this very moment right 'over there.' Weimar is not only Goethe and Schiller, but also Buchenwald, the former concentration camp. But," he asked, "are we not also 'over there' in another sense, in Grossman's sense?"
Here Akhanlı related his personal experience with the Holocaust, whose dimensions he had not realized before leaving Turkey. "At the end of 1991, I fled to Germany with my family and my memories of the long history of violence of my country. It was at the time that the former Buchenwald prisoner and surviving Spanish writer and Goethe Medal winner, Jorge Semprùn, saw that the country that had tortured him and wanted to eliminate him was undergoing a process of change." In the 1990s, the years of remembrance, Akhanlı witnessed this transformation himself; whereas in his homeland "forgetting was the rule and remembrance was the exception," in Germany the opposite was the case.
"Remembrance," he hoped, "could be a means to establish the connections between historical and current violence in my homeland as well, and to come to terms with them. Remembrance could be a key, I hoped, to understand what my personal experience with violence had to do with the victims of the Armenian genocide 100 years ago, with the persecution, despotism and injustice against Kurds, Alevis, Jews, Christians, against homosexuals and women in Turkey."
Stimulated by his experience in Germany, he began to "think beyond borders and timeframes" and find the links with these victims and others, in other periods and other lands. Because of the work done in Germany to confront and deal with the past, "I was able to identify with this country," he said. "I liked the fact that people did not like to use words like 'nation,' 'flag,' 'fatherland,' or 'nationalistic.'"
And yet, there was something Akhanlı still had to learn, and that was that remembrance had its limits. It did not have the protective power to defend us against the destructive lust of the Nazi period and "its resurrection in the minds and fists of Neo-Nazis" today. He pointed to that part of modern-day society which has never embraced remembrance, a part of Germany that "now wants to revive the past and turn back the pages of history." He identified this group, who "call themselves concerned or angry citizens," as the members of the extreme rightist Alternative for Germany (AfD), the neo-Nazis (NPD) and the right-wing terrorist cell (NSU), who "insult 6 million Holocaust victims as 'Vogelschiss.'" This is the term, which means literally "bird sh–," that was used by an AfD national leader in a cynical attempt to downplay the Nazi period and its crimes as insignificant. These extremists, who kill out of racism and xenophobia, Akhanlı said, "suffer from a sick, blind yearning for the past. They represent the 'over there' in the sense of the soul, as Grossman understood it."
It may be, Akhanlı concluded, that the political realm cannot force remembrance, "but it must defend remembrance daily against the prophets of extermination. The rest, we, as civil society, can achieve." This means preventing the mental attitude behind genocidal crimes from prevailing again. He closed with a quotation from Paulino José Miguel: "Germany is our Germany; we do not have to justify why we are here or where we came from, but it is our country. Period."