Unless otherwise indicated, the articles here and in the
Archive
appeared on
www.globalresearch.ca
---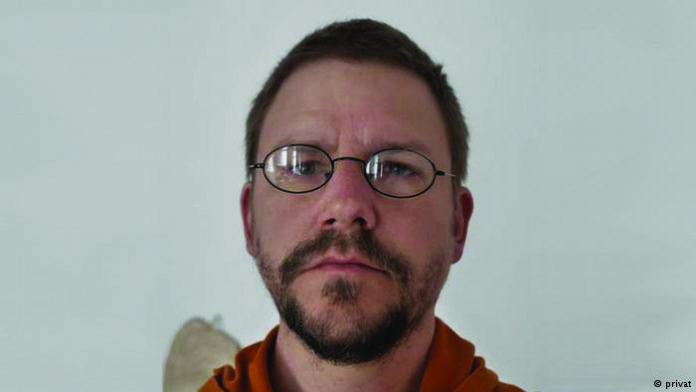 Peter Steudtner
Turkey Frees Some Hostages

By Muriel Mirak-Weissbach
– Special to the Mirror-Spectator
BERLIN — The news on October 26 that a Turkish court decided to release German human rights activist Peter Steudtner from prison, and even allow him to leave the country, was not expected and was greeted by sighs of relief. But it is by no means the end of the story. Although he and seven other political prisoners were liberated, the charges against them have not been dropped and the trial is scheduled to continue on November 22. If convicted, those accused of belonging to and supporting a terrorist organization could be sentenced to up to 15 years in prison. Green Party political leader Claudia Roth correctly commented that there was "no reason for calling off the alarm," since the release did not mean acquittal. Although Steudtner would be tried in absentia (as it would be foolhardy for him to return to Turkey for trial), the policy of political persecution of perceived enemies of Turkish president Recep Tayyip Erdogan has not ended. There are still ten German citizens sitting behind bars in Turkey on politically motivated charges, among them Deniz Yücel, not to mention the masses of other innocent prisoners with different passports.
Although Turkish authorities denied that there had been any diplomatic mediation leading to the release, it was former Chancellor Gerhard Schroeder who reportedly intervened personally with Erdogan in September. German Foreign Minister Sigmar Gabriel, who proposed the idea and got the backing of Chancellor Angela Merkel, stated officially that he was "grateful to Gerhard Schroeder for his mediation," adding that it was an initial sign of relaxation of tensions. "The Turkish government had kept all its promises," he said. "Now we have to work further for the release of the other prisoners." Justice Minister Heiko Maas also called it an "encouraging sign" and pledged that Berlin would continue to pursue the release of all. Steudtner himself left no doubt that there had been a diplomatic intervention when he expressed his gratitude upon release to "all those who supported us legally, diplomatically and with solidarity."
Dogan Akhanli
Why Erdogan Backed Down
Although the official line from Ankara is that the release was merely proof of the independence of the Turkish justice system, there seems to be little doubt that it was the result of rethinking on the part of Erdogan. He had made clear in remarks at the July G20 meeting in Hamburg that he had designated Steudtner as allied to the forces behind the failed coup attempt last year, when he said the international seminar that the human rights activist was attending was a "continuation of July 15…" Later that month, Erdogan criticized Germany for not allowing himself and other officials to speak there in public, but charged that "your agents come here … and divide my country."
Der Spiegel
magazine presented two conclusions to be drawn from the release. First, that, "Talking to Erdogan is worthwhile." The reason, according to this analysis, is that Erdogan suffers from an inferiority complex and, despite domestic achievements, feels that he is not duly appreciated on the international stage. He needs to be stroked. The magazine points to French president Emmanuel Macron's success in getting two French journalists freed, as a result of his having called the Turkish president regularly, asking his views on world political affairs, etc. The second conclusion is that Erdogan does "respond to pressure." Here, the shift in German policy announced by Gabriel, regarding tightening travel advisories for Germans and especially economic measures affecting investments and trade, did have an impact. The overall lesson to be learned, according to the magazine, is that the German government should continue with a "combination of dialogue and pressure."
This involves a delicate balancing act. If Germany can tighten the screws on economic cooperation and could even, as some parties are proposing, lobby inside the EU for cutting financial support associated with the process toward EU membership, or even explicitly terminate that process, that could undermine the anti-Erdogan opposition more than punish Erdogan himself. Furthermore, as has been reiterated from diverse quarters, Turkey's role in the refugee crisis has to be acknowledged and secured, out of humanitarian concerns for the millions of refugees.
On the Personal Level
Anyone who saw Peter Steudtner on television, immediately after his release, thanking those who had supported him and then saw how, upon his return to Berlin, he was escorted out of the airport to join his family, without any contact with the press or well-wishers, could well imagine what emotional and physical stress those months in a Turkish prison had wrought. Writer Dogan Akhanli, a German citizen of Turkish heritage, had been arrested while on vacation in Spain on orders to Interpol from Turkey and held there for two months, until the Spanish government officially rejected Erdogan's demands that he be extradited to Turkey, for crimes he had never committed. Akhanli was allowed to return home to Cologne shortly before Steudtner and his colleagues were freed. In an interview with
Der Spiegel
, Akhanli provided a sobering account of what life is like for a freed suspect. The mood in the Turkish community in Germany, he said, "has become enflamed as never before." When he arrived at the Cologne airport, he was verbally assaulted by a man who shouted at him in Turkish, accusing him of being a traitor to his homeland. The prize-winning author said the scene had been orchestrated so as to grab the attention of the press, and that he thought that the Turkish authorities might have been behind it, though he could not prove it. In his home town Cologne, he experienced hostility from taxi drivers of Turkish descent, who recognized his face and treated him with disrespect or scorn.
When he was hauled out of his hotel room while on holiday in Spain, he said he did not immediately realize how serious the situation was. As a German citizen, he thought he would be safe in Spain, but then after he saw the enormous press echo in Germany and the public statements made by German government politicians, he realized how serious the situation was.
Asked to explain why such charges had been brought against him, which included association with terrorists, even rape, he said, "I have given many speeches about the Armenian Genocide. This made me a state enemy of Erdogan. I fared like the writer Asli Erdogan and the journalist Deniz Yücel. It is well known that we sympathized with the Gezi Movement and that we are for non-violent resistance, for democratization. Erdogan persecutes us, to terrorize civil society."
---
Ecumenical Leaders Offer Prayers for Christians in Middle East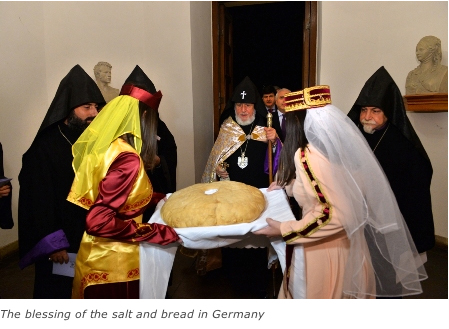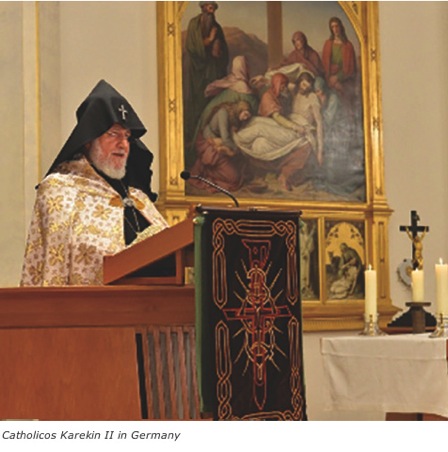 By Muriel Mirak-Weissbach
BERLIN, OCTOBER 26, 2017 — Among the hundreds of commemorative events organized to celebrate the 500th anniversary of the Reformation over the past year — "Luther year" in Germany — was a special gathering from October 18 to 21 in Berlin. On the invitation of the Evangelical Church in Germany (EKD), four of the highest representatives of the Eastern Orthodox churches met in the capital for a series of meetings and religious services dedicated to the situation of Christians in the Middle East today. Joining Catholicos Karekin II were the Syrian Orthodox Patriarch Ignatius Aphrem, Coptic Pope Tawadros and the Indian-Orthodox-Syrian Catholicos Baselios Marthoma for a five-day visit which included a meeting with the German president and participation in a conference organized by the EKD on the future of Christians in the Near East. The visit culminated in an ecumenical mass at the historic Berlin Cathedral, during which the leaders of the four churches joined with German Catholic and Protestant leaders to pray for Christians in the Middle East and for peace.
On October 18, the four visiting church leaders were received by German President Frank-Walter Steinmeier. The following day they met with representatives of the Bundestag (Parliament) factions and on October 20, they visited the Evangelical Center for Social Welfare and Development. Following the conference was the ecumenical church service.
In addition to the joint events, Catholicos Karekin II presided at a welcoming ceremony with the Armenian community at the Evangelical Luisenkirche on October 18, in a Hrashapar service, blessing all Armenians. On October 21, he laid a wreath at a Khatchkar (cross stone) which had been erected on the initiative of the German-Armenian Society (DAG) and ceremoniously dedicated on April 23, 2016, in memory of the victims of the Armenian Genocide. At the conclusion of his Berlin visit, Karekin II was at the St. Camillus Catholic Church to celebrate Divine Liturgy with Bishop Armash Nalbandyan, Primate of the Armenian Diocese of Damascus, and accompanied musically by the women's choir of Geghard monastery. In addition to Nalbandyan, accompanying him on his visit were the Very Rev. Shahe Ananyan, dDirector of the Ecumenical Relations Department of Mother See, Rev. Ghevond Saghatelyan, dean of the Harichavank Turpanjian Theological High School, who served as staff bearer, Rev. Markos Mangasaryan, Director of the Social Services Department of Mother See and Ms. Tamara Shakaryan, member of the Legal Advisor Committee of Mother See.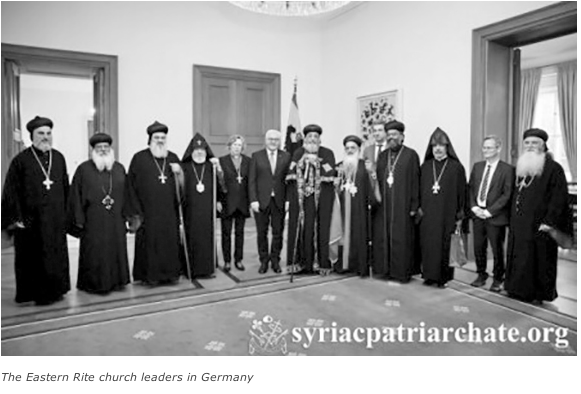 The Fate of Christians in the Holy Land
At the center of the visit was the shared commitment to intervene in defense of the Christian community in the Middle East, whose very continued existence there is severely threatened. As discussed during the conference, Christians have been subjected increasingly to persecution, their sacred buildings, churches and monasteries, have been bombed to smithereens, and individual Christians have been driven out of their homes and murdered. In Egypt, the Copts have been victims of killings, their churches bombed even during mass. In Syria 85 churches have been destroyed, and about half of the Christians have left the devastated country. There is a very real danger that Christian culture and tradition will be eliminated in Syria. Therefore, the pleas on the part of the Orthodox religious leaders for churches in Germany, whom they thanked for helping so many refugees, to mobilize further to make it possible for Christians to remain in their lands of origin, and to live there in peace and security.
Regional Bishop Heinrich Bedford-Strohm, chairman of the EKD Council, expressed his gratitude for the participation of the visiting church leaders, noting that there are about 250,000 Christians belonging to these Orthodox communities who live in Germany. "Many of them," he said, "have left their homeland in the Middle East, fleeing from war or civil war, from political or religious persecution, or from state repression." Members of these communities in Germany have proven crucial in helping newly arrived refugees to integrate into society. They have also, it was said, contributed the fruits of their experience in inter-religious dialogue. The history of this dialogue, as was discussed in the conference, stretches back to the beginnings of the Protestant Reformation.
The Sermon on the Mount
The ecumenical service in the Berlin Cathedral, lasting well over two hours, was a profoundly moving ceremony which expressed the community of faith among the very distinct communities, a universality manifest in the articulation of prayer, each speaking in his own language, and in the harmony of music, sung by choirs of the four Eastern churches. The common message was that of Christ in his sermon on the mount. Catholicos Karekin II stressed how important it is to reflect, inspired by the Beatitudes, on the situation of Christians in the world today, "especially our Christian brothers and sisters in the Near East." The words of Christ in this sermon, he said, are abiding and immortal for our modern world, in which "human suffering and sorrow, persecution and social catastrophes have become everyday occurrences."
He said that the blessings, or Beatitudes, from the beginning have symbolized the similarity of Christ and Christians, in the pledge to take Christ as an example. They have come to identify Christians, and all churches, whether Eastern Orthodox or others, have "built the spiritual house of their faith in light of the message of the Beatitudes." Through this message, Christians are to resemble Christ as meek in spirit, in seeking the riches of heaven; as those in mourning, having prayed for the renewal of the world and destruction of evil; as those thirsting and hungering for justice; as pure of heart, through mercy and brotherly love; and as peacemakers, even if persecuted for their faith.
Blessed, he said, are those who do not forget spiritual richness, those who do not forget the suffering and persecuted, who find God in every human being, who make peace in the world, who pray for the unity of Christians and religious tolerance in the world.
The message of this sermon, he said, has always remained the same, opening the path to love and likeness to God. "When today in the Near East religious intolerance and conflict have become integral parts of everyday life for innocent people there; when murder and persecution as a result of religious intolerance belong to the ideology of fundamentalists; when the destruction of religious cultural values thousands of years old, and the violent expulsion of people from places that are the cradle of Christianity are justified by a falsified and corrupted message of religion, then the Beatitudes give us once again reason — independent of religious affiliation and political tendency — to renew our readiness to proceed together along the path shown by our Lord Jesus Christ towards holiness and bliss."
He concluded by asking all to pray together, to receive the invitation "that is addressed to us all, whether in the Near East, in Europe, in America or in the Far East." All are invited to spread this message, "which is engraved not in tablets of stone but in spiritual tablets in our hearts and souls."
(Material for this article has been drawn from press releases issued by the Evangelical Church in Germany (EKD), the Working Group of Christian Churches in Germany (ACK), and a German translation of the remarks by Catholicos Karekin II during the ecumenical service kindly made available by the German-Armenian Society (DAG). Translations into English are by the author.)
---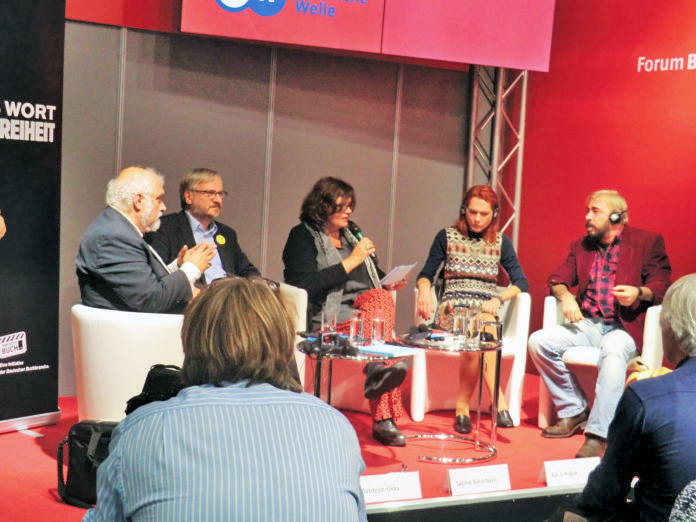 From left, Ragip Zarakolu, Christoph Links, Sabine Kieselbach (moderator), Asli Erdogan and Mehmet Atak

Writers from the 'Other' Turkey Speak Out in Frankfurt
by Muriel Mirak-Weissbach
FRANKFURT, OCTOBER 19, 2017 — If France was the Guest of Honor this year at the celebrated Frankfurt Book Fair, then Turkey — that is, the official Turkey — might well earn the title of the Guest of Dishonor. Taking part in the innumerable interviews with authors, round table discussions and special exhibits were leading Turkish personalities from the book world, who presented their recent works and engaged capacity audiences in heated debates about the current, sad state of affairs for intellectuals in their country. These were the voices of the "other" Turkey.
On October 11, the opening day of the world's largest trade fair for books, which ran to October 15, Turkish investigative journalist Ahmet Sik was given the Raif Badawi Award for Courageous Journalists (granted by the Friedrich Naumann Foundation for Freedom) — of course, in absentia, since he is currently behind bars in Turkey. Later on the same day, author and
Spiegel
journalist Hasnaim Kazim presented his book,
Krisenstaat Türkei. Erdogan und das Ende der Demokratie am Bosporus
("Turkey a State in Crisis: Erdogan and the End of Democracy on the Bosporus"). On Friday, Can Dündar, former editor-in-chief of
Cumhuriyet
, presented his book,
Verräter. Von Istanbul nach Berlin
. Aufzeichnungen im deutschen Exil ("Traitor: From Istanbul to Berlin – Notes from German Exile"), in which he poses the question: who is the traitor? At a large gathering convened on Saturday, journalists, authors and political figures conducted readings in solidarity with Deniz Yücel, a German-Turkish writer who has been jailed since February. The following day a round table discussion entitled "Critical Voices from Turkey" organized by the "Initiative Freundeskreis #FreeDeniz" featured writers representing the "other" Turkey. An hour later on a huge stage inside the fair, again leading journalists, both German and Turkish, joined to present "New Journalistic Solutions for a Turkey in Crisis."
Books Against Censorship
It was literally impossible to attend all the events, so let me focus on one particularly significant meeting that took place on October 13. Entitled "Books against Censorship," it brought together two publishers, one author and an actor. Sponsors were the German Publishers and Booksellers Association (Börsenverein)
[https://www.boersenverein.de/de/394814]
together with Deutsche Welle [
http://www.dwhttp://www.dw.com/en/top-stories/s-9097
], Germany's public international broadcaster. Christopher Links of the Ch. Links publishing company (Berlin) and Ragip Zarakolu of Belge (Istanbul) joined physicist and author Asli Erdogan in a discussion moderated by Sabine Kieselbach, literary correspondent for Deutsche Welle. Actor and director Mehmet Atak also participated.
The mere presence of Asli Erdogan constituted an assertion of the power of resistance against censorship; she had been in prison since August 2016, was released in December and finally allowed to leave the country last month to receive the Remarque Peace Prize in Oznabrück, only as a result of massive international protests against her unlawful incarceration.
She recounted her story in simple, direct terms. In the 1990s, she had written for the newspaper Radikal, and was fired in 2001. In 2010 she resumed her writing there as a guest columnist. In the climate of post-coup hysteria, on August 17, 2016, police raided the offices of the paper, and then broke into her apartment at night, hauling her off to jail on charges of "terrorist propaganda" (i.e. pro Kurdish, = pro-PKK) and "destruction of national unity," which can lead to capital punishment. When asked by Kieselbach about her state of health, Erdogan replied that she was "on automatic pilot," and had not really yet dealt with the trauma, for sure, not yet in writing.
Kieselbach then turned to publisher Ragip Zarakolu, who has been charged with crimes 45 times (!) and now lives in exile in Sweden. The moderator wanted to know why he left the country. Zarakolu explained that he had gone to Sweden as a guest writer, but then after the coup and counter-coup, he could not return to Turkey. The crimes he has been accused of include publishing "works about the Armenian Genocide and the Shoa, about torture in Turkish prisons," like that which Asli Erdogan had witnessed. The situation, he said, "is worse now, because it is like a military dictatorship with authoritarian laws;" here he pointed to the arrest of human rights defenders, individuals who should enjoy the protection of the United Nations. His publishing company Belge was founded in 1977 and continued even under the later military regime, issuing works by political prisoners, among others. All sorts of topics became taboo, he said, among them, leftist politics, the Armenian genocide, the Kurds. In the 1990s when he produced books on these themes, he came under attack, and his publishing house was bombed in 1994. As recently as May 7, 2017, the offices were raided and 2,000 books reportedly seized. As a special treat for the book fair this year, Zarakolu organized and curated an exhibition of "Forbidden Books" which features works from the last 92 years in Turkey.
Christoph Links has partnered with Zarakolu in promoting "forbidden" books. His company published Jürgen Gottschlich's book, Beihilfe zum Völkermord. Deutschlands Rolle bei der Vernichtung der Armenier ("Accessory to Genocide: Germany's Role in the Armenian Genocide") in 2015, a volume present at the Istanbul book fair. The partnership between Ch. Links and Belge involves translation projects to make the reality in Turkey known.
The Power of the Mighty Pen
Speaking from personal experience, Asli Erdogan underlined the special role of political solidarity, especially from outside Turkey. On the night of her arrest, she said, crowds gathered to signal support, there were demonstrations in Cracow, Poland, PEN International organized twice-weekly freedom vigils, not to mention the expressions of support from her readers. "The solidarity from abroad was incredible!" she said. "The government underestimated the power of the literary world." The pressure from abroad became so great that "it became cheaper to let me out." It was due to initiatives taken by France, Austria and Germany that she finally got her passport and could travel.
"And inside Turkey?" the moderator asked. Zarakolu confirmed that international pressure was decisive, referring to his own arrest in 2011. As for the domestic situation, he characterized Turkey as "a Republic of Fear." Arbitrary arrests of intellectuals are intended to have the effect of terrifying everyone, giving the impression that no one who dares to speak out is safe. And at the same time, the ruling elite around Recep Tayyip Erdogan et al are considered "untouchables," above and beyond the reach of the law. What must change is that they "must become touchable," he said. For those who are unlawfully prosecuted, international attention can even be life-saving; when Orhan Pamuk got the Nobel Prize, Zarakolu noted, it shifted thinking; "people said they should be proud of him!" That honor was crucial, and "Pamuk survived," just as others who have received comparable international acclaim have also been saved. "But," he added with sadness, "we could not save Hrant Dink," the Armenian.
Links confirmed that the actions of organizations like PEN, with their petitions to governments and to prisons protesting conditions, do have an impact and may alleviate their suffering. That prisoners in Turkey are treated inhumanely was clear in the brief description that Asli Erdogan gave of her incarceration. "I was in solitary confinement for five days," she said, "and for two days went without water." Once the international uproar forced the authorities to deal with "writer Asli" and not "PKK Asli," their behavior improved. When German political figure Martin Schulz (SPD) called for her liberation on television, the world had to take note and the authorities in Turkey could not ignore it.
---
Armenian Literature in Translation Promoted in Frankfurt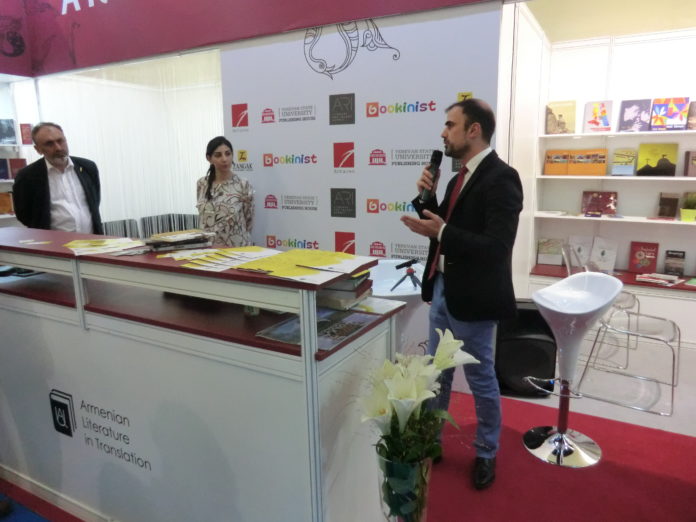 Deputy Minister of Culture Nerses Ter-Vardanyan presents the "Armenian Literature in Translation" Project at the Frankfurt Book Fair
by Muriel Mirak-Weissbach
FRANKFURT, OCTOBER 19, 2017— "World poetry is world reconciliation."
This line is from a poem by the German poet and philologist Friedrich Rückert (1788-1866), whose greatest gift to future generations was his immense translation work. By the end of his life he knew 42 languages, and had dedicated many years to translating works of poetry and prose, especially from the Orient, into German.
Thanks to his efforts, the German literary public gained access to the treasures of the literature and philosophy of ancient China and India, the poetry in Arabic, Farsi and Turkish, to mention just a few. It was Rückert's deepest conviction that poetry — in the widest sense, literature — was the language through which peoples from vastly distant lands and civilizations could come to understand one another, and discover common beliefs, common sentiments and values, and share common aspirations.
Armenia has a proud and ancient tradition of translation. Thanks to the breakthrough achieved by Mesrob Mashtots (362-440), who invented the Armenian alphabet, the way was paved very early for a written literary culture in the native language. Beginning with Mesrob's own first translations of the holy scriptures, Armenians developed a rich culture of translations, from the classical world continuing into the modern era. Testifying to the importance Armenians place on translation, there is even a holiday dedicated to their art.
So, when Deputy Minister of Culture Nerses Ter-Vardanyan presented the government's project "Armenian Literature in Translation" at the Frankfurt Book Fair on October 13, he was essentially announcing the intention to build on this cultural heritage. In 2015, the year of the centennial of the genocide, the ministry had launched such a program, which aimed in particular at promoting translations of works dealing with the subject of the genocide. Now, as Ter-Vardanyan explained, the aim is broader; the idea is to support translations of works by Armenian authors into other languages, to make Armenian literature available to an international readership. Works of poetry and prose, as well as non-fiction studies dealing with topics related to Armenian history, politics and culture, works by Armenian authors both in Armenia and in the diaspora — all are candidates for support by the government program, whether they write in Armenian or Russian or any other language. "The main aim," Ter-Vardanyan summed it up, "is to spread Armenian culture abroad, to acquaint an international reading public with our literary culture."