Educators and Parliamentarians in Talks on Education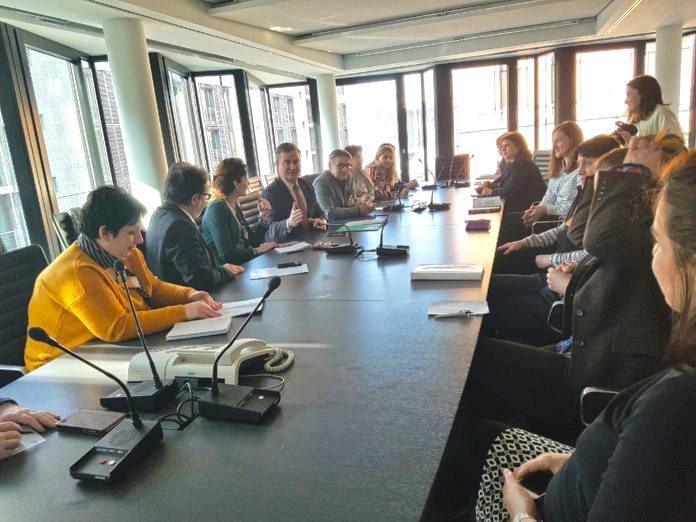 Albert Weiler, a CDU member of the Parliament, with the visiting teachers


By Muriel Mirak-Weissbach
–
Special to the Mirror-Spectator
BERLIN — Berlin played host last week to a group of teachers from Armenia and Georgia, who had come to learn more about the education system in the German Federal Republic. Their visit was arranged by the German-Armenian Forum (Deutsch-Armenische Forum), an initiative launched in May 2015 by Albert Weiler, a Christian Democratic Union (CDU) member of the Bundestag (Parliament), along with more than 30 private individuals, MPs and representatives of business, scientific and cultural institutions. As noted in a press release at the time, the members of the Forum's executive body are "individuals familiar with issues related to the southern Caucasus, who pursue the aim of promoting German-Armenian relations at various levels. The Forum should support Armenia in its democratic development, strengthen economic relations, promote cultural and scientific exchange and build new bridges between the two societies."
In this spirit, the forum has fostered political education and places great value on exchanges in the field of education and science. In the context of a regional program of the Konrad Adenauer Foundation, called "Political Dialogue in the South Caucasus," mid- and long-term projects in the school sector were launched in 2017 in Georgia and the Republic of Armenia respectively. In Armenia, currently a textbook for social studies is being revised and reissued in close cooperation with the Ministry of Education.
During their fact-finding visit, the university and school teachers from Georgia and Armenia hoped to gain new insights into the education sector in Berlin. They were received in the Bundestag on March 3 by Frank Heinrich (CDU) and forum president Weiler. In the course of their discussions, Weiler reported on the activities of the forum and explained the characteristic features of the German educational system. The teachers were particularly interested in exchange programs between schools and heard from their host about such projects that the forum has organized thus far.
"I enjoyed this exciting exchange of ideas very much," Weiler stated. "Good teachers are extremely important for good education. We are following the developments in Armenia in this sector with great interest and are convinced that both sides will further profit from our bilateral dialogue."
The presence of the delegation in Berlin follows a visit by Weiler last November to Yerevan where, on the invitation of the Konrad Adenauer Foundation, he participated in a round table discussion on the partnership agreement between the European Union and Armenia.