Let The Trumpets Sound!
YEREVAN — "The world is changing, and so are human values. Only music remains a constant spiritual island." These wise words are those of Diana Hovhannisyan, director of the Anahit Tsitsikian Music School, in Yerevan. In a message to readers of the school's home page (
http://anahitmusicschool.com
/), she points to the responsibility of parents and teachers in guaranteeing that the younger generation preserve "timeless human values," and emphasizes the crucial role that musical education plays in this process. Music shapes the cognitive powers of a child, as well as its moral attitudes. Instead of wasting time and energy on senseless TV programs or video games, a child who learns to play a musical instrument develops intellectual rigor, learns to define goals and acquire the power of concentration to achieve them. The aim of her school, she writes, is "to foster the young generation's spiritual development" through musical education. Whether or not a child may become a professional musician in the future, he or she "will inevitably become part of the world of music, keen to behold everything that is beautiful, devoted to things that are harmonious, kind, and timeless. He/she will learn to think, feel and live touched by the truly exquisite magic of Music." Founded in 1987, the music school, N. 21, was named after the well-known violinist, Anahit Tsitsikian in 2007. Among its graduates are prize-winning students, many of whom have continued their studies in Armenia and abroad. In 2014, the U.S. Embassy's organization Helping Hands and the Fuller Center for Housing Armenia renovated the recital hall, where students have the opportunity to perform for family and friends, gaining valuable experience.
Although the school had pianos and string instruments, wind instruments were lacking and most students from the local community who attend this school are not able to purchase their own. In response, AYO! (
https://weareayo.org/musicschool/
) launched a crowd fundraising drive in late 2014. As AYO! wrote in its project presentation, "The school now has a beautiful performance space" and "tremendously dedicated students and staff. What could be missing? Instruments!"
The Fund for Armenian Relief (
http://farusa.org
) backed the effort and invited the Mirak-Weissbach Foundation (
www.m-w-stiftung.org
), among others, to join. The funds needed for the instruments came together, and in early March it was announced that the school had received a shipment of new wind instruments, including trumpets, flutes, clarinets and saxophones. The only other item missing was furniture: to allow parents and friends to enjoy the concerts in the renovated recital hall, funds were needed to buy 120 chairs. If all goes according to plan, a concert will take place during the commemoration events around April 24th this year. (If it is "standing room only," then not for lack of chairs….).
Anahit Tsitsikian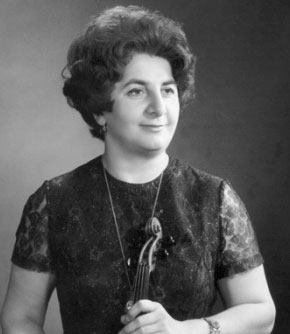 Anahit Tsitsikian (1926–1999) was born in Leningrad (now St. Petersburg), Russia. After studying under Professor Karp Dombayev at the Yerevan State Conservatory (1946–1950), she won the Stalin Scholarship and completed her graduate course at the MoscowState Conservatory in 1954. While still a child, she started to perform both as a soloist and with symphonic orchestras. Beginning in 1961 she was the principal soloist at theArmenian Philharmonic Hall. She appeared in concerts throughoutthe Republics of the former Soviet Union and in 27 countriesaround the world, and produced four vinyl discs under the Melodiya label.
Her repertoire featured the music of modern Armenian composers, whose works she often co-authored, edited and premiered. In 1950 she began teaching at the Yerevan State Conservatory where she introduced three new courses: "TheHistory and Theory of BowedInstruments," "History of ArmenianPerforming Arts" and a course in music teaching practice. While still a student of the Conservatory, she began her research,and focused on bowing history and MusicalArchaeology, of which she was the founderin Armenia. A participant in international scientific conferences, her studies have been published in Armenia and abroad.Her artistic career included performances in over a thousand recitals, recordings of60 pieces of archived music, and texts ofmore than 300 articles and scripts for both radio and television. She was a member of many local and international organizations, among them, the Composer's Union of Armenia, the Union of SovietComposers, the Armenian Theater Union, the Journalists Union, theWomen's Committee of the USSR, AOKS (cultural liaison committee of Armenia with foreign countries), theHistory of World Culture Committee inthe Academy of Sciences of the SovietUnion, The World Scientific Association of Historical Archaeology, etc. Anahit Tsitsikian passed away on May 2, 1999and in that year the "Ana hit CulturalFoundation" was established to continueher work and fulfill her dreams. The mission of the foundation is to facilitate the promotion of Armenian music by supporting musicians in their professional education and work, setting up and implementing cultural programs andevents, and stimulating the integrationof Armenian music within international music.
(Adapted from
http://anahitmusicschool.com/?page_id=213
)