Armenian Artists in Research and Dialogue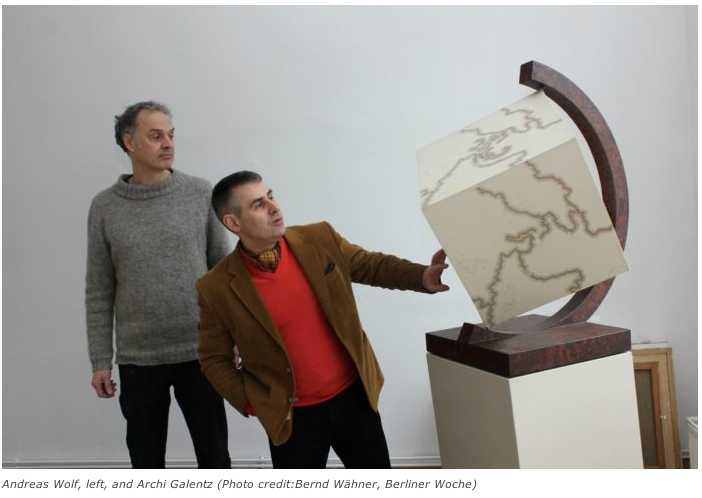 by Muriel Mirak-Weissbach
BERLIN, August 8, 2019 — Websites and blogs are generally the voice of an individual. This one speaks for a family, three generations, all of them artists of renown. The Galentz Research Center, launched by third generation artist Archi Galentz, is a blog platform — in Armenian, English and Russian — and a meeting place for persons active in the cultural realm. Especially those interested in Armenian visual art and its history are welcome visitors.
Archi Galentz, who launched the website
https://galentz-research.org
in July, explains that it is based on the history and experience of his own family, from grandparents Harutyun Harmandanyan Kalentz (Galentz) (1910-1967) and his wife, Armine Baronyan-Kalentz (Galentz) (1920-2007), to father Saro Galentz (1946-2017), to himself, Harutyun Archi Galentz, born in 1971.
Educated in Moscow, Yerevan and Berlin, he has been living and working in the German capital for many years. In his atelier, InteriorDAsein, he has hosted exhibitions of his own and other artists' works. In 2016, he curated a unique exhibition of works by his grandparents. (See
https://galentz-research.org/wp-content/uploads/2019/07/Artistic-Journeys-through-National-Destinies-The-Armenian-Mirror-Spectator.pdf
)
Last year he opened a new gallery, Wolf & Galentz, together with Andreas Wolf. In addition to organizing exhibitions, the two artists serve as consultants for collectors and estates. Galentz himself has a vast, impressive collection of modern and contemporary works.
His latest initiative is the new site, which offers information on this rich family heritage, in the form of published articles as well as new research. With the help of the site, Galentz hopes to lay the basis for a Galentz Research Center, an independent institute "based on part of Hartutyun Galentz's house-museum in Yerevan, after its restructuring." In addition to promoting cultural studies, including art history, the new entity will take part in educational activities.
A Contested Legacy
Galentz's plan to establish a new research center is an uphill struggle. Following his father Saro's fatal heart attack in 2017, strife erupted regarding his estate, as there was no last will and testament. Nor had a proper inventory been compiled of the numerous artworks left in his home, works by the deceased, and family members, including Archi's maternal grandfather, sculptor Nikolai Nikogosyan. In addition, there were artworks done by Archi Galentz himself and others from his private collection.
As Galentz explained in an article published the Armenian Mirror-Spectator, the inheritance battle was more than a personal matter and involved a broader, public dimension. (See
https://mirrorspectator.com/2019/04/04/the-debate-about-culture-and-the-culture-of-debate/
) This is due to the nature of the legal framework — or lack thereof — in Armenia regarding intellectual property rights of artworks or manuscripts, as well as the legal status of museums and their exhibits. Attempts to compile a notarized list of artworks in the home-museum of the deceased met with difficulties that successive courts had to deal with, all the way up to the Supreme Court.
The issue of the contested legacy occupies a prominent place in Galentz's new site, and numerous documents (in Armenian) related to the legal battle are available, in addition to a film clip of a news item from state television in June of this year.
Repatriate Artists
The site also functions as a blog, with discussion of topics that go beyond the Galentz family story. Most welcome to the site is information regarding the works of repatriate artists to the Soviet Union and others; site visitors with knowledge of works or photographs of Petros Kontrajyan, Aramik, Manuk Ghrdian, among others, are invited to contact
info@galentz-research.org
. Another topic of interest is Armenian surrealism, in the visual arts, cinema and theatre, both in the Soviet Union during the 1970s-80s and in the diaspora. Finally, Galentz places great importance on the cultural dialogue between the Republic of Armenia and the diaspora, aimed at forging unifying strategies.