Journalist Can Dündar in German Exile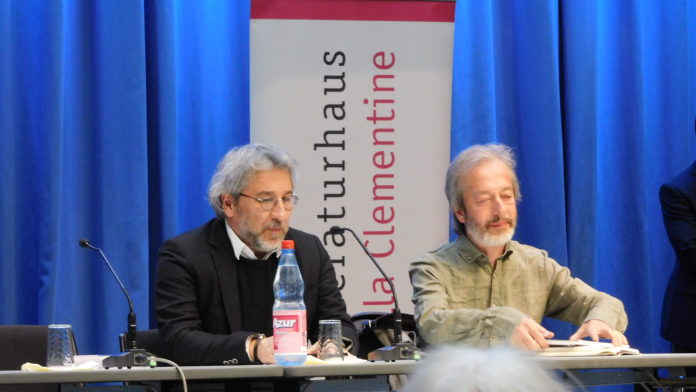 Can Dündar, left, and Recai Hallac
by Muriel Mirak-Weissbach
WIESBADEN, Germany - May 3, 2018 — It is well known that Germany has received the largest number of refugees in Europe over the last years. But few realize that in addition to those fleeing war and terrorism in Iraq and Syria, are increasing numbers of Turks, fleeing Erdogan's regime. They are diplomats, military personnel, opposition figures and journalists seeking asylum. Can Dündar, formerly editor of Cumhuriyet, is a member of this new Turkish guest-worker community, here in exile.
On April 26 he was the featured speaker at the Wiesbaden Kulturforum. The occasion was the presentation of his newest book in German,
Verräter: Aufzeichnungen im deutschen Exil
(Traitor: Sketches from German Exile), which appeared in 2017. His partner in dialogue for the evening was Stefan Schröder, editor in chief of the
Wiesbadener Kurier
newspaper and president of the Wiesbaden Press Club. To introduce the discussion, translator and actor Recai Hallaç delivered a lively reading from one chapter of the new book. It deals with concept of time, how it is seen comparatively in Germany and in Turkey. When Dündar was scheduled to appear for an official meeting with a German residence registration office, he was told to come at 1:18 – not 1:00 or 1:15, but 1:18. From there the author develops the implications of such precision with delightful humor — that, of course, you cannot be five minutes late, for example — and contrasts this with Turkey, where the day is measured in other intervals, it starts at daybreak and ends at sunset, and so on.
The discussion, which was organized in an informal interview format, quickly became serious. Schröder introduced his guest, who was born in 1961 in Ankara, studied political science there and in London, and is a writer and journalist, formerly editor in chief of
Cumhuriyet.
A critical observer of the government, he published a report in 2015 on weapons delivered by the Turkish secret services to terrorists in Syria, a report that Erdogan vehemently denied. Erdogan took it as a personal issue and had him jailed. Following a decision by the Constitutional Court, he was allowed to travel and left Turkey in 2016, but alone, since his wife is not allowed out. He has been threatened with death, Schröder said, and the threats are real; as he was leaving the courthouse in Turkey an assailant fired two shots at him. He fortunately missed.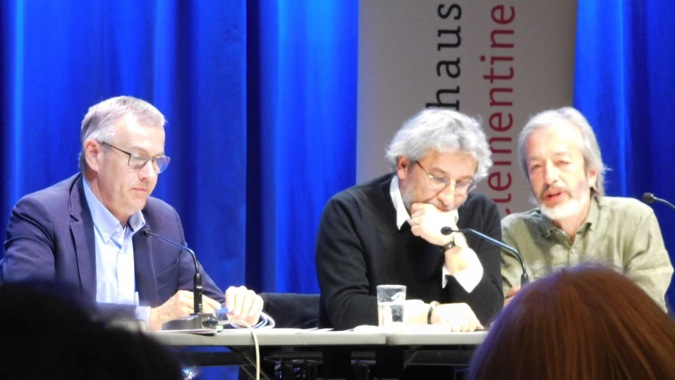 From left, Stefan Schröder, Can Dündar and Recai Hallac

Now in Berlin, Dündar explained, he writes for the weekly newspaper Die Zeit, has a website and does television work as well as appearing in public at conferences. Asked whether this meant he could work freely in Germany, he replied, "When my friends and colleagues are in jail, then I am not free." And the extraordinary security measures at the event, which included pre-registration with personal identification as well as on-site security checks, were, Dündar said, part of the price to be paid for writing freely. "But it is not only we critical journalists who are not free," he said, "you are not free either," introducing a concept he would develop further. Considered in this "international dimension," he said, it is a problem for the whole world. When German-Turkish journalist Deniz Yücel was in jail, "was the press free?" he asked, "or in France, when caricaturists can be killed?"
Despite the impossible conditions for journalists in Turkey, he has repeated since he first arrived in Germany that he wants to return home, "but to a democratic Turkey." From Germany, where he considers himself a guest, he is trying to influence events at home. "It is like the 1930s," he said, "when Jews fled Germany and fought from abroad for a democratic Germany."
Though a guest in Germany, he is still being harassed; Turkey has called on Interpol to issue an international arrest warrant, as it did in the case of Dogan Akhanlı, a German-Turkish writer apprehended last summer in Spain. Dündar replied with humor, saying "They love me and they want me back. Erdogan can't live without me. I want to go back too. The problem is, we can't live together." But he said he was not worried, since Germany has also learned more and Interpol has realized that Erdogan tried to turn it into his personal tool. "I am not concerned about my personal situation," he said, "but about my country."
Schröder raised the issue of Turkish leaders campaigning in Germany. This has become a sore point, since Germany is one of the European countries that has refused permission, a move that led Erdogan to accuse Berlin of using "Nazi methods." Dündar said his opinion would come as a surprise. "You all know that I am opposed to Erdogan, he robbed me of my freedom." He had been charged with being a terrorist, a crime that could carry a sentence of two life terms. "Because I published a report," he said; "this is a country where a journalist gets a death sentence for a report he wrote. In Turkey free speech is forbidden." And yet, despite this, he would not object to Erdogan's speaking in Germany. "I am different, I am a democrat and am in favor of letting him speak freely. You are only defeated," he explained, "when you become like your enemy." So let him speak, "but on condition he make no hate speech and on condition that other politicians can also speak," for example, that Kurds be given the same rights.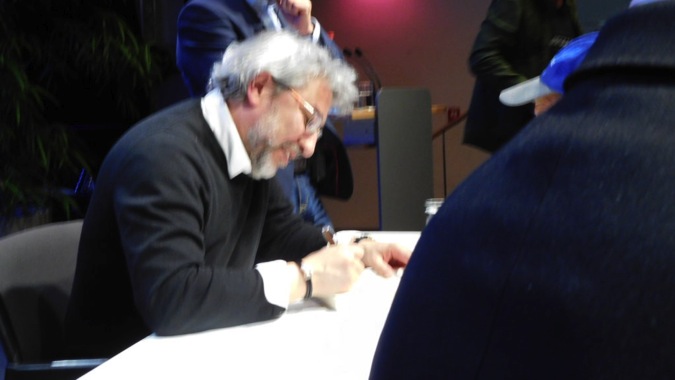 Can Dundar signing copies of his new book

Schröder wanted to know more about the casus belli, asking where the weapons he had reported on actually landed. "It is not clear where the weapons ended up, it was part of a long transportation route," he said. "But they were transported in trucks of the Turkish secret services and they have no right to do that, it is illegal. It is clear also that the weapons went into the hands of Islamists, we don't know which, but Islamists who were fighting the Kurds."
Asked if he could understand why the government considered him a traitor for his report, he answered, he could understand it in the sense that "journalists in Turkey are considered as state employees, like the police," expected to stay in line. "So if they write what they want they are traitors. For me," he concluded, with an implicit reference to the title of his new book, "if I had not reported on the case, I would have been a traitor." (It was chilling to hear that the man who had tried to kill him shouted "traitor" as he fired the shots, and when later interrogated, said he had felt encouraged by the words of some top politician. This was a reference to Erdogan.)

Paying the Price
Schröder wanted to know just how he and other journalists deal with press repression; can you write anything you want, as long as you pay the price? "What I went through was like a honeymoon compared to the others," he said. "Some died in jail, we lost five journalists in Cumhuriyet, who were killed. But in Turkey, if you are a journalist you know what risks you are running." In point of fact, as Schröder commented, there are 150 journalists in jail, seven have died over the last years. "How many would dare to do what you did?"
Again, Dündar's reply came as a shock to some. "I'll tell you something funny," he began. "The biggest problem we have is the pro-government journalists — whether they are journalists or government agents? That's the question." He went on to report on a recent television broadcast where two journalists appeared, discussing his case. "One of them said if I had been in the US, I would have died in an automobile accident, and the other said, 'no, it would be better if the secret service grabbed him and brought him back to Turkey.' This was on television. Well, if you hear about an auto accident," he quipped, "you know it was not true."
For people in Germany, including journalists, it is not easy to imagine what imprisonment involves. Schröder asked, simply, "What was the worst thing in jail?" Dündar always tried to see the positive. "You learn a lot about yourself in jail. I discovered the power of the word, reading and writing — it can save lives." Then, with his characteristic irony, he added, "The positive aspects of life in jail are that you have no cell phone, no TV, it is a kind of digital detox. You can concentrate. A lot of the other prisoners read and write, the jails are full of intellectuals."
The Merkel Question
Dündar has spoken out against the attitude displayed by the European Union in its dealing with Erdogan. Although the last of the periodic progress reports issued by the EU in the context of Turkey's bid for entry, was negative, Dündar had criticized it. The reason, in his view, was that a deal had been struck, whereby the report would be delayed three months, during which time elections were held. The deal also reportedly involved the amount of funds Turkey would receive to finance aid to refugees there. According to taped conversations, in which the negotiations were discussed, Erdogan threatened to flood Europe with refugees if he did not get the sum he wanted. "This is the Europe I criticize," he explained, a Europe that lets itself be blackmailed.
His comments on German Chancellor Angela Merkel were no kinder. Schröder asked what he would advise Merkel to do, if he ever were to have a meeting with her. "It is too late, Ms. Merkel," came the answer. "She visited Turkey 6 or 7 times, probably more than her own electoral district, and has never been so close to any politician as to Erdogan." Dündar regretted that she seemed concerned only with the refugee situation and found it "disconcerting that she never spoke of human rights or press freedom while there. If the Chancellor wants to represent the free world but never says anything about this, how can we trust Europe?" In his view, the Europeans unfortunately have understood the problem with Erdogan only now and "it is too late; they have made too many compromises."
Just the day before the Wiesbaden dialogue took place, three of Dündar's colleagues had been sentenced to lengthy jail terms, and Schröder wanted to know how this affected the press, if indeed it were at all possible to do research and to write under such conditions. Dündar recalled that he had always told students that journalists must be objective. "It wasn't my choice to write those things. It may not be positively viewed when a journalist comes to Germany and becomes a freedom fighter. But I think of it this way: our house is burning, our friends are inside. We can't take pictures and report on it, but either we get the water to put out the fire or we all perish. These are ethical issues. People realize it when they have lost their freedoms. The same is with press freedom, you have to fight for it."