Memoirs of an Armenian in Germany
By Muriel Mirak-Weissbach – Special to the Mirror-Spectator
WIESBADEN, Germany. FEBRUARY 21, 2019 — Lisa Berkian-Abrahamian has always lived with books; she has worked as a librarian, a newspaper editor, translator and author. Born in Armenia, she came to Germany in 1992 to live with her husband, Ara J. Berkian, and after his untimely death in 1994, remained here, carrying on his work and her own. In September 2014 she published a book in Armenian on her husband, which is not only a complete appreciation of Berkian as doctor, engineer, architect and writer, but also contains important material and letters from his archives, pertaining to German-Armenian relations.
In October 2016, she published her Armenian translation of the book in German by her husband, Between the Rhine and the Arax: 900 Years of German-Armenian Relations (Coauthor Enno Meyer)
https://mirrorspectator.com/2016/10/20/friendship-between-the-rhine-and-the-arax/
.
That year, the presentation of the book was a sensation, and well-known Armenian personalities, scientists, writers, journalists, as well as the Armenian Minister of Culture and the German Ambassador were in attendance.
Now a new book of hers has appeared, in Armenian, titled Verhuschi masunqner (What Remains from Recollections), which is a reflection on her activities over the past quarter century in Germany. It is a personal story, an autobiography, but also the story of an extended family whose history goes back centuries.
"Memories, recollections," she told me, "are like a quiet shadow, that accompanies each of us, we engage in a dialogue with them, often out of the silence comes a cry, we see 'voices' from them and experience how they 'smell and taste.' The vision of these voices, childhood flavors and images are enduring and well preserved. Now I would like to experience them again and tell the tale from this book of life."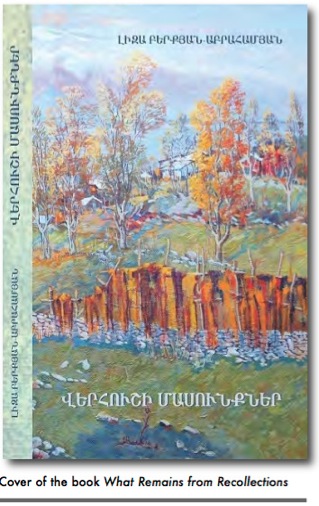 An Ancient Past
Accordingly, the first part of her book presents her birthplace and the people who lived there. She evokes the tastes, smells and voices from her childhood, and then reaches back in time to present her ancestors, parents, her siblings and her husband, before coming to herself.
She was born in 1949 in Gegharot, a small village northwest of Yerevan, just 18 kilometers from Spitak. The ancestral home was in a vast area which archeologists have been digging over the past years, unearthing remains of a civilization that dates back to the 3rd-2nd millennia B.C. In that era, these were holy sites, and the gravestones and ceramics brought to life date from the Bronze age. In 1998 a group of archaeologists in an Armenian-American team, under the direction of archaeologist Dr. Ruben Badalyan and the US scientist Adam Smith, supervised the diggings there for three months. In 1828 after the Russian-Persian war, her ancestors moved to there, to Keshishkend and together with other families founded a new village there, known as Gegharot since 1936. Others later joined these families and the village grew.
The place where she was born was small and the local school, which went up only to the 8th grade, was limited in what it could offer. She remembers with fondness her literature teacher Mr. Vardanyan, who encouraged her to pursue study in this area. To attend 9th grade she had to go to Vanadzor, and 10th grade was in Alagyaz. There were no teachers or courses in foreign languages, so instead of literature she nourished her fascination with books by training to become a librarian. She studied at the Pedagogical Institute in Yerevan and the Baku party college, in Azerbaijan. Upon completing her education, she worked as the director of the Gegharot library, and entered journalism. She became the department head of the Aragadz newspaper, then editor in chief, as well as department head of the propaganda department of the Armenian Communist Party District Committee in Aragadz.
Encounters with Personalities
The second part of her book contains accounts of meetings she had along the way, encounters with famous personalities, among them writers and artists, like William Saroyan and Maryam Aslamazyan. Among the many other personalities she met and who appear in her book are the poet Hovaness Shiraz, Sarkissian Karekin I, who was then the Catholicos of all Armenians, actor Sos Sargsyan, writer Hrachya Matewosyan, academician Varazdat Haroutunyan and world class violinist Sergey Khachatryan.
"There were famous personalities in my recollections," she recalls. "The encounters with them were not only like holidays, but they gave me spiritual inspiration. It seems as if they occurred only yesterday, not a year or decade ago. They are not only pages in a diary but deeply rooted images, fond memories that I wanted to look through."
In her book she relates the stories of how she met these figures. William Saroyan for example. It was in 1978, during celebrations to commemorate the 150th anniversary of the end of the Russian-Persian war, which freed Armenia. There was a festive atmosphere at the central event organized in Yerevan, which the famous Armenian writer from America was attending. By pure chance, Lisa Berkian found herself seated next to him and without thinking twice, she asked him for an autograph. "Are you Armenian?" he asked in amazement, incredulous because she had such light blond hair. When she said she was, he wanted to know her name, where she came from, where Gegharot was, and what kind of work she did there. When he learned that she was the editor in chief of Aragadz, he was quite surprised.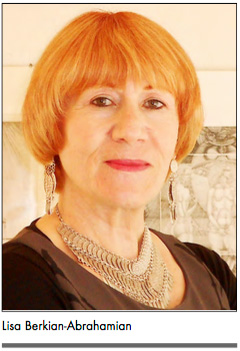 One day she received a phone call from a local party representative who told her that the artist Maryam Aslamazyan was planning a visit to Aragadz to do some portraits, and needed someone to show her around. She readily agreed to accompany the painter on various meetings and invited her to visit her family, who were known for their hospitality. In turn, she later visited Aslamazyan in Moscow and in both places had the opportunity to see some of the portraits she had done depicting individuals from different ethnic communities, among them, Armenians and Yezidis. Lisa herself became the subject of one portrait.
The most decisive encounter was with the man who would become her husband. This came about thanks to the family tradition of an open house, offering warm hospitality to visitors. One day in 1989, a year after the devastating earthquake, she received a call from a friend of hers, Valentin, who was a committee chairman in the party and worked as a guide. He was accompanying a group of people who had come from abroad to provide humanitarian aid to the earthquake victims, in Gyumri, Vanadzor and Spitak. They were looking for a cafe or restaurant, somewhere to stop for a coffee break, but in those days, in that area there was nothing to be found. Valentin asked if they might stop by Lisa's home. She at the time was chairing a support committee for Karabakh. Of course her friend Valentin could bring the foreign visitors to her home. One of the members of the group that arrived was Ara J. Berkian, and it was love at first sight. Berkian returned the following year for a visit, they corresponded for years, and in 1991 she accepted an invitation to visit him in Germany, traveling there together with Valentin's wife. Berkian had studied at the American University of Beirut and gone to Germany to complete his graduate work at Darmstadt. In 1992 they married and she has lived in Wiesbaden ever since.
How could she know that her destiny would take her to Germany? To Wiesbaden? Her father and some colleagues have said that her punctuality and discipline were typically German, so it must have been God or destiny that led her to this country. In her book she recounts the main episodes of her years here, how she managed, after the death of her husband, her "only anchor" in Germany, to remain standing on her own in this foreign land, and to keep on going, learning German, working at a job again, and making it possible to help her siblings and needy people in Gegharot. From 1997 to 2015 she was employed at the Wiesbaden city library, also as a specialist for media and information technology, until her retirement.
The book includes some of her own articles as well as an interview and articles about her. In recent years she has turned to writing, and has published these three volumes. Throughout these twenty-seven years of her life, "with springtime and summer," she said, "fall and winter, sadness, loneliness, there have been shining days" as well as longing for return to the homeland. She always thought about returning, and her husband had promised her that they would return after three years. But he passed away before that and her return has been delayed ever since.
And yet, with her newest book, Lisa Berkian-Abrahamian has in a certain sense returned; she has brought back the memories of her own life, and reconstructed the history of her ancestors, thus providing the background for her own literary achievements.
A brief comment appears on the book cover flap, written by the person who first inspired her love for literature. It reads: "Lisa Abrahamian is a good storyteller. A talent that not everyone possesses. A great merit. Her tale rejoices in the tender appreciation of nature. The book is furnished with an epic poem, and the reader will read it with interest.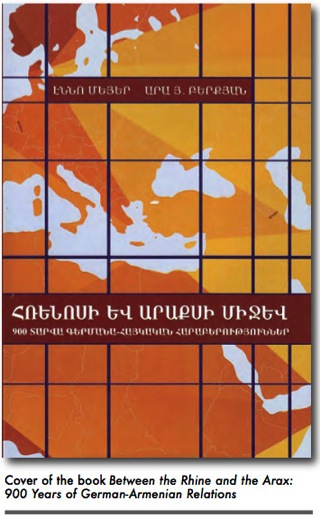 The people and things in the book are as interesting as they are in real life. Some pages I read (actually very many) were alluring, like those love stories I used to read in my youth. The language of such pages, especially those dealing with Lisa's ideas, is sparkling and rich. I am happy that I had such a pupil in my teaching days," writes Prof. Xatchatur Vardanyan.