Armenian Musician Emmanuel Tjeknavorian Celebrated in Germany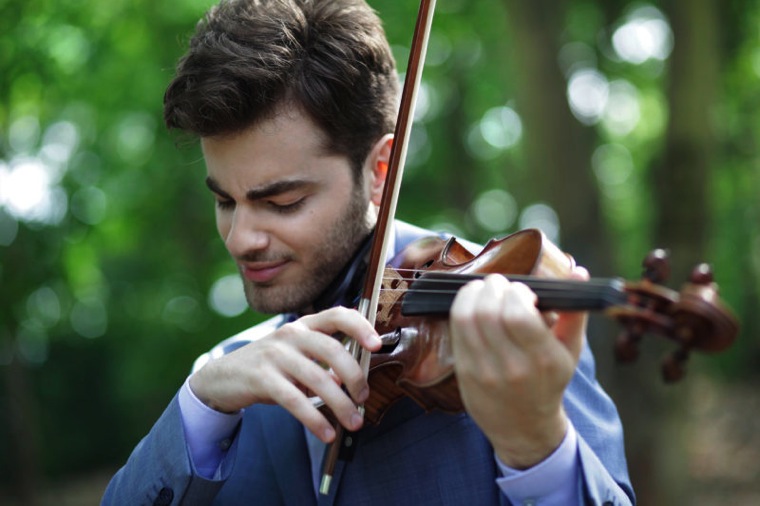 by Muriel Mirak-Weissbach
RHEINGAU, Germany – Among the many special cultural events held in Germany during the summer, the Rheingau Music Festival is perhaps the most famous, not only for its location in the magnificent castles and basilicas of the Rhine valley, but also for the world class performers it invites. Among them this year is the 22-year-old exceptional violinist Emmanuel Tjeknavorian.
For HR2Kultur, the regional Hesse cultural radio, "He makes the violin glow," and is "one of the highlights of the Rheingau Music festival so far." That was on July 19, the day after his concert in the Johannisberg Castle, where he was joined on the piano by Maximilian Kromer. At the conclusion of the performance, he was formally presented the LOTTO prize by the festival's artistic director Michael Hermann. The LOTTO prize, which includes €15,000, is awarded annually to an extraordinary young talent who has performed at the festival. Tjeknavorian won it for a concert in 2016. The jury selected him for his "brilliant technique and his incredible sense of interpretative subtleties" and noted that "so much naturalness, sympathetic charisma and pleasant modesty coupled with a great virtuosity are rarely experienced with a great musician."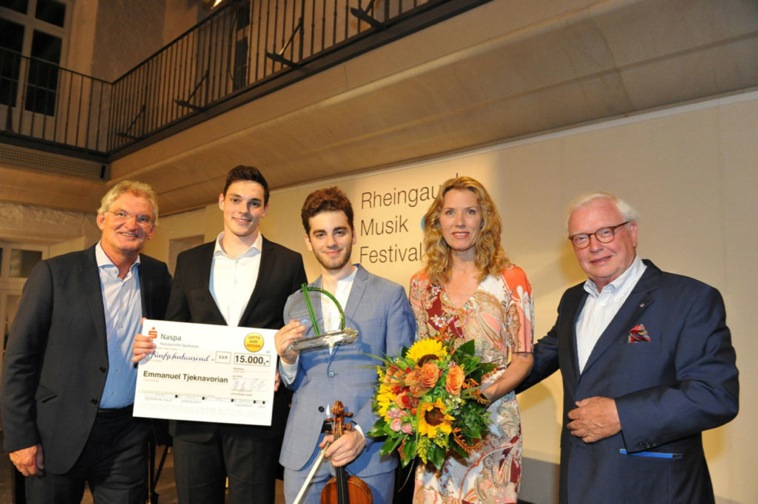 From left, Dr. Heinz-Georg Sundermann, Maximilian Kromer, Emmanuel Tjeknavorian, Franziska Reichenbacher, Michael Herrmann (Photo: © Ansgar Klostermann)
The works selected for this year's concert, as Tjeknavorian described in the brochure, all express the spirit of friendship, the motto of the festival. The three romances by Clara Schumann were composed and dedicated in friendship to Joseph Joachim, and the FAE Sonata "was a present from his closest friends Johannes Brahms, Albert Dietrich and Robert Schumann." It was Joachim who arranged the Hungarian dances by Brahms for violin and piano. The second part of the program featured Eugene Ysaye, with a sonata he composed for violin solo, and a sonata he received as a wedding present from Cesar Franck. "Last but not least," he concluded, "my close friendship to my longstanding duo partner Maximilian Kromer is of special significance on this extraordinary concert evening."
A Rising Star in Europe
The young violinist has already performed in the most renowned concert halls in Europe, including the Berlin Philharmonic, where he appeared with the Berlin Symphony Orchestra, in a series called Debüt im Deutschlandfunk Kultur, the same series where Daniel Barenboim, Jessaye Norman and Simon Rattle had made their debuts before him. He performed the Sibelius violin concerto. He also appeared in the spectacular new Hamburg Elbphilharmonie in January of this year, as well as in Cologne and Dortmund. In Vienna's Konzerthaus in April, he stepped in for David Garrett, who was ill.
The Beare's International Violin Society, a private foundation, made a Stradivari available to him two years ago and he has been performing on this historic instrument since then. In a television interview at the beginning of August, he said, "The thought fascinated me: this violin was built in 1698, when Mozart had not composed anything, Beethoven had not yet thought about his violin concerto and the architects had not conceived the Elbphilharmonie, and yet I pick up my violin and enter such a huge concert hall and it sounds."
A Family of Musicians
Tjeknavorian's parents are both professional musicians, and the story goes that his mother did not want him to follow in their footsteps. But at the tender age of two, he was already on stage, pretending to conduct, together with his father, the famous composer and conductor Loris Haykasi Tjeknavorian. When he was five, he asked for a violin as a present and two years later made his debut, accompanied on the piano by his mother. Since 2011 he has been studying with Gerhard Schulz, formerly of the Alban Berg Quartett at the University for Music and Performing Arts in Vienna, where he was born. He studied in Armenia, under Petros Haykazyan, and has experience also with the Russian school.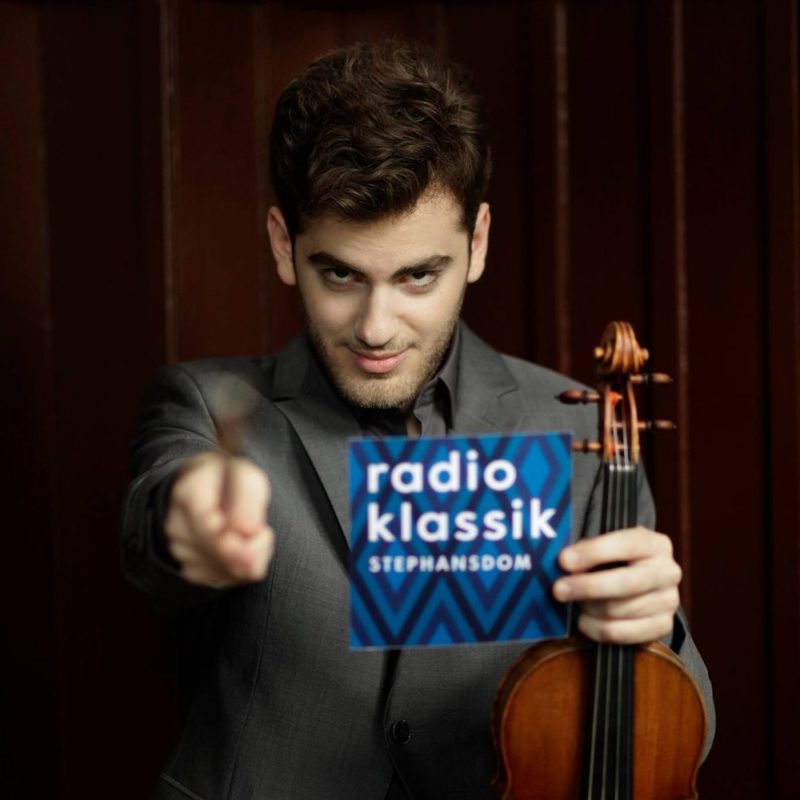 Emmanuel Tjeknavorian
His paternal grandfather was from Eastern Armenia and his grandmother, from Western Armenia, whence she fled in 1915. His father Loris started on the violin at the age of eight and began to compose as a child. He studied at the Vienna Academy of Music and spent many years in Iran. In 1989 after the earthquake, he went to Armenia to help rebuild cultural life, in Gyumri and other cities. He served for 11 years as musical director of the Armenian Philharmonic Orchestra in Yerevan, and has composed many operas, symphonies, choral works as well as pieces for piano and voice. A number of his major works develop themes from Persian litertaure.
The young Emmanuel takes after his parents, not only as a musician but as a person conversant with several different cultures. As he put it in the television interview, "One or two years ago I thought it was not all that important, whether I came from Armenia, or was educated in Vienna, but at the moment – I don't know about later – now I think these components are so important: that I know Armenian, that I can read Russian literature in the original; and my feelings are especially strong when I play Armenian music, for example."
Though still very young, he displays a rare technical mastery. He has compared the importance of technique in music and soccer, a favorite sport, where utmost precision in making a pass on the playing field is crucial, too. "Music is 99 percent hard work and technique, and one percent inspiration, and that comes from the Creator," he is quoted as saying. "If one has the technique, one can work with more intensity."
In addition to his concert activity, Tjeknavorian has released his first CD, entitled "SOLO," and hosts a monthly show on "radio klassik Stephansdom" in Vienna. Germans will have a chance to hear more of his music in person, as he has been engaged for three years to participate in a concert series in Dortmund, dubbed Young and Wild, beginning in the 2018/2019 season.
(Sources: "Tjek it out!" by Helge Birkelbach, Nov. 25, 2017, Concerti; ARD, German national television, July 1, 2018, Lutz Pehnert; Rheingau Musik Festival, Program, from July 23 to September 1, 2018; Wikipedia Loris Teknavorian; www.emmanueltjeknavorian.com)