Armenia and Germany Celebrate Quarter Century of Diplomatic Ties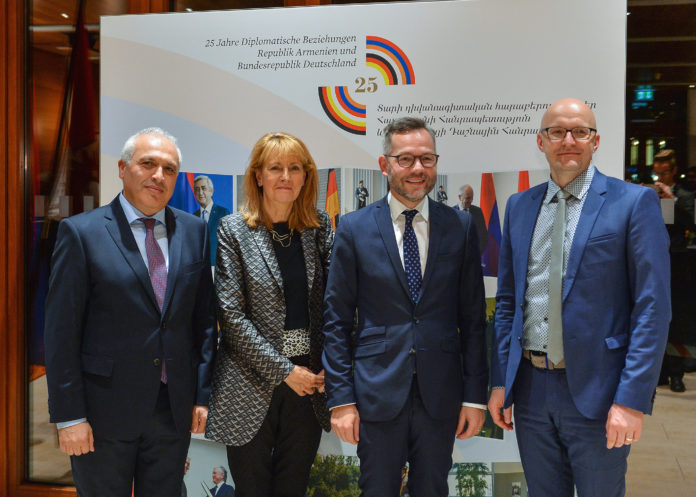 Ambassador Ashot Smbatyan, Bundestag Vice President Edelgard Bulmahn, minister of State Roth from the AA, head of the state chancellery of Brandenburg Thomas Kralinski

by Muriel Mirak-Weissbach – OCTOBER 12, 2017

BERLIN — What a night for a party!

Though not of the same magnitude as the hurricanes that recently ravaged several states and Puerto Rico, the storm winds and rain that swept across northern Germany on October 5 were hefty enough to interrupt all rail transportation into Berlin and to paralyze subway and streetcar traffic in the nation's capital. As I was one of the many hundreds of people stranded by the storm, I unfortunately could not reach Berlin and, sadly, missed the festivities at the Brandenburg Federal State Agency there to celebrate 25 years of diplomatic relations between the Republic of Armenia and Germany. But the storm did not dampen spirits at the gathering.
By all accounts, it was a wonderful celebration. Ambassador Ashot Smbatyan, who together with Brandenburg's Minister-President Dr. Dietmar Woidke, hosted the ceremony, welcomed the numerous guests for an evening of celebration, reflection and anticipation of future developments. Music and art framed the event, along with a fine cuisine.
"Twenty-five years ago the Republic of Armenia and the Federal Republic of Germany established diplomatic relations — again," said Rosa Eisen in her program notes. "Again," because the two countries had in fact had relations in the brief period between 1918 and 1920, of the Armenian Republic. The first Armenian ambassador to Germany during those two years, she explained, was James Greenfield. Then, in the wake of the October Revolution and the establishment of the Soviet Union, a new era began. In 1992, following independence, Armenia therefore re-established these, among many other, bilateral relations.
A Quarter Century of Shared History
Eisen is a most appropriate person to talk about this history, because, as she recounted, "I am also a former Soviet citizen," one who was raised in that culture but has lived in Germany for the past quarter century. As an artist, she has documented that history in photography, and opened an exhibition of her works there in the halls of the governments of Brandenburg and Mecklenburg-Vorpommern, which runs until October 15. Among the historic photographs on display are those showing the two foreign ministers who signed the documents for renewed relations in 1992, Hans-Dietrich Genscher and Raffi Hovhannisyan. Other familiar faces caught by her camera were those of Helmut Kohl and the late Catholicos of All Armenians Karekin I, Levon Ter-Petrosian, Joachim Gauck and Serzh Sargsyan, Robert Kocharian, Edward Nalbandian, Norbert Lammert and others. One particularly significant photo shows Kohl with the Catholicos, another captures the historic day when the Bundestag adopted a resolution to recognize the Armenian Genocide, in June 2016. She has documented the histories of the two countries in photographs of historic buildings as well as typical landscapes with ancient churches and mountain ranges.
Armenia's Experience
Following greetings by the head of the State Chancellery, Secretary Thomas Kralinski, Ambassador Smbatyan spoke. He opened his remarks with thanks to all for having accepted the joint invitation issued together with the Brandenburg State representative. Special greetings went to Kralinski, Bundestag Vice-president Bulmahn, State Minister for Europe Michael Roth, representing the German foreign ministry, and all other diplomats, parliamentarians and government representatives.
Recalling the day of Armenia's independence on September 21, 1991, he said that marked the opening of one new chapter in Armenia's history; "we seized the historic opportunity," he said, "and began with the construction of a democratic, free and just society and statehood."
And despite the "economic difficulties and those in almost every branch of civil society life, one thing is clear: all Armenians, regardless of where destiny has sent them, are happy that the homeland now is a free and independent country."
That said, he ventured to discuss the difficulties facing Armenia in its immediate neighborhood. Regarding security, which is a priority for every state, he declared that "the notion that our neighbors Azerbaijan and Turkey might force Armenia to its knees through their 26-year-long blockade is doomed to failure."
Recollecting the official signing of diplomatic relations between then Foreign Ministers Genscher and Hovhannisyan, Smbatyan said, Armenia places "an extraordinary priority" on cooperation with Germany, and listed several cornerstones: political relations are nurtured through high level visits and contacts in all capacities, including political dialogue between the two parliaments, which contributes to further democratic development. He expressed thanks to Germany for bringing Armenia closer to the EU in the context of the Eastern Partnership (EaP).
Addressing a central problem, the Ambassador raised the issue of Karabakh (Artsakh), "which urgently requires a peaceful solution," one that is acceptable to those living there. Here thanks were due to Germany in its capacity as co-chair of the Minsk Group of the Organization for Security and Cooperation in Europe (OSCE). If Germany has been a reliable political partner, it has become crucial also in economic relations as the most important trade partner in the EU, and has provided technical as well as financial support for infrastructure development. He called for increasing trade relations also through direct investment. Scientific cooperation is also growing, with support for young scientists by German foundations, for example, the German Academic Exchange Service (DAAD). Among the 25 examples of collaboration at the level of higher education, Smbatyan singled out the partnership between the Martin-Luther-Universität in Halle-Wittenberg, which houses the Mesrop Center and Chair for Armenian Studies, and the Yerevan State University. Smbatyan then turned his attention to the Armenian diaspora, which was very well represented at the event, and praised the contribution of the "artists, musicians, doctors, lawyers, businessmen, tradesmen and others" who have helped build Germany and also transmitted knowledge of Armenian art and culture here. He mentioned the "Armenian Cultural Days" organized in several cities and especially praised the initiative of the German-Armenian Society for having built a stone-cross (Khachkar) in commemoration of the genocide victims.
Five Wishes from Germany
Concluding with personal thanks to the "quiet diplomats" who organized the evening's program, he gave the floor to State Minister for Europe, Michael Roth, who picked up and developed several of his themes, from the German standpoint. If in a marriage, he said, after 25 years one celebrates a silver wedding anniversary, then "reflecting back on 1,000 years of history, we can see there was also a German-Armenian wedding!" This was the marriage in 972 in Rome between Otto II of Saxony and Theophanu Sklerina, the niece of the Byzantine Emperor Johannes I. Tzimiskes, who was Armenian. And referring to the photography exhibition, he noted that the "good relations between Armenia and Germany are by no means only the work of politicians and diplomats; above all they are thanks to the many citizens of both lands."
"On the occasion of a jubilee," Roth said, "one is allowed to express a wish. Therefore today we do not want to look into the past but to cast our gaze to the future." There are five wishes that he shared with the guests. First was his wish "for all Armenians to live in peace and security." Germany, he said, supports negotiations for a durable solution to the Artsakh crisis, and such a solution requires the efforts of all social forces, not only of governments. Here he pointed to the massive potential for regional development through cooperation, and, citing the example of Sayat Novat as someone at home in the whole region, he said he "wished a new Sayat Novat might travel the entire region and contribute to the rapprochement of all its peoples and lands."
His second wish was for Armenians to live in a state committed to democracy and the rule of law. Germany is the second largest bilateral donor after the EU (and before the USA), and has participated in cooperative political development; however, he added, there is much room for further joint activity on the basis of the shared principles of justice, democracy, press freedom and human rights. He highlighted the "impressive achievement" by Armenia in the refugee crisis, as it has welcomed 20,000 Syrian refugees.
Thirdly, Roth said he hopes that the partnership between Armenia and the EU will further grow, and fourthly, that cooperation in education will be expanded. Here he noted that the DAAD, which supports Armenian students, has granted them 64 scholarships this year. In addition he noted with pride that more than 30,000 young Armenians are studying the German language in the current academic year.
Roth concluded with a wish for reconciliation between Armenia and Turkey. Here he mentioned a project for dialogue sponsored by the German foreign ministry, known as "Common Remembrance, Future Relations," a project that brings together members of the younger generation from Germany, Israel, France, Turkey and Armenia. Roth has in fact assumed the patronage for this project.
As no Armenian or German festivity could take place without music, the participants were treated to a performance by Koryun Asatryan (saxophone) and Enrique Ugarte (accordion), who played Golden Khassene, traditional Klezmer music, Aram Khachaturian's Sabre Dance and Vittorio Monti's Csárdás. Asatryan, who studied in Yerevan and Cologne, and Ugarte, who comes from the Basque region and has studied in Munich, are both prize-winning musicians with concert experience in Europe and a promising career ahead.
Bilateral relations are not always easy going, especially in our turbulent times. But ties between Armenians and Germans, governments and peoples, politically and culturally, have endured and prospered, developing into a strong partnership and friendship. Whatever tempests might be on the horizon, like the one raging through Berlin that night, the German-Armenian relationship has shown it can weather the storm.