A Special Light Shines through Art
By Muriel Mirak-Weissbach
Special to the Mirror-Spectator – AUGUST 18, 2016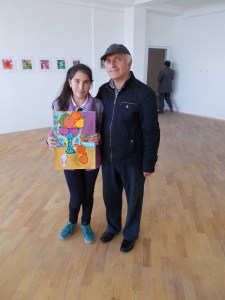 GUMRI, Armenia — When artist Hakob Hovhannisyan returned to Armenia in 2008, after having lived and worked for years in St. Petersburg, he started looking for a place near his native Gumri to set up his studio. Among the many locations he surveyed was Gusanagyugh, a small village about 20 kilometers outside Gumri. It was the particular quality of light that fascinated him; in the morning hours it had one color and mood, at noon, quite another, and as afternoon faded into evening, further nuances emerged and the properties of light underwent further mutations. Convinced that this was where he had to settle, he found a small house that served as both home and studio: a kitchenette, one sitting room with a bed, heated by a small wood-fired stove, and a second room, his atelier, full of paintings.
To paint outside in the magnificent natural surroundings, he would pack his painting materials into a cart, equipped with an umbrella (in case of rain) and a large case containing his paints and brushes. Hauling the cart by its long handle, Hovhannisyan would venture out into the vast countryside, select a landscape, place a canvas on his easel and begin to paint. No sooner had he traced a few brush strokes than he noticed he was no longer alone. By ones and twos, then in swarms, children would approach and surround the painter, awestruck by what was the magic of creativity. With wide eyes and gaping mouths, they would stand or sit and stare, following every magic stroke of the brush with fascination. They considered him a miracle maker.
For the outdoor artist, who soon became known as the "hunter of the last light," it was obvious that the children should have the chance to paint themselves. Through discussion with the local village school authorities and an initiative called "Gallery 25," an art class came into being, and was officially opened on March 1, 2013. The secondary school, with eight grades, now also offers music and dance classes to the local children.
The classroom for art lessons on the first floor is spacious, its large windows let in a flood of light — in all its fascinating variations. Paintings fill the walls and easels, with subjects ranging from everyday events — mother ironing clothes or baking lavash, children playing soccer, girls playing with kittens — to reminders of the political social reality — men in military uniform patrolling the border area, scenes with the Armenian flag flying — to illustrations of fairy tales or folklore events, like the fire dancing. Hovhannisyan never tells his pupils what to paint, or how to paint, but rather shows them the basics and urges them to paint what they have in mind, what they know from daily life or what they can imagine. The school places great value on the education and maintenance of the child's individuality. Judging from the high quality and considerable quantity of works produced, the children have no lack of creative imagination.
These children also have the opportunity to create and expand their own world through visits to art galleries, museums and other cultural centers. They come into contact with the works of well known artists thanks to films and stories. Master classes are available, and the pupils have the chance to meet extraordinary personalities, also through excursions and hike in Gusanagyugh and other interesting locations.
Following the example of the man who inspired the children, the "Suns of Gusana" program enables them to paint outdoors as well. In the village itself there is a wealth of archeological remains which may provide inspiration. Based on the remains discovered there, it is thought that the village dates back to the first century, and a small castle shows that it was once a royal residence. Two castles originate in the Urartian period, one of them known as Akayablur. There are numerous ancient graves, traces of gigantic buildings, the Church of St. Astvatsatsin from the 11th century and other monuments.
The village takes its name from the bard Nakhshikar Sargis, who once resided there. In fact, the word "gusan" means bard or minstrel in Armenian. (Minstrels in ancient and medieval times were musicians who composed and performed their own poems and songs, very similar to troubadours in the European tradition.) So it is appropriate that the children can also learn to perform music and to dance at the village school.
The promoters of the initiative, Gallery 25, are based in Gumri at the Berlin Hotel, which hosts art exhibitions. Their mission is to uphold the principles of artistic and intellectual freedom, through support for local and international artists and for cultural education. They stress that "Suns of Gusana"  represents the brightest spot in the village. Though located in a tiny remote village, with a population of little over 1,000, the pupils are making themselves known well beyond the borders of Armenia, as their works have been exhibited not only locally but also in Japan, Austria and Germany. Gusanagyugh is not only tiny and remote, it is dirt poor. Like other localities in Shirak, it was devastated by the earthquake in 1988. Much has been rebuilt, but a certain sadness hangs in the air. This is due not only to the modest housing but also to the military presence at the nearby Turkish borde. Truly, the art school project has brought many new suns into the sky, providing not only that very special kind of light, but also human warmth and the light of hope in a better future for Gusanagyugh's fascinated, diligent, talented children.