Armenia's Cultural Ambassadors Celebrate with Music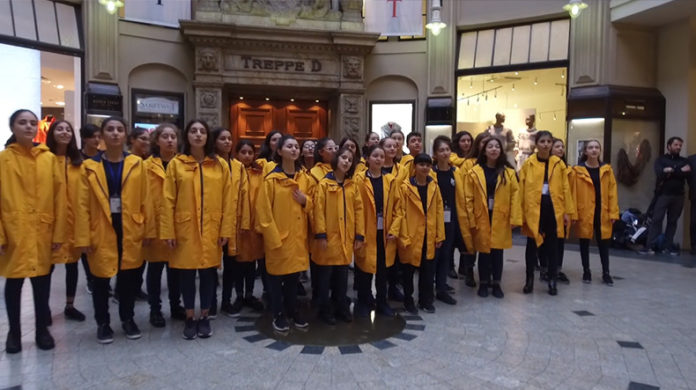 by Muriel Mirak-Weissbach
BERLIN, OCTOBER 10, 2019 — It was the 28th anniversary of independence for the Republic of Armenia and the 150th birthday of national composer and musician Komitas Vardapet. To celebrate, the Little Singers of Armenia, a world class children's choir, travelled to Lithuania and Germany, performing in some of Europe's most famous concert halls. In Lithuania they appeared at the 700-year-old castle on Trakai island, at the Church of St. Francis in Kaunas and in the Culture House in Vilnius. The church of St. Catherine in Vilnius hosted a gala concert, attended by representatives of the diplomatic corps, statesmen and cultural figures. At the conclusion, they joined with the Lithuanian choirs Azholukas and Ugniale to perform Erebuni-Yerevan composed by E. Hovhannisyan.
On September 25, they were at the center of national day celebrations in Berlin, hosted by Ambassador Ashot Smbatyan. Performing in the Berlin Concert House, they offered classical music by Armenian and foreign composers, with Komitas at the center. And on September 29, they sang in the Gewandhaus concert hall in historic Leipzig, followed by an appearance in Halle. (In Leipzig, they also staged a flash mob on September 28 in the Mädler Passage trade center, singing Armenian national songs.)
Founded in 1992, the Little Singers of Armenia are, in the words of Smbatyan, "the cultural ambassadors of Armenia who have their special role in our rich cultural heritage." The youngsters, between the ages of 11 and 16, represent a new generation, he said; born during these years of independence, they guarantee a bright future for the country.
Michael Roth, Minister of State at the German Federal Foreign Office, opened the gala concert with a speech highlighting the role of culture in German-Armenian relations. Speaking on behalf of the German government, he delivered his "sincere congratulations to all Armenians" on the anniversary. He quoted an Armenian proverb, to the effect that "mountains do not provide mutual support, but people do. And just as individuals lean and rely on each other, entire societies do the exact same thing." Citing this proverb as a "fitting reflection" of relations between Germany and Armenia, he expressed his gratitude for the cooperation that has grown over the past 27 years, "based not only on the commitment of our governments and politicians but, above all, on the effort of our civil societies, academia, cultural sectors and business communities." This includes German development cooperation as well.
Germans followed the Velvet Revolution, he said, "with great interest and admiration for the peaceful campaign conducted by a vibrant and diverse civil society." The political dialogue between Berlin and Yerevan then grew in intensity, as marked by Chancellor Angela Merkel's visit to Armenia in August 2018 and the visits to Berlin by the Armenian President and Prime Minister, in November 2018 and February 2019, respectively.
Although Germany is committed to developing this relationship, Roth said, "political dialogue alone is not enough. Culture, education and academia are key pillars of our bilateral relations." Here he pointed to the Goethe-Zentrum in Yerevan as a "popular showcase" for Germany, its language and culture. In its Cultural Preservation Program, the center has funded a project to document prehistoric petroglyphs as well as to restore and digitize manuscripts in the Matenadaran.
Study of German as a foreign language, which is third in Armenia after English and French, is an important factor in education there, and through the support of the German Academic Exchange Service, Roth said, "several hundred Armenians study at German institutions each semester." The Alexander von Humboldt Foundation, established in 1953, has awarded Armenian academics with scholarships or prizes on 36 occasions. And there are 42 agreements for cooperation between research institutes and universities in the two countries.
Turning to politics, Roth pointed to the Comprehensive and Enhanced Partnership Agreement, recently ratified by Germany, as a sign of Armenia's closer relations with the European Union. This year, he added, "we are celebrating the tenth anniversary of the Eastern Partnership, which brought Armenia and five other Eastern European neighbors closer to the EU as well as to each other." Within this framework, Armenia benefits from a program funded by the Bundestag (Parliament), the Expanding Cooperation with Civil Society in the Eastern Partnership Countries and Russia. Exchange programs for youth organizations will receive funding through this mechanism this year, he added.
Germany, Roth continued, "as a member of the Minsk Group is supporting mediation efforts of the co-chairs in the Nagorno-Karabakh conflict." And he voiced optimism that within this framework, "A peaceful solution to the conflict … is possible!" To this end, he urged all sides to be open to compromise, expressing his hope "that credible and committed diplomatic efforts will lead to a lasting rapprochement and that the way will finally be paved for serious negotiations."
In conclusion, Roth turned to his host and picked up his main theme: "Ambassador: Music — rather than speeches — is center stage this evening. How delightful! Culture is not the cherry on the cake, but the yeast in the dough. The concert by the Little Singers of Armenia is a wonderful advertisement for Armenia as a nation of culture, which is being shaped and further developed by young people." He concluded with rousing words: "Congratulations, Armenia! Long live the German-Armenian friendship! Long live a Europe of peace, democracy and freedom!"
(Sources: www.myyerevan.am, German Foreign Ministry: www.auswaertiges-amt.de September 25, Translation of advance text)