Art Inspires Artists
Young Eugenia sculpts a dinosaur.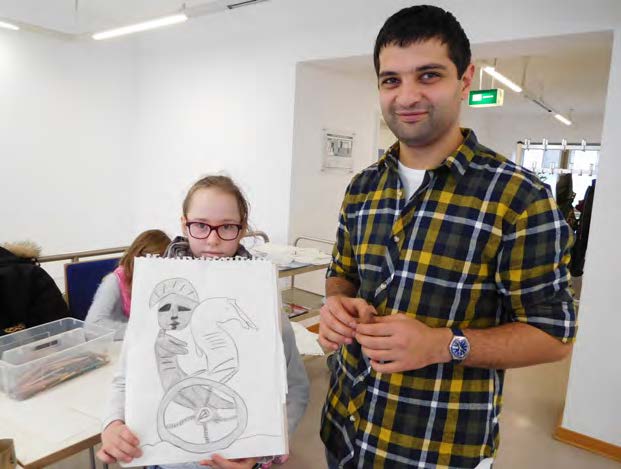 A young artist inspired by Arman Hambardzumyan's sculpture "Hector"
By Muriel Mirak-Weissbach – Special to the Mirror-Spectator – DECEMBER 15, 2016
WIESBADEN, Germany — If you have ever visited any of the world's greatest art museums, like the Uffizi in Florence, the Pergamon in Berlin or the National Museum in Cairo, you have probably encountered young art students squatting on the floor or leaning against a pillar, with sketchpad and pencil in hand. Rapt in total concentration, they are carefully reproducing in their own strokes the contours of a Raphael Madonna, or the regal profile of an Assyrian leader or a floral motif on papyrus. Not only museums, also the ateliers of great artists have served as the workshops for young artists to learn the techniques of painting and sculpture. By studying and copying the earlier masterpieces, young artists develop the knowledge and find the inspiration for their own creations. The same principle has animated a series of workshops at the Haus der Heimat (Homeland House), in Wiesbaden, Germany, in the context of a month-long exhibition of works by six Armenian artists. The show, titled "Melody of Color," on which I reported last week ("Portraits of the Artists as Young Men," December 10, Armenian Mirror-Spectator), opened on November 25 and runs until December 23. On weekends, the four artists who were able to travel to Germany personally have been on hand to run workshops offered free of charge to any children interested. Every Saturday, dozens of children have come in, some as young as 3 or 4 accompanied by parents, others in their early teens. With materials available for painting, drawing and modeling, they have been discovering the joys of creative artistic activity. There are no rules or directions given, Zhora Gasparyan, one of the exhibitors, explained. "When they are this age, 4, 5 or 6 he said, "you just give them some crayons and papers and let them loose." Later, "when they may be students at the Academy of Fine Arts," he went on, "then it makes sense to offer formal instruction, in master classes, for example." But for the youngest, that is not necessary. "Just let them express themselves," he said. Realism and the Abstract In the large room where the children were gathered around a table to draw or make clay figures, Gasparyan gave me a brief tour of the paintings on display done by those two colleagues who had not been able to come to Germany. The works could not have been more diverse. First we saw canvases by Hovhannes Hakobyan, from Vagharshapat, all very abstract paintings, striking in their boldness. "He simply paints what he feels," Gasparyan said, "for example, his reaction to hearing music," and he pointed to a canvas entitled "Jazz." Hakobyan, like the others, studied at the Yerevan State Academy of Fine Arts, and has exhibited both in Armenia and abroad. On another wall hang paintings by Ruben Grigoryan, from Nor Geghi. "He is a more traditional artist," Gasparyan said, referring both to subject matter and technique. His landscapes include a majestic "Apricot Tree," whose fruits and leaves sparkle with vibrant oranges and yellows in the hot Armenian sun. After study at the Yerevan State Art College P. Terlemezyan, Grigoryan earned his bachelor's degree in painting at the Academy of Fine Arts. He has presented his works alone and in numerous group exhibitions in Armenia and Russia. Learning from the Masters For the children in the workshops, these were only a few of the 65 art objects they could look to for inspiration. For example, one young girl had been impressed by the sculpture entitled "Hector," a magnificent bronze by Arman Hambardzumyan, and had produced a convincing likeness in a pencil drawing. The young sculptor Hambardzumyan also worked with the children, modeling a dinosaur, for example, out of simple clay. Eugenia, a sixth-grader, decided to try her hand at a dinosaur and came up with an extremely credible beast. She went on to fashion a dolphin as well as a couple of more dinosaurs. Another child, this one much younger, was fascinated by these creatures coming into being right in front of her eyes, and took up pencil and crayons to draw her own portrait of the dinosaur. Downstairs, where the glass-enclosed sculptures were on display, two young girls were busy drawing another of Hambardzumyan's works, entitled "Birth of the Bird," whose oval shaped body underlines the fact that, as the sculptor said, everything starts from an egg. Vera Maier, who has directed the Haus der Heimat for years, marveled at the ability of very young children to learn so quickly, recalling that Guy Ghazanchyan, one of the four visiting artists, had himself taken part in such activities here when still a tot. Another active member of the community is Nora Gabrielyan, an Armenian poetess and artist who has illustrated her own poems. An energetic supporter of these and other projects for youngsters, she explained that the children who have been engaging in the workshops, some of them for many years now, represent the third generation of Germans who had migrated to Russia and who have recently returned with their families. Most of the children know two languages when they arrive here, German and Russian, for example. Depending on their age and experience, some need instruction to maintain or perfect their Russian, which is vital for them to able to communicate with their grandparents, so the Haus der Heimat provides such language instruction on a regular basis. It is thanks to their common knowledge of Russian, in fact, that the children have been able to work with the artists who came here from Armenia. Such bilingual skills are of invaluable help in a child's intellectual development overall, and especially in art and music, which, indeed, are also languages, albeit in other forms. Needless to say, any child who grows up with two languages can easily pick up more. Thus it came as no surprise to learn that Eugenia knows not only Russian and German, but also English and French. Does she want to be an artist, when she grows up? I asked. No, she said, she likes drawing and modeling clay figures, just for fun; but what she really wants to be is a teacher, as her mother was in Belarus.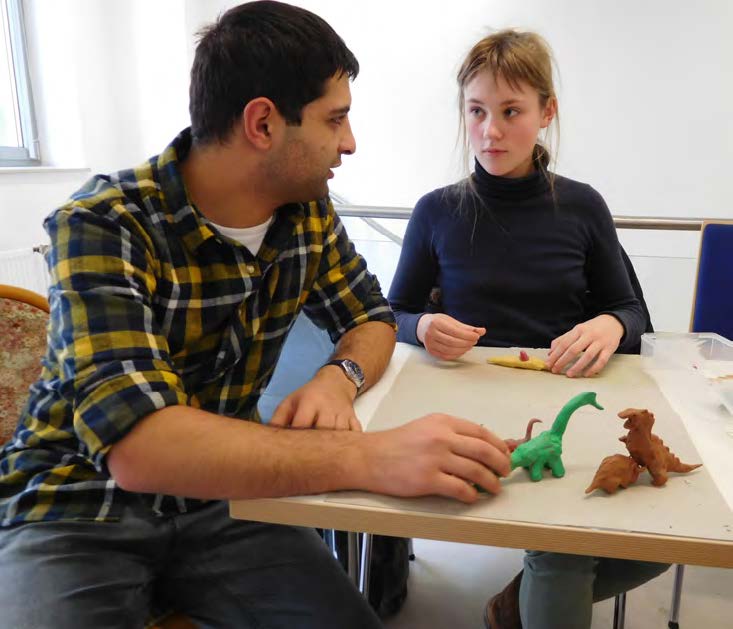 Arman Hambardzumyan and young artist Eugenia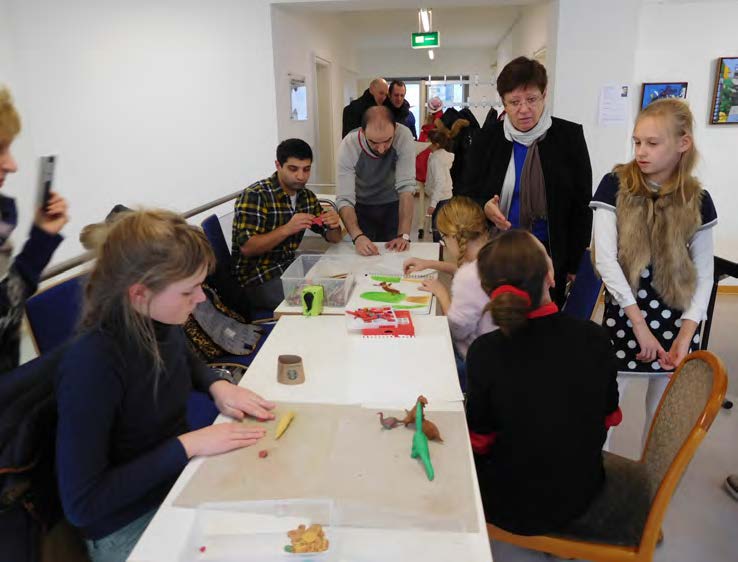 The artists and Vera Maier with their young charges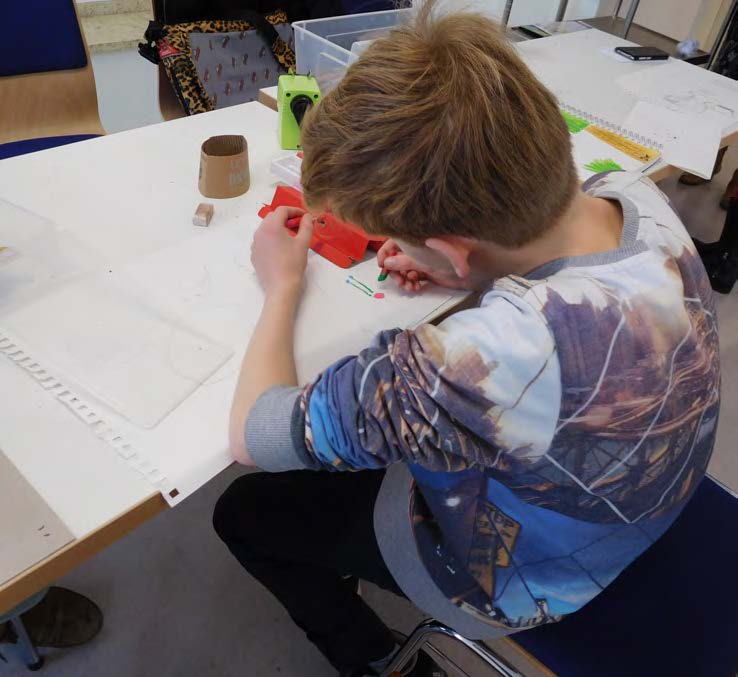 Concentrating on a drawing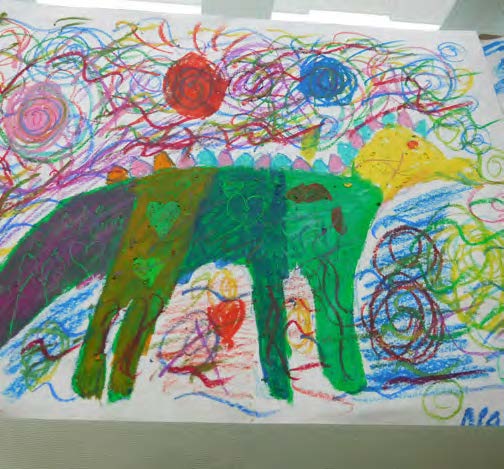 Portrait of a dinosaur



Nona Gabrielyan in workshop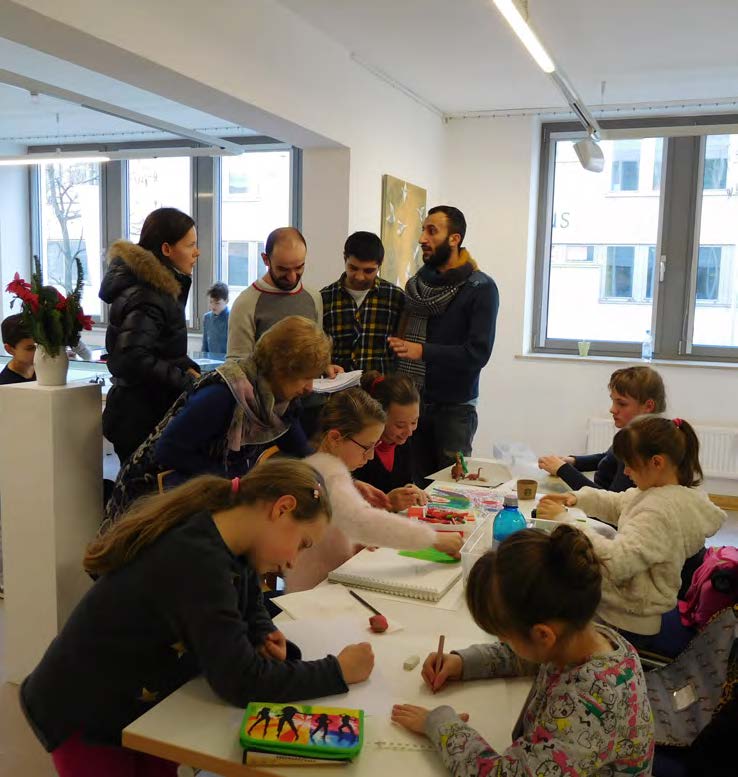 Students and artists create.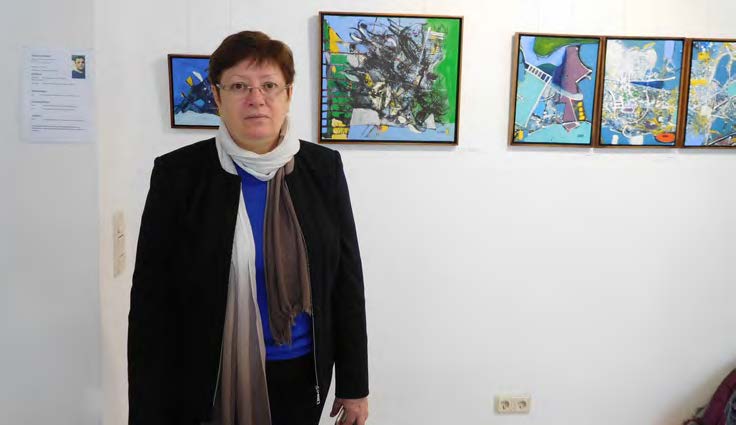 Vera Maier in front of paintings by Hovhannes Hakobyan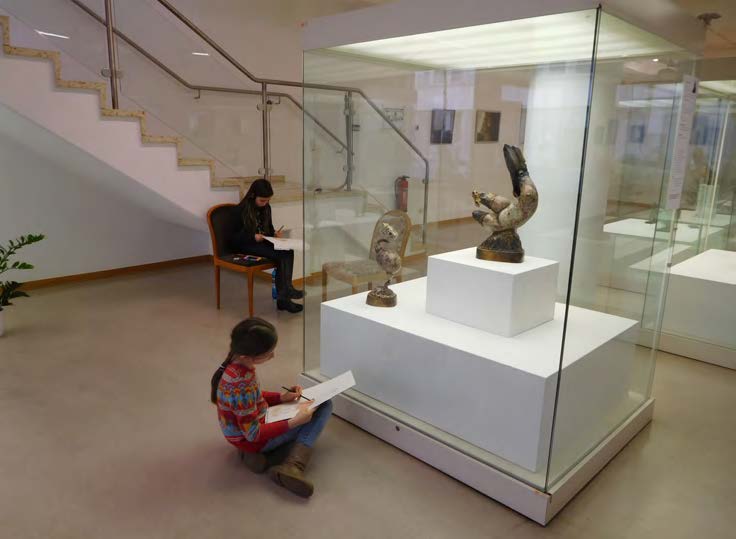 Young artists sketch the sculptures of the Armenian artists.