The Visit of Erdogan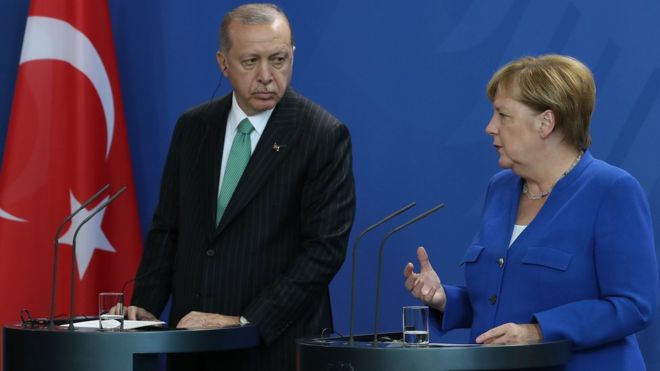 by Muriel Mirak-Weissbach
BERLIN, OCTOBER 4, 2018 — One might have thought the Queen were coming, what with all the media coverage, the background reports and the talk shows, the editorials and interviews. For well over a week before Turkish President Recep Tayyip Erdogan landed in Berlin for a three-day state visit, the event dominated the political debate.
Would he or wouldn't he? Should we or shouldn't we? Erdogan had made himself a black sheep in Germany, after having accused Chancellor Angela Merkel of reviving Nazi methods, when his bid to bring his political campaign to Turks in Germany was blocked; or, when he damned Berlin for harboring terrorists, because opposition figures from his country sought and found political asylum here. Would he continue the tirades while on an official visit? Or would he behave, and try to rebuild bridges, perhaps in hopes of organizing support for his ailing national economy?
And how should we respond? The Germans asked themselves and their political leaders. Should we shake hands with this autocratic tyrant who has jailed thousands of political opponents (including German citizens), who in Orwellian news-speak he has qualified as coup plotters, terrorists and traitors? Better perhaps to sacrifice diplomatic niceties and take a principled stand against this would-be dictator than grant him the status of legitimacy?
Such was (in brief and with a touch of exaggeration) the tenor of the debate that unfolded on the German political stage in September. Erdogan was coming for a three-day visit and nobody knew quite what would happen, or what to do.
Dialogue or Diatribe?
High on the agenda were two meetings with Chancellor Angela Merkel, which were supposed to contribute to overcoming the crisis in bilateral relations.
During the joint press conference following their first meeting, Merkel said that between her and Erdogan there remained "far-reaching differences" with respect to the rule of law and to freedom of the press. Specifically she addressed the issue of German citizens who have been jailed for political reasons; although some have been freed, she said she had demanded that "the other cases could be solved as quickly as possible." Among those who have been released are Peter Steudner, Deniz Yücel and Mesale Tolu, and according to foreign ministry reports, there are five German citizens still in prison.
In addition to those in custody, there is a long list of individuals that Erdogan presented to the Germans, with the demand that they be extradited to Turkey. Prior to his arrival in Berlin, the press spoke of a list of 69 names, and after his visit there were reports of 163 names he had presented. High on the list is Can Dündar, former editor of Cumhuriyet, currently in exile in Germany. Merkel said that as far as this case is concerned, "there are differing opinions between the President and myself." Erdogan, pointing to an extradition treaty between the two countries, according to which lawfully convicted persons should be handed over. Dündar has been declared guilty of espionage relative to weapons deliveries, and has been sentenced to a lengthy prison term. Erdogan argued that, if Berlin were to request the extradition of such a person who had been lawfully convicted, then Ankara would hand that person over. Dündar was, in his view, an "agent who published state secrets."
Dündar, as a journalist, had been accredited to the press conference, but he declined to attend, since he had learned that, if he did, Erdogan would cancel the press conference.
From President to President
On Friday, September 28, Erdogan was the guest of honor at a state banquet at the residence of President Frank-Walter Steinmeier, Schloss Bellevue in Berlin. It was red-carpet treatment, as prescribed by protocol for visits by heads of state. Some commentators suggested the tactic was to flatter Erdogan, perhaps stroking his ego, as a way of preparing the terrain to address the uncomfortable issues openly.
Steinmeier did just that in his speech. "We hope that two years after the trauma of the coup attempt, Turkey finds its way back to equilibrium," he stated. "We have the wish that reconciliation between the sharp social conflicts will succeed on the basis of human rights and the principles of the rule of law." In rather blunt terms, Steinmeier said, "I am concerned, as President of this country, about German citizens who are imprisoned in Turkey on political grounds, and I am concerned also about Turkish journalists, trade unionists, jurists, intellectuals and politicians who are still in custody." Steinmeier spoke of a "disturbing number of people from Turkey who are seeking refuge from growing pressure on civil society." There are in fact large numbers of Turkish citizens, including diplomats and military personnel, who have sought asylum in Germany. In closing, he said, "I hope, Mr. President, that you understand that we cannot just carry on as usual."
Erdogan opened his remarks with positive words, praising the partnership and alliance with Germany. The guests at the gala banquet reportedly tried to follow his speech word for word, with the aid of a written translation provided to each. Erdogan recalled Germany's "valuable contributions" to his country's development, for example, the first telephone lines laid in 1881, and he was full of praise for Germany's treatment of Syrian refugees as well as economic cooperation. "There is no problem," he stated, "that could stand in the way of the German-Turkish friendship or our common interests." He called for German investments in the Turkish economy, which he characterized as a "stable market economy."
He also called for overcoming "differences of opinion in reciprocal respect." He was not going to let Steinmeier's criticism pass without comment. According to an account in FOCUS online, towards the end of his speech, he suddenly accelerated his tempo, which presented a challenge for the interpreter at Steinmeier's table. Departing from his prepared remarks, Erdogan said he hadn't thought that this would come up at such a friendly dinner party; he "actually would have preferred not to talk about this on this occasion," but he was "forced to talk about it" after Steinmeier had brought up the issue.
He demanded respect for the Turkish juridical system, which he declared was independent, and for their extradition demands. For him, those journalists and intellectuals in prison were terrorists. In the case of Can Dündar, Erdogan said he was "being introduced everywhere here on a silver platter." Germany, he charged, was protecting terrorists; "and they simply run around here, in the thousands, undisturbed." So, "shouldn't we talk about it?" In conclusion, he returned to his prepared text, with warm words for the German-Turkish friendship, etc.
According to FOCUS, "some guests were irritated, while others concentrated on the tomato salad which was served them on gold rimmed white porcelain plates." Steinmeier was not flustered; in his words of greeting to his guest of honor he had in fact said, "It is good to talk to each other. And, yes, it is even good to argue."
On the last day of his visit, Erdogan had a working breakfast with Merkel, during which they discussed bilateral relations, the internal Turkish situation and the common fight against terrorism. At the center of attention was the situation in Syria and cooperation on refugee policy.
Religious Dialogue in Silence
Erdogan then travelled to Cologne, where he presided over the official opening of a new mosque, the largest in Germany. It is a mosque of DITIB (Turkish-Islamic Institution for Religion), the largest Muslim organization in Europe and one that is tightly controlled by Ankara. It presides over 900 mosques in Germany and is under the direction of the state religion authority, Diyanet. This event was politically sensitive for many reasons. There had been a plan for a large demonstration in front of the mosque, with thousands of Erdogan supporters, but it had to be cancelled due to security concerns.
For the inauguration of the mosque, Erdogan spoke in front of 1000 invited guests, congratulating those who built the mosque for having "made such a beautiful gift to Germany." "Here there is no discrimination, no division," he said. Then, shifting tone, he again raised accusations against Germany, that terrorists were being tolerated; he named the Kurdish PKK, which is classified and treated as a terrorist organization, but also the Gülen movement, which is not.
There were others reasons for controversy in Cologne. DITIB is known to be the long arm of the Turkish establishment. Law enforcement officials in Germany conducted investigations into systematic spying conducted by mosque members on persons associated with the Gülen movement. The idea was that information on the identity of such persons would be communicated to Turkey, where juridical steps could be taken. Recently there have been proposals that DITIB be subjected to official observation on the part of the Verfassungsschutz, the Office for the Protection of the Constitution.
Prior to the visit, there was debate in talk shows and the press regarding the most appropriate manner to inaugurate such a new mosque. One question that was repeatedly raised: which president should inaugurate a mosque in Germany? Steinmeier or Erdogan? It was certainly expected that some high level German political representatives would be invited to attend and also to speak at the event, but that was not the case. Curiously, DITIB had issued a press release officially announcing that the State Prime Minister Armin Laschet would accompany Erdogan for the ceremony. This was however patently false and was duly denied by Laschet's office. The mayor of the city Henriette Reker was kept in the dark as to her role, and when it became clear that she was not invited to speak, she announced she would stay away. Thus it ended up as a Turkish event, with Turkish participants and all in the Turkish language.
In the original plans, and in the architect Paul Böhm's design, the new mosque was to be a meeting place for Christians and Muslims, and inter-religious dialogue.
Erdogan's Mission
No one should have been surprised by the turn of events in Berlin or in Cologne. Erdogan had in fact made clear what his mission was and how he planned to carry it out. In an OpEd that appeared on September 27, in the Frankfurter Allgemeine Zeitung, a paper of record, the Turkish President outlined his "Expectations from Germany." Stressing the need to turn a page and set aside misunderstandings, frictions etc., in bilateral relations, he underlined "common interests" in fighting terrorism, dealing with the refugee issue, maintaining free markets, etc. The leading challenge he identified is how to deal with the refugee flows; Turkey has taken in 3.9 million persons fleeing from various war zones, and has recently worked out a deal with Russia to prevent a new crisis around Idlib in Syria. His expectation is that Europeans take more responsibility. In the fight against terrorism, for Erdogan this boils down to identifying not only IS, the PKK and others as such, but also the Gülen organization, the so-called Fetö, which he has identified as behind the failed coup attempt. Erdogan spelled out quite explicitly in this OpEd what he later would bring up in his meetings with Merkel and Steinmeier.
No one should have been caught off guard by the demands he made publicly during the visit. Probably no one among the top politicians he met was surprised. The problem was how to deal with it. Criticism has been loud, not only of his performance but also of the fact that he was granted such a high-profile appearance. Responsible commentators have asserted that no matter how problematic relations with Erdogan may be, Realpolitik is probably the only viable approach. As Rainer Hermann, a regional expert with years of experience in Turkey, wrote about the visit from this standpoint: Turkey needs Germany now more than ever as an economic partner and Germany needs a stable Turkey in a war-torn region as well as a partner in dealing with the demands of refuge flows. "Whoever wants to stabilize Turkey has to talk to Erdogan," he concludes. "Boycotting him leads nowhere." Thus the visit and the friendly reception served as the prelude to open talks, in which highly controversial, conflictual matters are not avoided, but frankly debated. Hermann's view is that no matter how difficult it may be to alter Turkish policy, it may not be impossible.
All well and good, one might say, at least as long as one remains within the conceptual confines of Realpolitik. From an utterly different standpoint, the drama of Turkish-German relations might be cast in another light. Should they be evaluated solely in terms of bilateral realities? Is the case of the "difficult guest" Erdogan an exception? Or is he a type, a leading example of a more general phenomenon? One does not have to look far on the map of Europe to find other capitals with similar personalities at the helm, whether Warsaw or Budapest, or Rome. (Not to mention Washington, D.C.) Is it not the case that what is presented as the "Erdogan problem" is merely the local, Turkish expression of a broader problem, where political leadership has degenerated to an abysmal level, in tandem with the degradation of the overall political culture? Perhaps that is the issue that we need to address.
(Sources: combined German press and online, Frankfurter Allgemeine Zeitung, FOCUS online, Spiegel online)