Jailed Writer, Linguist Nisanyan Receives Saroyan Medal from Armenian Diaspora Ministry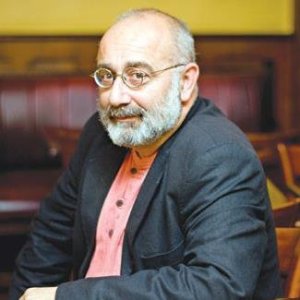 ISTANBUL (Aravot) SEPTEMBER 29— On September 23, the Cezayir complex in Istanbul hosted the ceremony awarding Istanbul-based Armenian intellectual, philologist, writer and publicist Sevan Nisanyan's family the William Saroyan Medal of the Diaspora Ministry. Renowned political, public and cultural figures were invited, including Turkish lawmaker Selina Dogan with her husband Erdal Dogan, President of "Anadolu Kültür" foundation Osman Kavala, Ufuk Uras, Armenian representative of the Black Sea Economic Cooperation Arsen Avagyan. The event was moderated by journalist Hrant Gasparian.
Nisanyan was handed a cumulative jail sentence of 16 years and 7 months after making the fatal mistake of using mocking language about Muhammad, the prophet of Islam, in a blog entry on September 2012. He has been held in a maximum-security Turkish prison since January 2, 2014. He will not be eligible for parole until 2024.
The event covered several speeches, among others, also Selina Dogan and Nisanyan's lawyer, Ergin Cinmen. Member of Parliament and president of the Veradardz Foundation, Aragats Akhoyan handed the medal to the lawyer.
Cinmen mentioned in his speech that Nisanyan is the only person who was accused of allegedly carrying out illegal construction, while the true reasons are different, he was convicted of being a courageous Armenian. He emphasized that not only the country's Minister of Justice is responsible for the imprisonment of Nisanyan but also the highest instances and the human rights activists.
Since Nisanyan's mother, Sona Nisanyan, was unable to physically attend the event, she had sent a video message. She expressed her joy and regret: "I wish he were with us this day."
On this day, in defense of Sevan Nisanyan , also messages were sent by Aram Hamparian, Executive Director of the Armenian National Committee of America, and historian Dr. Tessa Hofmann.
Akhoyan mentioned in his speech, "Today, we are here to award a freedom-loving person a medal of another freedom-loving thinker carrying the name of William Saroyan. Therewith, the Ministry of Diaspora duly appreciates Sevan Nisanyan's nation-devoted activities, which is totally a blind devotion to the preservation and development of Armenian preservation, the language and the culture."
Nisanyan has used his rich experience and knowledge in service to the solution of global problems. This is evidenced by his Book of Small Hotels, Genealogical Tree of Words and a number of other works.
The noted linguist has a great contribution to the studying and development of Turkish language. His fundamental work, A Genealogical Dictionary of the Turkish Language, is unprecedented in Turkish history.