Young Musicians Prepare for a Better Future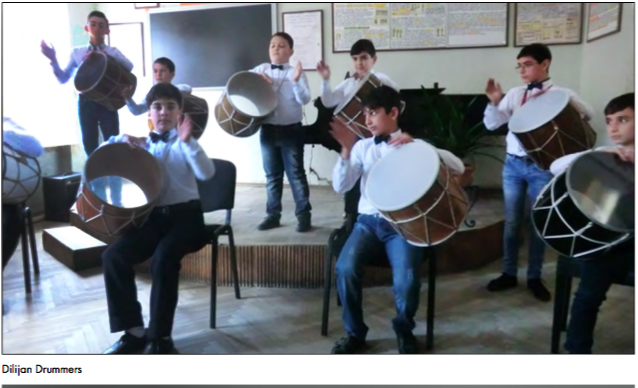 By Muriel Mirak-Weissbach
–
Special to the Mirror-Spectator
YEREVAN — "If music be the food of love, play on!" Shakespeare's Duke of Orsino, who could not get enough if it to surfeit his appetite, may have been a hopeless romantic, but he had a point. Music is the food of love, and it nourishes not only the heart but also the soul. Nowhere is this more evident that in Armenia, where a rich musical culture pervades the land, in a manner and to an extent that reminds one of Germany. The country is far smaller, covering a land area the size of one German federal state, and its population of 3 million a fraction of Germany's 80 million. But the role of music in education and daily life is indeed comparable.
During a trip to Armenia in early April, my husband and I were able to witness this once again, as we visited four music schools that our small foundation has been associated with.
Gyumri, the cultural capital of Armenia and its second largest city, has more than one music school, and boasts a long tradition of musicians, composers and graphic artists. At the Octet School, destroyed in the 1988 earthquake and rebuilt in 2013 thanks to the efforts of Ian Gillan and his Deep Purple music ensemble, together with the Mardigian Foundation and the Fund for Armenian Relief (FAR), we met Manya Hovhannisian, the new director, who told us there are 224 students receiving instruction there this year. In fact, they were in the last stages of preparation for a concert of instrumental and vocal music.
Days later we visited the music school in Dilijan, about 120 kilometers from the capital. Margarit Piliposyan, regional director of FAR, accompanied us to the school, which is the regional hub for music education in the province (marz) of Tavush. The State Art College of Dilijan provides instruction at two levels for children and youth: a seven-year program offers afterschool lessons for children, and older students who choose to major in music can attend a four-year college, which will prepare them for a teaching career. With 178 pupils in the first level and 63 in the upper level, they are coordinating work in 15 music schools in the region. By equipping young musicians to teach others, they are a motor force in the educational process.
Thanks to the efforts of FAR, the concert hall has been renovated and equipped with 300 new chairs. But, as it was not yet completely ready, the concert we attended was held in an older concert hall. The teachers and students organized the event as a gesture of gratitude to those who had sponsored the purchase of badly needed new instruments, 37 of them, jointly financed by our foundation and FAR's Galust Galo Fund.
We were treated to an afternoon of wonderful music, performed by youngsters from both levels of instruction. We marveled at an original jazz piano piece performed by the young composer herself, and heard a soprano with an Armenian lullaby, followed by another vocalist singing a Puccini aria. It was amazing to see how early these children begin! A very small lad walked confidently onto the stage and, with a huge voice that defied credulity, treated us to a lively rendition of an Armenian folk song. His classmate, about the same size, had to adjust the piano stool downward to be able to mount it. With concentration, he placed his hands on the keys, fluttering gently through a piece from the classical repertoire. A teenage girl carried on stage one of the new instruments, a majestic kanon, and played with virtuosity and emotion, accompanied on the piano. Concluding the program was a trio of girls on kanons, followed by a brigade of drummers (some with newly acquired instruments) who moved from one rhythmic escapade to the next with the ease of a kaleidoscope. And yes, we were right to recognize one of the drummers as the talented young pianist...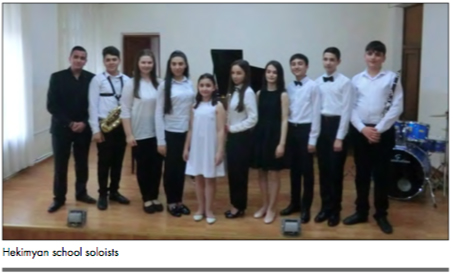 They performed with technical skill and confident mastery of their medium, but with no trace of that stiffness that often hampers young musicians when they are on stage. Here was enthusiasm, extreme musicality and the pure joy of producing beautiful works. It was the best thank-you anyone could wish for.
And it was not the only one. The very next day we went to the Alexan Hekimyan music school in Yerevan, on the invitation of Lusine Arakelyan and Director Monika Petrosyan. Arakelyan is an opera singer who has continued her education after graduating from the Yerevan Conservatory, through master classes in Europe, and now teaches singing at the school. In June, she, along with other teachers, plan to accompany a group of students to participate in a competition in Italy.
In this concert we were able to enjoy the fruits of musical training from the youngest to the oldest students, in roughly chronological order. The first to appear on stage were two girls, about 8 years old, who performed Arishka by Doljikov on flutes with piano accompaniment. Other solo instrumentalists followed, the very young pianist Aram Asmangulyan with Berkovich's Variations and later teenager Garnik Hayrapetyan, who performed a challenging piece by Rachmaninov, Polichinelle, with great skill. Among the vocalists were several pupils of Arakelyan's, the promising tenor Narek Baldryan and soprano Nare Samvelyan singing a duet by Leoncavallo, and Narek alone, singing Kanche krunk by Komitas.
As this is the 150th anniversary of the birth of Komitas, other works of his also were featured; a female vocal trio presented Swallow and the young Narek Sahakyan sang Krunk.
Traditional Armenian instruments were featured, including the kanon. Alexander Avetisyan displayed his mastery of the saxophone with a rendition of Rapsody by Waignein. And to conclude the concert, a robust brass band played Valse by Tjeknavorian, a Strauss polka and Aznavour's Je t'attends. As my husband remarked in his words of thanks to the musicians, we never stop marveling at the high level of musical excellence achieved by these young performers, some of whom we have had the pleasure of hearing over the years, thus witnessing their continuing progress.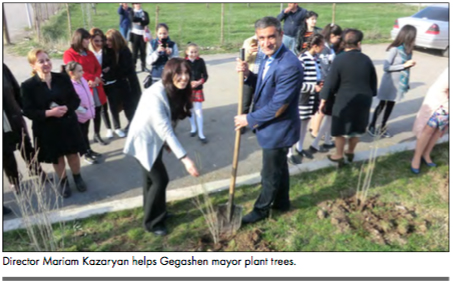 Only one day later we were treated to yet another concert, this time at the music school in Gegashen, about 30 kilometers from Yerevan. Though the village has only 4,000 inhabitants, it has a flourishing music school, whose director is pianist Mariam Kazaryan. Here the concert opened with choral pieces, performed by a mixed choir of varying ages singing traditional Armenian songs. The entire event was a tribute to Komitas; the emcee was a student who stood at the podium and delivered an impressive overview of Komitas's life and works. Interspersed in the presentation were then the selected pieces by the great composer. There followed soloists on the piano and kanon. Again, we were amazed to see how young the pupils are, and how seriously they take their music work. One girl, perhaps not 8, was provided with a foot stool so that she could manage to balance her kanon on her knees and play. Some of the instruments had been newly acquired through a donation. The concert concluded with a trio of teachers, featuring Kazaryan on the piano, her brother on the clarinet and a colleague on the kanon.
After the concert, which received lengthy, enthusiastic applause from a very happy audience of family and friends of the pupils, everyone streamed outside to take part in a tree planting ceremony organized by the new mayor of Gegashen. Next to the music school on an empty lot, we could see bulldozers ready to prepare the terrain for a new building. Though Gegashen has a school going up to the 12th grade, it has lacked a kindergarten so far. Now that too is under construction. As the country moves toward the first anniversary of the "velvet revolution," expectations are great that progress will be made in improving and expanding basic infrastructure, including education. In this process, cultural policy will be crucial, and it is to be hoped that music will continue to fill the lives of children and youth with joy and optimism in the future.