Poland Welcomes Promising Armenian Vocalist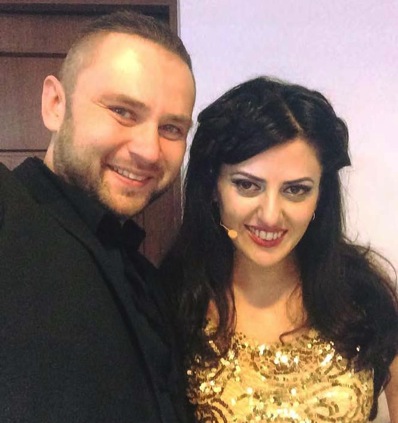 Lusine Arakelyn with a great solo violinist Maryan Mario Lomaha


By Muriel Mirak-Weissbach
Special to the Mirror-Spectator – FEBRUARY 23, 2017
WARSAW — "Incredible Lusine Arakelyan gave a great New Year's concert at the Warsaw concert hall in front of 1,200 guests. Her beautiful voice and great musical experience are unforgettable. The audience gave her several standing ovations. The orchestra conductor also praised her voice and performance." This is how singer and music critic Kristina Sulzichka put it in a review of the event.

Not only in Warsaw, the country's capital, but in six other cities, music lovers had the opportunity to hear this truly incredible Armenian soprano sing. The special holiday season tour took her to Pszczyna (Pless), Tarnow, Lublin, Znin, Gdynia and Czarna, from just before Christmas to the end of January. Invited by AVIP production, whose conductor is Wojciech (Woytek) Mrozek, she performed with several orchestras, among them the INSO chamber orchestra, the Philharmonic symphony orchestra of Lublin, both from Poland, and with the Ternopil philharmonic and the Lomagos band, both from Ukraine. In addition, there were two mixed Polish-Ukrainian orchestras.

Although soprano Lusine Arakelyan is just embarking on a promising career, her repertoire is already vast, and challenging. During her tour, she sang arias from Verdi's La Traviata, Puccini's Gianni Schicchi, Kalman's Silvia, as well as Gypsy Love and Giuditta by Lehár. Performing with so many orchestras gave her the opportunity to sing with different soloists, among them the Leon Voci four tenors from Ukraine, soprano Natalia Prisich from the Ternopil philharmonic, famous mezzosoprano Agata Sava, Warsaw opera tenor Leshek Swidinski and Maryan Mario Lomaha, a "fantastic violinist" (in Lusine's words) from Ukraine. Not only singers but also ballet dancers from the Lvov opera and ballet theatre (Ukraine) were part of the program.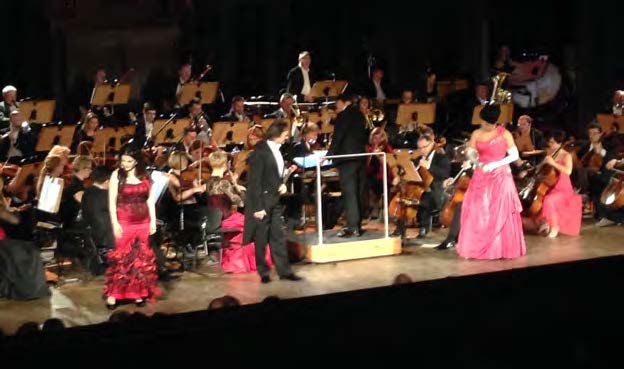 Brindisi from Verdi's La Traviata, with Swidinski and Sava


From Gyumri to Berlin

Arakelyan comes from Gyumri, the cultural capital of Armenia. She completed her studies at the Octet music school there, before continuing her studies in Yerevan. In 2008 she began her activity as a soloist at the Ghazaros Sarayan Opera studio at the conservatory in Yerevan.

It was during the festive inauguration of the new Octet music school in Gyumri on September 20, 2013 that my husband and I first met Lusine. The famous school, which had been obliterated in the 1988 earthquake, had managed to maintain its excellent musical instruction over two decades, under unbelievable conditions, as teachers held classes in containers and shacks (domiks). That was the state of affairs when we first visited in 2008. Thanks to the generous efforts of several large donors, among them Mediamax, the Fund for Armenian Relief (FAR), the Australian organization "Do Something" and the Mardigian family foundation in the USA, a beautiful new school was built and opened in 2013. Our small private foundation, established a year earlier, organized for a new Blüthner grand piano to be donated to the school.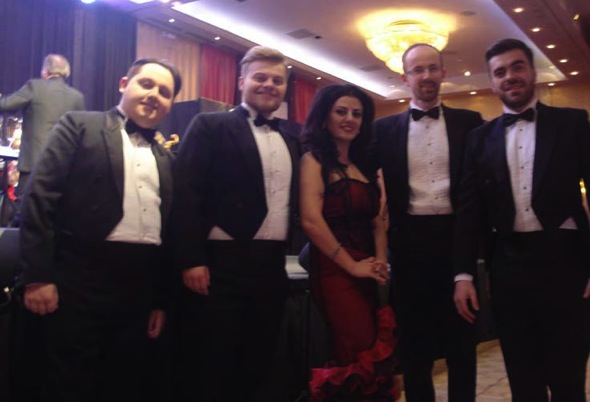 Leon Voci Tenors Nazar Tatsyshyn, Roman Khava, Ihor Radvanski, Andrey Stetshki



At the conclusion of a grand ceremony, presided over by the highest representatives of Armenia's government and church, as well as the donors themselves, students of all ages and graduates offered an outdoor concert with instrumental and vocal works from both the classical repertoire and traditional Armenian music. Lusine Arakelyan, a soloist at the program, overwhelmed the guests with her powerful voice and moving delivery.

Eager to continue her education in Germany, she arranged a tour and in spring of 2014 she arrived in Berlin. There she did auditions and presented a concert at the Church of the Redeemer, which we attended. She won the second prize at the 3rd International Komitas Festival at the Schloss Prötzel in June. It was following this visit that she received an invitation to go on tour in Poland.

From Armenia to Poland … and Italy and Spain

In October of that year, she performed in several concerts in Katowice, Poland, at the invitation of Director Grzegorz Mierzvinski. Accompanied by the Kopalnia Wegla Kamiennego Murcki Staszic Orchestra, she made her official debut as a soloist and presented 12 pieces, by Komitas and Dolukhanyan, among others.

A year later, Arakelyan flew to Rome to participate in the Fourth Master Class in Opera Singing (Canto Lirico) in Trevigano Romano near the Italian capital under the direction of Italian soprano Stefania Bonfadelli and conductor Simone Maria Marziali. She then flew to Barcelona to take part in the Montserrat Caballé International Singing competition.

When we visited Armenia in April of last year, Arakelyan invited us to attend a concert at the Alexey Hekimyan music school in Yerevan, where she has been teaching. She organized the concert as a gesture of thanks to our foundation for having defrayed her travel costs for the European visits. In a packed recital hall, we enjoyed the musical offerings of the students there, from instrumental ensembles, including traditional Armenian works, to vocalists, among them two very young, very talented students of Arakelyan.

Next Steps in Europe

Writing to us last week after her return home from her most recent Poland tour, Lusine was full of enthusiasm. The most important performance, she said, was at the Lublin philharmonic, where she was the only Armenian participating in an International Festival of Vocal Pieces. She was particularly honored by the director Jan Sek, who told her that they had organized a special concert in commemoration of the Armenian Genocide.

"The whole tour was like a dream," she wrote, "it was wonderful to work with big orchestras and different opera singers on the big stage." She was full of praise for the musicians as well as for the "super ballet dancers from the National Ballet of Lvov (Ukraine)". After the concerts, she said, people always came up to congratulate her on her voice, which they said was "beautiful and rich in colors."

Next on her schedule is a trip to Germany this summer, where she will do another round of auditions. At the end of her review, music critic Krystyna Sutzycka had written, "I wish Lusine great success and an international career." We certainly do wish her that as well. She has a rare voice and capacity to communicate profound emotions and ideas through great music. Who knows? Perhaps she could travel to the US for a tour….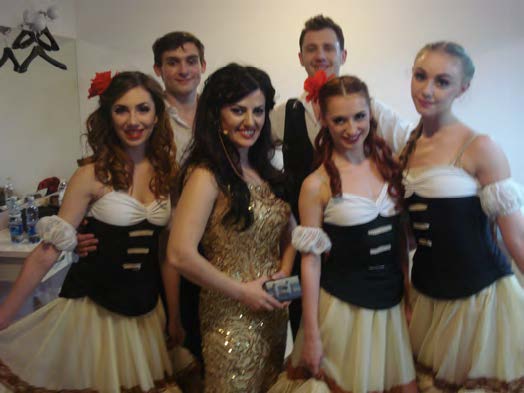 Czarna concert with dancers of the Opera and Ballet theatre of Lvov