Paruyr Sevak, Patriot and World Citizen
Paruyr Sevak, Patriot and World Citizen
By Muriel Mirak- Weissbach – Special to the Mirror-Spectator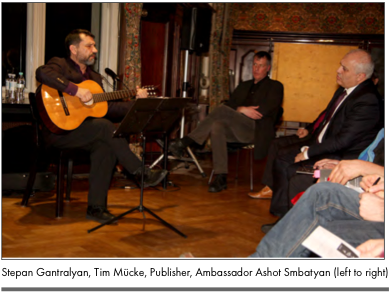 BERLIN, February 26, 2016 — "Can poetry open the hearts of people, even at a distance?" This is a question that Azad Ordukanyan, President of the Armenian Academic Society in Bochum, Germany, had included in a letter written to Armenian Ambassador Ashot Smbatyan, inviting him to open an event in Berlin featuring the poetry of Paruyr Sevak. In his greetings to the attendants of the musical reading at the Literaturhaus in the German capital on February 20, Smbatyan responded with an unhesitating "Yes." And the event bore testimony to this fact; the lively recitations of poems by Paruyr Sevak, both in the original and in a new German translation, embedded in musical offerings, opened the hearts of those attending, even in Germany, far away from the poet's homeland, Armenia.
For those who were not familiar with the poet, a brief introduction was provided. Born in 1924 in the village of Chanatsshi (today Sangakatun), he acquainted himself early with literature and began to compose poems. An independent spirit, he dared to read the works of poets who were banned under the Soviet dictatorship of the 1930s, including Yegishe Charents. Sevak studied at the Philological Faculty of the Yerevan State University from 1940 to 1945 and in that period began to publish his own works. At the end of the 1950s he wrote what was considered a revolutionary work, The Never Muted Bell-Tower, which literature professor Samuel Muradyan has called "the literary chronicle of the 100-year-long history of the Armenians." Armenia, Hayastan, the homeland, the Armenians and their sad past are the leading themes treated by Sevak, but his work is not limited to national themes.
Universal are his poetical and philosophical thoughts on Nature, Man and, above all, Love. If today he is the most beloved Armenian poet, it is due to his ability to lend intense expression to the feelings of an entire people, whether young or old. And his universality has made him known in other cultural circles outside his homeland.
Sevak was not only a poet, but also a prose writer, literary historian and critic, and translator. Among the Russian authors he translated are Pushkin, Lermontov und Mayakovsky. His own works have been translated into numerous eastern and western European languages. And now with their new German translation of a selection of his poems, Heide Rieck and Agapi Mkrtchian have produced a very courageous version, which reproduces content and rhythm of the original very faithfully, yet without sacrificing any of the poetical power in German.
Poems in Dialogue with Music
The musical reading at the Literaturhaus offered a program that had been presented the evening before, in nearby Potsdam at the Lepsiushaus.
The authors had prepared the program as a dialogue between poetry and music, whereby a musical offering would be followed by a poem, or a block of several poems, then again music, and poems, alternating. The evening opened with the patriotic Armenian song "Kele Lao," then, following greetings by the ambassador and a short introduction, the famous Hayastan. After a song, Crane, came seven shorter poems, each recited in Armenian and German. The next two musical pieces were cello solos, a Catalan folk song, Song of the Birds, and a piece by György Kurtág, concluding with Soufflez une brise and My Past Days. Just as Hayastan, recited first in German, had opened the evening, it concluded with "We are few, but we are called Armenians" in the original.
Most fortunately, it was the two author-translators themselves who delivered recitations of the poems in German, while Stepan Gantralyan recited in Armenian. Gantralyan and cellist Christiane Conradt provided the music as well. Both translators are accomplished authors and teachers. Heide Rieck, born in Szczecin, has composed poetry since her youth in Krefeld. She studied pedagogy and acting in Cologne and taught for 35 years both in France and the Ruhr region of Germany. Since 1999 she has published works of poetry, drama, essays, short stories and novels as well as poetical translations.
Twelve of her books, and contributions to over 20 anthologies have appeared in Germany and abroad. She has won two prizes for poetry, is a member of the Union of German Writers, the European writers group Die Kogge and is speaker of the Bochum Writers. Her recitation brought out the pathos as well as the humor in some of Sevak's works, and highlighted the lyrical aspects.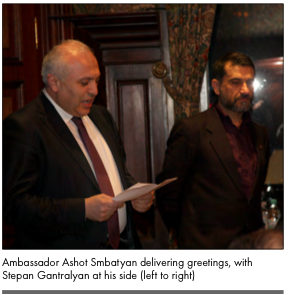 Agapi Mkrtchian, born in Armenia, studied German as a foreign language in Yerevan, then continued her higher education with a scholarship for study abroad, majoring in German Language and Literature in Jena, and German and Russian for Teachers, in Frankfurt. She currently teaches at a comprehensive school in Wiesbaden. She, too, has published poetry and short stories, both in German and Armenian, many of which have also appeared in anthologies. A volume of her poetry and another of prose works have appeared in Armenia.
In addition her poems and stories have appeared in Armenian language periodicals in Lebanon, the Czech Republic and the United States. She is a member of the Literature Club of Women from Around the World and the Armenian Writers Union, which late last year honored her in Yerevan with the Vasdakovor Order, as an author of outstanding merit. Although Armenian is her mother tongue, Mkrtchian feels completely at home in German, and her delivery in that language was described by attendants as strong and powerful.
Stepan Gantralyan is a man of many trades, actor, director, singer and composer. Born in Yerevan, between 1988 and 1991 he held leading positions as director and/or actor at the Peoples Theater at the Armenian Adult Education Center, as well as the Gissane and the Kumairy Theater Studios, all in Yerevan. Following a year as director at the State Experimental Theater there, he travelled to Germany with two Goethe Scholarships and from 1999 to 2005 was engaged as an actor at the Theater in the Ruhr with Roberto Ciulli. Since then he has been active in his various capacities in Berlin.
Gantralyan made an impact on his audiences, with his extremely dramatic and forceful delivery of Sevak in Armenian.
As a vocalist he presented several songs, either accompanying himself on the guitar or with cello accompaniment.
Cellist Christiane Conradt grew up in Thuringia, studied with Konrad Lechner, Hans Adomeit and Leo Koscielny. Following an engagement with the Nuremberg Symphonic she joined the Bochum Symphonic. Her special interest lies in contemporary composers, both in chamber music and cello solo works. She is a member of the kwr5 Collective for Improvised Music, and in Bochum she developed a Center for New Music and Performances.
The combination of contemporary compositions for cello solo which she performed, together with the vocal offerings by Gantralyan from the Armenian repertoire, — musical interludes which framed the German and Armenian renditions of the works — functioned as a metaphor for the many faces of poet Sevak: he is both the fervent patriot of his beloved Armenia and the voice of universal values for all mankind, just as he is the reflection of a cultural heritage stretching back millennia and a spirit comprehensible to the contemporary world.